Souk Al Bahar – The Luxury Souk Of Dubai
Dubai is an all-rounder in terms of entertainment; be it sky-high skyscrapers or thrilling nightlife, this city has everything for you. Here is all about Souk Al Bahar.
You can taste every kind of fun here; if it's not in Dubai, it doesn't exist. But, amidst all the bustling fun of city life, there's a thing that makes this city even more unique, the souks. 
If you're a party person, you can make the most of your Dubai trip at these bustling malls and parks. But if you're looking for a place to enjoy peace and serenity, you should head to these traditional markets, which have a variety of stuff for you.
And for that purpose, Souk Al Bahar is the perfect spot for you. Not only you'll get a taste of Dubai's traditions, but you can enjoy a modern touch at the same time because it's located right in the downtown Dubai area. There's an extraordinary ladies' night, which you can enjoy!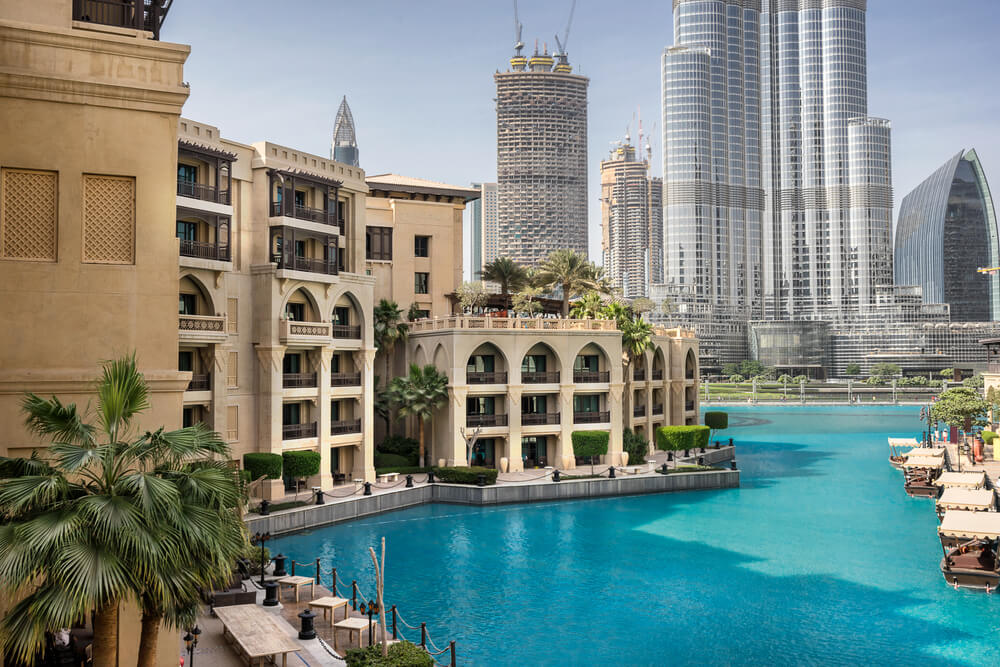 Souk Al Bahar is one of the many souks located in Dubai. The difference is that this market is truly traditional, but it's one of the gorgeous anomalies of the swanky Downtown district. So when you're Downtown, you can explore this gem too!
Located in Downtown Dubai, next to the world-famous Burj Khalifa, this souk offers a stunning view of the Dubai Fountain and a wide array of shops and restaurants to keep you entertained.
Let's read this article to explore more about Souk Al Bahar and unveil the most interesting facts!
Walking Around Souk Al Bahar
The best way to enjoy this souk is by strolling around it and admiring its architecture and surroundings. The market is built in the neo-Arabic style with intricate designs, while the modern skyscrapers Downtown adds a unique contrast.
Souk Al Bahar means the "sailor's market," Walking around this mesmerizing place will take you back in time; you'll be lost in the previous centuries amidst its charm.
You can take a walk around the peaceful water fountains, and if you're lucky, you might catch the spectacular fountain show, which is set to synchronized music! These several fountains scattered around the souk come to life with an impressive performance set to music every half an hour after sunset.
So take a stroll in this beautiful souk and explore its many shops, from traditional Arabic clothing and souvenirs to modern jewelry and art.
Eat And Drink At Souk Al Bahar
Walking around and exploring will tire you and make you crave delicious food. But no worries! Souk Al Bahar has got you covered.
So If you're looking for a place to eat or drink, Souk Al Bahar has plenty to offer. There's something for everyone, from traditional Arabic cuisine to international restaurants and cafes!
Why not try the famed Turkish restaurant, Gunaydin, which offers stunning views of the Burj Khalifa and the Dubai Fountain? Or maybe you're in the mood for some Japanese food?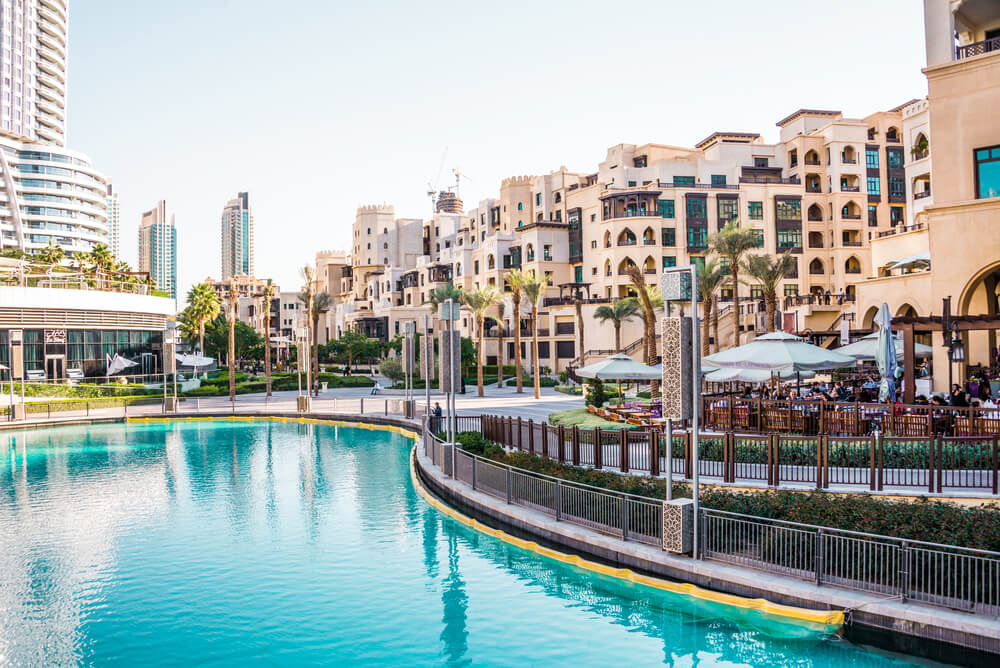 Kanpai offers a delicious array of sushi, sashimi, and tempura. There are also plenty of cafes if you're looking for a quick bite or a refreshing drink. Let's take a quick look at some famous cafes and restaurants here.
1. Claw Souk Al Bahar
If you're a BBQ fan, this will be your favorite go-to place in Souk Al Bahar. You can munch on delicious BBQ and tasty burgers, ribs, and several crab dishes. There's also a fully stocked bar to drink your worries away.
The place looks like an American roadside diner with lightning flooring and beautiful walls as soon as you enter. The vibe is casual and perfect for large groups of friends or family. Be sure to try their famous Buttermilk Chicken! It's to die for.
2. The Meat Company
That is one of the most popular Souk Al Bahar restaurants and often has long lunch-hour queues.
The restaurant is tiny, with limited seating, but the food makes up for it. It's famous for its succulent and juicy steaks and falafel wraps. The prices are on the higher side, but it's worth it.
3. Patiala
If you're in the mood for some Indian food, Patiala is the place to go. The restaurant has a beautiful view of the Dubai Fountain and offers outdoor seating to enjoy the show while eating. The menu features classic Indian dishes like butter chicken, lamb biryani, and naan bread.
Shops at Souk Al Bahar
Are you looking to buy some souvenirs to gift your friends back home? Then, here is the perfect spot to explore. 
Plenty of shops at this souk sell everything from souvenirs to clothes to jewelry. You can find lavish gold jewelry, traditional Oudh fragrances, and cheap knick-knacks.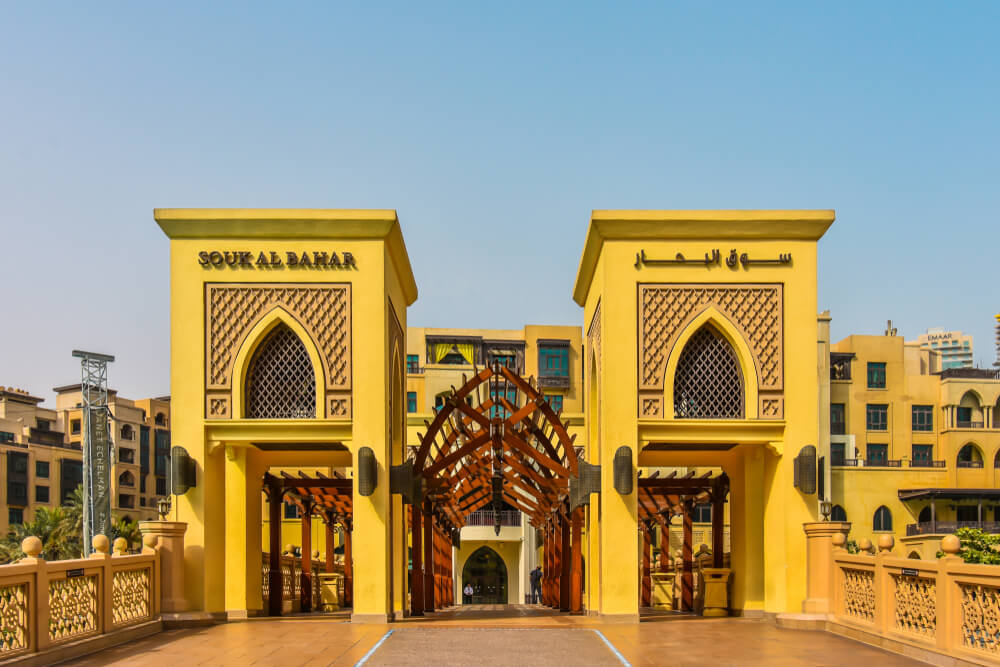 Everything is available here for traditional Arabic items like hookah pipes, spices and everyday items like designer sunglasses and handbags. There are also several art galleries if you want to buy local artwork.
Let's see which are some of the famous shops in the souk.
1. Bateel
Reflecting the Arab cultural heritage, Bateel is a luxurious confectionery that offers premium dates, chocolates, nuts, and coffee. The store also has a wide range of gourmet food items such as jams, sauces, and pastes.
2. Selsal
Selsal, founded in 2006, is the seller of the finest handcrafted ceramic items from the Gulf region. The store offers a wide range of products, from handmade ceramic glazed tiles to pottery.
3. Bait Al Kandora
Bait Al Kandora is a men's fashion store specializing in the traditional Emirati dress – the Kandura. The store offers a wide range of kanduras in different colors, styles, and accessories to complete the look.
4. Cashmere Pashmina
Cashmere Pashmina is the place for you if you're looking for premium quality cashmere—the store stocks a wide range of cashmere products, from shawls and scarves to wraps and blankets.
Fountain Show At Souk Al Bahar
One of the main attractions at Souk Al Bahar is the daily fountain show near Dubai mall. Set to a range of popular tunes, the fountains dance and light up in time with the music, creating a spectacular display that's not to be missed.
You can admire the beauty of this fountain shown from the terraces of many restaurants at Souk Al Bahar. Eating with a spectacular view is a thrilling experience; you can enjoy this view from 6 pm onwards.
They will enjoy the show if you're visiting Dubai with the kids. The best viewing spot is from the pedestrian bridge that links Souk Al Bahar with the outside of the Dubai Mall.
Souk Al Bahar Residences
Right in the middle of luxurious Downtown Dubai, you can find the most elegant and comfortable residences for rent in Souk Al Bahar. Residents can access various shopping, dining, and entertainment experiences.
The residences are also close to world-renowned attractions such as The Burj Khalifa and The Dubai Mall.
People who want to rent in Souk Al Bahar will find that the residences here offer a convenient and exciting lifestyle in Downtown Dubai.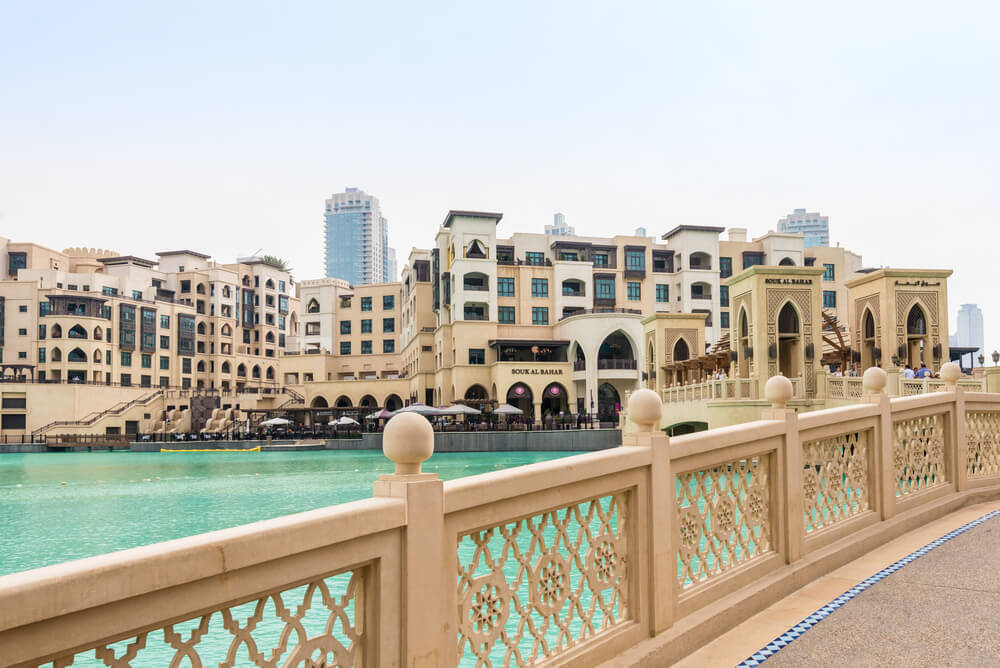 Huge flats with extensive terraces offer mesmerizing views outside; some apartments even have private gardens. The design and architecture of the buildings in Souk Al Bahar are unique, modern, and luxurious.
The residential units here are available in various sizes and configurations to suit the different needs of residents. Souk Al Bahar is an ideal place to live for people who want to be close to the action and enjoy all Downtown Dubai offers.
Hotels Near Souk Al Bahar
If you want to make the most out of your visit to this souk, a day isn't enough; you should stay nearby to enjoy it to the fullest for 2-3 days.
So if you're looking for a place to stay near Souk Al Bahar, there are plenty of accommodation options. Several hotels are within walking distance of the souk, including the Address Boulevard Dubai, The Address Dubai Mall, and the Vida Downtown Dubai.
All these hotels are famous for their luxurious experience and have some of the most popular restaurants in the city.
Several serviced apartments and holiday homes in the area would be ideal for families or groups of friends visiting Dubai.
As this souk is adjacent to the most prominent hotels in Downtown Dubai, tourists won't face a shortage of excellent options to stay in.
Souk Al Bahar Location And Timings
This beautiful souk is located in Downtown Dubai's heart, next to the world's tallest building, Burj Khalifa.
That is one of Dubai's newest developments, making visiting more attractive.
The souk is open daily from 10 am until 10 pm; however, the timings are adjusted according to Friday prayers on Fridays.
Frequently Asked Questions
How far is Souk Al Bahar from Burj Khalifa?
Souk Al Bahar is located approximately 2 kilometers from Burj Khalifa, which makes it a distance of almost 8 minutes.
What's the best restaurant in Souk Al Bahar?
There are many great restaurants at Souk Al Bahar, but some of the most popular ones include Karma Cafe, Bice Mare, and Sammach.
How to get to Souk Al Bahar?
The best way to get to here is by taking the Dubai Metro. The station closest to Souk Al Bahar is the Burj Khalifa metro station and the Financial Center metro station. From there, it's a short walk to the souk. You can also take a taxi or an Uber, but the metro is usually the most convenient option.
Souk Al Bahar is a great place to visit when in Dubai. It has many shops and restaurants and a beautiful fountain show. It is also conveniently located near some of the city's best hotels.
So whether you're looking for a place to eat, drink, or shop, Souk Al Bahar is worth a visit.