Old Souk Dubai – An Insight To The Old Dubai
You must have shopped at most of the massive malls in Dubai that sell the most luxury brands worldwide. But have you had the experience of shopping in the old traditional markets with all those bustling sounds, the smell of spices and coffee in the air, and vibrant colors? Then a visit to the Old Souk is a must in Dubai.
You'll get a flavor of old Dubai at this souk and see those traditional and non-branded clothes. In addition, you can buy a range of different products and a lot of stuff while enjoying the essence of the city's historic destination.
Old souk, also known as Bur Dubai souk, is a popular tourist attraction among tourists who want to buy souvenirs, spices, gold, and perfumes. It is one of the oldest markets in Dubai, which has been around for over a hundred years. It was once the central trading hub where merchants worldwide would come to buy and sell their goods.
It can be tempting to shop at the malls, but souks in Dubai are an excellent add-on that needs to be explored. If malls have that glamour and charm which you adore, this souk will give you a unique experience where you can see the cultural heritage of this region. The variety of products is so vast that you'll be spoilt for choice.
Let's keep reading this article to learn what Dubai's Old souk offers and how to make the most of your trip!
Culture and Tradition of Old Souk Dubai
The best way to understand the culture and tradition of any place is by visiting its markets. However, you'll find the true essence of Emirati culture in the Old souk. The traditional attires, the abayas, Kanduras, and Shemaghs (traditional Arabic headscarves), are all available here.
This souk will give you a natural feel of the old Arab world with its different colors and fragrances. You'll feel like walking in the 18th century and get a glimpse of how the Emiratis used to live.
Many stores sell these traditional attires, and you can bargain for a good deal. You'll also find several other stores that offer conventional Emirati products like dates, spices, oils, and incense.
These shops have been around for many years, and the owners are usually amiable. You can also bargain for these products, and they'll accommodate you.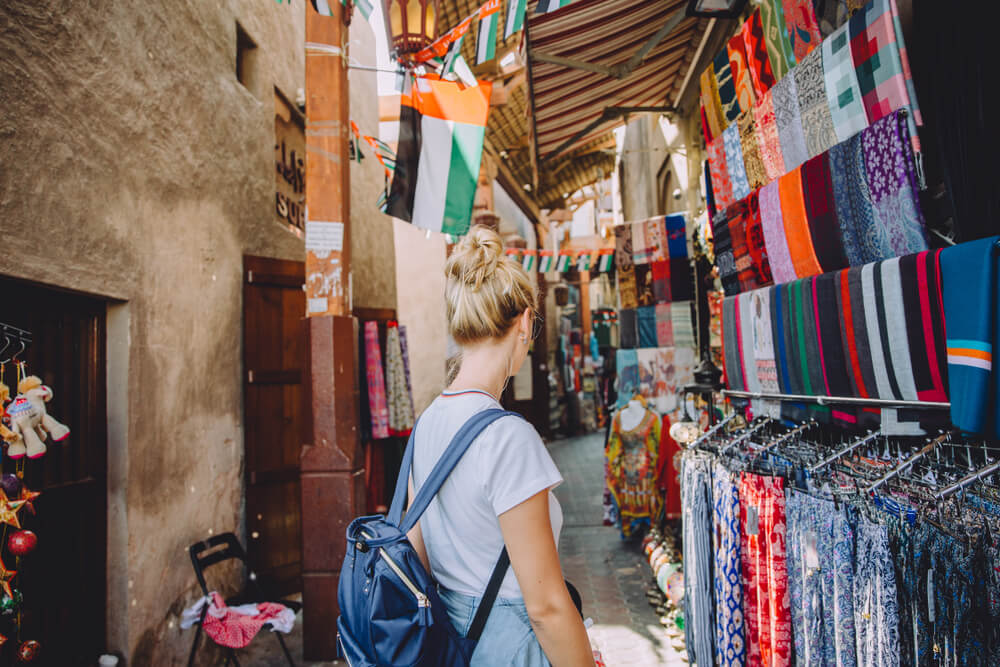 You can walk around the souk to feel the atmosphere and explore the different stores. Try some traditional clothes as they are a great way to experience the culture. You can also buy souvenirs for your friends and family back home. The key to shopping at any of these stores is bargaining; don't forget to bargain and convince the shopper for a lower price.
The textile souk, an area inside the Old souk, also depicts Dubai's rich culture and heritage. The most striking feature of this souk is the large wooden beam on its entrance.
The traditional stuff placed against the sand-colored walls will surely take you back to an age long gone by. This entire structure is made of sand-colored stones and contains a wooden roof.
The souk sells various fabrics like silk, wool, and cotton. You can find some fantastic deals on these fabrics if you bargain well.
Eat and Drink at Old Souk Dubai
After all that shopping, it's time to grab something to eat or drink to steam off your shopping stress. Many options are available here regarding food and drink, as several restaurants and hotels are near Old souk Dubai.
As we know, Dubai is the only country where you'll eat the widest variety of foods and cuisines worldwide. Be it Lebanese, Chinese, Thai, Palestinian, Indian, or Pakistani food, you can munch on anything you want.
And the best part is that all these cuisines are available in the Old souk, so you don't have to go elsewhere.
There are several cafes and restaurants inside the souk where you can take a break from shopping and enjoy delicious food. Here are some of the must-try foods when you're in old Dubai.
1. Shawarma
Shawarma is one of Dubai's most common and famous street foods that you must try. Although it's common in all of Dubai, the taste of Shawarma in Old souk will hit you differently.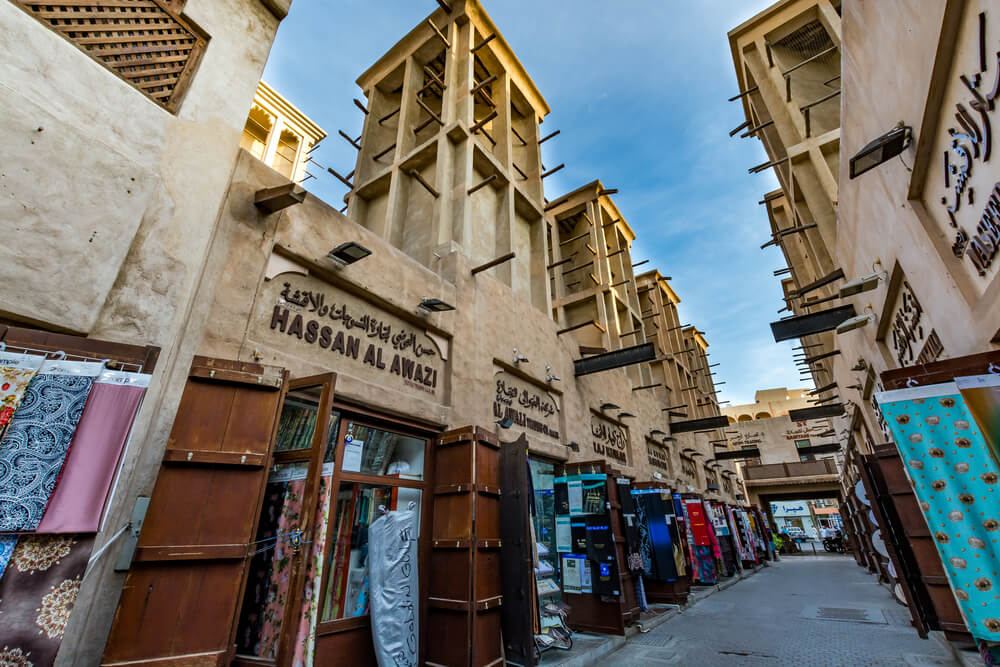 If you haven't tried it before, let me tell you it's a dish made of chicken, lamb, or beef grilled on a spit and then shredded and served in pita bread with salad and sauces.
2. Fatayer
Fatayer is a thinly layered pastry that looks like crepes stacked upon each other and stuffed with your favorite filling.
The most popular fillings are spinach, cheese, and minced lamb. You can also find a Fatayer filled with potato, za'atar (a Middle Eastern spice blend), or eggs.
3. Kunafa
While walking in the alleys of Old Dubai, you'll find plenty of shops and stalls selling this mouth-watering dessert. So if you want to try something sweet and traditional, Kunafa is the right choice. It's a cheese-filled pastry soaked in sugar syrup and then topped with pistachios.
These are some of the dishes you must've eaten before, but trying them out in Old souk is a different feel you shouldn't miss out on!
Souvenirs At Old Souk Dubai
As soon as your Abra ride finishes, you'll see the fantastic view of the traditional entrance of this souk with large wooden beams. You can find so many souvenirs here that it's hard to find such variety in any other souk or market in Dubai.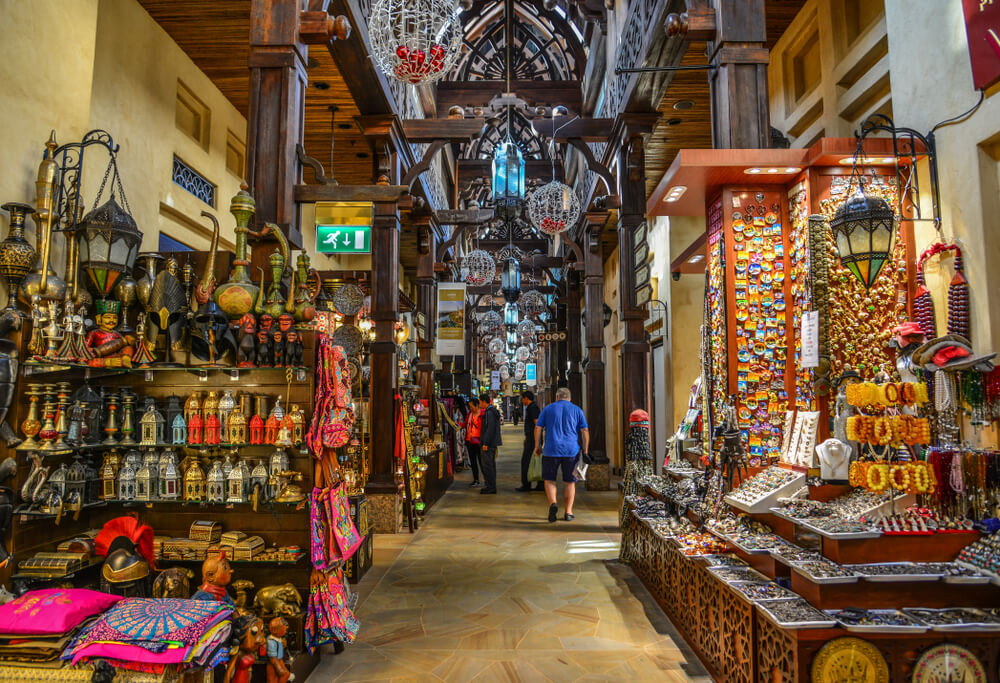 Shopping for souvenirs is the best part of any trip, and the Old souk has plenty of great options for you to choose from. You can find anything from traditional Emirati products to modern Dubai-themed items.
Some of the most popular souvenirs that you'll find in the Old Souk are:
1. Aladdin Lamps
These beautiful lamps are believed to have magical powers and are a must-buy in Dubai. Plenty of shops will sell these lamps, so make sure you bargain for a reasonable price. Of course, the vendors won't agree at first, but that's where your bargaining skill will be checked.
2. Oudh and Bakhoor
Oudh and Bakhoor are two popular traditional Emirati products used for special occasions.
Oudh is a perfume made from natural ingredients like wood and spices, while Bakhoor is incense used on ceremonial occasions. These make great souvenirs, especially if your friends or family love trying out new fragrances.
3. Arabic Coffee and Tea Sets
If you want to take a piece of Dubai home, Arabic coffee, and tea sets make great souvenirs. These come in beautiful traditional designs and make for outstanding decorative elements. You can find these sets in many shops across the Old souk.
4. Spice Sets
Dubai is well-known for its spices, and you'll find many of them in the Old souk. If you want to take some of these homes with you, then make sure you buy them from a reputable shop. Unfortunately, many fake shops in the souk sell low-quality spices, so be careful when purchasing.
That is just a small list of souvenirs in the Old souk. There are many other great options, so take your time and explore all the shops before purchasing.
Shopping At Old Souk Dubai
Shopping at Old souk Dubai is an experience you will remember forever. That is because the souk is unlike any other market or mall you've visited. It's a traditional market with a wide variety of shops that sell everything from spices to souvenirs.
As you enter this souk, brightly lit candles, fragrances, traditional fabrics, and pillows will catch your attention. In addition, you can shop for cotton, raw silk, wool, cashmere, and other materials. You can also find many accessories, such as buttons and laces, to enhance your outfit's look.
A great thing about the Dubai Old souk market is that it's not crowded like most other markets in Dubai. The souk is spread over a large area, with many different shops. So you won't have to fight through the crowds, and you'll be able to take your time exploring all the other shops. You can also get a Dubai old souk map to explore the area better.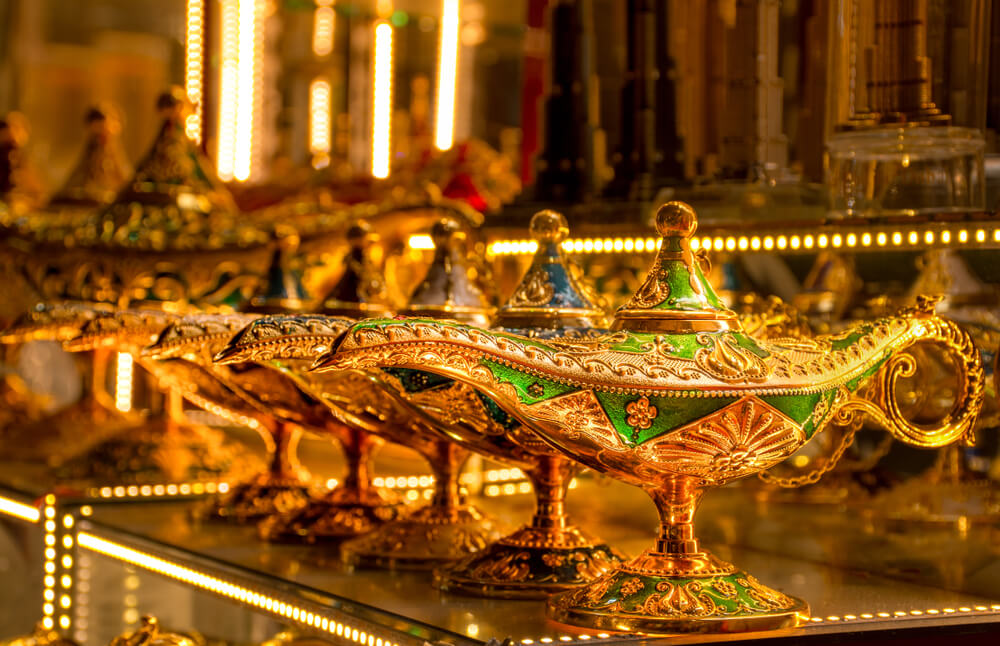 People from other Emirates often visit this souk to find quality footwear and other souvenirs like perfumes, spices, and dry fruits. You can find a lot of shops selling these products at very reasonable prices.
If you're looking for a traditional market experience, Old souk Dubai is the perfect place. You'll find everything you're looking for and have a great time bargaining for your purchases. So make sure you add this to your list of places to visit in Dubai.
Old Souk Location And Timings
The Old souk is in Bur Dubai on the southern side of the creek. It's right in the Middle of a bustling area where you can spot many other famous destinations.
The best time to visit Dubai creek Old souk is during the cooler months, i.e., from October to March. That is because Dubai's weather is extremely hot and humid during the summers, making it difficult to walk around in the souk for long periods.
The souk is open from 10 am to 10 pm and closed on Fridays but only for a short period. So you can plan your visit on the day which suits you!
Frequently Asked Questions
What times does the Old souk in Dubai close?
The Old souk in Dubai opens at 10 am and closes at 10 pm. It means you've plenty of time to explore this historical market and make the best daily purchases.
What can you buy at Old souk Dubai?
You can buy souvenirs, spices, and traditional fabrics at Old souk Dubai. There are hundreds of shops where you can explore the best products. You can find everything from conventional products to modern-day souvenirs here!
How to get to Old souk Dubai by public transportation?
The best way to get to Old souk Dubai is by taking the metro. You can take the green line and get off at Al Ghubaiba station or Al Fahidi metro station; these stations are near Old souk.
From there, it's just a short walk to the souk. You can also take a taxi or an Uber to Old souk Dubai.
Another way to reach the souk is by taking an Abra from Deira; getting there will hardly take 6 minutes. And the good part is that it costs only 1 AED.
Old souk Dubai is great for souvenirs, spices, and traditional fabrics. It's also a great place to bargain for your purchases. So if you're looking for a formal market experience, then make sure you add this to your list of places to visit in Dubai.