Gold Souk Dubai – The Best Place To Buy Gold
Every time you think about shopping, the name of this city will always snap into your mind; Dubai, a shopper's heaven! An uncountable array of shopping malls, brands, and designers is seen in this city, where hundreds and thousands of shopaholics pour in from all over the world every year. Here is all about Gold Souk Dubai.
While these malls are excessively visited and adored, we can't forget the souks in Dubai, which are equally favorite among tourists and locals. The souks in Dubai are home to hidden gems and rare finds you can't find in big glittery malls. 
Let's talk about one such souk, the Gold souk Dubai is the most famous and visited souk in Dubai; you can't even imagine how big and busting it is. It is located in the heart of Dubai's commercial business district in Deira and is accessible via taxis and public transport.
Although it's evident from the name, let us tell you, all that glitters is Gold here. The souk is full of jewelry shops that display gold jewelry ranging from 18 to 22-karat purity. The closer you look at these shops, the more you will be mesmerized by the beautiful designs and craftsmanship.
If you want to buy gold jewelry, this is the place to be! But don't forget to bargain, as it is common in all souks of Dubai. The price is almost always higher than the seller is willing to accept, so haggle away!
Apart from jewelry, there are many other things to buy at the Gold souk Dubai. Plenty of souvenir shops will sell keychains, magnets, miniature Burj Khalifa, and other trinkets. There are also a few cafes and restaurants in the souk where you can take a break from all the shopping and refuel yourself.
You need to discover some facts about Dubai Gold souk before visiting it, so It's time to dig into the article and see what this souk has for you!
Jewelry At Gold Souk Dubai
As we said, jewelry is the main attraction of this souk. You will find all kinds of jewelry here: a necklace, bracelet, ring, earrings, and any other jewelry piece you can think of. The designs are exquisite, and the craftsmanship is praiseworthy.
The most significant advantage of buying gold jewelry from the Gold souk Dubai is that the prices are lower than elsewhere. In addition, the purity of the Gold is also higher as most of the jewelry here is 18 to 22-karat pure.
You'll see the prices of 21K, 22K, 24K, and 18K in AED displayed on boards in the market. There can be an additional charge for artistry on these stunning jewelry pieces, but the good part is that it's negotiable.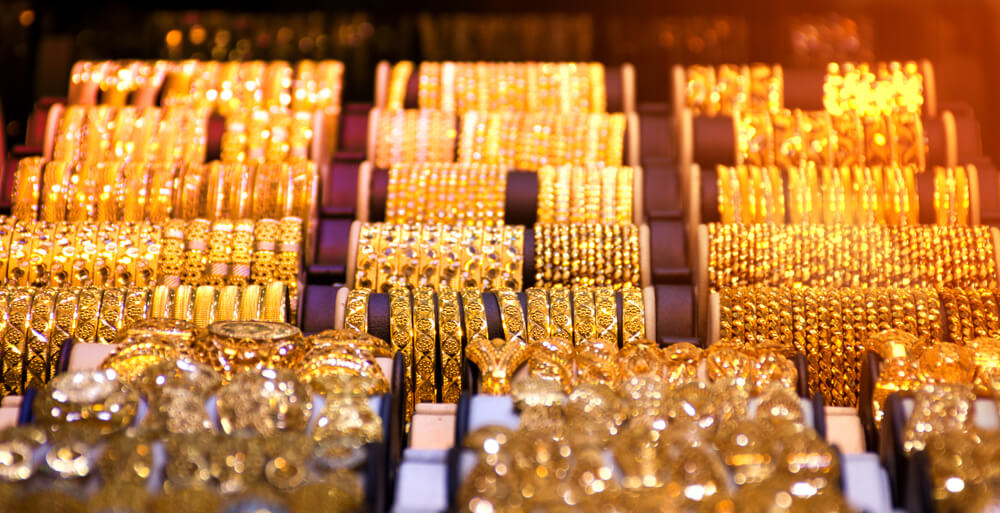 The trade of Gold and precious metals has been going strong in Dubai for one century; thus, this gives it the name "city of gold." As we all know, Emirates has no import duty tax on jewelry, and other taxes on Gold are very low; thus, this jewelry is cheaper than in most parts of the world.
The gold rate changes daily, but you can check it on the boards around the market or online before buying.
The myriad of stunning jewelry pieces is mesmerizing; even if you don't intend to buy Gold, its shine will catch you up! The variety of designs is so huge that you must haven't seen such unique pieces elsewhere. In addition, the lovely collection of bracelets, rings, and chains will make your jaw drop!
Eat And Drink At Gold Souk Dubai
The Gold souk Dubai is one of the busiest markets in the city, and it can be pretty tiring to walk around and bargain with shopkeepers. But, after all that shopping, you must be feeling famished, and we have covered for you.
Although the Gold souk is not home to any big restaurants, you will find a few cafes and juice bars where you can have a quick bite or refreshing juices.
Cafe Arabesque is one cafe inside the Gold souk where you can have light snacks like sandwiches, pastries, salads, pizzas, etc. In addition, the cafe has a lovely outdoor seating area where you can enjoy your meal while people-watching.
If you want to have more options for food, you can visit restaurants that are near Gold souk Dubai. One famous restaurant for barbecue options is Absolute Barbecues, where you can munch on the most delicious dishes. Al Safadi is another option offering Arab and Lebanese cuisine with an ancient Arab-style interior. The cold and hot appetizers and the meals prepared with meat, chicken, and fish are irresistible.
If you're hungry before shopping, you should head to Deny's dinner and breakfast, which has American breakfast options. So stuff yourself with some waffles and pancakes before you start shopping.
Souvenirs At Gold Souk Dubai
When in Dubai, how can you not buy souvenirs for your loved ones back home? The Gold souk is the perfect place to buy unique and unusual souvenirs you won't find anywhere else.
Many shops sell keychains, magnets, miniature replicas of the Burj Khalifa, and other trinkets. However, suppose you want to buy something more authentic and cultural. In that case, you should look for some traditional Arabic items like shishas (water pipes), khanjar (daggers), and Ghutras (traditional Arabic headwear).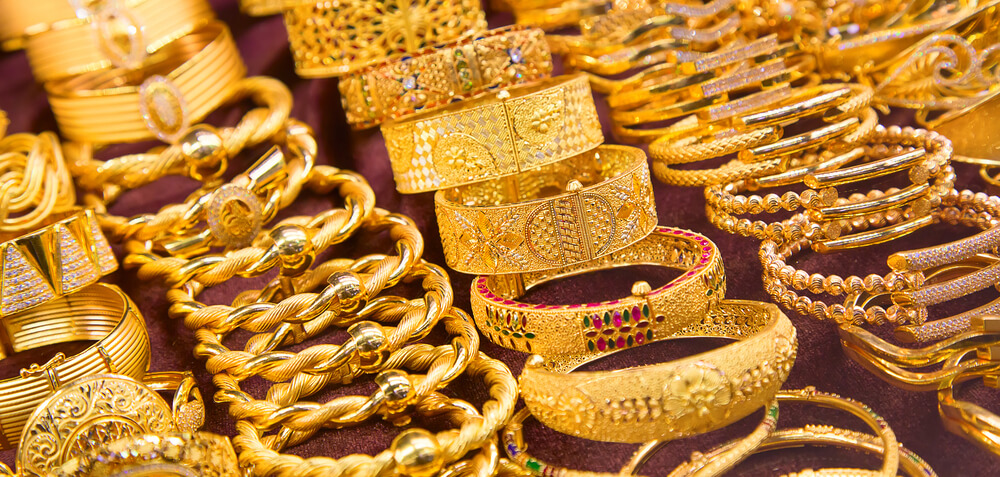 Dubai Gold souk has plenty of shops that aren't selling only Gold but some unique souvenirs that you won't find anywhere else in the world.
You'll find stores here that sell dry fruits, unique Arab clothing, chocolates, figurines, and much more. Stop by one of these stores and get lovely souvenirs for your friends and family.
If you're buying these souvenirs in bulk, bargain with the seller and make him agree on your desired price.
Sightseeing At Gold Souk Dubai
Many tourists enjoy sightseeing at Gold souk by walking around the souk and exploring the nearby historical places. You can also explore and learn about Arabic culture and traditions and take pictures.
The Gold souk features traditional stores and landmarks you can explore on your trip. Although it's better to go sightseeing when the sun is about to set, you'll get to see the most breathtaking views which you haven't seen before. And don't forget to take your camera with you.
Take pictures of these landscapes and make plenty of memories before returning home. Having those views saved in your mind is also enough to cherish when you're leaving this city.
Explore The Nearby Places
There's a lot to do at the Gold souk Dubai, and you'd be confused as so many things can't be covered in a day. But no worries, you can explore the historical places near Dubai Gold souk once you're done shopping. Or you can dedicate a whole day to exploring, taking pictures of landscapes, eating around, and tasting new cuisines.
Here are some must-visits when you're at the Gold souk Dubai.
1. Museum Of Illusions, Dubai
You'll have to take an Abra ride to get across the oasis and reach the museum. The place is quite popular among tourists, and if you want to take some mind-bending photos, this is the place to be.
That is an interactive museum with spinning tunnels, infinity rooms, and mysterious illusions that trick your eyes and deceive your senses. It's a great place to take fun and wacky photos with friends and family.
2. Al Fahidi Fort
Al Fahidi Fort is a historical place nearby Gold souk where you can learn about the history and culture of Dubai. The Fort is the oldest building in Dubai and has been turned into a museum that displays the traditional Emirati lifestyle.
This place attracts more than 2000 visitors daily and is living with a big crowd. During its lifetime, the Fort has served several purposes; once, it was also a king's palace. But now, it serves as a museum whose primary goal is to depict the life of Dubai before oil.
3. Take A Ride On Abra
The souk is also located near the Creek, a great place to ride on a traditional Abra and get a stunning view of the city skyline.
If you ride in the evening, the views will be even more stunning with all those glittering lights. You'll see other boats sailing alongside you, and the experience will be peaceful and serene.
4. The Bastakiya Quarter
It is an old traditional Emirati neighborhood that is located near the Creek. The place is quite popular among tourists as it's a great place to learn about the history and culture of Dubai.
You'll find many old buildings and wind towers here, which have been preserved to show the traditional lifestyle of Dubai.
Shopping At Gold Souk Dubai
While shopping at the world's most dedicated gold market, you should know how to shop effectively. The competition among manufacturers and retailers is so high that you'll be amazed to see it.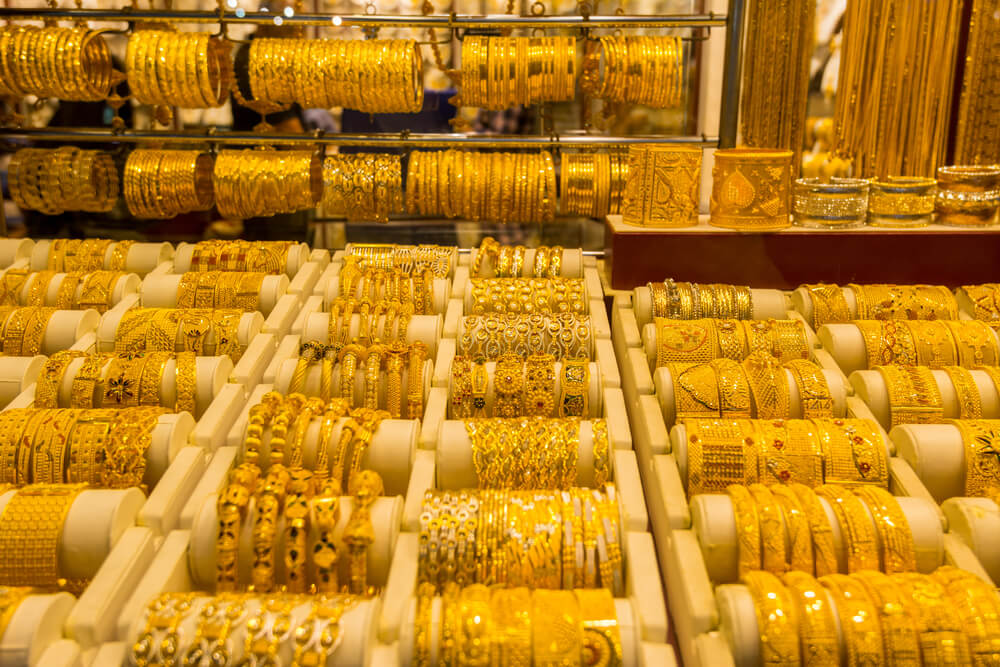 More than 400 outlets at this souk will make your head spin for a moment as you won't be able to decide first where to buy. But you must be wise here; shopping at Gold souk Dubai is a whole experience.
1. First Of All, The Window Shop
The best way to start shopping at Gold souk is to first window shop and look at all the beautiful jewelry on display. Then, once you have an idea of what you want, you won't fall trapped in impulse buying, which is not bad, but it's better to decide first.
So decide what item you want to buy before entering the Gold souk. It will also help save time and give you an upper hand in bargaining.
2. Learn About The Current Market Price
Ask your best friend to Google the current market price of Gold before you start bargaining. It would be best to know the average rate so that no one could cheat you.
The manufacturers here have to pay a certain percentage of their profit as tax to the Dubai government, which is why they add that cost to the quoted price. The good news is that you can bargain over it, and the discounts will be up to 10%.
3. Bargain Like There's No Tomorrow
Now that you know the market price and the manufacturer's cost, it's time to start bargaining.
The art of bargaining is not easy but will come with practice. The best thing you can do is try bartering 25% of the stated price while considering the rate and cost of labor. Then, try your best to bargain and lower the price by 10-15%. And in the end, both parties should feel like they've won something.
4. Check The Purity Of Gold
Once you have decided on a piece of jewelry, it's time to check its purity. The karat system is used to measure the purity of Gold. The 24 karats gold is the purest form you'll find, and it's too soft to make any jewelry.
The most common form of Gold used in jewelry is 18 karats, meaning it contains 75% pure gold. And the rest is made up of different metals like silver, copper, and zinc.
You can ask the retailer to show you the purity stamp before purchasing.
Tips To Visit Gold Souk Dubai
Visiting Gold souk is no less than going for a tour to a faraway destination. You should go prepared and know all the tips and tricks. For a hassle-free market experience, you need to go ready and plan. Here's what to do:
1. Dubai Gold souk is a traditional market always crowded with people. You won't be able to keep your valuables safe among a large group or crowd. It's better not to bring anything valuable except for your phone.
2. Keep your phone in your front pocket to keep an eye on it.
3. While bargaining is considered a fun activity, sometimes it might get frustrating if you're not getting the price you want despite trying hard. If you feel like you're not getting anywhere, take a break, have some refreshments, and come back with a fresh mind.
4. You should also know when to stop and not get too emotionally attached to any particular item. If you have been bargaining over a piece for a long time and still haven't reached an agreement, it's better to walk away. Plenty of other beautiful things are on the market, and you might find something you like even better.
5. The best time to visit the Gold souk is in the morning, as the market opens at 10 am. You can also go in the evening, but it might be hot and humid.
6. When you're done shopping, don't forget to treat yourself to some delicious food from restaurants in the market.
7. Be mindful of what you wear to these souks or traditional markets because some areas of Dubai are more conservative than others. Always try to dress fully when visiting public places.
8. Wear something loose, light, and breezy, as it can get hot during the day.
Places To Stay Near Gold Souk
Wouldn't one day be enough to explore this shopper's paradise? It's better to stay nearby then. Many hotels near Gold souk Dubai make it quite convenient for tourists. Although these hotels aren't within walking distance, you can take a taxi, and the ride will be a maximum of 2-3 minutes.
1. Queen's Hotel
Queen's hotel is close to Gold souk and is a 2-minute drive. The rooms are comfortable here, and the staff is friendly and helpful. The breakfast spread is also good, with a lot of variety.
2. Hyatt Regency Dubai
If you're looking for something luxurious, Hyatt regency is 0.6 miles from the Gold souk. The location is clean and well-maintained, and you'll get to stay in one of the most happening areas of Dubai.
The breakfast here is also quite lavish, with a lot of international as well as continental options. There's also a large pool, making it an excellent choice for families.
3. Al Seef Heritage Hotel
This 3-star hotel is 0.7 miles from the Gold souk and is popular among tourists. The rooms are spacious, and the staff is very cooperative; they go out of their way to make your stay comfortable. You'll feel at home while your stay at this hotel.
4. Arabian Courtyard Hotel and Spa
Only 0.5 miles away from the Gold souk, this luxury hotel is a dream stay for tourists and will give you ultimate comfort. The hotel staff is highly professional and will ensure all your needs are taken care of.
There's a wellness center and a pool inside the hotel where you can unwind after a long shopping day. In addition, the room's large windows will give you a nice view of the Dubai museum.
Gold Souk Location And Timings
The Gold souk is located in the Al Ras area of Deira, next to the fish and vegetable market. You can also find Dubai Gold souk's location online. This area is near many other famous tourist destinations. Dubai spice souk is quite close to the Gold souk, which makes people visit this souk and buy some traditional spices of Arabs.
You can also go to Bur Dubai souk, which is a few minutes away from this souk, so hop on the Abra and see what this other souk has!
The Gold souk is open seven days a week, so you can easily plan your visit whenever you want. The timings are from 10 am to 10 pm from Saturday to Thursday and open from 4 pm to 10 pm on Friday.
Frequently Asked Questions
What time does the Gold souk in Dubai close?
The Gold souk in Dubai closes at 10 pm throughout the week. However, you don't have to worry as you can easily make the most of your visit in just one day. A full day is enough for you to explore the area around you.
What can you buy at gold souk Dubai?
There is a wide range of things that you can buy at Gold souk Dubai at affordable prices. You will be spoilt for choices, from gold jewelry to coins, bars, and even bullion! In addition, you can buy some charming and funky souvenirs to take back home for your pals and not forget about the fantastic food you can munch on after a tiring day of shopping.
How to get to gold souk Dubai by public transportation?
The best way to get to Gold souk Dubai is by taking the metro. Take the green line and hop off at the nearest Al Ras metro station. Another option is the Gold Souq metro station, which is nearby.
If you want to travel by bus, the nearest bus stations to Gold souk are Al Sabkha and Gold souk. Buses going to that route include bus service 8, which travels from Ibn Battuta bus station to Gold souk bus station via Dubai marina beach residence.
The third way to travel to Gold souk is by taking an Abra. It's a traditional mode of transportation in Dubai that is quite popular among tourists.
Is Gold cheaper in Dubai Gold souk?
Dubai is a paradise for those who want to buy cheap Gold because the taxes on the price of Gold are excluded here. So the buyers only have to pay for the value of the gold jewelry.
You can find a wide range of gold jewelry in the Dubai Gold souk market at cheaper rates than in other countries. The quality of Gold is also excellent here.
The Gold souk in Dubai is one of the most popular tourist destinations. This traditional market is a must-visit when you're in Dubai. You can find all kinds of gold jewelry here at great prices. Just make sure to bargain and check the purity of Gold before making any purchase.
Have you ever been to the Gold souk in Dubai? What did you think of it? It must be better than your expectations!