Wafi Mall – The Egyptian-Themed Shopping Spot!
Wafi mall is one of the best malls in Dubai, and thousands of visitors come to enjoy its leisure and shopping, and dining experience! Wafi mall stands out from the rest of the shopping spots in Dubai because of the unique Egyptian theme it's based on.
Ancient Egypt and its historical masterpieces inspire the structure and interior of the mall. You'll see the famous sphinx statues outside the mall and at the entrance.
Wafi mall has lots of entertainment and activities to keep the visitors engaged. The aura of the mall is so enthralling that you'll be confused if you're in modern Dubai or ancient Egypt or between both. Isn't it interesting?
This Egyptian-theme-based mall is more than two decades old and holds primary importance in the shopping culture of Dubai.
Although Wafi mall is known to keep visitors entertained with its several events happening throughout the year, yet, the glamour is on another level during the Dubai festival as there are more and more sparkling events and activities.
Wafi mall is spread over five levels, with each group specific for shopping, leisure, entertainment, and dining activities.
Wafi mall is home to some of the best luxury brands in town and has a separate section for gold and jewelry.
Food lovers will love this place as it offers a great variety of dining experiences with more than 60 restaurants and cafes, most of which offer outdoor seating. Wafi mall provides an ultimate shopping, dining, and entertainment experience, which is hard to find in any other mall in Dubai.
So, what are you waiting for? Visit Wafi mall on your next trip to Dubai and have a great time!
VFS Wafi Mall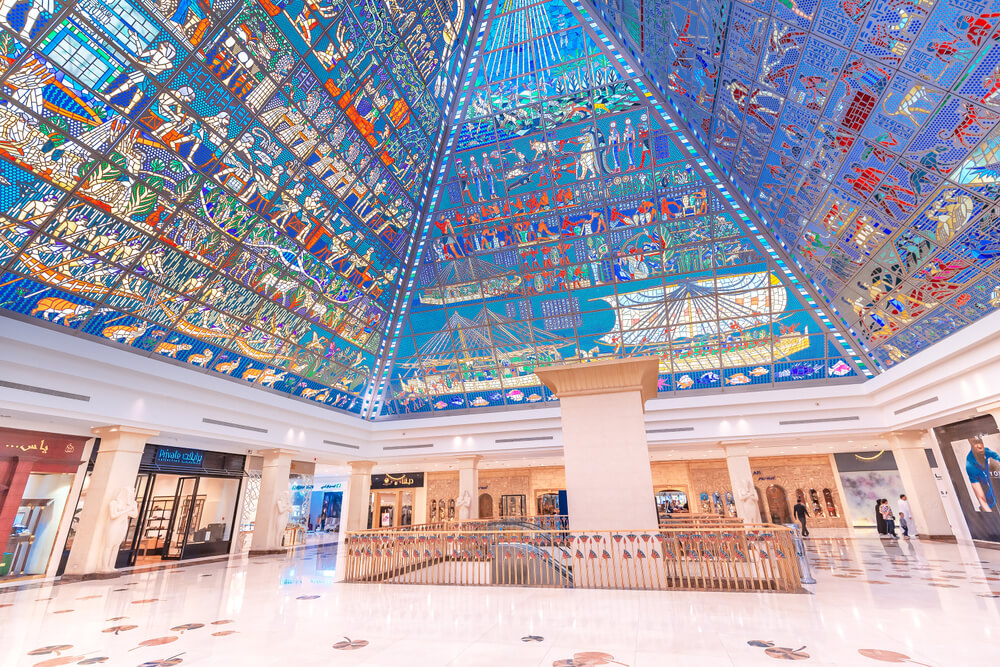 Wafi mall has a VFS global center which helps in visa processing. That makes it easier and faster for the visitors to get their visas done.
If you're visiting VFS in person, you'll have to bring your passport, passport bio page, and passport request letter to the application center. You'll be paying a service charge for submitting your ticket for the Visa process.
Customer service desks are installed at VFS Wafi mall visa application centers for various countries. VFS at Wafi mall also gives a passport renewal service, so if your passport is expired, you can get it renewed from Wafi mall.
As for the passport renewal, it would depend on your nationality and the requirements for the same. You can check with the concerned authorities or the embassy before heading to Wafi mall for the same.
VFS Global is on the 3rd floor of Wafi mall and opens at 9 am with a closing time of 5 pm.
You can also apply for your visa online through the VFS website and submit your passport at the application center.
Visa Services
VFS Global at the Wafi mall gives high-end amenities and services to the applicants.
The customer service officers are professional and courteous; they guide you throughout the application process to make it easier.
Applicants can also benefit from Wafi mall passport renewal services as they won't have to go far away to renew their passports.
The visa application process at VFS Wafi mall is convenient, efficient, and fast. The best thing about VFS Wafi mall is that it provides a separate area for children to play while their parents or guardians are busy with their visa procedures.
The staff is helpful and always willing to go the extra mile to make your experience comfortable and hassle-free.
Egyptian Theme Shopping Mall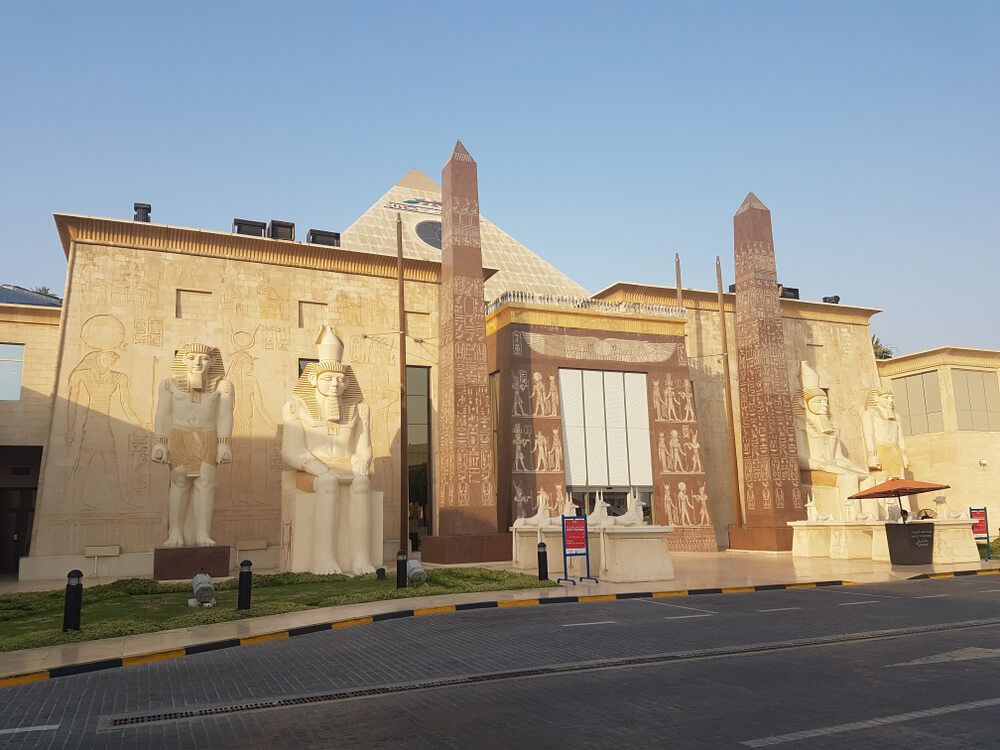 Wafi mall is one of those places in Dubai which offer an escape from the scorching heat and the hustle and bustle of the city. You'll feel like you've been transported to another era when you step inside.
The most beautiful thing to enjoy at Wafi mall is its light and sound shows in the evening. The mall gets decorated with dainty decorations during public holidays like Eid and Christmas.
Wafi mall is designed and inspired by ancient Egyptian architecture and culture. The interiors of the mall are beautifully done with intricate details. From the stunning chandeliers to the colossal statues, everything at Wafi is a work of art.
The mall is home to some of the best luxury brands like Louis Vuitton, Hermes, and Gucci. You'll also find a separate section for gold and jewelry. The most visited shops at Wafi mall are Marks and Spencer, Matalan, Burberry, and Roberto Cavalli. The biggest store at Wafi mall is Marks and Spencer, where you can shop for men's, women and children's products. Also, several local and international brands are under the roof of Wafi mall.
The Arabian souk located in the basement is the real deal of Wafi mall, where people come to enjoy the experience of Cleopatra's Spa.
Wafi mall also houses some biggest department stores like Salaam stores and Carrefour. It has a wide range of products, cosmetics, apparel, perfumes, and kitchen appliances so that you can also shop for your home.
Dining At Wafi Mall
Wafi mall offers a gastronomical journey as the mall has more than 60 restaurants and cafes. Paul, Starbucks, and Gourmet are some of the most prominent restaurants at Wafi. The eateries at Wafi mall include fine dining restaurants, fast food outlets, and cafes. So there's everything to cater to your hunger!
However, for cultural reasons, you won't find alcohol inside the Wafi mall. But you can find it at the licensed bars and restaurants at the adjoining pyramids complex. This complex stands with 19 floors, 5-star Raffle hotels, and 250 rooms, and you can spot some finest dining restaurants, bars, and spas here.
Let's look at what kind of restaurants the food court has and what you can get at fine dining restaurants.
Food Court
The food court at Wafi is one of the biggest in Dubai, with a seating capacity of more than 1000 people. The food court has a wide range of cuisines to choose from, like Asian, Indian, Italian, Lebanese, and American. So the food court can cater to different appetites and taste buds. You can get lemonades, pizzas, and whatnot!
The most popular restaurants at Wafi food court are McDonald's, KFC, Hardee's, and Subway. You can also find local favorites like Shawarma Factory and Al Mallah.
The food court is located on the lower ground floor and is open from 10 am to 12 pm.
Specialty Restaurants
If you're looking for a more upscale dining experience, Wafi has several specialty restaurants that offer international cuisines. You should try the Biella, Bosporus, or Rise cafe for your next dinner date.
At Al Qasr Metropole, you can enjoy traditional Arabic cuisine while surrounded by luxurious surroundings. The restaurant is located on the first floor of the mall.
Some of the best specialty restaurants at Wafi are La Petite Maison, Zuma, Fume, Coya, and Nobu. You can also find several cafes at Wafi like Costa Coffee, Starbucks, and Paul.
These specialty restaurants will make you enjoy the most OK food and dining amenities and collect a memorable experience. No matter your taste, you're sure to find something to your liking at Wafi Mall. With over 200 stores and restaurants, there's something for everyone!
Wafi Mall Timings
Wafi mall is open from 10 am to 10 pm on weekdays and 10 am to midnight on weekends.
It means you can visit the mall at your desired time and enjoy the palatable breakfast options to enthralling light shows in the evening. The immense number of activities at Wafi mall can keep you occupied for the whole day.
The restaurants at Wafi have different timings, so you'll need to check the timings of the restaurants before heading there. However, the food court is open from 10 am to 12 pm.
Wafi Mall Location
Wafi mall is located in Oud Metha, Dubai. The mall is easily accessible by public transport as it's close to the Oud Metha metro station.
You can also find several taxis outside the mall.
If you're driving, there are plenty of parking spaces, i.e., more than 1000 vehicles. Parking is free, but if you're at the mall for more than 2 hours, you'll have to pay a tiny amount.
Frequently Asked Questions
How To Go To Wafi Mall By Metro?
If you're planning to go to Wafi mall by metro, you'll have to take the Green line and disembark at the Dubai healthcare city metro station. It's the nearest station to Wafi mall, i.e., a few hundred meters, and you can easily walk that distance. If you're on the red line of the Dubai metro, you'll have to change trains at the Burjuman metro station. The metro ride from Dubai mall to healthcare city would take around 20-25 minutes.
How much passport renewal in Wafi mall?
The price of passport renewal in Wafi mall is AED 400. You can also avail of the express service for an additional fee of AED100, which will renew your passport within 48 hours.
For more information, you can visit the Wafi mall passport renewal website.