Outlet Village Dubai – An Amazing Place To Shop And Dine
While planning a trip to Dubai, no one can miss out on the shopping factor as Dubai is known to be the largest shopping hub in the world. Even on a limited budget, you can shop a lot from the Outlet Village.
From regular items to luxury brands, you can find almost anything in Dubai. This is what attracts people from all over the world to this city every year.
With countless shopping spots, Dubai is a treat to the eyes of shopaholics. One of these shopping attractions is the outlet village which is located right in the heart of the city.
The Outlet Village is one of the newest shopping destinations in the city and it has a lot to offer to the shoppers. The luxurious labels are presented in an exclusive Tuscan-style mall. Basically, this architecture is an inspiration by the medieval hill town of San Gimignano. And what's even better is that you can find almost everything under one roof at the Outlet Village Dubai.
You can find some of the leading brands from all over the world here at a discounted price. The outlet village is also home to a number of restaurants, cafes, and food outlets.
So, if you are planning to go on a shopping spree in Dubai, make sure to add Outlet Village to your list.
Insane Factory Prices For The Shoppers at Outlet Village
As the name suggests, the Outlet Village offers factory prices that are much lower than the regular retail prices. This means that you can get your hands on some of the leading brands at a fraction of the cost.
Even you can see the most popular brands here at a discounted price of up to 90%. This is no doubt insane! The wide variety of products and the amazing discounts make it a shopper's paradise. So now you know why people love to shop in the outlet village Dubai.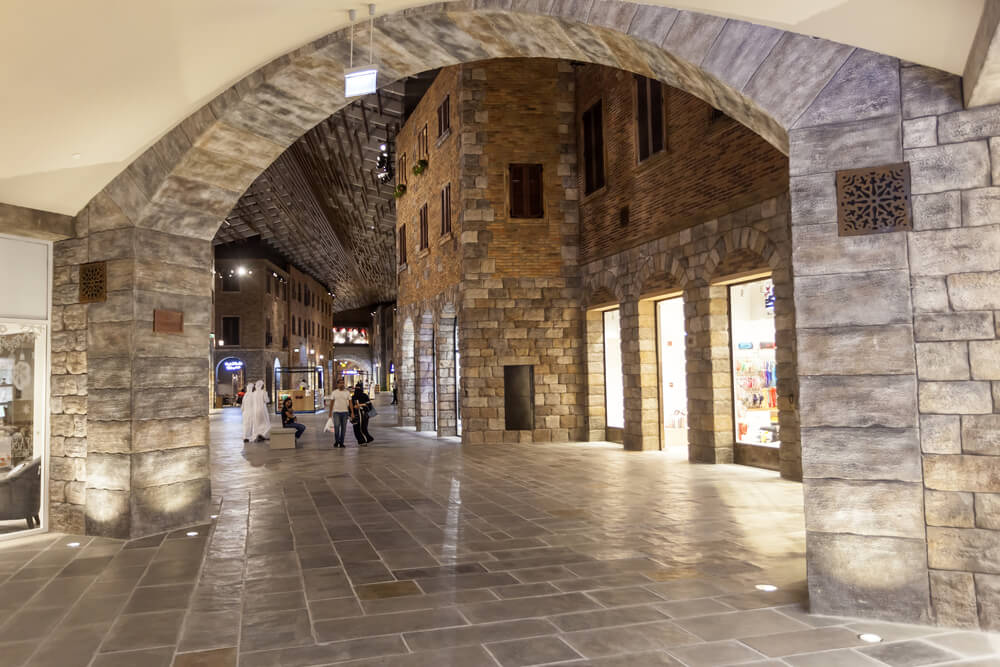 Rove At The Park – Relax Into The Luxury
Rove At The Park is one of the newest additions to the Outlet Village. It is a hotel that is a shouting distance from outlet village Dubai and the JBR beach is just 20 minutes away from it.
The three world-class amusement parks, Dubai marina, Outlet Village, and JBR beach are just clustered in one place. That makes it an even more charismatic tourist attraction. You can walk by the beach, get on a yacht ride in the marina and enjoy the advanced facilities of Rove at the park all in one day.
Talking more about the hotel, let me tell you that the interior of the hotel is so fun-filled that even your soul will feel refreshed. The crazy fusion of colors in the interior is just spectacular.
The rooms are spacious, and comfortable and offer all the necessary facilities that you might need during your stay.
Services – Serving You With The Best at Outlet Village
While you shop at the outlet village, you can enjoy dozens of services for free. Amidst the comforts of this place, you'll feel at home away from home. So let's take a quick look at what perks this place has for you!
Shuttle Bus Service
The outlet village provides a free shuttle bus service for the convenience of its shoppers and visitors. The buses run at regular intervals, and you can easily find one to take you to your desired destination. No more need to walk around the spot with all those shopping bags in your hand, just hop on a shuttle and get dropped off right at the destination you want.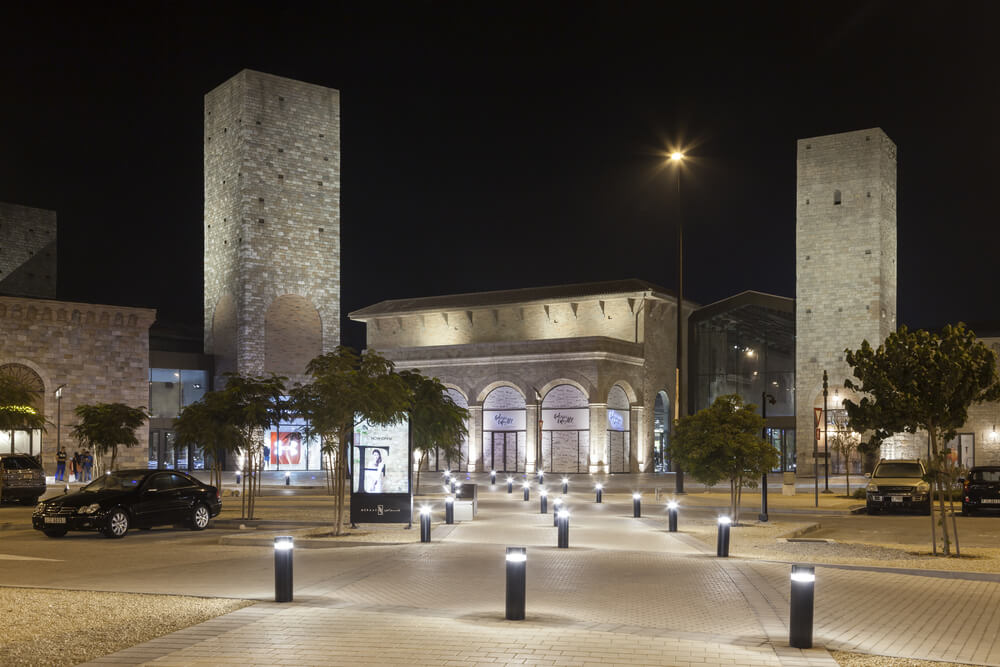 Free Wi-Fi at Outlet Village
Another fantastic service that the outlet village offers is free wifi. You can easily connect your devices to the internet and stay connected with your family and friends while you shop.
So when you need to get advice from friends who're away while you buy stuff, you're good to go!
Power Banks
In case your phone battery dies out, you don't need to worry as the outlet village has got you covered. They have a number of power banks placed at different locations around the outlet. You can easily find one and charge your phone for free. Isn't that great?
Complimentary Parking at Outlet Village
The outlet village has a huge parking area where you can park your car for free. You don't need to worry about paying for the parking or finding a spot, just drive in and find a space. Just remember the place where you park your car as the space is big enough for you to forget where you parked.
Services For People Of Determination
The outlet village is also home to a number of facilities for people of determination. There are 10 special parking spaces, easily accessible restrooms, and even an assistance team to help you with whatever you need. You can get even a wheelchair from the customer information desk.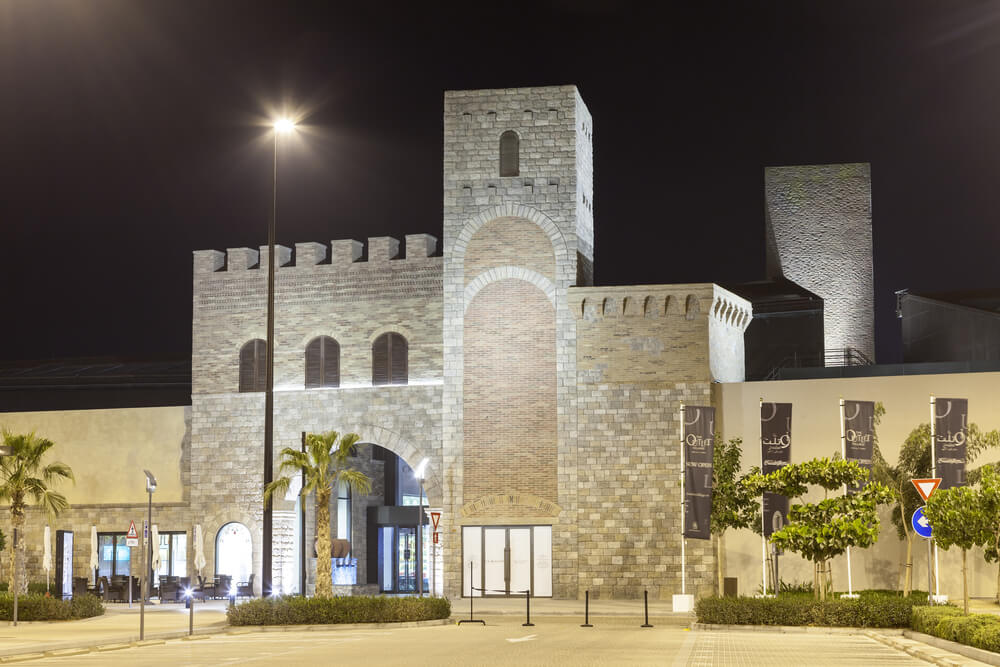 So these are some of the services that the outlet village offers to its visitors. Now let's take a look at the dining options available here.
Dining At The Outlet Village – The Finest Cuisines
When you're done with all the shopping and need a break, you can head over to one of the many dining options available here. It is not only a shopper's paradise but also a foodie's heaven. There are more than 30 restaurants and cafes that offer a variety of cuisines from all over the world.
Food Court at Outlet Village
The food court at the outlet village is a great place to try out different cuisines. You can get a quick bite or sit down and enjoy a meal.
Whether you're in the mood for some Italian pasta or want to munch on some American burgers, you'll find it all here. And if you're looking for something light, there are a number of fast food options available as well. So you can easily find something to satisfy your hunger pangs.
From Chinese food to Indian cuisine, this food court is no doubt a home to the most palatable dishes.
Specialty Restaurants at Outlet Village
If you're looking for something more than just a quick bite, you can head over to one of the many specialty restaurants at the outlet village. These restaurants offer a more sit-down dining experience where you can enjoy a meal in peace.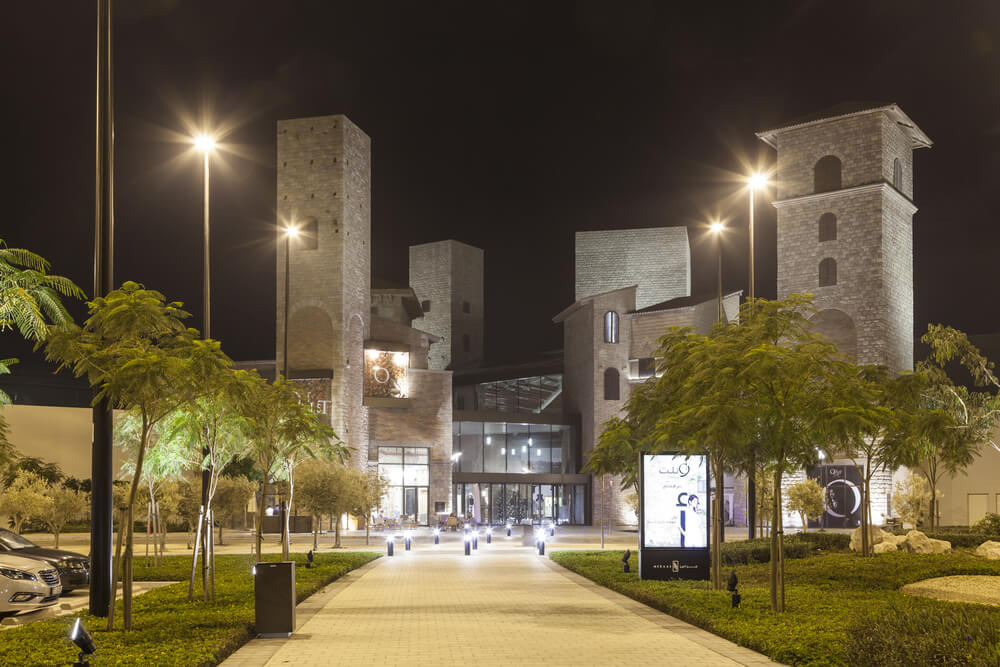 You'll encounter a wide range of restaurants here, serving different cuisines from around the globe. Either eat Thai curry or try out Japanese sushi, your taste buds won't refuse anything.
If you can't decide what to eat, here's what you should take a look at:
· Godiva
Godiva is the house to luxury confectionaries from where you can get the most mouth-watering items of your choice.
These are as good today as they were back in the 90s giving you a wholesome experience of having the delicious sweetmeats.
· Starbucks
The "one and only" Starbucks has secured its place in the outlet village as well. With its diverse range of coffee blends, extracts of syrups, and milk, it's stirring up the tastiest coffees for customers from all over the world.
· Salties Restaurant
Salties is right at the place to satisfy your pizza and pasta cravings. It's a hub of Italian dishes where you'll be left amazed after eating finger-licking good food.
Outlet Village Location
The outlet village is located in the heart of Dubai, making it easily accessible for visitors. The exact location is Jebel Ali. It's just a 20-minute drive from the airport and 10 minutes away from Downtown Dubai.
You can find it right next to Dubai parks and resorts; Motiongate Dubai, Legoland water park, and Bollywood Park are some of the spots you'll see on your way to Outlet Village Dubai.
If you're coming from Abu Dhabi, it'll take you around an hour to reach. Whether you drive yourself or take the metro, you can easily reach there without any hassle.
Outlet Village Timing
The outlet village is open all days of the week. You can come here anytime you want and enjoy a great shopping experience.
The time on weekdays is from 10 AM to 10 PM while on weekends it's extended by two hours i.e. until 12 AM. So you can come here from Friday to Sunday till midnight and do all the shopping you want.
There are also a number of events and activities that take place at the outlet village from time to time. So keep an eye out for those as well.
Frequently Asked Questions
Where is outlet village Dubai?
The outlet village is located in Jebel Ali, Dubai just a stone's throw from Dubai parks and resorts. This spot will offer you countless high-end brands at shockingly discounted prices.
How to go to outlet village Dubai by Metro?
You can take the metro from any station in Dubai, make sure it's the red line towards the UAE exchange and get off at the Ibn Battuta Metro station. It's seven miles away from the outlet village. From there, you can take a taxi or use the DPR1 bus which will drop you right in front of the outlet village.
All in all, the outlet village is a great place to shop, dine and have a good time. With its wide range of amenities and dining options, it's surely a place worth visiting. So if you're ever in Dubai, make sure to add this spot to your bucket list and check it as soon as possible.