Discover The Oasis Center
Oasis Center is a moderate-sized mall in the Al Qouz area of Dubai. The influential target audience of this mall is locals of UAE; still, it's a center of attraction for tourists. Although it's not as big as the other significant malls in Dubai, there is a variety of shopping, dining, and entertainment.
The mall has all big brands like Zara, Mango, H&M, etc. Many restaurants in the food court and cafes like Starbucks are on different floors.
Let's throw a little light on its history and inception; the original oasis mall was opened in 1999, but it got burnt down in an unfortunate event. In 2009, an enormous mall was rebuilt and reopened in its place. The 4-leveled mall is big enough to cater to all your shopping and entertainment needs. Some of the bigger stores include Carrefour market, Emax, and Daiso.
The carrefour market is smaller than the Carrefour hypermarket in other malls in Dubai, yet it offers fresh products to customers. You can spot fresh meat, fish, fruits, and vegetables here. Thus your grocery is also sorted out.
The mall's upper level has an extensive food court that offers various cuisines. There are different fast food chains and restaurants with a sit-in facility.
The fourth level has an amusement park for children, always bustling with kids and parents. Apart from that, there is also a Magic Planet for teenagers and young adults.
Fun City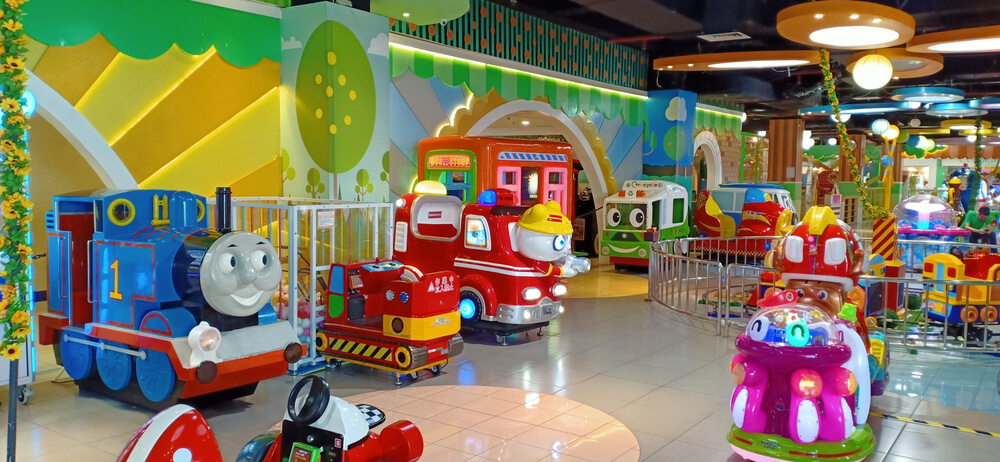 Fun City is an amusement park and an ideal party spot for children of all ages. It has different rides like a merry-go-round, bumper cars, and swings.
The fun city provides different categories of fun where your kid can also learn and thrive in other areas of life. There's a Fun n Learn area where kids aged 0-4 can learn productive things to enhance their mental and physical capability.
Playzone in the Fun city is an area where kids can slide, run, climb, jump and enjoy without the fear of getting hurt as it's a soft play area. Funcity is also best for birthday parties and school trips.
The place also has an arcade game area and a ball pit. A day out at Fun City is a perfect way to beat the heat and spend quality time with family and friends.
Services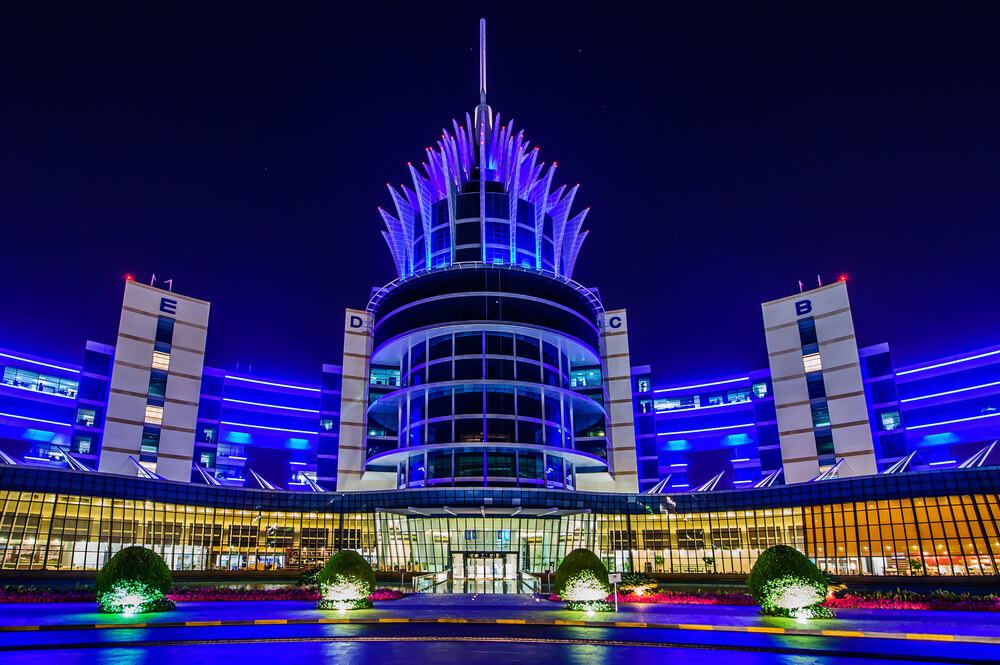 Oasis Center provides different services to facilitate its customers in the best way possible. All these services will make you feel at comfort as you'll be at the one-stop shop to run your errands.
Your day at the Oasis center will be comfortable and convenient as the mall has a babysitting service that is available at a very reasonable price. There's also an ATM and a money exchange service if you need to get your hands on some dirhams before you go shopping.
Oasis center's services include some basic and some specific services. There are stores and markets like Carrefour and Daiso that can address all your home's needs.
Government Services
The mall provides government services like renewing your Emirates ID, typing center, and postal services.
The Emirates Identity Authority (EIDA) office is on the first floor to serve the customers in getting their ID cards done quickly. There is also a typing center, Tas'heel, to get various documents attested from government departments.
Also, the mall has an Emirates post office inside the mall to take care of your postal needs and an Emirates NBD branch as well.
Whether you want to renew or apply for a new trade license or an ID card, you can get it done at the Oasis center without hassle.
All these services make it easier for the residents to get their day-to-day tasks done without leaving the mall premises.
Guest Services
The Oasis center also offers different services for its customers' convenience. These include a lost and found counter, stroller and wheelchair rental service, babysitting service, and prayer room facilities.
There is a unique assistance desk for senior citizens and people with special needs to help them in every way possible. The mall also has an infant feeding room for mothers to feed their babies in a peaceful and comfortable environment.
The prayer rooms are located on all the mall floors, so you can offer your prayers with ease no matter where you are inside the mall.
Oasis Centre also has an ATM gallery and different money exchange counters to cater to your financial needs.
Mall Services
Oasis Centre has different stores that offer a wide range of services. There are beauty salons, barber shops, laundries, and tailoring shops to care for your beauty and grooming needs.
Travel agencies are also present in the mall to help you plan your vacations. You can book your flight tickets and hotel rooms all under one roof.
Oasis Centre also has a pet shop, so you can get all the things that your pets need without going to different places.
The mall also has a pharmacy to take care of your medical needs.
Eating at Oasis Centre
Oasis Centre offers a wide range of dining options to satisfy your taste buds. Some of the renowned eateries are Baskin Robbins, Bombay Chowpatty, Gelato Divino, and Starbucks. Whether hanging out with your friends or spending a day with your kids or family, Oasis center will surely satisfy your hunger!
Oasis Center offers an uncrowded shopping experience which is what introverts and low-key people love!
Food Court
Oasis Center has a calm environment, and the popular cafes and restaurants are perfect for a family-friendly day out! If you're looking for some authentic oriental taste in Dubai, Oasis center is the ideal spot for you!
There is a food court on the first floor with fast food chains like McDonald's, KFC, Hardee's, and Subway. You can munch on your favorite fast food without spending much money.
If you're looking for finger-licking Chicken burgers or a juicy hamburger, head to McDonald's and get a fulfilling meal. KFC is another perfect spot for people who love crispy, crunchy Chicken burgers. So head to the food court after your tiring shopping session and wind up your day with a good meal.
Cafes
If you're looking for a place to enjoy a cup of coffee with your friends, then there are plenty of options available at Oasis Centre. You can find different cafes and restaurants on the other floors of the mall. These include Nando's, Costa Coffee, Cafe Nero, Tim Hortons, Starbucks, and Burger King.
You can also enjoy a meal at restaurants present in the mall like Nando's, Wagamama's, and Carluccio's.
Supermarkets
Oasis Centre also has a grocery store, Spinneys, to take care of your daily grocery needs.
You can also find the famous Japanese store Daiso which has tens and thousands of products at a very affordable price. Its product range is so vast that you'll be confused about what to buy and leave. Oasis Center has everything from kitchenware, toys, and stationery to cosmetics and pet care products!
Oasis Center Location
The Oasis Centre is located on Sheikh Zayed Road in Dubai. It is adjacent to the Dubai World Trade Centre and just a few minutes walk from the Burj Khalifa/Dubai Mall Metro Station.
The mall is easily accessible by car and public transport. There is a large parking area available for the shoppers.
Oasis Centre Timing
The Oasis Centre is open from 10 am to 10 pm from Saturday to Wednesday. The mall is available for extended hours from 10 am to 12 midnight on Thursdays and Fridays.
So plan your visit to the Oasis Centre according to your convenience and enjoy a hassle-free shopping experience.
Frequently Asked Questions
Which metro station is close to Oasis Center Dubai?
The closest metro station to Oasis Center Dubai is the Al Safa Metro Station. From there you can either walk or take a short taxi ride to the mall.
Although Business Bay metro station and Burj Khalifa/ Dubai mall metro station are also close, Al Safa is the closest.
The distance from Al Safa metro station to Oasis Center is around 1.1 kilometers only.
If you are coming from any other direction, the best option is to take a taxi as the mall is not very easily accessible by public transport.
No matter what you're looking for, you're sure to find it at the Oasis Center. This mall has everything from fashion and beauty to electronics and homewares. And if you need a break from shopping, there are plenty of places to relax and grab a bite to eat.