Explore The Impeccable Marina Mall!
Marina mall, named after the Dubai marina, is a shopping destination in UAE that you need to visit this summer. What makes this shopping mall stand out from the rest ones? Well, it has much more to offer than just shopping or dining. 
This 4-leveled shopping mall adds more glitter and spark to the already gleaming Dubai marina. The beautiful walkway, lined with palm trees and LED lights, is a picturesque view you cannot afford to miss. The glass-roofed atrium of the mall lets in natural light during the daytime, making the place look bright and airy.
With a vast space of about 390,000 square feet, the Dubai marina mall honors have almost 140 individual outlets. It might be smaller than other malls, but it covers all the essential shopping amenities a mall should have.
The lower ground floor has a food court that offers a variety of cuisines from all over the world.
If you are looking for some luxury brands, then the first floor is just the place for you. Brands like Zara, Aldo, Charles & Keith, Mango, and Forever 21 have their outlets in the Dubai marina mall.
The frequent visitors ever come here for the marina boat ride or for the sake of luxury and high-end brands.
Let's dive into this article to see what exciting things you'll get to explore at Marina mall.
Marina Walk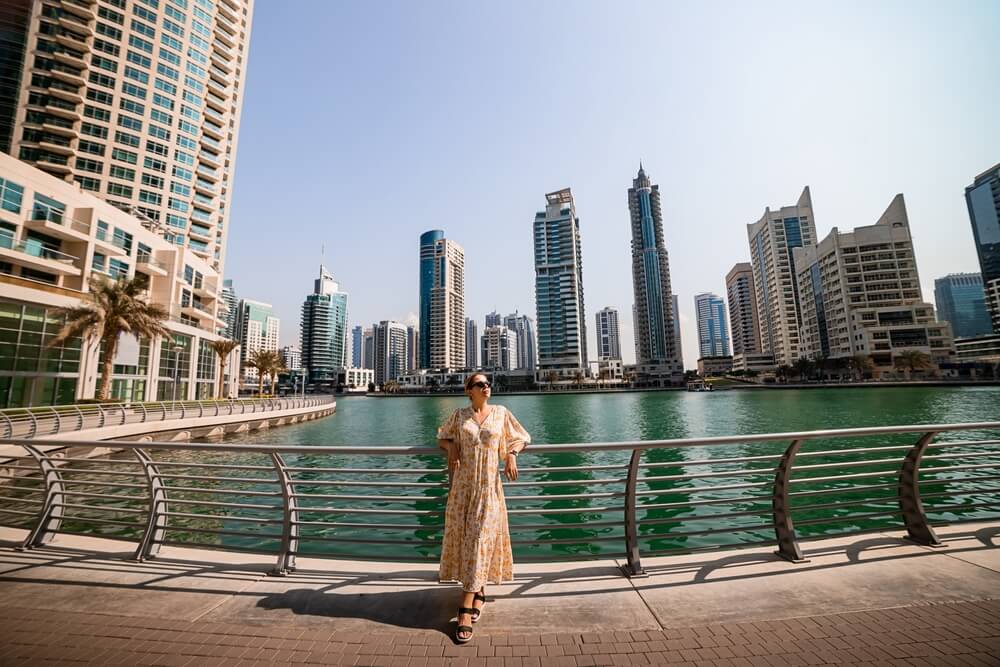 Well, the first thing you should explore is the famous Marina walk. It is a paved walkway that runs parallel to the Marina. It is about 7 kilometers long and is one of the best places in Dubai to take a stroll or go for a jog. But don't forget to bring your tennis shoes or some soft foot inserts as the distance can tire your feet.
The Marina walk is lined with palm trees and has beautiful views of the yachts and luxury boats docked at the Marina. If you're tired from the stroll and want to stop and have your energy refilled, you can try one of the restaurants along Marina walk. There are also several cafes where you can stop for a bite or coffee.
The beach along the Marina walk is Jumeirah beach which will give you the most spectacular view of the Arabian Gulf. Some popular restaurants at Marina walk are Coco's, Ruby Tuesdays, and Zaatar w Zeit. The restaurants and cafes are made concerning different cultures and their values. So you might not get alcohol at all of these restaurants, but you can grab one from hotel bars and grills!
The entire Marina walk is so long that walking to the end will take you at least 24 hours! So better not try that.
Reel Cinema Marina Mall
Dubai's Marina mall is one of the favorite destinations for movie lovers! The big screens and bewitching movie audio will make you feel like you're a part of the movie.
So if you are looking for entertainment, you should definitely check out the Reel cinema at the Dubai Marina mall. It is a 14-screen multiplex cinema that shows various latest release movies.
The cinema is located on the first floor of Marina mall and has a total seating capacity of 2407 people. The tickets for the show can be easily bought online through the Reel cinema website or at the box office.
If you want to make your movie experience even more unique, you should go for the Gold by Rhodes experience. That is a VIP movie experience where you can watch the movie in luxurious reclining armchairs. You also get a complimentary drink and popcorn with your ticket.
So if you're looking for some entertainment and want to escape the scorching heat outside, then make sure to check out the Reel cinema at Marina mall!
Yacht Club Marina
Dubai marina yacht club holds four marinas standing at different points along the Marina canal.
If you're looking for a place to unwind and relax, the Yacht Club Marina is the perfect spot. It is a members-only yacht club that offers various facilities and services.
Some of the facilities at the yacht club include a swimming pool, bar, restaurant, gym, and spa. The membership of the yacht club starts from AED 5,000 and goes up to AED 25,000.
The membership fees are pretty high, but it is worth it if you want to enjoy the luxury and exclusivity of the club.
If you're not a member of the club, then you can still enjoy the views of the Marina from the public area of the club. The general area has a bar and restaurant where you can enjoy drinks and food with a beautiful view of the Marina.
The yacht club is conveniently located just minutes from downtown and offers free parking for customers. See us today, and let us help you enjoy the water!
Dining At Marina Mall
Standing at a perfect spot with breathtaking views of the Gulf, the Dubai Marina mall has a lot of things to do other than just shopping. This mall can be heaven for foodies as they can discover the best cuisines here.
From food courts to fine dining, Marina mall has it all. If you're looking for a quick bite, you can head to the food court on the mall's ground floor.
Food Court
Marina mall has a variety of fast food outlets like McDonald's, KFC, Subway, and Burger King. You can also find some local food outlets like Pakiza and Samosa House.
If you're looking for a more upscale dining experience, you should check out the restaurants on Marina walk. Several restaurants with outdoor seating offer stunning views of the Arabian Gulf.
Fine Dining
Some popular restaurants on Marina walk are Zuma, Coya, and Rhodes Twenty10. These restaurants offer a fine dining experience with delicious food and excellent service.
If you're looking for a romantic dinner with a beautiful view, you should check out these restaurants.
Services At Marina Mall
Marina mall is one of the finest malls in Dubai, offering an exquisite shopping experience, dining, and much more! It has plenty of retail and leisure options where you can find the best product deals.
More than 100 shops, restaurants, and entertainment spots await you with all the glory!
Some upgraded amenities include salons, spas, pharmacies, fitness brands, and exchange centers, giving you a more wholesome experience.
Entertainment facilities for kids, reel cinemas, and Dubai XLINE are some of the most fun things you can't miss at any chance.
Here are some other essential services offered by Dubai Marina mall.
Wi-Fi
The mall offers free Wi-Fi for all its visitors. So, now you can shop and stay connected at the same time! You have to connect to the mall's Wi-Fi and login to a page that opens next, and boom! You're good to go!
Parking Services
Marina mall has a huge parking area where you can park your car without the hassle. Marina mall provides ample parking space for its visitors. There are 3,000 parking spaces available in the basement and on the rooftop.
Valet parking services are also available if you don't want to park your car.
However, the parking facility is accessible on public holidays and weekends, but on weekdays the parking is free for only the first 3 hours. After that, you'll pay 20 AED per hour for the parking service.
ATM Services
Plenty of ATM machines are available in the mall, so you don't have to face any trouble in case you run out of cash. These machines are located at different points in the mall so that you can easily find one when you need it.
Marina Mall Timing
Whether you're an early riser or a night owl, you don't have to worry about the timings of Marina mall, as these are pretty flexible. The mall opens at 10 am and closes at 10 pm from Sunday to Wednesday. However, it begins at 10 am on Thursdays and closes late at midnight.
On Fridays, the mall is open for longer hours as people usually like to go shopping after work. The times on Friday are 10 am to 12 am.
Marina Mall Location
Marina mall is located in Dubai Marina, one of the most happening places in Dubai. The exact location is on Sheikh Zayed road. It's easily accessible by car or public transport. You can also find the precise location by entering the mall's name in Google maps.
That's all the information you need to know about Marina mall! Now go and enjoy your shopping, dining, and entertainment experience at this one-of-a-kind mall in Dubai!
How to go to Marina mall by metro?
Dubai metro is an excellent option to go to Marina mall if you opt for public transport. You have to hop off at the DMCC metro station and use the overpass to reach the mall by walk. The whole journey would hardly take 5 to 10 minutes.