The Dubai Mall – A Grand Shopping Destination!
Well, this mall doesn't need any introduction; still, it'd be correct to say that this is the world's most visited shopping destination. Dubai mall, with almost 1200 retail stores, is situated in the city's most splendid place, i.e., right next to Burj Khalifa. 
In the hustle of downtown Dubai, this mega project by Emaar is sparkling with all its glory, and millions of visitors visit the mall every year. Dubai mall is the home to the world's most renowned luxury brands, and so it's a center of attraction for people who're high-end brand lovers!
The mall of more than 1 million sqm has tens and hundreds of food and beverage outlets, thus being a foodie's heaven. You can munch on the unique cuisines and give your taste buds a new touch.
The Dubai mall is not just a place for luxury brands or food but also a perfect place if you're looking for some family fun time! It has one of the world's largest indoor theme parks, KidZania. This place is a dream for every kid as they can role-play over 90 different professions.
From being a fashion designer to rock climbing, your kid will have the time of their life!
The Dubai mall also has one of the world's tallest waterfalls, the Dubai fountain. The spectacular show of this fountain is a must-see when you're in Dubai!
The Dubai mall truly is a place for everyone; whether you want to shop till you drop, or you're looking for some family fun time, or you want to explore one of the world's largest malls, the Dubai mall is the place to be!
The range of activities that the mall offers is just outstanding and incomparable. So what are you waiting for? Pack your bags, and let the fun begin!
Ice Rink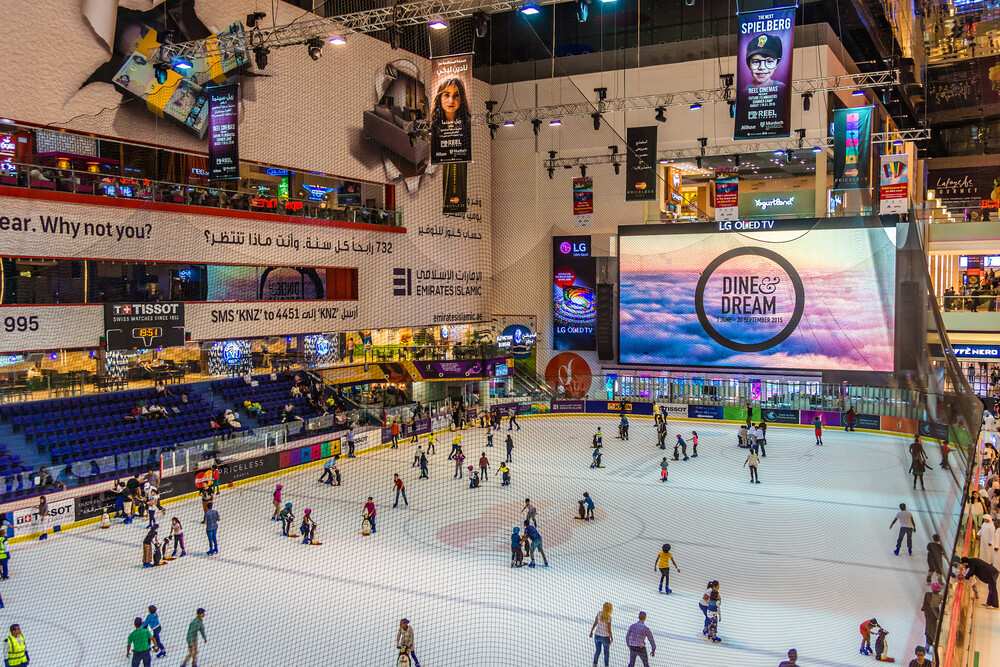 The Dubai Mall is home to the world's largest indoor ice rink! Sprawling over an area of 3000 square meters, the rink offers a truly unique experience. You can skate to your heart's content amidst stunning surroundings. The rink also has a dedicated area for children where they can enjoy themselves while learning how to skate.
There's no age limit to learning the basic ice skating skills, so whether it's you or your child, you can get enrolled in the academy or skating school and get some experience.
Ice rink's academy classes take place in groups of 10 participants, so you'll have companions to enjoy learning with. Classes are scheduled on weekend mornings, and the course runs for almost eight weeks.
World's Largest Aquarium
The Dubai mall is home to the world's largest indoor aquarium! The Aquarium & Underwater Zoo is an experience like no other. With over 140 species of marine animals, this is a truly mesmerizing place to see.
You can walk through the 48-meter-long acrylic tunnel and get up close and personal with the underwater creatures. The aquarium also offers a unique diving experience where you can dive into the cage with sharks!
It is a once-in-a-lifetime experience and something that you must do when you're in Dubai.
The aquarium also has a dedicated area for children to learn about marine life and have hands-on experience with some creatures.
The Aquarium & Underwater Zoo is truly a place where you can learn and have fun simultaneously!
Aquarium Tunnel
You can experience a close encounter with the marine animals at the aquarium tunnel. Yes, this splendid aquarium has a 270-degree tunnel that looks closely at sharks, octopuses, stingrays, and other animals floating on the top and sides. It's as attractive as it sounds!
The aquarium tunnel is made up of acrylic material, about 8.3 cm thick. The thickness of the material ensures the safety of visitors and the animals.
You don't have to worry about your safety; enjoy the views before you return home!
Diving Experience
Now you can dive into the world's largest aquarium and get one more tick on your bucket list. The Dubai mall aquarium allows one to dive and take a closer look at the marine animals. Your safety is ensured, so you don't have to worry about that!
That is one for all the thrill-seekers out there! The aquarium offers a diving experience to get into the cage and dive with the sharks. Explore the wondrous underwater photography experience, take pictures of sharks from a shouting distance and take your diving experience to a new level. It's undoubtedly a magnificent memory to have!
Reel Cinema Dubai Mall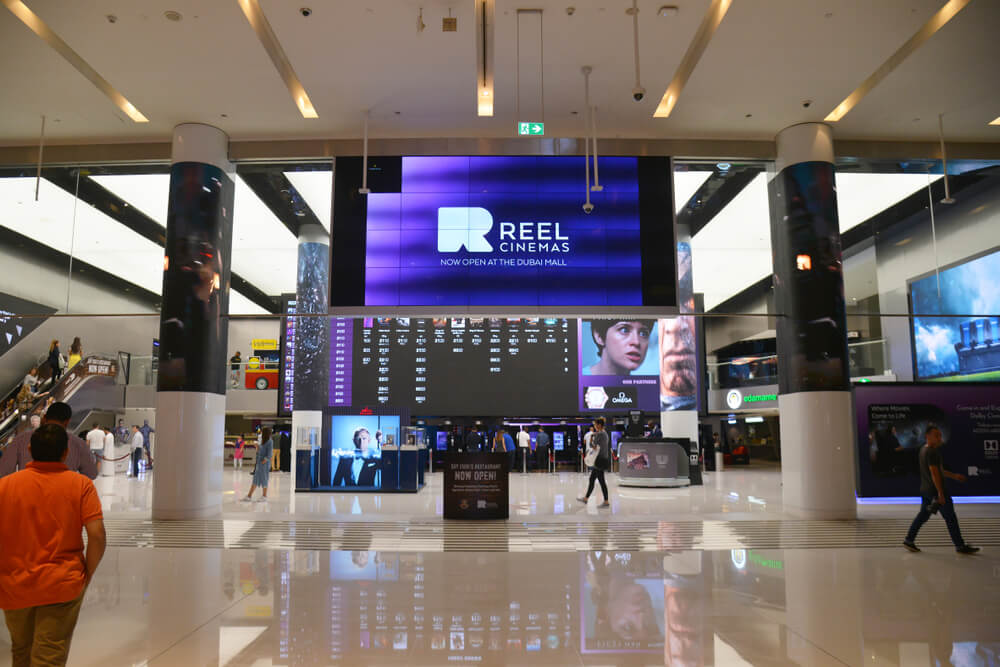 The biggest mall in the world is honored to have reel cinemas as well. It is one of the leading cinema chains in the UAE. Reel cinema in Dubai mall will give you a luxurious experience of watching a movie!
The opening time of the cinema is similar to that of the mall timings but closing times can extend a bit. You can't bring snacks or drinks from outside.
The cinema has the comfiest seats for kids, making it feel like a home for your young ones. You can take your kids to the movie on the weekend and enjoy the top-notch quality of reel cinemas.
There's a dine-in cinema to calm down your hunger pangs while watching a movie. Enjoy your movie with your comfort food!
Screen X Experience
The cinema offers a truly immersive experience with its latest Screen X technology. So if you've seen it all when it comes to movies, think again. ScreenX is a game-changer in the world of cinema. It's a multi-projection system that creates an immersive, panoramic image on the screen, making you feel right in the middle of the action.
Now you can enjoy your favorite films on a gigantic screen that covers all four walls and the theater's ceiling!
Platinum Suites Experience
Reel Cinemas at The Dubai Mall offer a genuinely luxurious movie-watching experience. If you're not a regular cinema lover, this place has got you!
The Platinum Suites are private suites with butler service, comfortable reclining seats, and a gourmet menu. It's the perfect way to relax and unwind while watching your favorite film.
Platinum suites experience is a whole new level of luxury and comfort. Sit back, relax, and enjoy the show!
Kidzania
With 28 parks and fun lands around the world, Kidzania is a rapidly growing entertainment name among kids. It is an educational entertainment park where kids can role-play as adults in a mini city. It's the perfect place for your kids to learn about different professions and explore their interests.
KidZania has more than 40 role play games and activities to help you explore your kid's interests and decide their future. This park has a mini-hospital, bank, radio station, and much more to keep your kid entertained.
There are special promotions and exciting events that your kids shouldn't miss, so keep checking Kidzania's event calendar. You can also get some incredible discounts on certain special occasions or public days.
You can also make your kids' birthdays memorable by planning a private party for your young one at the Kidzania. So please surprise them and let them explore different jobs and professions at such a young age.
The opening and closing times for Kidzania are from 10 am to 10 pm from Monday to Sunday; just make sure you enter before 9 pm if you're going late. Visit KidZania to give your kid a fun and educational experience!
Dubai Mall Go Kart
Do you like go-karting? Do you want to experience it in the biggest mall in the world? Then head over to the Dubai Mall Go Kart track! There's a new go-kart zone open in Dubai mall, adding to its list of already existing fun-to-do things.
It is a first-of-its-kind indoor e-karting space in Dubai equipped with the latest electric go-karts and promises a high-end experience for go-kart lovers!
The safety of players is ensured through Don helmets and Jumpsuits, and you can't go racing without your said gear. So challenge your friends or family for a thrilling go-karting experience at the Dubai mall.
The track is located on the mall's first floor, near the Reel Cinemas. It's open from 10 am to 10 pm, and you can race for as long as you want. Single and double karts are available so that you can race with a friend or family member.
The go-kart track is perfect for a rainy day or if you need a break from shopping. So come on and experience the thrill of racing in the Dubai Mall!
VR Parks Dubai Mall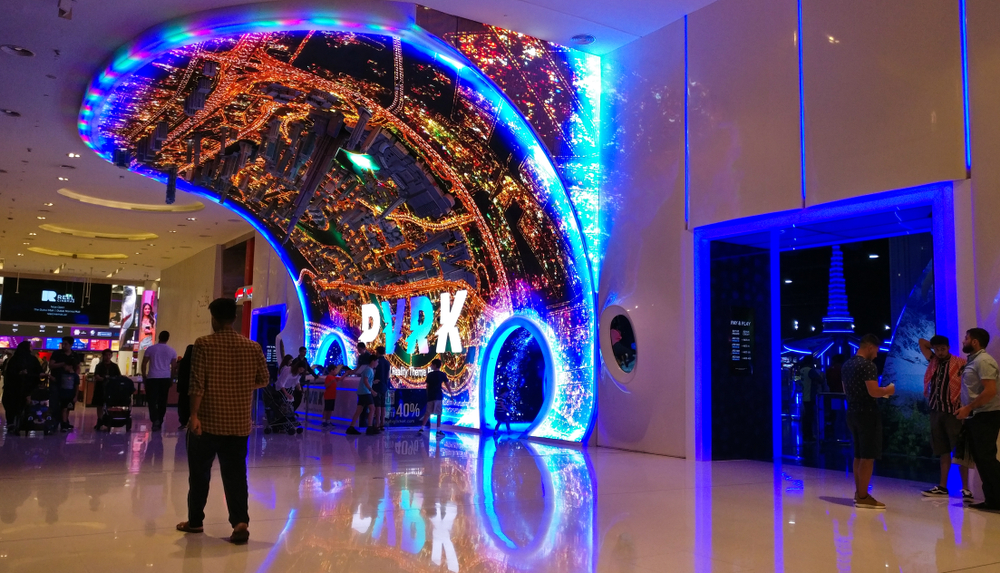 Fans of virtual reality parks have an excellent chance to satisfy their VR craze as the world's largest virtual reality park opened its gates in the Dubai mall.
This VR park is the world's most significant indoor virtual reality place where you can have fun with your friends and family.
The park has enough space to accommodate hundreds of visitors simultaneously as there are more than 30 thrilling virtual experiences. If you're going to the VR park and are confused about your toddler, don't worry. We've got you. There's a soft play area in the park for kids where they can make new friends while you enjoy some me-time in the VR space.
If you want to refresh your nostalgia for playing arcade games back in the 90s, this is an incredible chance to feel lively at heart again.
The opening hours are from 10 am to 10 pm from Monday to Thursday, and the closing time extends to midnight on weekends. So you can make the most out of your visit to the biggest mall in the world.
Dubai Fountain Show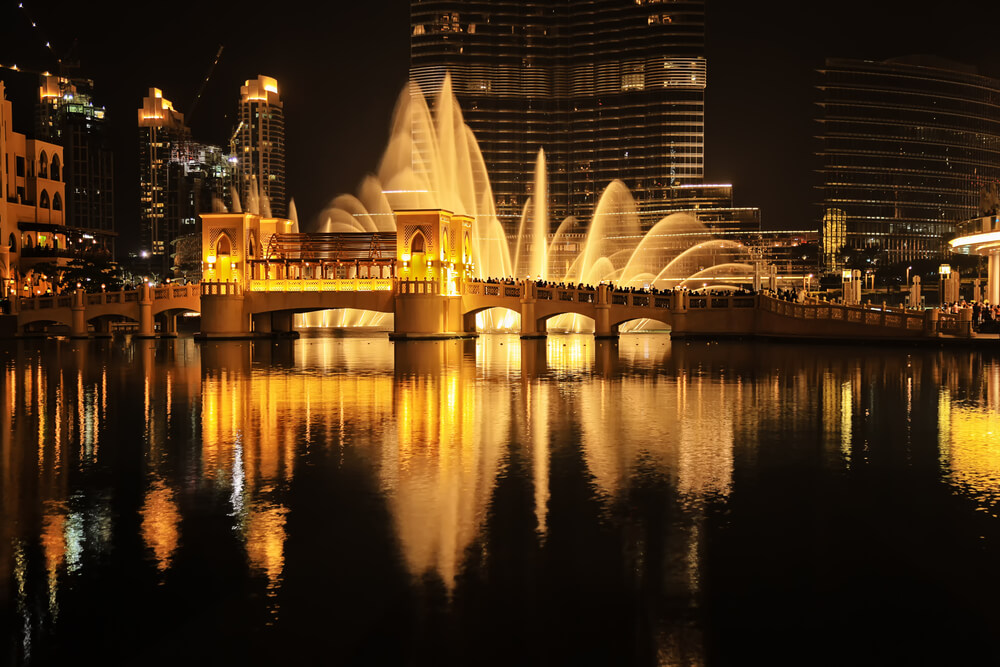 The Dubai fountain, which opened in 2009, is the world's most famous and tallest performing fountain standing right in the heart of Downtown Dubai. It's the main center of attraction for thousands of visitors who come to see Dubai mall from around the world.
The performance timings for the Dubai fountain are every half an hour from 6 pm to 11 pm on weekdays and extend to 11:30 pm on weekends.
During the performance, you'll see water spraying as high up as 500 ft in the air, accompanied by mesmerizing lights and music. The show is set to different songs every time, making it more entertaining.
If you want a closer look at the fountain, you can take a trip on an Abra and enjoy the scenic views and thrilling music while floating on Burj lake. Or book a dinner package at one of the restaurants in the area with a perfect view of the Dubai fountain and have your meal while watching the Fountain show.
You can also enjoy the show from the comfort of your hotel room if you're staying at one of the many hotels in Downtown Dubai. However, if you want to enjoy it for free, you can also see the view from the boulevard of Dubai mall.
Also, there's this Dubai fountain boardwalk, a floating platform within the range of the Dubai fountain. The view of the show is just breathtaking from this 9 meters away boardwalk.
The Dubai Fountain show is a must-see for anyone visiting the Dubai Mall, so be sure to catch a performance during your visit!
Apple Store Dubai Mall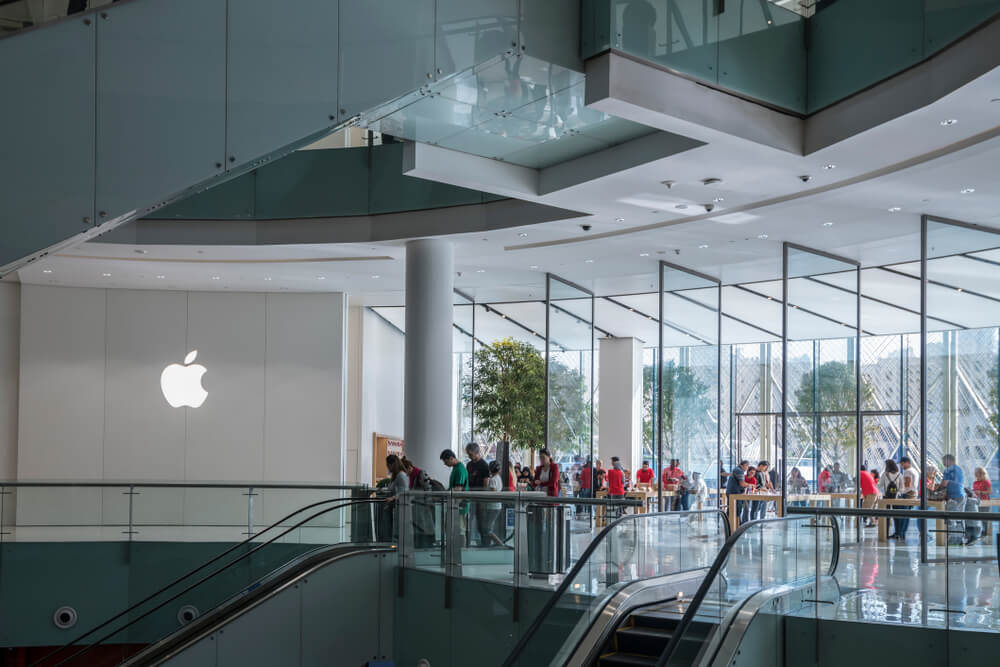 The Apple store at the Dubai mall is one of the largest Apple stores in the world; the other one is in the mall of the Emirates. So basically, Dubai is the house to two stores of the world's most known brand, Apple.
The fans and followers of Apple can check the latest iPhones, Macbooks, and other apple accessories or gadgets.
If you've got any problem or issue, the efficient staff of Apple is there to help you with everything! You'll only be worried about the long queue and crowd, so book your visit before you come to avoid any nuisance.
Apple store in Dubai mall also conducts free workshops daily for people who want to understand the products in detail. The gorgeous apple store of Dubai mall offers a stunning view of the Dubai fountain and provides a wide range of incredible apple gadgets.
Apple store offers this kinda promising feature of "try before you buy," so you can have a trial of a gadget at their cute oak tables.
The store opens at 10 am and stays open until midnight, so you have time to decide about your purchase.
Dining At The Dubai Mall
Dubai mall has taken pride in holding the world's most extensive food and beverage offerings under one roof. The Dubai mall's deck is stocked up with lots of themed cafes and restaurants, so you have a variety to choose from.
So many Insta-worthy spots are ideal for a casual catch-up with your pals!
Din Tai Fung, Somewhere and Gia are some of the must-tries when you're on a stroll in Dubai mall. Whether you want to have great dumplings or noodles, you can step into the Din Fung, which will offer you an authentic Taiwanese taste. Somewhere is a restaurant offering fun and fusion delicacies like guacamole hummus and kunafa croissant!
From American to Asian and Mexican to Indian, you can savor the flavors of any cuisine you crave. You can have a quick bite at fast food restaurants or enjoy a leisurely meal at one of the many sit-down restaurants.
The Dubai Mall is also home to the world's largest candy store – Candylicious – where you can satisfy your sweet tooth with some delicious treats.
Food Court
The Food Court at The Dubai Mall is the perfect place to grab a quick bite between shopping and sightseeing. With over 100 food outlets to choose from, you'll be spoilt for choice!
Some of the famous restaurants at the food court include McDonald's, Subway, Burger King, Hardees, Wendy's, KFC, and many more. There's also a wide range of international cuisines, so you can try something new or stick to your favorite comfort food.
Specialty Restaurants
If you're looking for a more upscale dining experience, the Dubai Mall has plenty of options to choose from. With over 200 restaurants to choose from, you'll be in awe to have a bite!
Some of the popular specialty restaurants include Nobu, Zuma, The Cheesecake Factory, PF Chang's, and many more. Whether you're in the mood for Japanese, Italian, or American cuisine, you'll find something to suit your taste in Dubai.
Many specialty restaurants in the Dubai Mall offer a unique dining experience and a different view. For example, you can enjoy a meal while floating on an abra at the Torch restaurant or watch the Dubai Fountain show while dining at one of the restaurants with a perfect view of the fountain.
No matter what you're in the mood for, you're sure to find something to your taste at the Dubai Mall!
Infinity Art
The Infinity Art Gallery, named Infinity des Lumieres, is located on the second floor of the Dubai Mall. It is one of the best places to see some fantastic art. The gallery holds captivating art exhibitions and attracts artists worldwide to create and present their work.
The exhibitions usually run for a few months, so there is always something new to see. If you're an art lover, or even if you're just looking for something different to do, Infinity Art is worth a visit!
The gallery features works of art from all over the world, and you can even purchase some of the pieces you like.
The gallery is open from 10 am to 10 pm, and it's a great place to spend an hour or two if you're looking for something exciting to do in the Dubai Mall. You can even take a break from shopping and enjoy the beautiful art on display!
Dubai Mall Location
The Dubai Mall is located in the heart of Dubai on Financial center street along Sheikh Zayed road. It's easy to get to by car or public transport. If you're driving, plenty of parking options are available, and the mall is also accessible by the metro.
The best way to get to the Dubai Mall is by taking the metro. The mall is located on the red line, just a few minutes walk from the Burj Khalifa/Dubai Mall station.
If you're coming from another mall, plenty of shuttle buses operate between the malls.
The Dubai Mall is located in the Downtown Dubai area, and it's easy to find your way around. Plenty of signs and maps are available, and the mall is also well-lit, so you can easily find your way around, even at night.
Dubai Mall Timing
The Dubai Mall is open from 10 am to 10 pm. The mall is usually the busiest in the evening, so if you want to avoid the crowds, it's best to visit during the day.
The Dubai Mall is open seven days a week, and plenty of activities and attractions keep you entertained. Whether you're looking for some me-time or want to catch up with your friends, the Dubai Mall is the perfect place to spend your vacation!
The Dubai Mall is one of the most popular tourist destinations in Dubai, and it's easy to see why! With so much to see and do, it's the perfect place to spend a day or two. Whether you're looking for some retail therapy or you're looking for something different to do, the Dubai Mall is the place to be!
Frequently Asked Questions
What to do at Dubai mall?
There is no shortage of things to do at the Dubai mall. You can shop until you drop at any high-end stores or take in the sights at the top of the Burj Khalifa. The signature outlets are surely going to grab your attention. If you're looking for something a little more low-key, there are plenty of restaurants and cafes to relax in.
What time does Dubai mall close?
The Dubai mall typically closes at 10 pm or stays open until midnight on weekends or public holidays. However, during Ramadan, it closes earlier, at 8 pm.
How big is Dubai mall?
The Dubai mall is one of the largest malls in the world, spanning over 12 million square feet. Serving as the largest mall in the world, it has over 1,200 stores, two anchor department stores, and more than 200 food and beverage outlets.