Deira City Center – Shop In The Heart Of Deira!
Deira city center, launched in 1995 and located in old Dubai, is an exclusive shopping spot with a unique blend of brands and budgets. This city center is the region's first flagship shopping destination with international brands, dining outlets, and entertainment. Depending on your choice, you can shop for luxury brands or local ones.
It is home to over 370 stores, a 14-screen cinema complex, and one of the most extensive leisure facilities in the city, Magic planet. Deira city center gives easy access to Pullman Dubai Deira city center hotel adjacent to it.
It's an easily accessible, family-friendly mall, and you can maintain your high-end street looks with the stores like Zara, H & M, Forever 21, and Aldo. Several other luxury brands will give you a wholesome experience of shopping.
Situated right in the heart of Deira, this mall entertains thousands of visitors every day who come to shop or to have fun!
You can find anything and everything here, from the latest fashion trends to the most delicious food items.
This mall is highly famous for its 14-screen cinema complex- Vox Cinema. It is one of the biggest in Dubai and has various films playing throughout the day. You also have an option to watch IMAX 3D movies!
If you want a place to eat, Deira City Center has a food court with a wide range of cuisines to choose from. There are also several fine dining restaurants if you are looking for a more formal meal.
Let's have a detailed look at what you can do when in Deira city center!
Affordable Shopping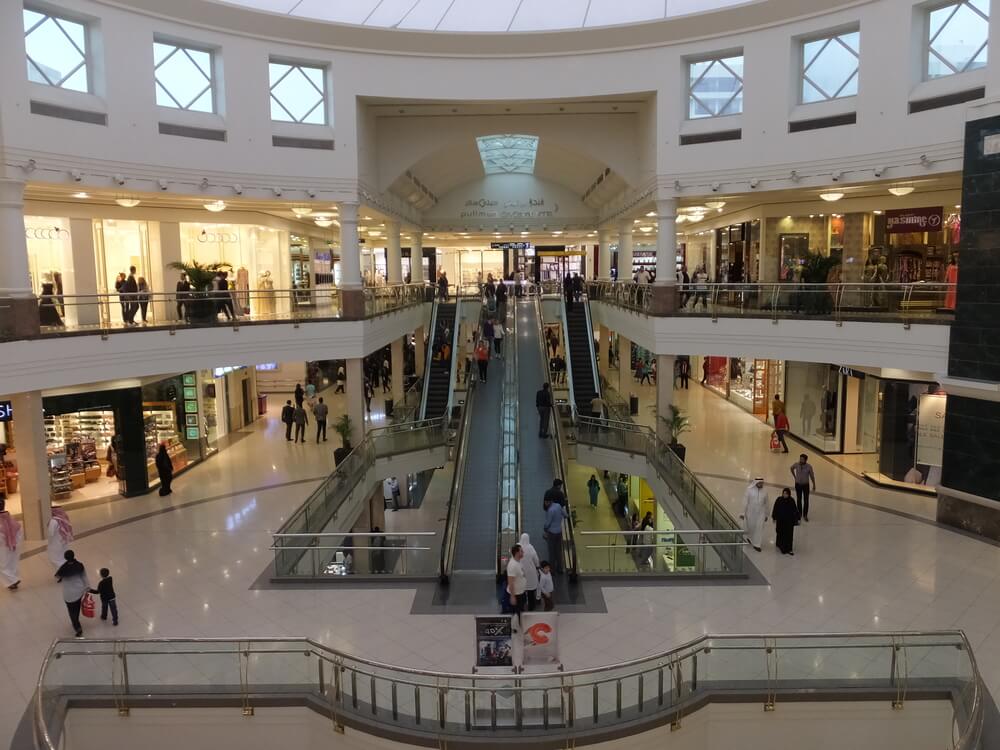 Deira city center comes under the tree of the Majid al Futtaim group and annually entertains 22 million visitors every year. It's evident that this place provides a big chance for affordable shopping, so many people come here yearly.
Several local and international brands are present here that offer good quality products at an affordable price. You can find anything from clothes to cosmetics to electronics at a reasonable price.
Although DCC is more known for kidswear outlets like Carter's baby shop, The Children's baby shop, The Children's Place, and Mothercare, brands for adults like Balmain, Beverly, and Hills polo club have lots of variety followed by the latest trends.
Some famous brands are Marks & Spencer and Sephora; you can also shop for local souvenirs.
So one of the best things about DCC is that it offers an outstanding shopping experience without burning a hole in your pocket. There are several affordable stores where you can find trendy clothes, accessories, and more. Some of our favorite stores include H&M, Forever 21, Zara, and Aldo.
Vox Cinema City Center Deira
Deira City Center is also home to Vox Cinema, one of Dubai's biggest cinema complexes. There are 14 screens at Vox Cinema, and you can watch regular and IMAX 3D movies.
Vox cinema city center Deira is a comfortable place with large, relaxing seats and a cozy environment. The ticket booths are never crowded; you can find some great snack outlets here. So watch the latest movies in your home-like environment.
It is a great place to go if you want to catch a movie with your friends or family. You can also buy snacks and drinks from the vending machines located inside the cinema.
Vox Cinema Max City 101.6 With Laser
The max cinema with laser is a concept of a massive laser screen installed in Vox max theatre. The measurements of this screen are almost 31 meters wide and 13 meters tall. Vox max has this laser 3D projection system and enormously powerful audio technology worldwide.
Magic Planet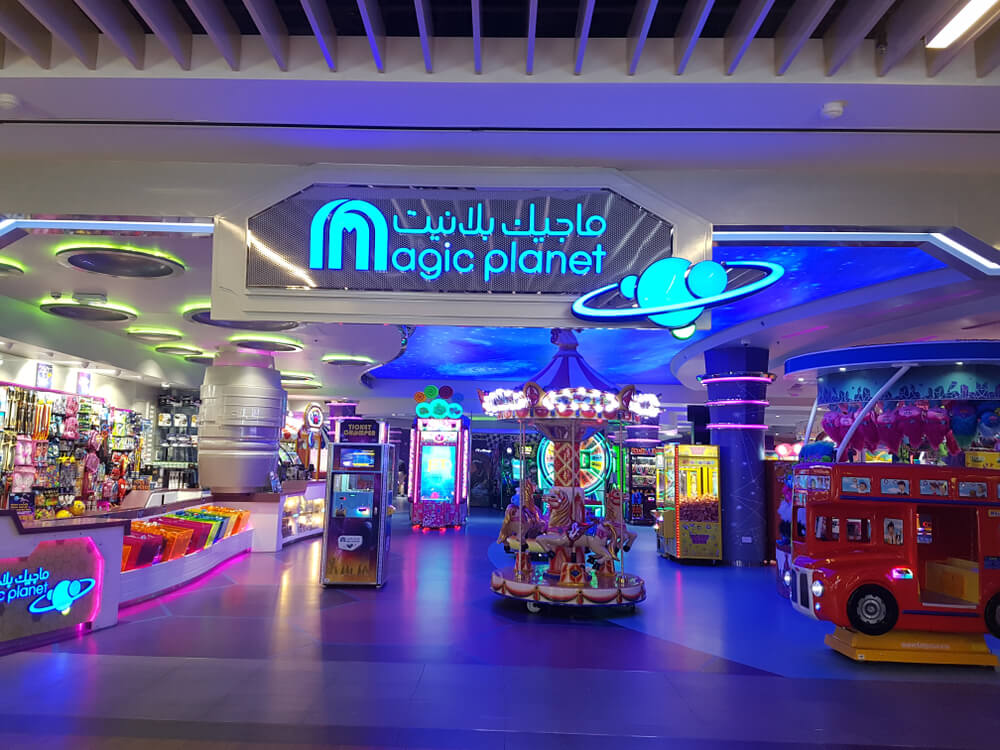 Magic planet in DCC is a perfect hangout for family and friends. It's an indoor amusement park with many fun rides and games for kids and adults. It is, without any doubt, the best arcade and gaming venue in the country. If you're fueled up for an adventure, head straight to the magic planet in Deira city center.
Snacking is a must when you're out and about; find some great food outlets here to munch on while you enjoy the rides.
This place is a collection of fun games and cool rides, so you can test your gaming skills and experience the most incredible rides.
Magic planet is one of the biggest attractions at Deira City Center. It is a great place to take your kids for a fun day out. There are several rides and games that both kids and adults will enjoy.
Either play a relaxing game like Yalla! Bowling session or get your heart beat fast with an adventure like Sky trail.
Eating At Deira City Center
Deira city center, sometimes called DCC, is an extensive shopping spot and offers ample food and beverage outlets.
So there's no chance of staying hungry when you're in DCC. Eating at Deira city center will leave you amazed as you'll be eating from the broadest range of cuisines, thus satisfying your appetite.
DCC has both food court and fine dining restaurants, so you can choose according to your mood and interest.
There's also an opportunity to catch the breathtaking site of the world's tallest building Burj Khalifa when you're dining in the food central DCC.
Food Court
There's a vast food court and more than 60 restaurants in Deira city center, so you'll have many options to choose from.
All the major food chains like McDonald's, KFC, Pizza Hut, etc. at the food court.
The best thing about the food court is that it's pocket-friendly, and you can have a quick bite without spending much money.
Deira city center's food court is situated inside the mall, and you can have a sumptuous meal with your friends and family without any hassle.
Fine Dining
If you're in the mood for some fine dining, then Deira city center offers a lot. You can find several upscale restaurants that serve international cuisines.
DCC's best fine dining restaurants include La Farine, The Noodle House, and BurgerFuel.
These restaurants are a bit pricey but offer a great dining experience. Once you eat a full course meal from one of these restaurants, you'll know it's worth the price.
So if you're looking to have a luxurious meal, then head to one of these restaurants.
Food Central
Food central is a new spot inside the Deira city center, and it's all fun to see or visit. You can either dine here or hang out with your buddies.
Because it consists of two stories of the food hall, this place has a lot of options to dine from, and there's no scarcity of fun and leisure activities.
The upper floor of the food central has a cute cafe and many fun things like a Ping-Pong table, pool, billiards, Tube Dubai, etc.
DCC was already the go-to spot for thousands of people for buying purposes, but now this food center has added more sweetness to the cake.
Food central is a new F & B concept that adds more value for freelancers and young people who need healthy food on the go!
Also, the entertainment area on the 3rd floor serves as a free coworking space for people with the mall's open wifi and charging portals.
This place is a one-stop solution to have great food and quality time with friends or family.
Deira City Center Location
Deira city center stands in the heart of Dubai, in the Deira district on the Sheikh Zayed Road. It's at the crossroad between Sharjah, Dubai Airport, and Burdubai.
It is just a 10-minute drive from Dubai International Airport and is easily accessible by public and private transport. The parking facility at Deira city center is also excellent, and you can easily find a spot to park your car.
Do visit food central in Deira city center and have a lovely time.
Deira City Center Timing
The mall is open from 10 am to 10 pm on weekdays and from 10 am to 12 am on weekends. The timings of shops, restaurants, or cafes may vary, so it's best to check before you visit.
Note that the food court and entertainment areas close an hour earlier than the rest of the mall, so make sure you're there before 9 pm on weekdays and 11 pm on weekends.
If you're looking for a place to shop or eat, then Deira city center is the perfect place.
Frequently Asked Questions
How to go to Deira city center by metro?
The best way to get to Deira City Center is by taking the metro. The DCC Metro station is on the Red Line, and it takes just a few minutes to ride from there to the city center. You can also take a bus or a taxi, but the metro is usually the cheapest and most affordable.
Where is the cinema parking at DCC?
The cinema parking at DCC is in the basement of the mall. Plenty of spaces are available, and it's usually easy to find a spot. However, during peak hours, it can be pretty busy, so you may want to allow extra time if you're planning on going to the movies during a busy time.