Rawalpindi Railway Station
The Victorian-period Railway Station Rawalpindi, a significant landmark in the twin cities of Pakistan, is not only an exquisite example of Indo-Saracenic architecture, which was very popular and, in some areas, a century ago, the only known style of architecture. The remaining buildings of this style are very respected and are visited by many history geeks. These buildings are living reminders of the tastes and culture of a bygone era.
Compared to times before the construction of Pindi Railway Station, people had to spend days getting from one city to another. After the Railway Station Rawalpindi, the travel duration was considerably less, allowing people to establish long-distance relationships and business ventures more easily. Today, with hundreds of modern train units available, the Rawalpindi Train Station provides one of the fastest modes of travel for the Pakistani people.
Rawalpindi Railway Station Architecture
The yellow sandstone walls and arched entryways of this railway station in Rawalpindi built more than a century ago in the traditional British style, provide a window into the past. This old building in the bustling city's Saddar neighborhood has a nostalgic feel thanks to the kerosene lamps that cover the walls, a grand antique clock by the platforms, and the bell that announces the arrival of trains. Even though the structure has undergone minor alterations throughout the years, based on old photographs in the archives, the outside of the building appears to be essentially unchanged.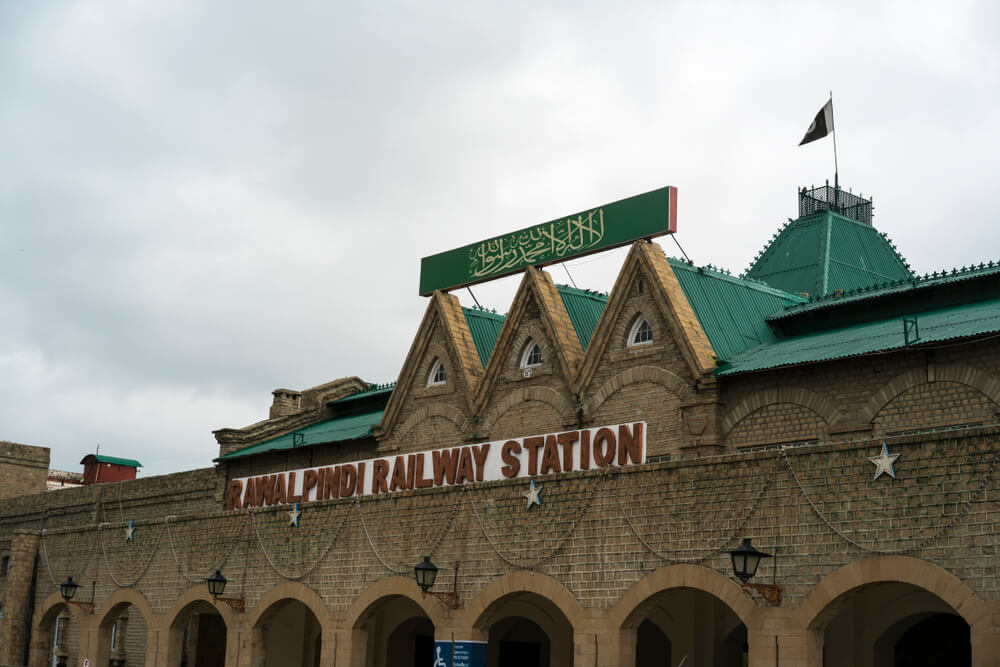 Under British authority, this Rawalpindi railroad station was built in 1881 as a component of the Punjab Northern State Railway. Today Lahore, alongside Peshawar in Pakistan, is among the most important trading centers in the subcontinent, with railroad tracks connected that the British had constructed in Rawalpindi. The Punjab Northern State Railway and other railroad systems were combined to establish the North Western State Railway in 1886.
Since it was built, domestic and foreign leaders have utilized this railroad stop. An Afghan ruler named Amanullah Khan traveled from Landi Kotal to this railroad station to meet with the British viceroy to sign a deal with Afghanistan.
History of Rawalpindi Station
The History of Rawalpindi Railway Station overlaps directly with the significant history of the Sub-continent. Since it was built, domestic and foreign leaders have utilized this railroad stop. An Afghan ruler named Amanullah Khan traveled from Landi Kotal to this railroad station to meet with the British viceroy to sign a deal with Afghanistan. Besides this historical moment, when Pakistan gained its independence in 1947, Rawalpindi's train station joined Pakistan Railways, which is of great historical significance since it affirms this landmark as the possession of Pakistan, being in the public domain of the country. The Rawalpindi Railway Station is also known because of the massive historic campaign of Fatima Jinnah in 1965. Fatima Jinnah's Freedom Special train, which travels through the established routes of Rawalpindi Railway Station, made a stop in the city. Former president Ayub Khan, first prime minister Liaquat Ali Khan, and second prime minister Zulfikar Ali Bhutto are all known for using this Railway station for personal and political campaigns. Benazir Bhutto, a former prime minister of Pakistan, utilized Rawalpindi Railway Station in 1989 to organize a rail rally from Karachi to the twin cities as part of her election campaign.
Trains Timings and Destinations
Rawalpindi to Lahore train timing through the Rawalpindi Railway Station depends on the Train service being used. Rawal Express train, which provides better comfort than most available trains, takes about 4 hours to reach Lahore. The Lahore to Rawalpindi train timing and ticket price via any Railway Station is not definite. However, considering the number of stops between the journeys, the estimated time is between 3:30 and 4 hours.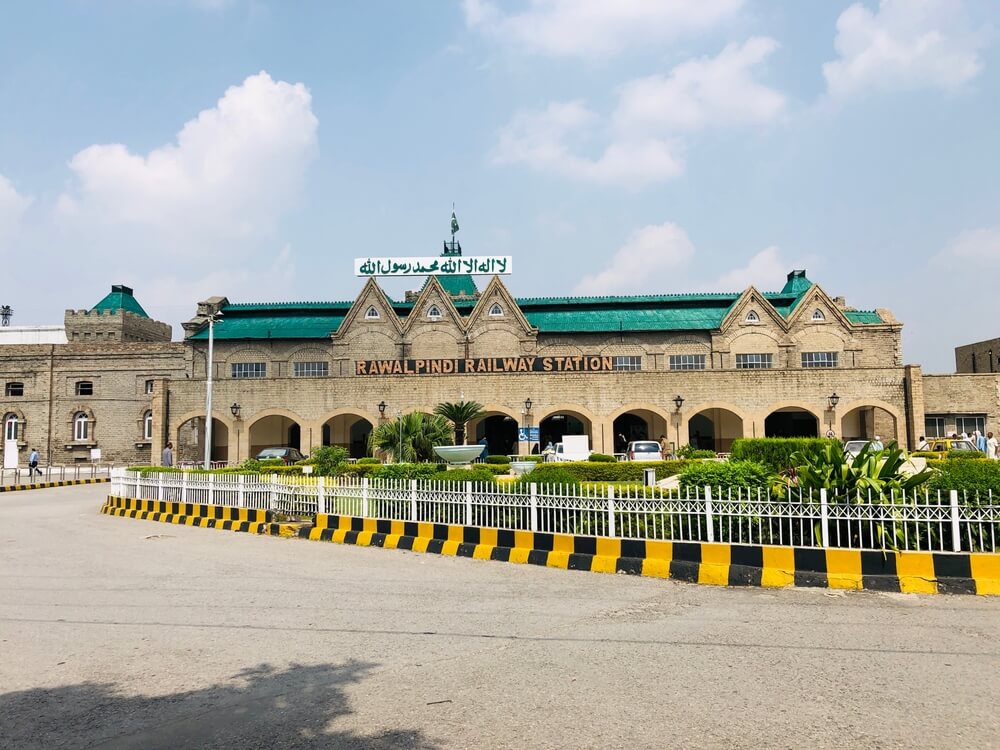 Here is the list of Ticket prices and Arrival Timings of the many Trains available at Pindi Railway Station (the default destination, e.g., is Lahore):
· Awam Express 6:25 AM Rs. 390
· Subak Kharam 4:30 PM Rs. 390
· Tezgam 1:10 PM Rs. 390
· Subak Raftar 7:00 AM Rs. 390
· Rawal Express 12:30 AM Rs. 390
· Islamabad Express 6:00 PM Rs. 390
· Green Line 2:45 PM Rs. 650
· Khyber Mail 7:45 PM Rs. 390
· Jaffar Express 8:25 AM Rs. 390
How Do I Book Train Tickets Online?
With today's technology and the possibility of digitized and reliable interconnections over long distances, it has become possible to book your train seat and pay your fares online. This process spares you several delicate details, such as waiting periods, the hustle of crowds, and all the other frustrations accompanying them. For the first time, the railway has executed an online ticketing system for the ease and support of its customers. The secondary goal of the Railway department is to remove corruption through e-services. Pak Railway's online ticketing system has now been digitalized in the present. So, now people can reserve their and their family's spaces on any respective Train service by booking them before the rail trip. Always buy rail tickets online rather than standing in huge lineups to buy them. The ticket payment must be made online using the Essay Paisa and Jazz Cash online apps. Those who purchase tickets are informed by a quick SMS which serves as a confirmation message, which you must present to ticket checkers.
The foremost step of this straightforward procedure is to go to pakrails.gov.pk, an official Railway Website launched by the Pakistan government. On this website, you can head on to the online E-portal of ticketing, where you need to make a login account. Here, you can also view any train's timings, prices, and timetables.
This process is crucial to saving the confirmation message sent to your contact details. The passenger must show this confirmation message at the Railway Station to the Railway Authorities before they let you on the train.
Purchasing rail tickets for Pakistan used to be a difficult task. The procedure stood tedious. People had to wait in line for a long time, pay the required money, and their tickets were available only then. Because technology has provided Pakistan with so many conveniences, it is now quite normal for people to start looking beyond the conventional means of getting on with their lives. So people in want of these easy methods of online ticketing are left with more comfort, allowing the whole process to go on smoothly. This system also includes the electronic ticketing system for Pakistan Railways and its online ticketing service.
Amenities at Rawalpindi Railway Station:
Five platforms make up the station, and steel and wood pedestrian bridges connect them. Small tea shops, snack bars, and cheap bookstalls are scattered throughout the main building. Other amenities at Rawalpindi Railway Station include waiting for places, restrooms, water coolers, and restrooms that visitors heading to the north can rent for a day. Among Rawalpindi Railway Station's most notable characteristics is the steam engine model located in front of the main structure. The building also contains a Giant clock built in the western style, considered among the best facilities of the Railway Station, both aesthetically and practically.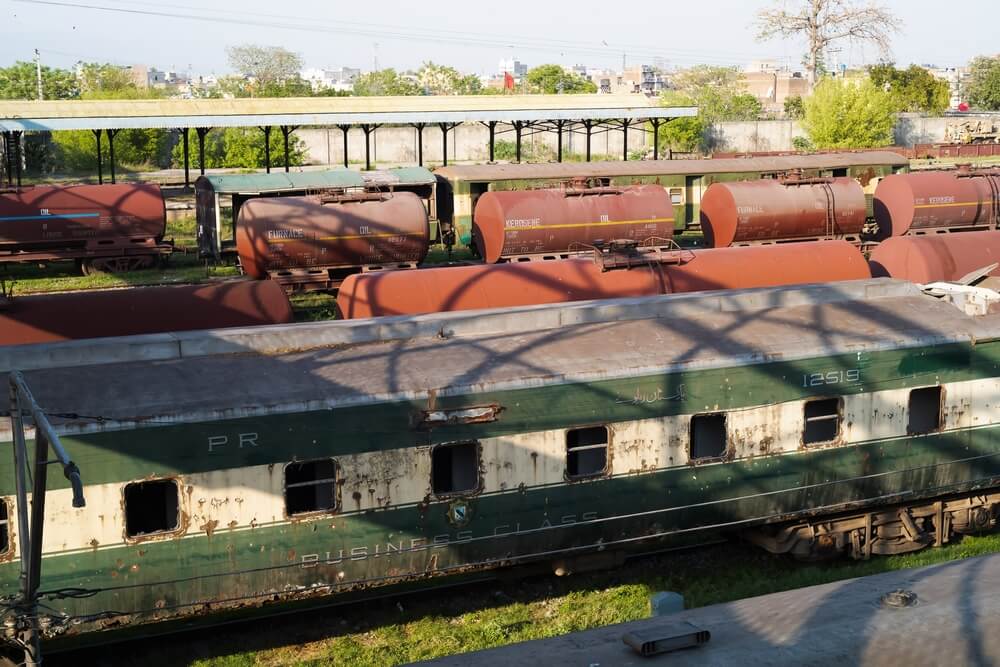 Customers can easily access this railway station to get to the railway station and any desired location because there are taxi stands and bus stops outside the facility. Furthermore, the building is close to the nearest metro station, which connects the passageway between Rawalpindi and the capital, i.e., Islamabad, in the most efficient way.
Other Railway Stations in Rawalpindi
Some of the other Railway Stations in Rawalpindi besides the most famous one are:
· Mandra Junction Railway Station
· Mankiala Railway Station
· Harnal Railway Station
· Gujar Khan Railway Station
· Chaklala Railway Station
· Wah Cantonment Railway Station
· Wah Railway Station
· Lohi Bhir Railway Station
· Taragarh Railway Station
· Taxila Cantonment Junction Railway Station
· Mohra Shahwali Railway Station
· Kaliamawan Railway Station
· Kutbal Railway Station
· Muradi Janjil Railway Station
· Sihala Railway Station
· Nur Rawalpindi Railway Station
· Budho Railway Station
Transportation to Rawalpindi Railway Station:
Every single transportation service meant for public use, either government-owned or private, is aware of the location of one of the Most Famous Railway stations in Pakistan, i.e., Rawalpindi Railway Station. So, no matter your Site, you can easily order a local transportation service or an online one, e.g., Bykea, Careem, or Uber, to get to the Rawalpindi Railway Station.
In the area around the Railway station, there are countless Rickshaws, Taxis, and Vans where one can buy easy access to wherever one wants to go. So, transportation to and from The Railway is accessible, easy, and affordable.
Tourist Places near Pindi Railway Station:
Pindi is brimming with places that present cultural gems of Pakistan to the public eye.
Some of these places can be found around the Rawalpindi Railway Station for amateur Travelers. The Raja bazaar, for example, is known and visited by hundreds of thousands of Pakistanis. This Bazaar is a marketplace full of everything known to Pakistani people, from household items to cultural attire.
One can also visit Faisal Mosque, Pakistan's most well-known and beautifully constructed cultural monument. The Faisal Mosque is only at the most accessible distance of 8 miles from the Railway Station. The Faisal mosque is known by every person who owns a transport vehicle meant for public use, so its location is no worry at all. Close to the Faisal mosque, one can also Spot Pakistan Monument Museum, which comes before the Mosque. This beautifully made piece of modern architecture reminds us of Pakistan's cultural heritage and its significance to the Pakistani people. The Site is a constant attraction to thousands of Pakistanis and foreigners, who are appalled at the sheer aesthetical beauty of this immense structure.
Talking of museums, the Army Museum of Pakistan, near the railway station, is also visited by thousands. The Army museum represents the arms and military innovations, including airplanes, to the public eye. This place is visited by all types of young nerds interested in things concerning the army. The Museum presents the equipment that armies are made aware of today and information about them. The knowledge of things on display broadens the mind with the use of every concerning equipment and further allows the person to appreciate the equipment men and women of the army use to keep terrorism at bay.
Other places which are of great cultural importance to Pakistan, which can be found near the Railway Station, are:
Pakistan's Railway Heritage Museum
· Daman-e-Koh
· Jinnah Park
· Lok-Virsa Museum
· The Centaurus Mall
· The Ayub National Park
· PanIQ Room
· Saidpur Village
· Pindi Food Street
· Safa Gold Mall
· Shakarpurian
· Birds Aviary
· The Farmer's Market of Islamabad
Rawalpindi Station Contact info
The address of Rawalpindi Station is Saddar, Rawalpindi, Punjab, at the zip code of 46000.
Anyone can easily reach the Railway Station Authorities at:
+92-51-9270895 and +92-51-92709315
For further details, one may also get in contact with the Chief Marketing Manager of Pak Railways at 042-99201665. The general helpline 117 is also effective in taking care of customers.
The official Email address of the Pak Railways, i.e., cmm@pakrail.gov.pk, is also open for any inquiries relating to the Railway stations of Pakistan.
The Location of Rawalpindi Railway Station
The Railway Station is located at Station Road, Rawalpindi, Punjab 46000, Pakistan.
Coordinates: 33.6036°N 73.0483°E
Line: Karachi–Peshawar Railway Line Islamabad–Muzaffarabad.
Conclusion
The Grand Railway Station of Rawalpindi, Pakistan, one of the most beloved cities, was built 142 years ago. The building is aesthetically pleasing to the eye and attracts many people to take memorable pictures. This railway station has been used for about one and a half centuries. The people who oversaw the construction of this monumental architectural masterpiece used it to get a lot of work done. Today this railway station cuts down the significant distance between Pindi and other major cities of Pakistan into a matter of few hours. Supported by modern technology, the Rawalpindi Railway Station today serves as a bulwark for thousands of people by making their lives easier.