Ushu Forest – Kalam
Kalam Forest is a beautiful and serene forest in Pakistan's Khyber Pakhtunkhwa province's Swat Valley. Because of Ushu Forest Kalam's breathtaking natural beauty and rich biodiversity, the Forest is a popular tourist destination near Kalam. The Ushu Forest Swat is approximately 18,000 hectares in size and is home to a diverse range of flora and fauna. Coniferous trees such as Deodar, Blue Pine, and Spruce dominate the Forest, giving it a lush green appearance. There are also a variety of shrubs and plants in the Forest, including wild roses, junipers, and Himalayan yew. Trekking is one of the popular activities in Ushu Forest Swat. Several hiking trails in the Forest provide breathtaking views of the surrounding mountains and valleys. The Ushu Glacier Trek, a three-day trek through the Forest to the Ushu Glacier, is the most popular trail in the area. The trek provides breathtaking views of the surrounding mountains, including Mount Falaksar. Camping is another popular activity in Ushu Forest Kalam. The Ushu Forest Kalam has several camping areas that provide a peaceful and tranquil setting for relaxing and enjoying the natural beauty of the Forest. Camping here is a one-of-a-kind experience that allows you to take a break from the city and immerse yourself in nature.
Short Introduction: Several animal species abide comfortably in Kalam Forest, including the big snow cats, Himalayan Black Bear, Red Fox, and Grey Goral. Many bird species are also in the Forest, including the Golden Eagle, Lammergeier, and Himalayan Snowcock. The Kalam Forest also contains several freshwater streams and waterfalls, including the popular tourist attractions Ushu Waterfall and Kundol Lake. The Waterfall is a magnificent 300-foot-high waterfall near the village of Ushu. Kundol Lake is a beautiful alpine lake located at an elevation of approximately 9,200 feet above sea level.
Ushu Forest Kalam Attractions, Timings & Locations
It is one of the country's most beautiful and enchanting forests, attracting thousands of tourists annually. The Forest is located near Kalam, a popular tourist destination due to its natural beauty, cultural heritage, and friendly people. It is 52 square kilometers and home to many flora and fauna, including some endangered species. The Forest is 2,400 meters above sea level, making it an ideal location for adventure. This section will cover the General natural attractions of the Ushu forest, its location, and the best times to visit it in the respective sub-sections.
The Forest is surrounded by mountains, green valleys, and crystal-clear streams, creating a peaceful environment for visitors. The Forest is abundant in biodiversity and home to numerous plant and animal species.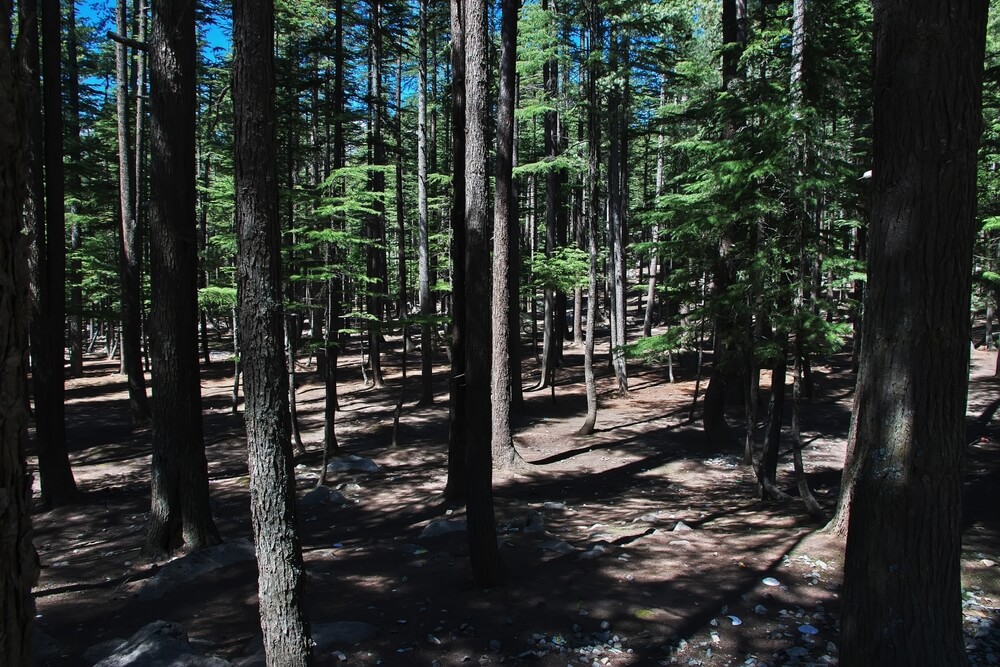 Trekking is one of the most loved activities in the Forest. Numerous trekking trails in the Forest suit novice and experienced hikers. The Ushu Forest Trek, Mahodand Lake Trek, and Spin Khwar Lake Trek are among the most popular trekking routes. These hikes take visitors through some of the most beautiful scenery in the Forest, with breathtaking views of the surrounding mountains and valleys. In addition to trekking, this recreational spot provides camping, fishing, and picnicking opportunities. Several campsites in the Forest provide visitors with basic amenities such as tents, food, and equipment. These campsites are located in scenic areas, giving visitors a one-of-a-kind experience of living in the wilderness. Fishing is another popular activity in the Forest, as many streams and rivers teem with trout and other fish.
Ushu Forest also contains several significant cultural and historical sites. The Forest is close to Kalam, a town known for its rich cultural heritage and traditional way of life. Visitors can explore the town's ancient mosques, shrines, and bazaars and interact with the friendly and welcoming locals. Several ancient Buddhist stupas and monasteries dating back to the Gandhara period could also be found in the Forest. Ushu Forest is an important ecosystem that benefits the locals in various ways. The Forest serves as a natural habitat for a variety of species and aids in the regulation of the local climate and water supply. The Forest also provides local communities with timber, firewood, medicines, and a sustainable source of income.
Weather at Ushu Forest
The weather in Kalam is generally mild to cold all year, with distinct seasons. The weather is usually mild and pleasant during the summer months of June to August, with average high temperatures ranging from 20°C to 25°C and low temperatures ranging from 10°C to 15°C (50°F to 59°F).
The weather is generally excellent and pleasant from September to November, with average high temperatures ranging between15°C to 20°C (59°F to 68°F) and low temperatures ranging from 5°C to 10°C. Kalam experiences cold and chilly weather from December to February, with average high temperatures ranging from 5°C – 10°C (41°F to 50°F) and low temperatures dropping below freezing point to -5°C to -10°C (23°F to 14°F). Snowfall is also common during this time of year. However, spring stays chilly, and the atmosphere heralds the following seasons. As winter fades, Forest's vegetation comes in its flush, presenting a charmingly enchanting scene that leaves the spectators utterly bewitched by nature.
When is the Best Time to Visit Ushu Forest?
The best time to visit is determined by what you want to do there and your preferred weather. The best time to visit Ushu Forest to see the lush greenery and the Forest in full bloom is from April to October when the weather is pleasant and the temperatures are mild. Hiking and other outdoor activities are available during these months. If you want to see snow-capped mountains and participate in winter activities like skiing and snowboarding, the best time to visit the Forest is between December and March. The weather is cold and snowy during these months, so bring warm clothing. It's also worth noting that this area is at a high elevation so temperatures can drop quickly even in the summer. Before you leave, always check the weather forecast and pack accordingly.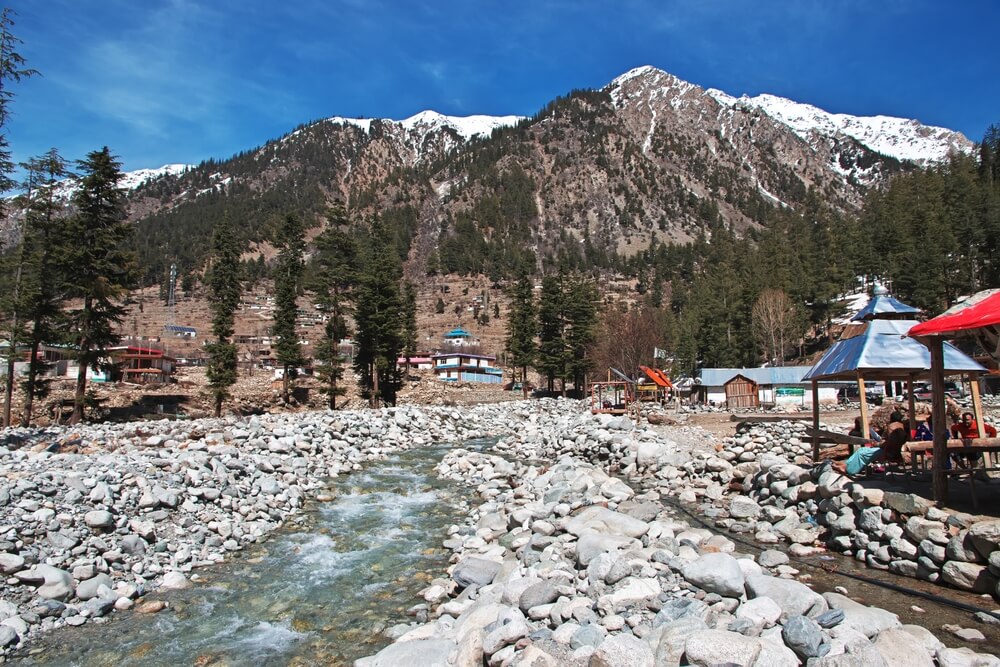 Recommended Gears:
There is some Recommended gear for the tourists, which they should be equipped with before starting their journey to Kalam. The Above mentioned attractions and activities could be best enjoyed once you are equipped with the following:
*Hiking Shoes
*Warm Clothes
*Camping Essentials
*First Aid Kit
Attractions in Ushu Forest
The attractions of the famous Kalam forest, which make it such a sublime sight even from a distance, are supplied by its following attributes:
—Cloudy and Rainy Forest
—Tall, Huge National Deodar Trees
—Serene Atmosphere
—Beautiful Green Meadows & Mountains
—Wonderful View in Winter
—Live Folk Music
—Family Picnic Spot
–Things to Do at Ushu Forest:
The things to do in the Forest entail various fun adventures and family-friendly activities, which keep everyone wholly enthralled with their surroundings. The experience made through this effect marks itself deep in the person's memory and becomes a vital part of their lives, to be recalled over dinner and gatherings years later. Some of these fun-filled activities are:
—Trekking
—Hiking
—Camping
—Horse Riding
—Photography
How to reach Ushu Forest?
Ushu Forest is in the Swat District of Pakistan's Khyber Pakhtunkhwa province. There are several ways to get to Ushu Forest, depending on where you start.
The closest airport is the Bacha Khan International Airport in Peshawar, about a 4-hour drive away. You can catch a bus or hire a private car to get to Kalam from within Pakistan. The picturesque drive from Islamabad to Ushu Forest takes approximately 7 to 8 hours.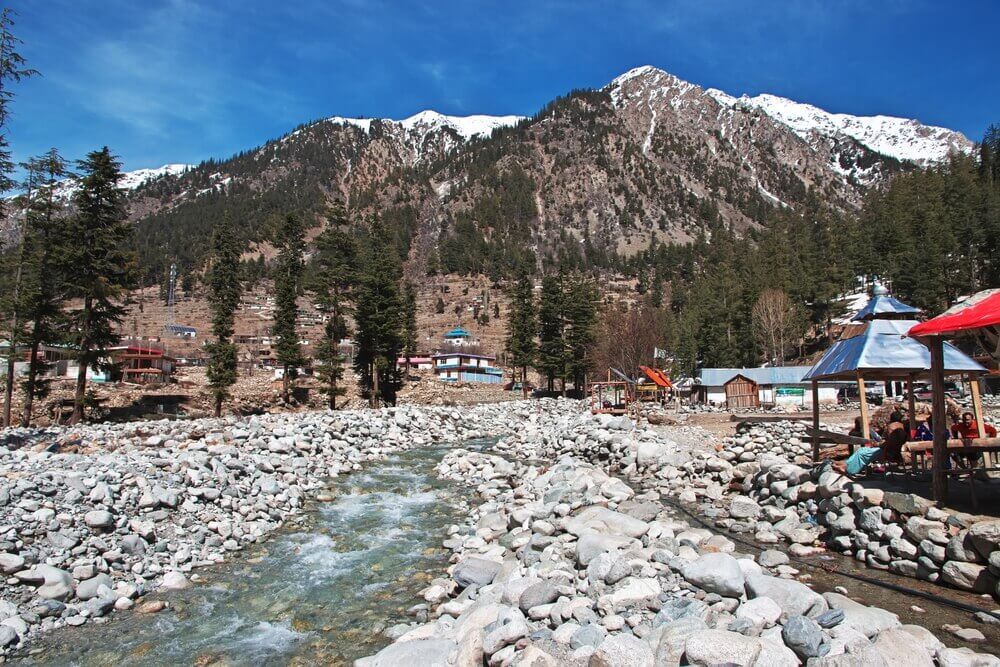 Mingora Railway Station, about 50 kilometers away, is the closest train station to Ushu Forest. You can then take a bus or rent a car to get to Ushu Forest. It is important to note that the road to Ushu Forest can be narrow and winding, so it is best to hire a local driver familiar with the area if you are unfamiliar with driving on such roads. Furthermore, checking the weather forecast and conditions before embarking on the journey is critical, as heavy rain or snowfall can make road conditions difficult.
Facilities in Ushu Forest:
Ushu Forest is a beautiful natural area in Swat Valley, Pakistan that provides visitors with various facilities for enjoying the outdoors. The following facilities are available in Ushu Forest: Hiking Trails: The stunning Forest has many scenic hiking trails that allow visitors to enjoy the lush greenery, towering trees, and spectacular views of the surrounding mountains. Picnic Areas: Throughout the Forest, there are several picnic places where visitors can chill and enjoy a meal in the fresh air.
Camping: It is a popular destination with several campsites where visitors can pitch their tents and spend the night under the stars. Wildlife Observation: The Forest is home to various wildlife, including deer, birds, and monkeys, making it an ideal location for wildlife observation. Adventure Activities: Zip-lining, rock climbing, and rappelling are among the adventure activities available in the Forest. Rest Houses: A few rest houses are open for visitors who wish to spend the night in the Forest. Food Stalls: Several food stalls and restaurants in the Forest area serve delicious local cuisine and refreshments.
Hence these are the most enjoyed facilities in the Forest:
· —Variety of Food Stalls
· —Restaurant
· —Camping Tents on Rent
How Much is the Distance to reach Ushu Forest from Islamabad?
The total time taken by an average vehicle is 6 hr 25 min (328.7 km) through AH1/M-1
Location of Ushu Forest Swat:
FHWV+39Q, Kalam, Swat, Khyber Pakhtunkhwa
FAQs
Is the place safe for families?
Yes, it is safe for families and children in particular.
Which trees are most common in the Ushu forest?
Tall pines are the most common sight in the area, although the Forest is sprawled with a great diversity of flora and fauna.
Conclusion
Finally, Ushu Forest is a remarkable destination that embodies Pakistan's natural beauty. It is an ideal place for tourists looking to escape into nature, with its stunning landscapes, diverse wildlife, and numerous outdoor activities. The Forest is a testament to Pakistan's natural wonders and provides visitors an unforgettable experience.
Whether you enjoy nature, photography, or adventure, It is a must-see destination that will leave you in awe and wonder. Overall, it is a precious gem of Pakistan that deserves recognition and appreciation. It is a place where visitors can affix with nature, immerse themselves in the beauty of the environment, and understand the value of preserving our natural resources. Visiting this memorable ForeForesta experience promotes sustainable tourism practices that benefit the local community while protecting the ForeForest for future generations. In a nutshell, the Ushu forest exemplifies how nature can be a source of inspiration, relaxation, and joy for people from all walks of life.