Shangla – Explore the Beauty of Shangla Swat
Pakistan is a country in South Asia with no natural beauty deficit and sightseeing spots. On the contrary, the country is full of scenic places to adventure. Specifically, the Northern areas of Pakistan have left no stone unturned in attracting tourists from all over the world. One such place is Shangla District, located in Khyber Pakhtunkhwa province.
The whole district is a perfect place to explore, and you will enjoy the most there. But some spots are better at attracting tourists because of their extreme serenity and beauty than the rest of the district.
It is listed among the best places to explore in Khyber Pakhtunkhwa, and it's a sight to behold, especially in winter when the snow is spread like a white sheet everywhere. It has a rich history and is believed to have been inhabited long ago.
The district consists of small valleys and is situated between the hills; the area is surrounded by high mountains full of forests having Pindrow Fir, Morinda Spruce, and Kail.
The weather is quite extreme, with heavy snowfall in winters and hot, dry summers, but due to its serenity, this place is a popular tourist destination all year round. The best time to visit is during summer, which offers pleasant weather.
Let's learn more about this beautiful place and what spots to explore there.
Shangla District
Shangla is a picturesque district in the Malakand division of Khyber Pakhtunkhwa province of Pakistan, located southeast of the historic Swat Valley on the banks of the River Indus. The headquarters of the Shangla district is situated at Alpuri, one of its subdivisions.
It got the status of a district in 1995; before that, it was a subdivision of the Swat district. The largest city and commercial center are Besham; all the business activities of the neighborhood take place there.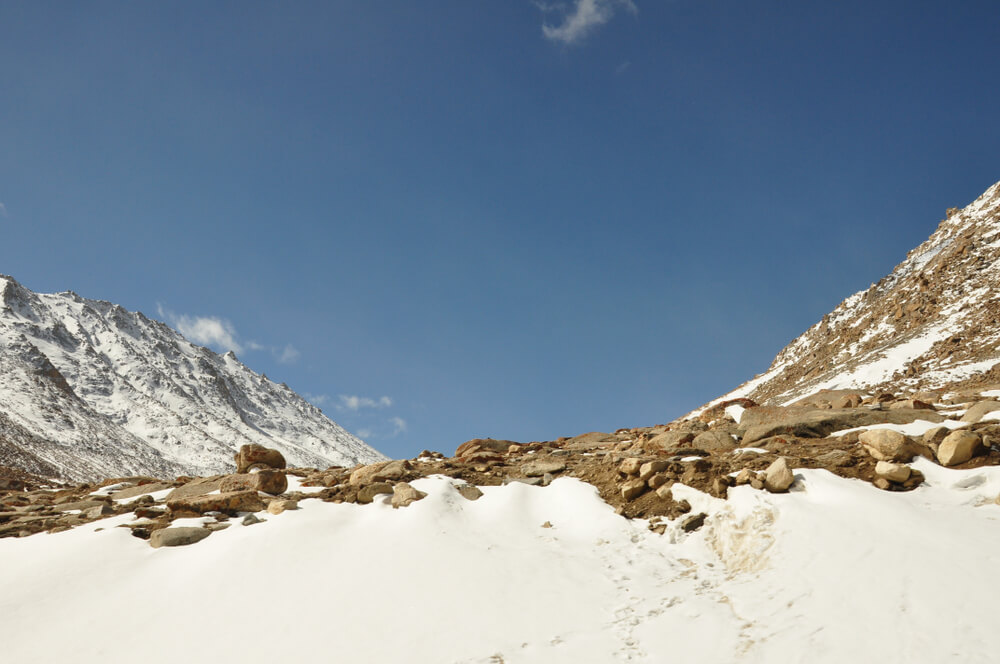 The beautiful district is spread over an area of 1586 square kilometers and has two subdivisions: Alpuri and Puran Tehsils. There are four Sub-Tehsils i.e. Chakesar, Besham, Makhuzai, and Martung.
This district has the lowest Human Development Index in the province and the second lowest in Pakistan. But still, this district is thriving in terms of tourism and natural beauty.
History of Shangla
It has an ancient and rich history; it is considered one of the oldest inhabited areas in the world. This district was a part of the dynasty of Wali of Swat till the merger in 1969. This was a part of the Swat district, and it remained its subdivision until 1995 when it was declared a separate district. The then Chief Minister of Khyber Pakhtunkhwa, Aftab Ahmad Khan Sherpao, declared it a district.
A region known as Ghorband in the northwest has believed to be visited by Alexander the Great's Army in 326 BC. It fought a battle at mount Pir Sar with the area's locals.
This district also has historical importance in South Asia. It houses several Buddhist Hermits and a small, thriving Hindu community in the Chakesar region.
In the 15th century, it witnessed a population shift from neighboring areas of Afghanistan, with locals migrating to Hazara.
Population in Shangla
According to the 2017 census, the population of Shangla district was 759,609, and the entire population was rural. The predominant language of this region is Pashto which almost 96% of people speak.
The literacy rate in the district at that time was 33%, and the male literacy rate was 51.63%. There were 230 people in the community from religious minorities.
Shangla Weather
The weather is mostly pleasant, with hot summers and cold winters. The most popular season to visit the district is between May and October, when temperatures remain pretty comfortable and attract tourists from around the country.
The area has a moderate climate, and there's a lot of rainfall in summer, and the winters are pretty dry again. The average annual temperature is 24 degrees, with almost 817 mm of rain in a year. However, the average humidity is 80 percent, and it's scorched for nearly 98 days a year.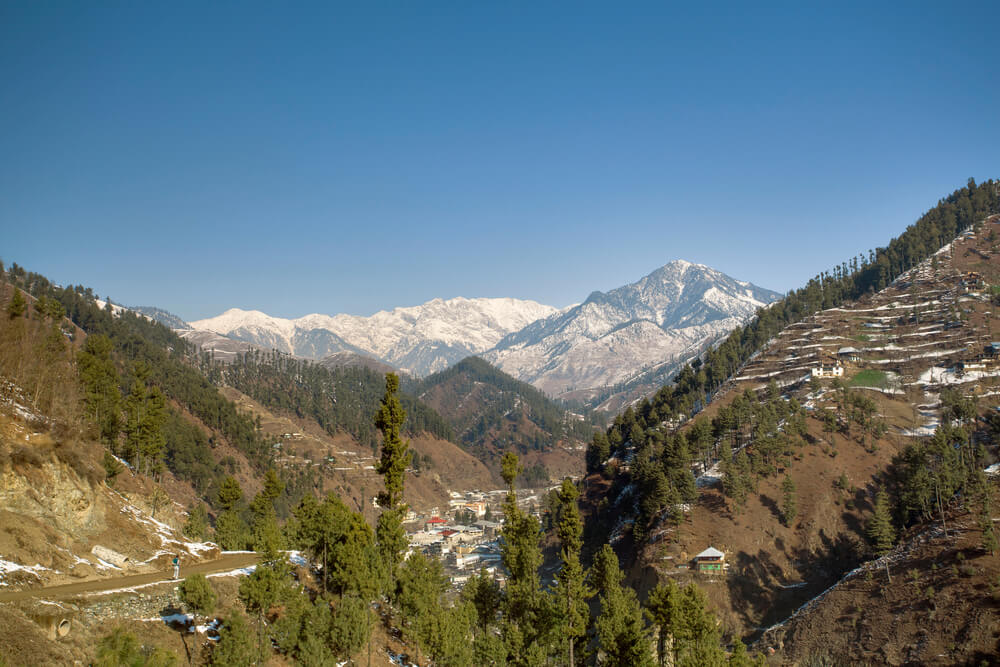 The maximum temperature in January is 15 degrees, and the minimum is 8 degrees. On average, it snows for only 1-2 days in January. The maximum temperature in summer is 29 degrees, and the least or minimum temperature is 21 degrees.
Best Time to Visit Shangla
The ideal time to visit and explore this region is from February through May and September through November. During this period, you'll witness a pleasant temperature with little precipitation. The highest average temperature is 29 degrees in July, and the lowest temperature is 15 degrees in January, making it a perfect spot to explore throughout the year.
There's snow in winter, but you should avoid traveling during the monsoon season since it can be risky. In addition, the roads are slippery in the monsoon or winter season, and if you're traveling, you might need extra care.
Top Attractions in Shangla Swat
It offers visitors numerous attractions, including scenic vistas of snow-capped mountain tops, lush green valleys perfect for trekking, and plenty of cultural experiences. Fortunately, the entire district is too beautiful to explore, but here are some spots you should take advantage of while in the area.
1. Shangla Top
The Shangla top, Located at 3440 m above sea level, offers stunning views of the nearby mountains and valleys. It is one of the most well-known tourist destinations. The highest point is near Kuz Ganrshal in the north of the district.
Shangla top is a mountain pass that links it to Swat valley and is the shortest way between the two.
The top offers scenic views of the Himalayan mountains and a peak topped with snow. One can also see Hindukush glaciers and dense forests full of pine trees. The area receives hefty snowfall during winter. It is the same ancient route covered by Alexander's army in 320 BC.
2. Dasht-e-Laila
A beautiful spot, Dasht-e-Laila is a picturesque meadow surrounded by pine trees. It offers breathtaking views of the nearby valley and mountains. The old name of Dasht e Laila was Doop Baba.
However, in 2008, the Taliban renamed it Dasht e Laila because of the beauty of this place; it makes it out of the world.
According to locals of the area, there was a saint or religious person who used to live at the top of Dasht e Laila; when he died, he got buried there, and the tourists still visit that point with a historical viewpoint.
3. Yakhtangay
Yakhtangay, or Yakh Tangay, is a tourist spot almost 28 km from Shangla's top. It's situated at an altitude of 6000ft or 1820 meters above sea level. The point where Yakh Tangay is located is the exact boundary of Tehsil Alpuri and Puran.
If you're at Shangla top, it will take 40 minutes to reach Yakhtangay traveling by car. The area is full of lush green views, and the vegetation that grows there varies from place to place.
There's a pure Kail forest in Yakh Tangay, which also has Fir and Spruce, though quite rare. There's another interesting spot to see, a spring named Yakha Chena, famous for its cold water throughout the area.
It has a moist temperate zone and thus witnesses rainfall from July to the end of August and snowfall in winter.
4. Badar Sar
Badar Sar is a mountain located in Shangla, and it's an excellent spot for those who love trekking. This site is also famous among rock climbers who come here from all around Pakistan to enjoy this adventure.
Badar Sar is most beautiful when snow melts and flowers blossom in the spring. The best time to visit is from mid-May to mid-October, as these months witness moderate weather conditions and rainfalls, making it an ideal destination for tourists.
Badar Sar meadows are lush green with scenic views, and tourists can enjoy the fresh cool breeze, birds chirping, and breathtaking views. It's a great place to explore nature and its beauty.
Things to do in Shangla
There is no shortage of activities one can engage in while visiting this area. The possibilities are endless, from trekking, camping trips, and sightseeing tours to adventure sports like rock climbing, paragliding, and river rafting. Here are some of the best things to do: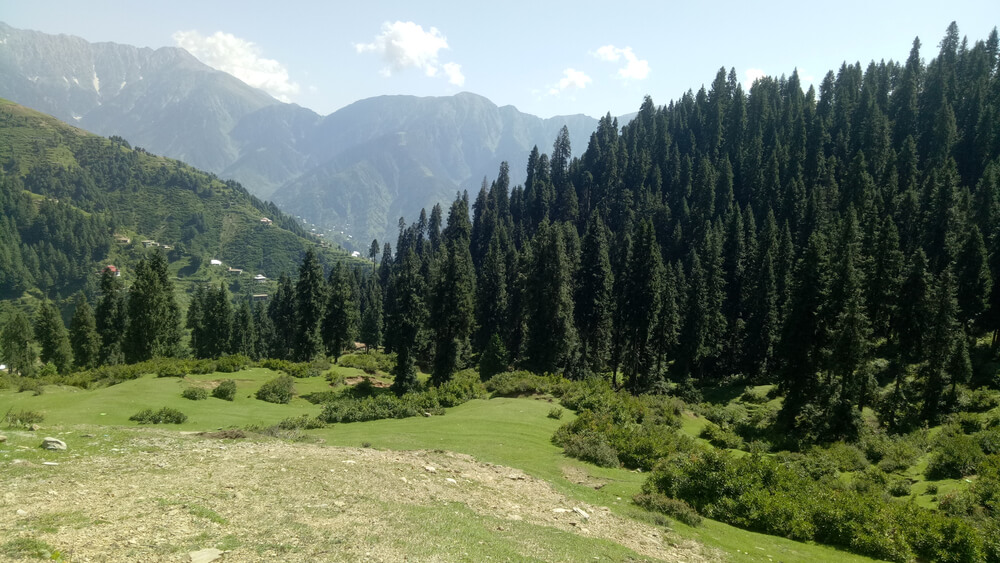 1. Trekking
Take a trek through the glorious mountain ranges of Shangla valley, explore its hidden beauty and discover lush green valleys and breathtaking views. The best time to trek for an adventurous journey is during the spring, as the weather is pleasant and the snow has melted away.
2. Sightseeing
Discover some of the area's most stunning attractions, from its mesmerizing lakes to its ancient Buddhist monasteries and stupas. The local markets are also filled with beautiful handicrafts, a perfect way to take home a piece of local culture.
3. Hiking
Hiking is a great way to explore the valley's beauty. Explore its majestic mountains and valleys, and enjoy stunning panoramic views with every step you take. The best time for hiking is usually during summer as the weather is more pleasant and you can take plenty of trails.
4. Camping
Spend quality time with your friends and family by camping in numerous places amidst picturesque settings. You can also go for a nearby walk and explore the wilderness of Shangla.
How to Reach Shangla?
The best way to get is by road. It takes approximately 3-4 hours from Islamabad via Gari Habibullah Road in Mansehra District. The journey is scenic as one passes through lush green forests and valleys.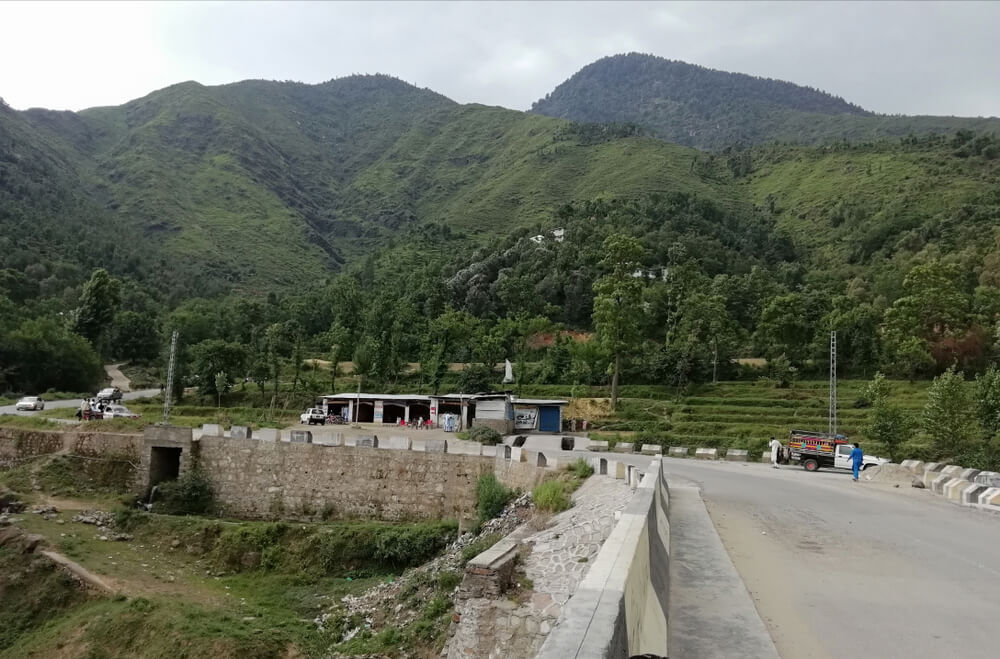 Best Hotel in Shangla
The best hotel to stay in is Green Hilton Hotel Shangla Top which is known for its excellent services and hospitality. It offers luxurious accommodation with all modern amenities such as free Wifi, air conditioning, satellite TV, and much more.
There are other small lodges and rest houses which are expensive due to the remoteness of the district.
Islamabad to Shangla Distance
Its distance from Islamabad is 281 km which can be easily covered in 3-4 hours by road. The journey starts from Islamabad, and one would have to pass through Mardan and then Swat to reach Shangla district.
It is farther away from other tourist spots in Islamabad, making it one of the most visited places in Pakistan.
Frequently Asked Questions
How many tehsils are there in Shangla?
Shangla District consists of four tehsils: Chakesar, Makhuzai, Martung, and Besham. The district's total population is around 759,609 people, according to the 2017 Pakistan census.
Where is Shangla hill located?
Shangla Hill is located in this District of Khyber Pakhtunkhwa province. The hill serves as a recreational spot for visitors to this beautiful part of Pakistan and can be reached by car from Islamabad in about 4-5 hours. It is at an altitude of 3440 m above sea level and offers breathtaking views of the Swat Valley.
The Shangla Hill comprises a series of terraces and is surrounded by dense forest, making it an ideal destination for hikers. Many small villages in the area also provide visitors' accommodation.
It is a beautiful place with many attractions and activities to enjoy. Its natural beauty and hospitality make it an ideal destination for anyone seeking to escape the city life's hustle and bustle. The hill offers spectacular views of the surrounding landscape, making it a great spot to appreciate nature's wonders. With plenty of things to do and sights to see, it is an ideal destination for any visitor.
Whether you want to explore the mountains or relax in one of the many hotels, Shangla has something for everyone. So be sure to take some time out of your day and visit this fantastic place!