Fizagat Park in Mingora, Swat
A very brief outline of Fizagat Park can be summed up in three points: the location, the design, and the activities involved in the park. To begin with, Fizagat Park is located in Mingora, the central city of Swat district and one of the main cities of Khyber Pakhtunkhwa province in Pakistan. It has been laid out to merge seamlessly with its surroundings and blend into them by employing contemporary and traditional designs to create an atmosphere that blends in with its natural surroundings. Fizagat Park is a must-visit place in Swat.
Fizagat Park Swat Attractions, Entry Ticket, Timings & Locations
Fizagat Park Mingora is a large recreational park located at Fizagat on the outskirts of Mingora city. It includes small waterbody and boating facilities. The park is open seven days a week. An entry ticket per head is 20 rupees. It closes at dusk.
History of Fizagat Recreation Park
The Fizagat Recreation Park was established in 1984 by the chairman of the Municipal Committee of Mingora, Malak Bairam Khan. The inauguration was held on six July 2015. It added an area of 3.2 acres and features a viewing tower that can accommodate approximately 80 persons and provides scenic views of the surroundings. Facilities at the park include children's rides, football fields, and playgrounds for other sporting activities.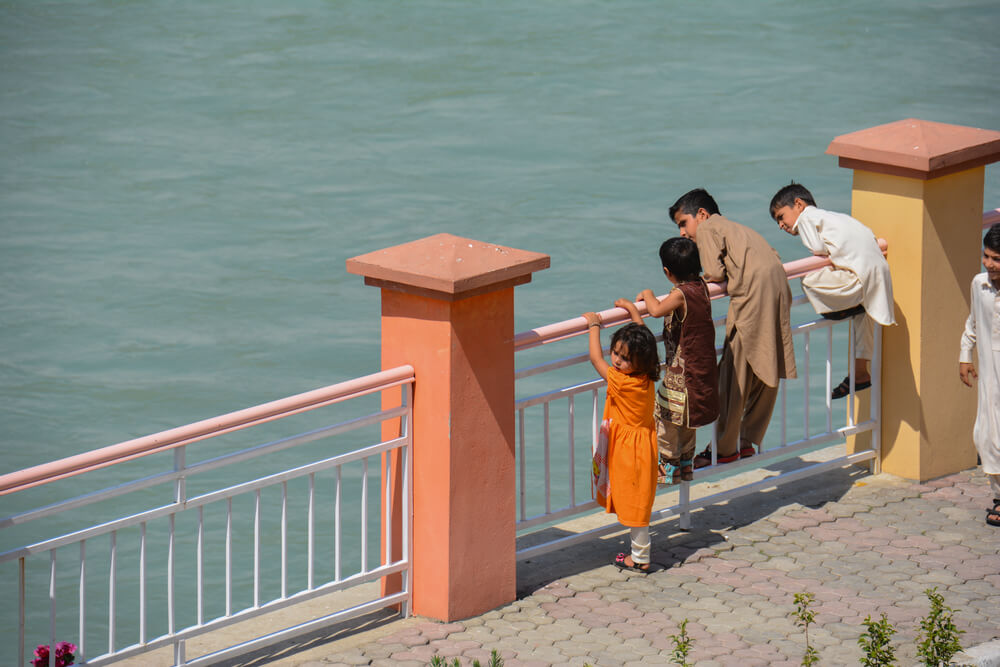 When is the Best Time to Visit Fizagat Park?
One can visit Fizagat Park in November and December. Fizagat Recreation Park has located 45km from the central city of Swat and on the Swat river bank. The park is open to people all around the year. But during the winter, one can have fun with snowfall if one visits at the right time.
Attractions at Fizagat Park Mingora
Mahodand lake, Madyan, and Saidu sharif are nearby attractions of Fizagat Park. The park has several attractions, including a zoo with animals like leopards and bears. For the little ones, there are amusement rides for all ages. Several lakes have boating facilities and an observatory to take in the stars at night.
Swings for Children
In 2013, the Japanese government helped to renovate the park. There are swings for children and four large fountains for adults, with even more children nearby running around to relax and have fun. The park also features a skating rink for children.
Stream of Swat River Flows through the Park
Located at the Swat river bank, Fizagat Park is a historical spot at the Himalayas' foothills. Due to its mountainous scenery, lush green forests with plenty of walking trails, and the Switzerland of Swat, Fizagat attracts visitors all year round. There are a few streams of Sawat River that pass by the park.
Boat Ride in Swat River
On your visit to Fizagat park, you must try out the various boating experiences. While participating in this activity, you will find yourself gliding through the tranquil waters of the Swat River and enjoying the fantastic views around you. Motorized boats or simpler ones are available for hire; it's all up to personal preference!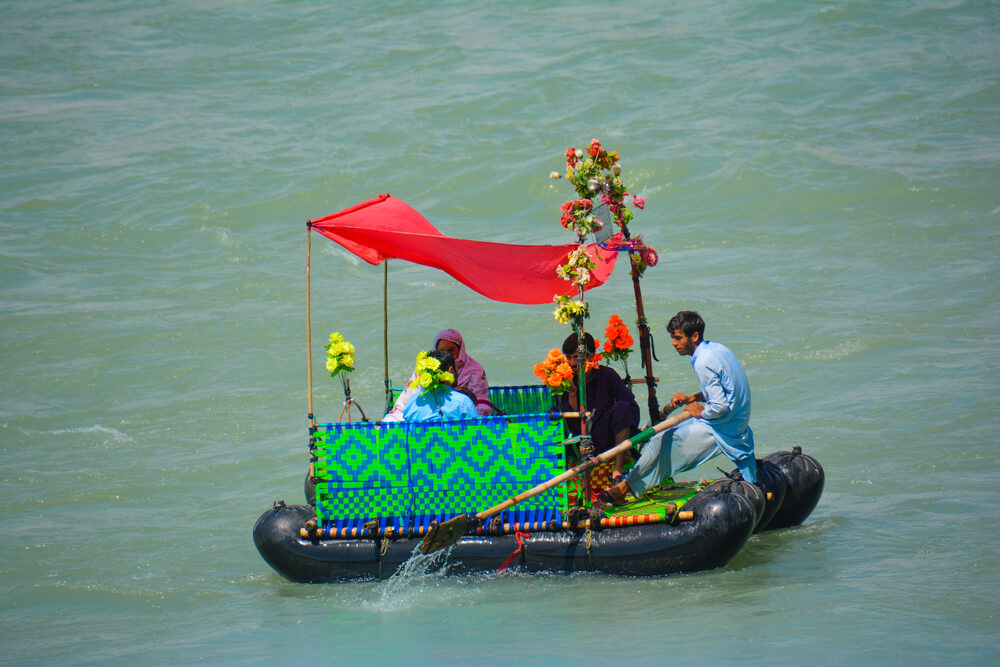 Small Playground for Children
The ground is only dirt and dust in Fizagat Park in Mingora, Pakistan. Recently, this has become a more convenient space for children to enjoy! It has a small playground where children can play and run around on monkey bars or play football together. This place also features a bench and jungle gym and is a new place to spend time.
Cable Car
On one side of the mountain, you will find breathtaking scenic views; on the other, a cable car powered by diesel. The cable car offers sweeping vistas across the park's forested slopes and can be accessed by paying a minimum amount. Once you disembark from the cable car, you will see that just below is the Fizagat Park itself – a manufactured lake with camping grounds and a beach to spend your days soaking up rays.
Small Zoo
The Fizagat Recreation Park, situated in the suburbs of Mingora, is a popular tourist destination not only because of its proximity to the city but also because it features a large artificial lake that attracts migratory birds and waterfowl. In addition to scenic and recreational areas, Fizagat offers many attractions, such as lighting zoos with examples of the wide variety of local wildlife and game farms open to visitors from 09:00 AM every day.
Aircraft Model
Located in Mingora, the second largest city of Khyber Pakhtunkhwa province and one of the largest towns in the Malakand Division, Fizagat Park is a popular public recreation area. The aircraft model at this location can give you an incredible experience.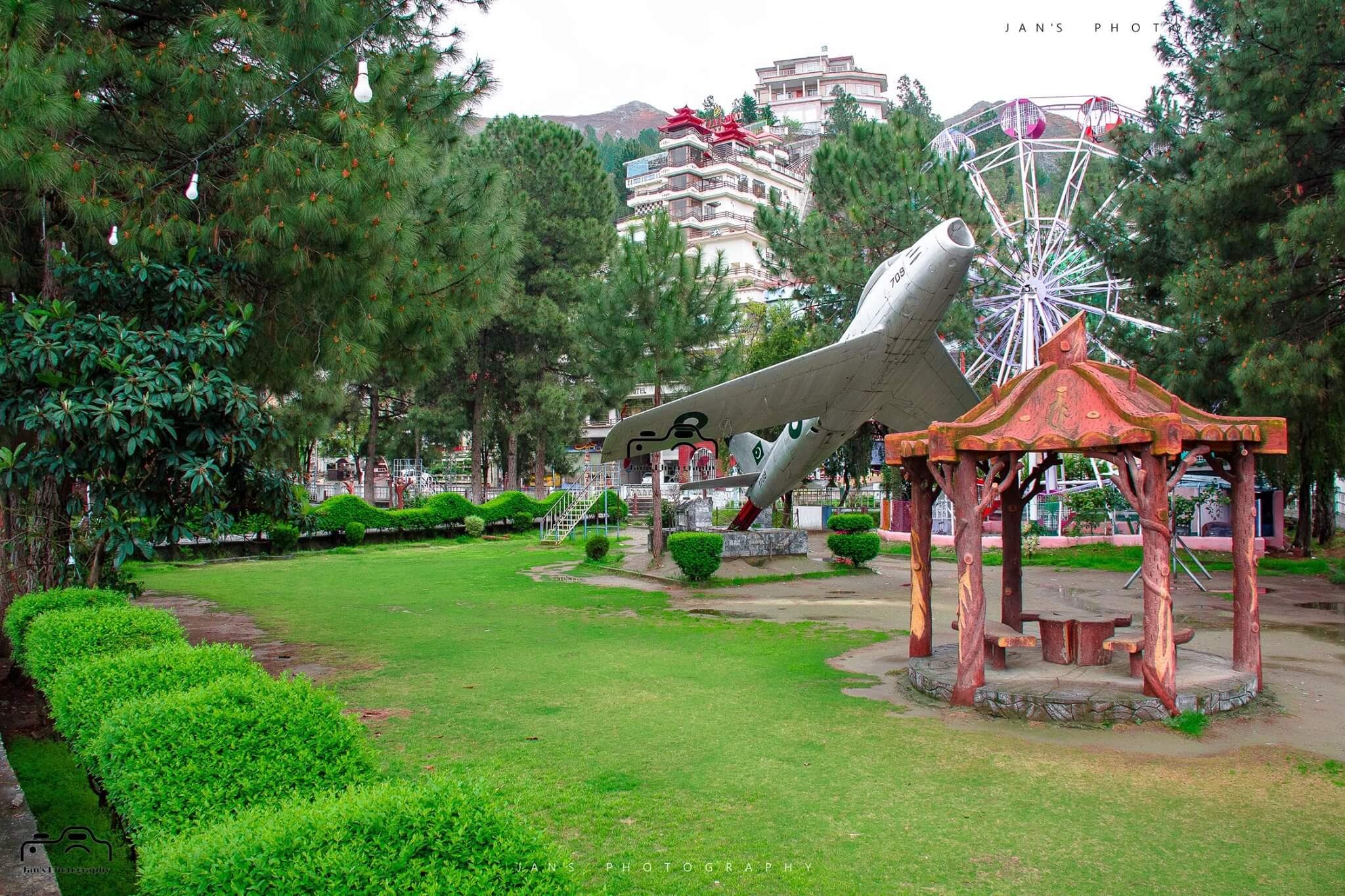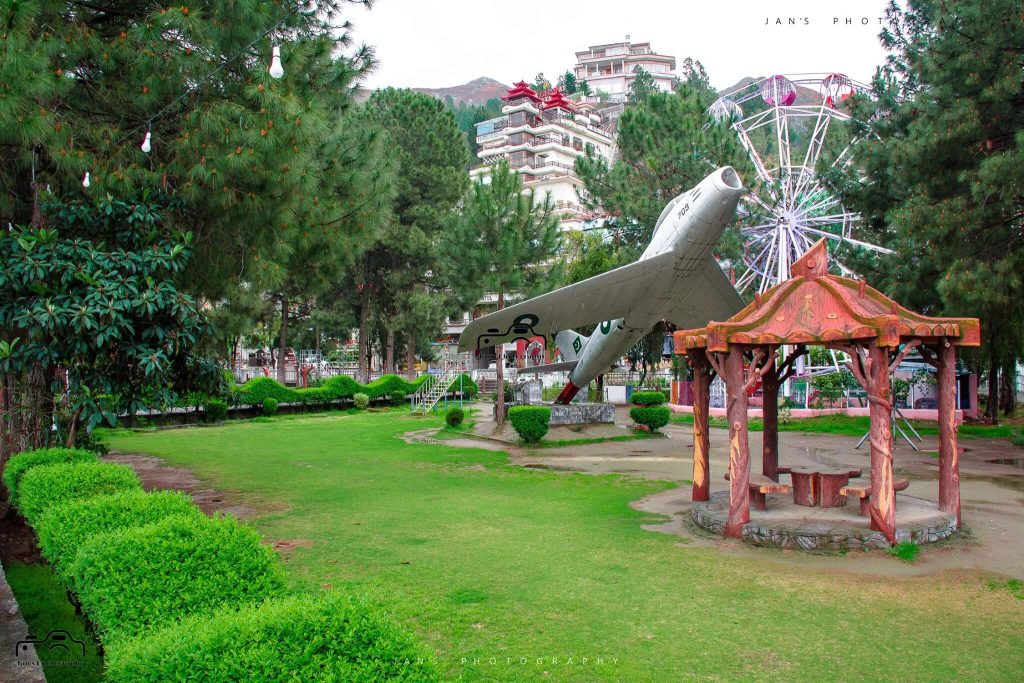 Gymnastic Show
You will see some signs of the economy developing in Mingora, one of the towns in the Swat district, Pakistan. The Gymnastics show happening in Fizagat Park can be seen as an example of these developments that are taking place.
Walking Track
If you are looking for some time to walk, there is a walking track on the lower ground floor of Fizagat Park. The way has been made with exceptional care for the elders and children. Along this trail, you will see several benches that provide excellent locations for reflection or just enjoying nature. The shade will be welcome during the summer as the sun soars above the sky over Mingora.
Shopping Stalls
Located at the north end of Mingora near the Martyrs' Graveyard and Firdousi graveyard, Fizagat Park is a lively site for visitors. You can find shopping stalls nearby Fizagat Park. From where you can buy beautiful gifts for your loved ones. There are clothing stores and bakeries in abundance as well.
If you're hungry while visiting Fizagat park, stop by one of the food stalls and indulge in local favorites like roasted corn or fresh naan.
Scenic Beauty
At the foot of one of the tallest peaks in Mingora, Fizagat Park is an oasis of natural beauty. It's home to many beautiful trees and offers panoramic views of the mountains. You can even try riding a horse when you stop by this lovely place!
Best Picnic Point
Some places have a reputation for being perfect picnic spots, but that's not always the case. However, at Fizagat Park, you'll find it pretty easy to find a great place to spread out and enjoy your lunch. There are plenty of options, and since trees and waterfalls on three sides surround it, there is no chance of the wind taking your food away. Following the footpath, you can go over some bridges and different sitting areas.
Separate Sections for Women, Children & Families
At Fizagat Park, there are two sections for different purposes. The men's team includes facilities for cricket and whatever they want to play, whereas the women's section includes facilities for volleyball and badminton. This is an excellent step for the privacy of women. Fizagat Park has separate facilities to meet the needs of both families and children by adding swing sets, seesaws, and slides to create a playground that accommodates smaller bodies.
How to reach Fizagat Park?
To reach Fizagat Park, you'll need to arrive in Mingora and find your way to the bus station on Amjad Hussain Road. You can find a taxi or public transport that will take you up the hills.
Facilities at Fizagat Park
The Fizagat Park is on the stream's banks that run through Mingora. It has a play area for children with swings and seesaws. There are also badminton and volleyball courts and a fenced-off basketball court. On the other side of the field is an open-air shaded seating area where you can see kids playing around with their parents watching them or enjoying a cup of tea while chatting with friends or neighbors.
Multiple Food Stalls
In Fizagat Park Mingora, you can find a variety of food stalls that sell street food staples such as biryani and naan (rice and bread). It's also the place to be if you're looking for chapli kebabs or are interested in sweets.
Best Sitting Arrangements
Sitting areas are available at Fizagat Park and can be used by anyone. These are places where one can rest, drink tea or coffee and chat with friends. Some people may also take their animals for an outing. The sitting areas offer shade under the giant banyan trees, while others prefer to sit on the benches around the pond area.
Beautiful Pergolas
The beauty of Fizagat Park is no secret. Everywhere you look, flowers, people, and the gurgling sound of water flowing through canals. But one of the most breathtaking aspects is the pergolas that adorn each walkway and offer shade to those taking a stroll. As you walk past them, you'll be mesmerized by their structure, sheer size, and how they frame your path.
Ample Parking Space
Parking is always an issue, but at Fizagat Park in Mingora, there are enough spaces for your needs. With beautiful landscaping and a pond full of fish, it's hard to imagine why you would ever leave. There are ample parking spots for all vehicles, so come and see what this jewel looks like!
Nearby Hotels & Resorts
For those who want to enjoy the beautiful surroundings of Fizagat Park and are looking for a suitable hotel near Fizagat Park, we recommend staying at the Moon Palace Hotel Fizagat. The hotel offers the best room services and high-end facilities.
How Much is the Distance to Fizagat Park From Swat?
The distance between Fizagat Park from Swat is about 45 kilometers. The journey will take about half an hour to complete by car.
Fizagat Park Entry Ticket
To enter the park, you must pay 20 Pakistani Rupees for adults and children. The ticket price is the same for locals and foreigners. Visitors are welcomed by a large sign that reads Welcome To Fizagat Park. Turn left from the entrance and walk down a path with ponds full of water plants. Continue on the dirt trail to cross over a small bridge and enter an area where kids can play on swings.
Location of Fizagat Park Swat
Mingora is a historically significant city in Swat Valley. It has been referred to as the region's Summer Capital due to its pleasant climate and proximity to the mountain peaks. One such place of note is Fizagat Park which serves as a public space for leisure activities for locals. This green space extends 2km from one end to another and provides recreational opportunities for kids, joggers, and families.
FAQs
Is the Park work Visiting?
It's worth visiting. Many people travel to Fizagat Park in Mingora as part of their trip to the region. The park is 45km from the Swat and easy to find with maps and directions. The hours are 6:00 AM to 12:00 Midnight. Entrance tickets are 20 per head, but an ID card or passport may be needed while entering the Swat region. They also charge some amount for the camera that enters the park for shooting purposes.
Is the road to reach the park safe?
Fizagat Park is located on the bank of the river of Swat. The park is a beautiful place to visit. It has green trees, clear blue water, and flowers everywhere. The road to get there is not the best, but it's safe if you are escorted by someone who knows the area well. Many restaurants nearby sell authentic Pakistani cuisine and offer affordable prices. To visit Fizagat Park, We recommend bringing plenty of bottled water and a camera.
Conclusion
Coming from a country known for its natural beauty and mountainous terrain, it is not that difficult to understand why Fizagat Park held such appeal. The family-oriented park creates a welcoming environment for all visitors with its beautiful flora and fauna, picturesque mountain views, and lush greenery and amusements for kids.