Blue Water Kalam, Swat
Blue Water Kalam, the breathtaking blue water of Kalam in Swat valley, Pakistan, has been making headlines recently in newspapers and magazines worldwide. However, it's still relatively unknown to the rest of the world. It all started when Imran Khan (the cricketer turned politician) visited Kalam valley as part of his political campaign and fell in love with the beauty of this place so much that he decided to build an eco-friendly resort there.
Blue Water Swat Attractions and Location
Bluewater is a massive attraction for tourists visiting the area. The blue water lake can be found 6 to 7km from the Swat valley. As soon as you enter these mountainous areas, the blue skies and scenery are breathtaking and will leave you with memories that last a lifetime. Bluewater lake is an artificial lake created by man, which was constructed by two dams to hold back the waters of two streams.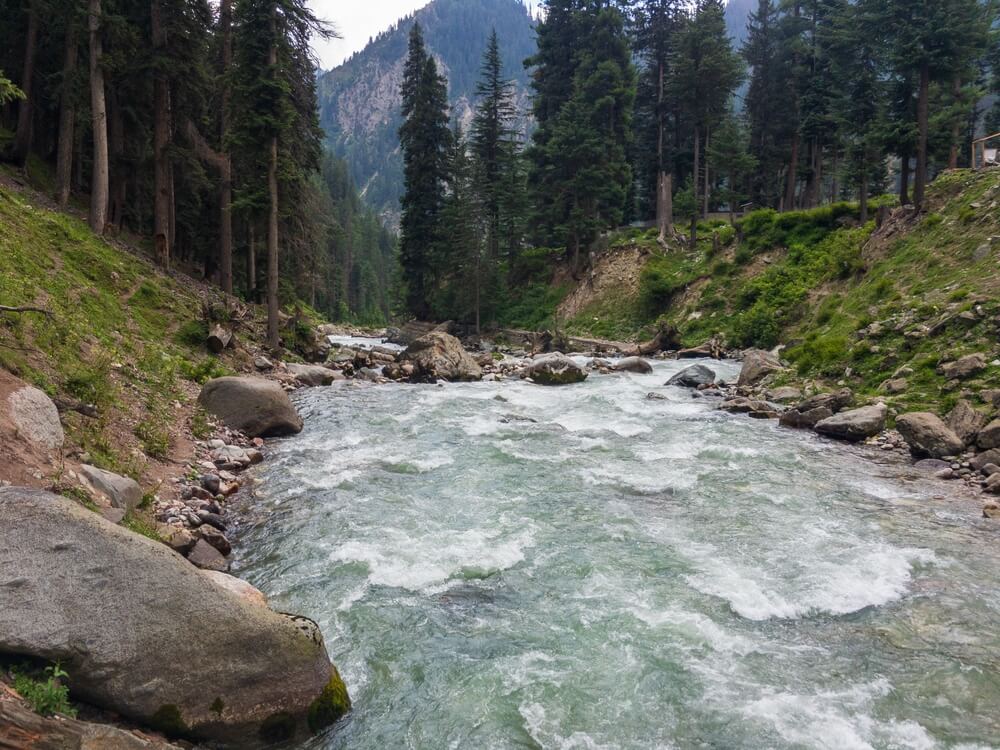 Why is it called Blue Water Kalam?
Kalam means blue water in Pashto. There are four blue water lakes and many ponds on the way to Kalam valley. One can see Kalam Lake at a distance, and it seems as if the lake is calling people to come closer and see it up close.
There are places around the lake where one can see beautiful views and reflections of the sky, trees, and mountains while enjoying a picnic or barbecue with family or friends.
When is the Best Time to Visit Blue Water Kalam?
There are many things to do in the Blue Water Kalam valley. But if you're only interested in the Bluewater itself, it's best to visit during July and August – with an average temperature of 18 degrees Celsius. It can be a little chilly at night, so bring warm clothes!
Recommended Gears for Blue Water
The breathtaking blue water found in Kalam valley attracts tourists from all over the world. If you are planning to visit this location and want to know what to pack for your trip, consider bringing these five essentials: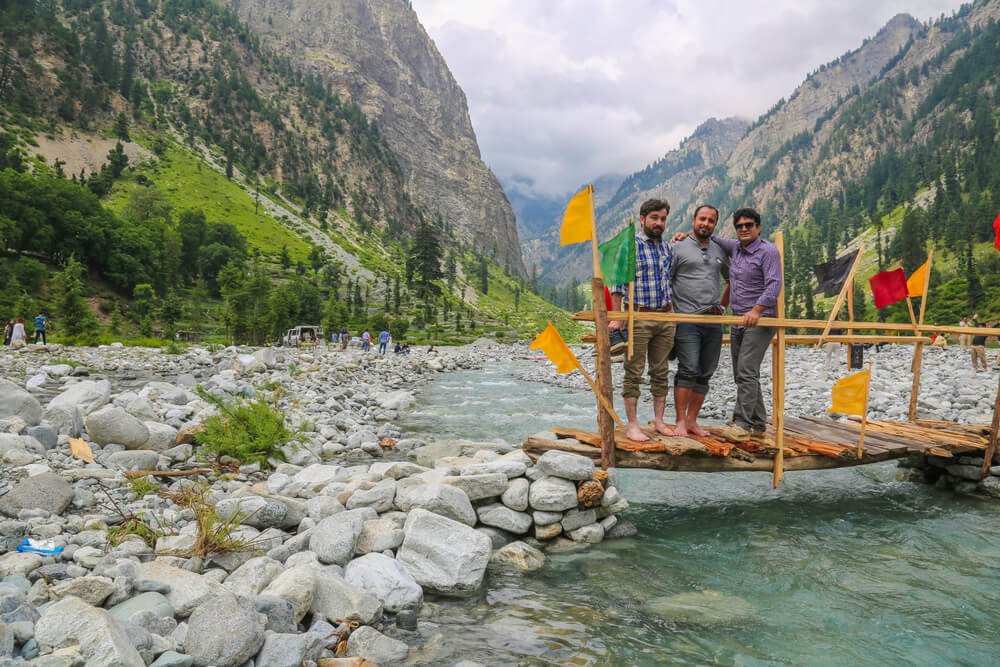 1) A sunscreen with a high SPF and at least UVA protection
2) Hat
3) A comfortable backpack for carrying a day's worth of clothes
4) Good quality tennis shoes
5) Comfortable sandals or flip-flops that are secure on your feet.
Hiking Shoes
Everyone knows that the best way to experience a new place is to walk around and see it on foot. No matter where you're traveling, a hike through the countryside or up the side of a mountain can make all the difference in knowing how to start planning your next visit. So, don't forget to bring your hiking shoes.
Extra Pairs of Shoes
This is one of the most breathtaking places in all of Pakistan. If you don't mind a walk through rugged terrain, Bluewater will leave you in awe. But you have to keep an extra pair of shoes to avoid inconvenience. Bluewater Kalam valley is not as cold as other regions in the North, but you need to be careful in terms of safety.
Camping Essentials
Camping is a great way to get back to basics and enjoy the breathtaking views in the fresh air. Camping essentials at Blue Water Kalam are required for your next adventure: tents, sleeping bags, cooking sets, and more. Camping has never been more accessible with all these necessary amenities!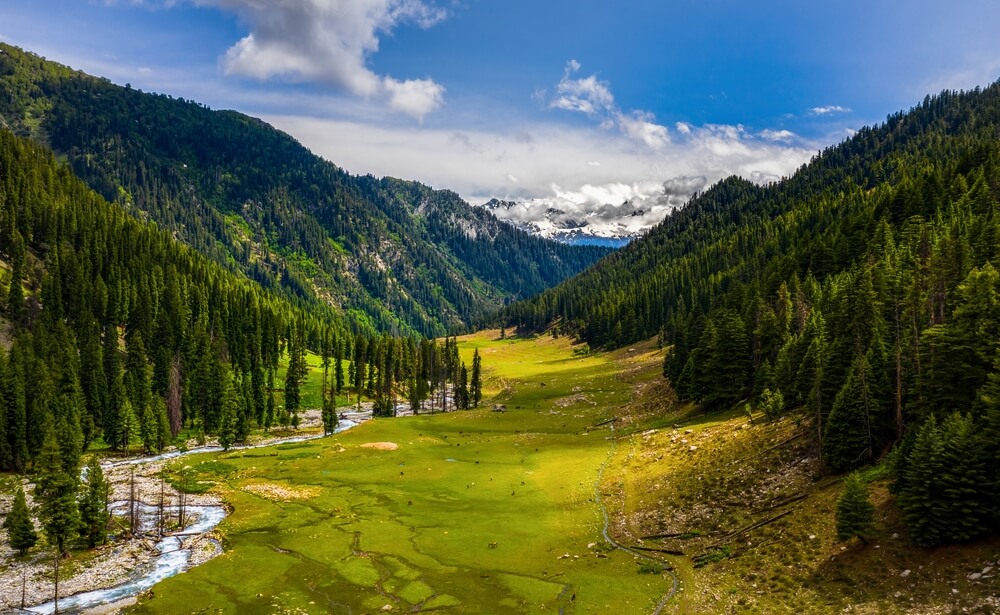 First Aid
A first aid kit is essential when you travel, and the Kalam valley at Bluewater, Pakistan, is a destination not to be missed. Whether you are looking for adventure in the mountains or peace at the lake, Bluewater should be on your list. As with any outdoor activity and increased potential for accidents, it is always best to be prepared. First aid consists of bandages, antiseptics, painkillers, and essential tablets required for every unpleasant incident during a tour.
Attractions at Blue Water Kalam
Kalam Valley is a must-see for all travelers to Pakistan. This scenic valley boasts some of the most breathtaking scenery that Northern Pakistan has to offer. But, be warned: it will also steal your heart as it stole ours. We knew we had to share this gorgeous valley with you because of its picturesque beauty and blue waters.
Scenic Beauty
Pakistan's beautiful Swat valley is not just for sightseeing. It also has several natural attractions and many activities to choose from. About 10 hours and 44 minutes outside the bustling capital city Islamabad, in the heart of this valley lies one such natural appeal – The Blue Water Lake.
Fresh Spring Water
The Blue Water Valley at Swat is known for its naturally blue water. The water flows beautifully in the lake, making for a scenic greenery nearby experience. One can enjoy fishing and take photographs of this beautiful sight.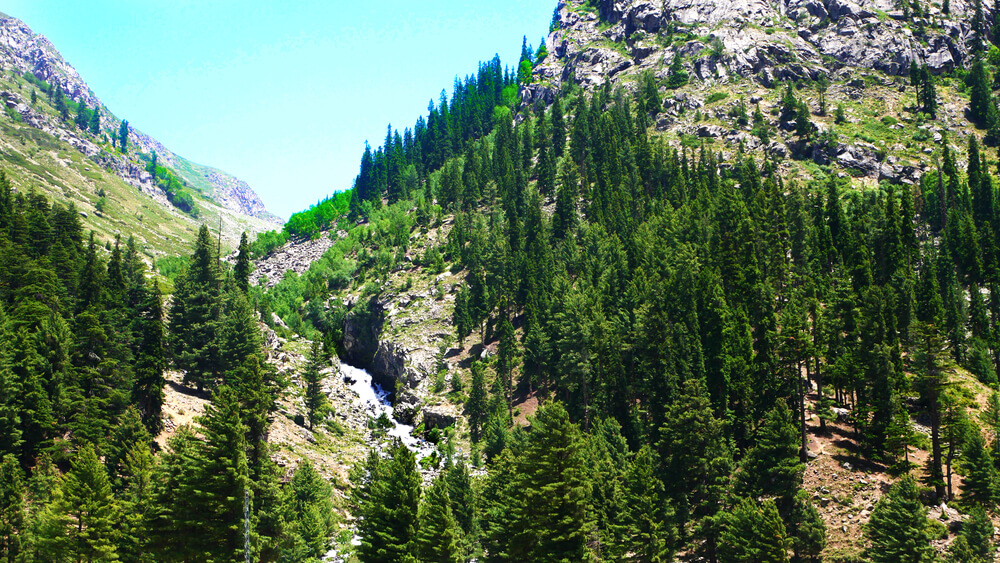 The top attraction for tourists visiting this area is the fresh spring water that will make your skin feel amazing after spending some time by the lake soaking in its healing properties. It's easy to see why so many people have made this place their favorite getaway destination!
Lush Green Forests
Blue Water is located in lower Swat and can be accessed via a nine-hour and thirty-minute scenic drive from Mingora. The lake is surrounded by lush green forests and features boats you can hire to take out onto the lake.
Beautiful Mountains
Kalam valley in the Swat District is famously known for its blue water. The area boasts fantastic views of a lake covered in ice with green mountains and clear blue skies as the backdrop. It's hard to believe that this remote location can boast such impressive sights.
Amazing Picturesque View
Discover the unspoiled and awe-inspiring beauty of Blue Water Kalam valley! Spread over mountainous terrain, this remote part is a treasure trove for adventure seekers with its waterfalls, trout streams, virgin forests, and amazing Picturesque Views.
Best Family Picnic Point
The Blue Water Lake in Swat is the best family picnic point. It has clean water and incredible scenery, making it a place to relax and enjoy yourself with your loved ones. There are plenty of activities for all ages so no one will be bored at this lake! Whether you want to swim or sit back and enjoy the sun, there's something here for everyone.
Things to Do at Blue Water Kalam
Blue Water Kalam is a popular place for vacation because of its beautiful scenery and clean water. There are so many things to do there; you can swim in the lake or the valley, go kayaking or canoeing on the lake, sail on a yacht across the lake, jump into the water from a pier or walk along it while enjoying the view! There's something for everyone at Blue Water Kalam.
Hiking
The Bahandra River flows between beautiful mountains, making for a great hike. One side has bald peaks on which hiking can be done, while the other has forest-covered peaks that are difficult to hike. At Blue Water Kalam, you can enjoy the view of other peaks, the bahandra river flowing, and some peace away from city life.
Camping
Bluewater lake is in the northeast of Swat near Chakdara town. It's said that its blue water flows from the heart of snow-clad mountains. Bluewater swat is one of the most popular spots for camping in the Swat region in Pakistan. If you're looking for a perfect spot for camping, look no further than Bluewater kalam valley.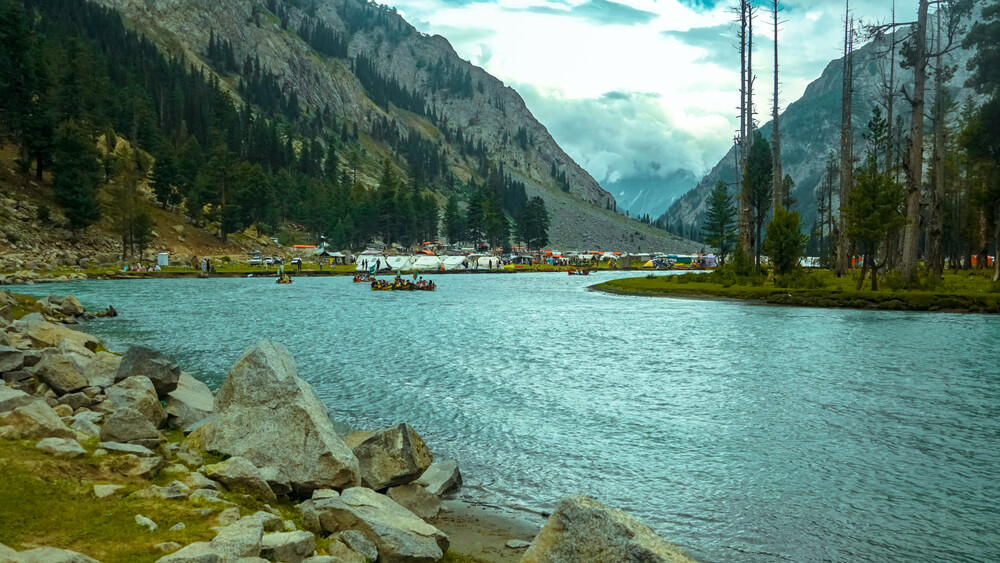 Bonfire with Barbecue
Barbecue has been a popular thing to do for many generations. And what better place to do it than at the blue water lake in Kalam Valley? Spend a night under the stars and enjoy the delicious food as you dip your feet in the lake waters. With plenty of wood to make bonfires, you can spend hours under the night sky or enjoy a gentle afternoon by the blue water lake. Barbecue evenings with food start at 1 PM and are priced at Rs.1,500 per person.
Photography
Suppose you are looking for a gorgeous place to explore and have an incredible time but can't make it to the sea or the desert, head on to one of Pakistan's most unique attractions. Blue Water Swat is a breathtaking place to capture your best moments, where waterfalls await you.
How to reach Blue Water Kalam?
Kalam valley is an administrative district in the northern Pakistani province of Khyber Pakhtunkhwa. You can reach Blue Water Lake Kalam in two hours by jeep from Main Kalam Bazaar. 
Facilities at Blue Water Kalam
Blue Water Huts offer an open area for relaxation. Featuring a restaurant, garden, and terrace in Kārandūkai, this 3-star hotel also features room service. Guests are treated to spacious and tasteful accommodations with a private bathroom, including shower amenities.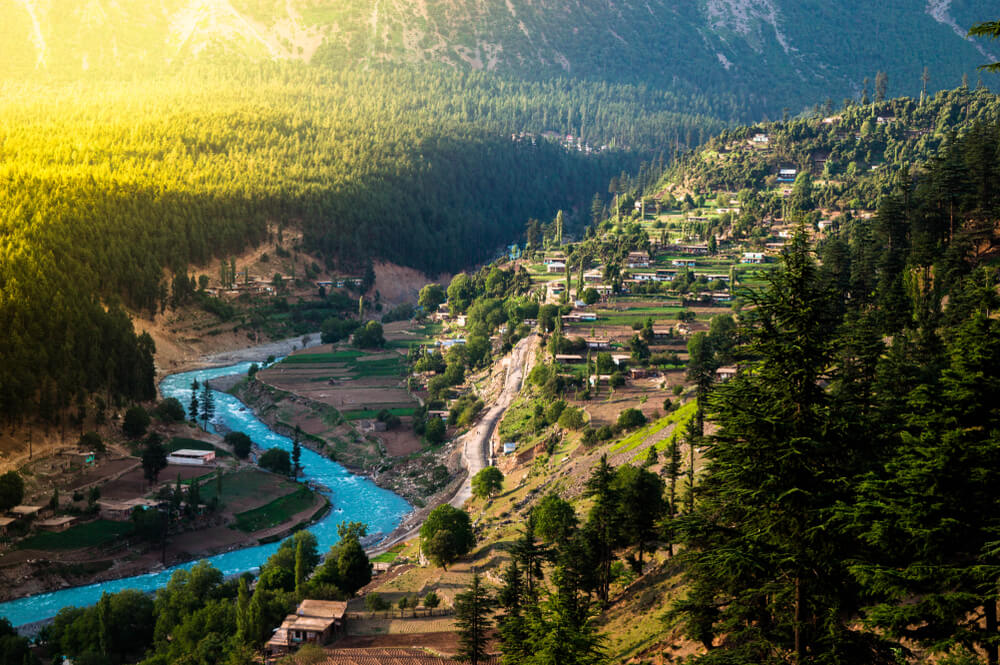 Blue Water Resort Kalam provides guests with various accommodations and fantastic amenities, including an Asian breakfast each morning. With only 400 meters from the beautiful town of Kārandūkai and its many attractions, this resort can offer you what you need for whatever you're looking for out of your stay.
Sitting Arrangements inside Water
Sitting Arrangements inside the water at Blue Water Kalam offer a break from the hot and humid weather, and it is more than just a seating option. It is an opportunity to experience what life may have been like in medieval times. Every moment spent there offers something new to discover.
Patio Umbrellas
Located in the southwest corner of Malakand Division in Khyber Pakhtunkhwa, Blue Water Kalam valley is becoming a popular tourist destination among adventurous travelers. A range of activities can be found at the resort – from hiking to trekking or horseback riding on a local pony. The patio umbrellas can be the best scenic view of the resort. Besides adventure activities, guests can indulge in peaceful meditation on an isolated hilltop overlooking a one-thousand-meter-high peak stretching across six mountain valleys.
Restaurant
A chairlift takes you to the top of the mountain, where a unique and exhilarating ride takes you to the restaurant on the cliff. The view is breathtaking. The food is expensive but fresh and always served with a smile.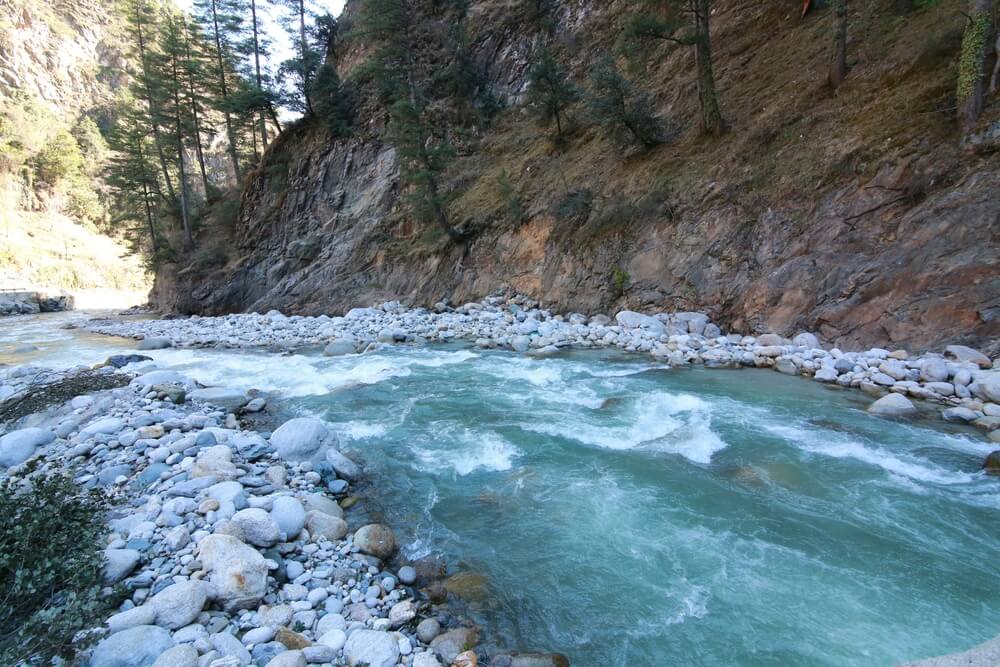 Parking
Kalam is set to become the next big tourist destination in Pakistan. The natural beauty and its serenity will attract tourists from all over the world. Seeing it was like stepping back away from all the noise and dirt. Parking is also available at Bluewater kalam valley.
How Much is the Distance to reach Blue Water Kalam from Swat?
The Blue Water at Kalam is 30.9 kilometers from Swat and is located in Anakar Village, just before the first bridge goes to Anakar Valley. Blue Water at Kalam is a beautiful location for an overnight stay and has easy car access, or you can stay in a hotel or put up a tent.
Location of Blue Water Swat Valley
Kalam Valley is located in the Lower Dir District of Khyber Pakhtunkhwa. The Kalam valley is a picturesque place with gushing blue waterfalls surrounded by wooded forests in Swat, KPK, Pakistan. This is the perfect vacation spot for families looking to escape the hustle and bustle of their daily lives to enjoy peace. You'll find that many fruit orchards all over the region offer fresh fruits so you won't go hungry. And it's just 10 hr 44 min (408.4 km) via AH1/M-1 from Islamabad – not bad!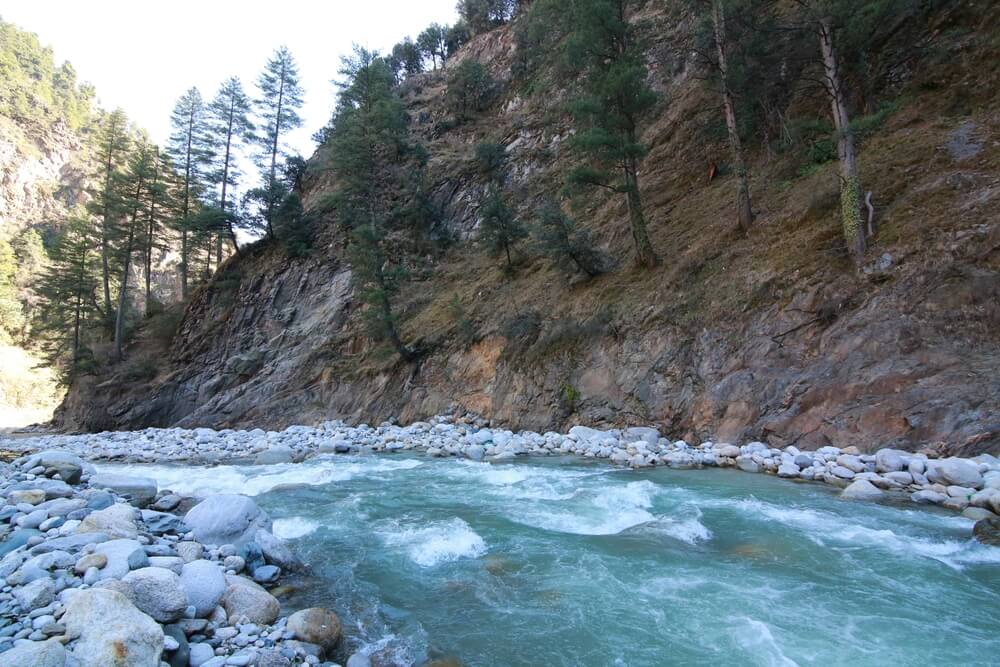 FAQs
Is the place safe for Families?
A common misconception is that the blue water in Kalam Valley is not worth visiting due to the Taliban insurgency and security risks. However, locals assure us that the area is safe and that the blue water seen from miles away deserves a visit. A steep and narrow road leads up to a bridge that offers breathtaking views of Blue Water Swat.
Is the Blue Water Kalam worth it?
With its picturesque scenery and breathtaking views, Bluewater kalam is definitely worth a visit; you'll surely love it!
Conclusion
Kalam Valley is located in the Lower Dir District of Khyber Pakhtunkhwa. The valley has been a popular tourist destination for centuries and is today the region's most popular winter recreation spot for locals. The blue water from Kalam valley is a sight to behold. Its deep blue color and cold temperature will take your breath away if you're ever fortunate enough to visit this beautiful valley.