Places To Visit In Rawalpindi
Rawalpindi is one of the most important cities in Pakistan. It is the country's fourth largest city and the capital of Punjab Province. Rawalpindi is south of Islamabad, and the two form the "Twin Cities" area. Whether you're interested in history, culture, or nature, Rawalpindi has something to offer everyone. So why not add this vibrant city to your travel plans?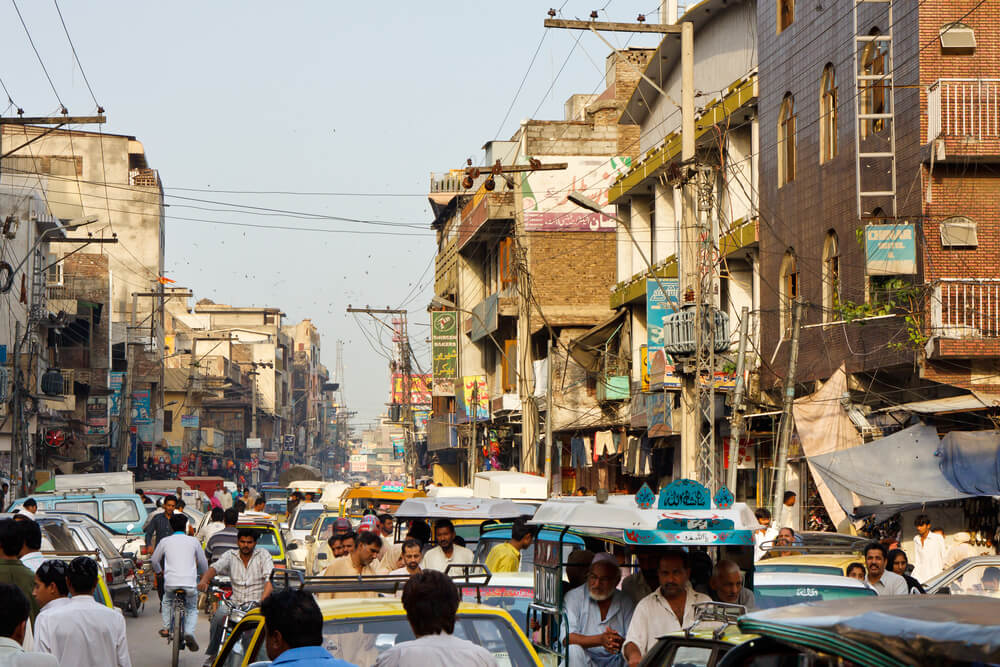 Rawalpindi is also a great destination for those who love the outdoors. The city has many parks and gardens, such as the Ayub National Park, a great place to take a walk or hike. There are also several lakes in Rawalpindi, such as the Rawal Lake, a popular spot for picnics and swimming. It is an important industrial and commercial center home to many businesses and factories. The city is also an important transportation hub, with roads and railways connecting it to the rest of Pakistan. Rawalpindi is home to several important military establishments, including the headquarters of the Pakistani Army and the Army Central Library. The city has a long history as a military center and has been the scene of many battles throughout the years.
Attractions in Rawalpindi
There are plenty of famous places to visit in Rawalpindi, and tourists will never find themselves bored in this vibrant city. From historic landmarks to natural wonders, the list never ends. The city is renowned for its many historical and cultural landmarks, as well as its natural beauty. Rawalpindi is a popular destination for both domestic and international travelers, and there are plenty of things to see and do in the city. If you're interested in exploring the historical side of Rawalpindi, be sure to visit some of its most famous landmarks, such as the Rawat Fort, the Raja Bazaar, and the Sangini fort. Nature lovers will enjoy spending time in Rawal Lake Park or Ayub national park. Some of the best places to visit in Rawalpindi include:
Murree
Why do people flock to hill stations like Murree? There are many reasons why hill stations are a perfect spot for tourists. The first reason is that hill stations offer stunning views of the surrounding area. It is because hill stations are typically located in high-altitude areas, which gives them an unobstructed view of the surrounding landscape. Secondly, hill stations tend to have cooler climates than lower-lying areas, making them a perfect escape from the heat of the plains. Lastly, hill stations are often home to various flora and fauna, making them a great destination for nature lovers.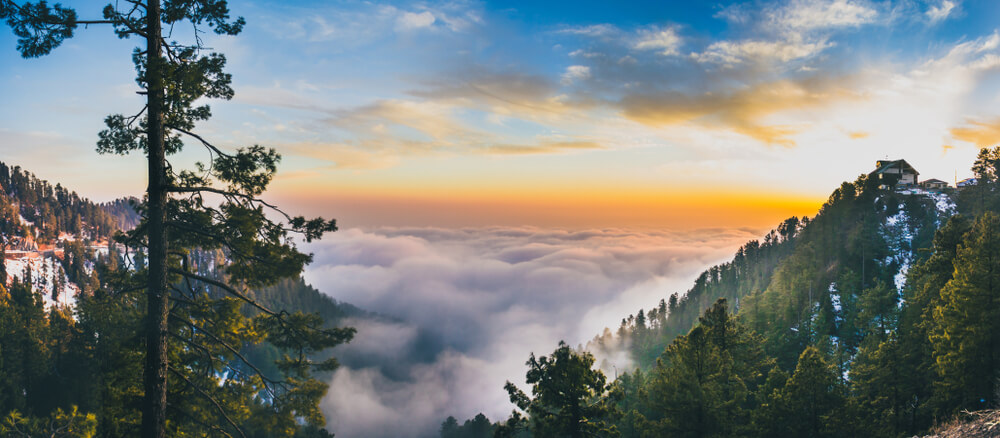 Murree is one of the best places to visit in Rawalpindi. Murree is a hill station located just a short drive from Islamabad, and it is known for its cool weather and stunning views. It is located on the Pir Panjal Range, at 2 291 meters (7 516 ft). The town is spread over several hills and valleys and is a popular tourist destination in the summer. It is also popular to visit in the winter when the snow-covered hills and valleys are a sight to enjoy. There are several places to visit in and around Murree, including the Murree Mall Road, the Pindi Point, Ayubia National Park, and Patriata New Murree. Visitors can enjoy hiking and picnicking in the hills or take a cable car up to the top of one of the peaks for an even better view. It is truly one of the breathtaking places to visit in Rawalpindi.
Army Museum
Every country has a unique way of preserving history and culture; some keep organized museums to depict history. There are many reasons why museums are so special. First, they are a great way to learn about history and culture. Second, they provide a chance to see amazing art and artifacts up close. Third, museums are a great place to spend time with family and friends. Finally, museums help support the local economy by attracting visitors and tourists.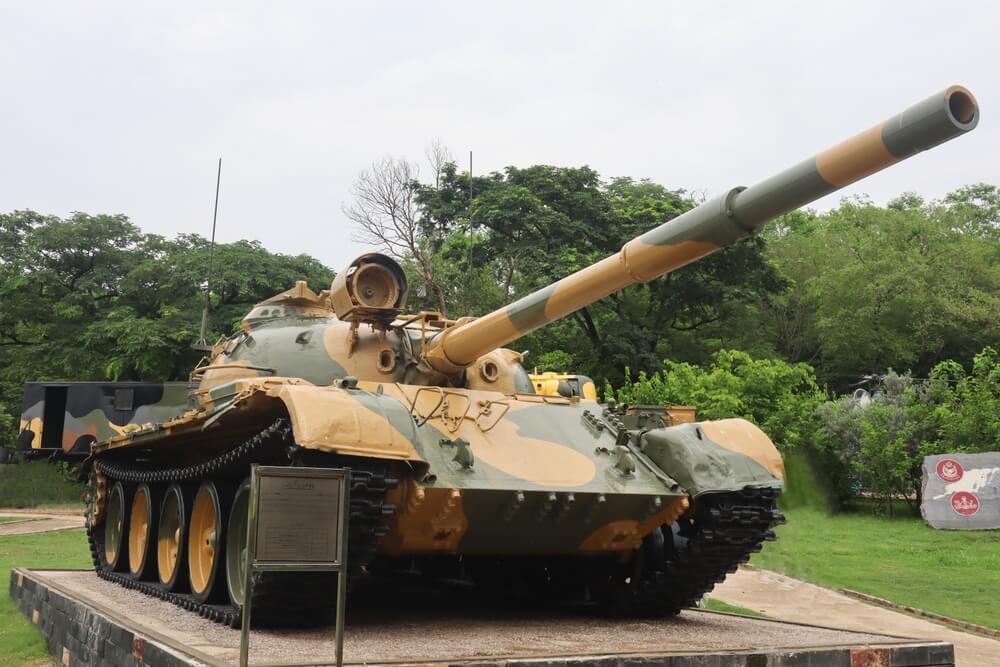 You will be amazed to know that Rawalpindi has an army museum that is a valuable asset to the country. It is one of the legendary historical places of Rawalpindi. The Army Museum in Rawalpindi is one of Pakistan's most popular tourist destinations. It is located in the heart of the city and houses a large collection of artifacts related to the Pakistani Army. It holds unique relics and pieces of arms and uniforms that reflect the history of the Pakistan military. You can see the evolution of ammunition, arms, and other weaponry from the Mughal era until now. The museum also has a small library with a collection of books on the history of the Pakistani Army.
The Army Museum is a great place to learn about the history of the Pakistan army and the role of the Army in the country. The museum is open to the public from 9 am to 5 pm. You can enjoy the museum as its entry is free.
Raja Bazar
Raja Bazar is one of the oldest and most popular markets in Rawalpindi. The market is known for its British-era buildings and commercial establishments. It is also a major shopping district in the city, offering various goods and services. It is famous as it offers goods and commodities at cheap rates compared to other markets in the city.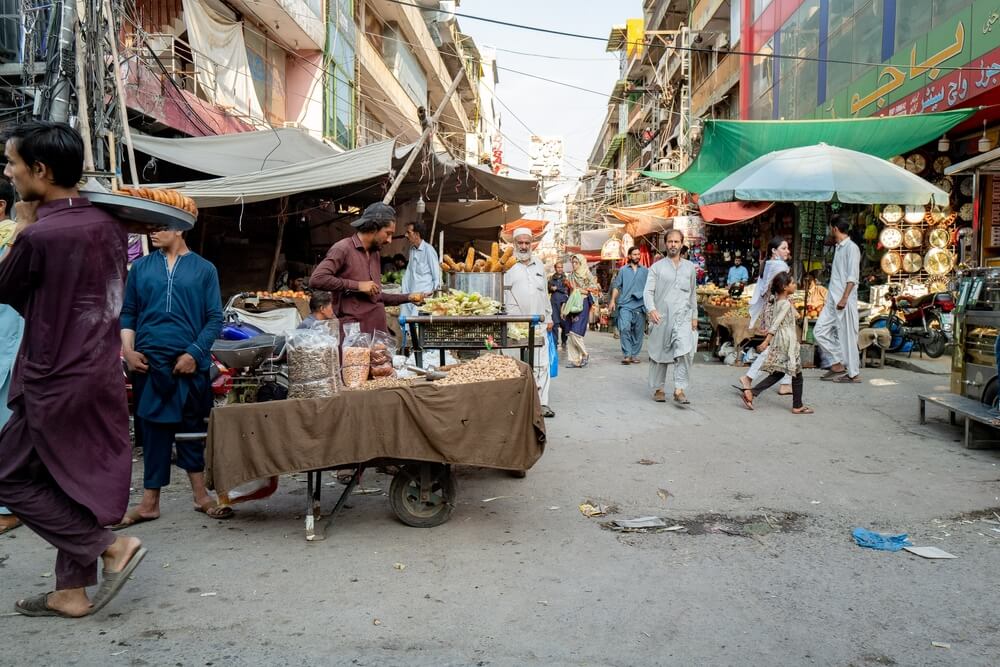 Some of the most popular items available in the market include used shoes, sheets, books, buckets, ropes, sanitary items, hair bands, toys, bangles, bags, and clothes. These roadside shops are the main attraction of the raja Bazar. Although it is a very crowded and cramped place, the bargain and prices are worth a visit. It would be best to visit the raja bazaar during weekdays as weekends are very crowded.
So if you're looking for a bargain or want to explore a bit of Rawalpindi's history, check out Raja Bazar.
Fort Rawat
Fort Rawat is a historical fort located in Rawalpindi, Pakistan. The fort was built by the Dehli sultanate in the 16th century and served as a garrison for the troops. Initially, it was a caravan Inn that Mughal emperor Humayun later fortified. The main purpose was to defend the Potohar region from the attacks from Sher shah Suri. After the independence of Pakistan, the fort was converted into a tourist attraction.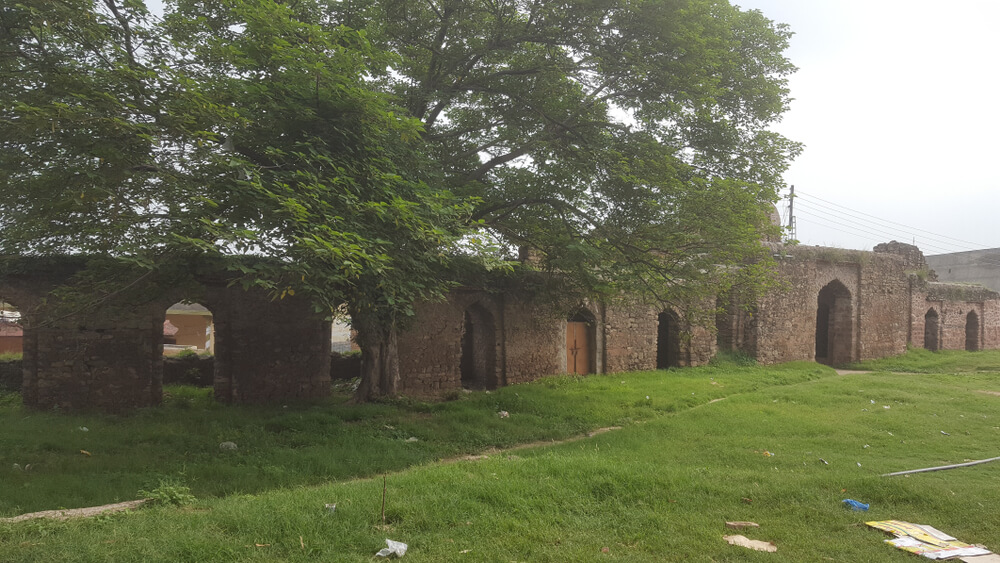 Fort Rawat is a popular tourist destination in Rawalpindi and attracts visitors from all over Pakistan. It has a square shape and two gates. The fort has several historical and architectural features, including a mosque with three domes, cells, and several shops. There are also several cafes in the vicinity of the fort.
Misriot Dam
There are many reasons why small dams are such a popular spot for recreational activities. One of the biggest reasons is that they offer a great place to cool off during summer. Many people enjoy swimming, fishing, and even just sitting in the water to relax. Small dams also provide a beautiful setting for picnics and other outdoor activities. One such small yet marvelous dam is the Misriot dam.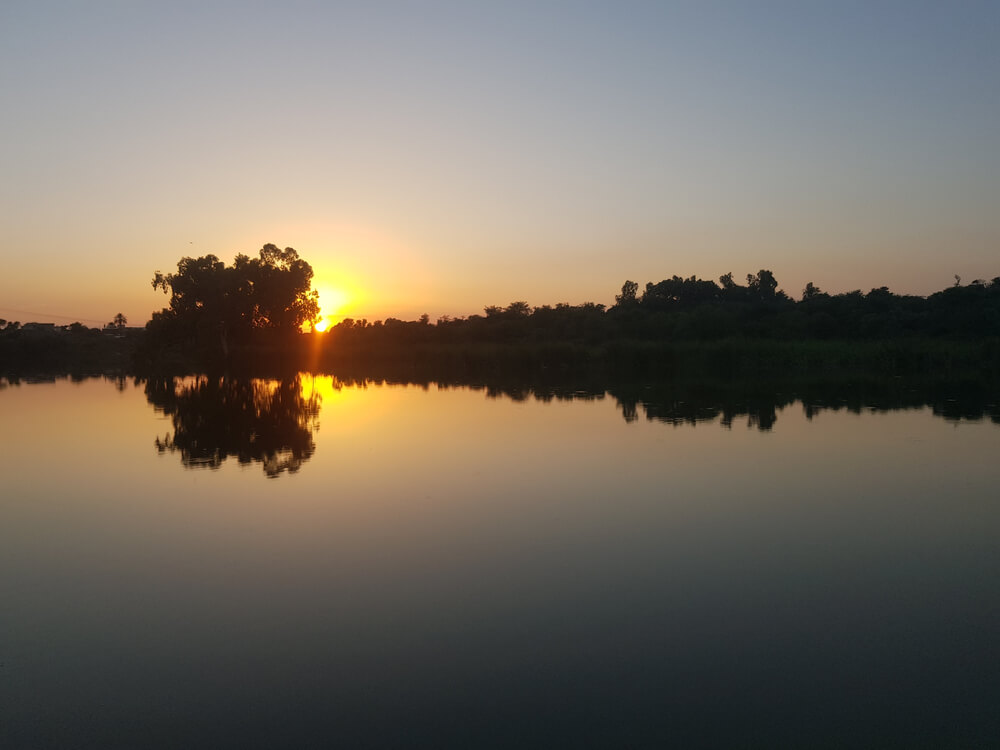 If you're looking for a beautiful place to enjoy some boating and fishing, Misriot Dam in Rawalpindi is a great option. Fishing permits are required for fishing. The pleasant landscape and walkways make it well worth the effort.
Rooh Waterfall
Rooh waterfall is a popular tourist destination for camping, hiking, and enjoying the water scenery in the Rawalpindi district. It is located in Rawalpindi, Pakistan. The waterfall is famous for its natural beauty and the opportunity to experience nature up close. Visitors can expect to see various wildlife, including fish, birds, and mammals. Several plant species can be found in the area. The waterfall is a great place to relax and enjoy the scenery.
Rawal lake
Rawal Lake is a manufactured lake in Rawalpindi, Pakistan. It is one of the most famous places in Rawalpindi. With a depth of 30 meters and an area of 8.8 km², this massive water body is enough to feed water to the adjacent cities of Rawalpindi and Islamabad. It is a major tourist destination in the summer and a popular spot for picnics and other outdoor activities.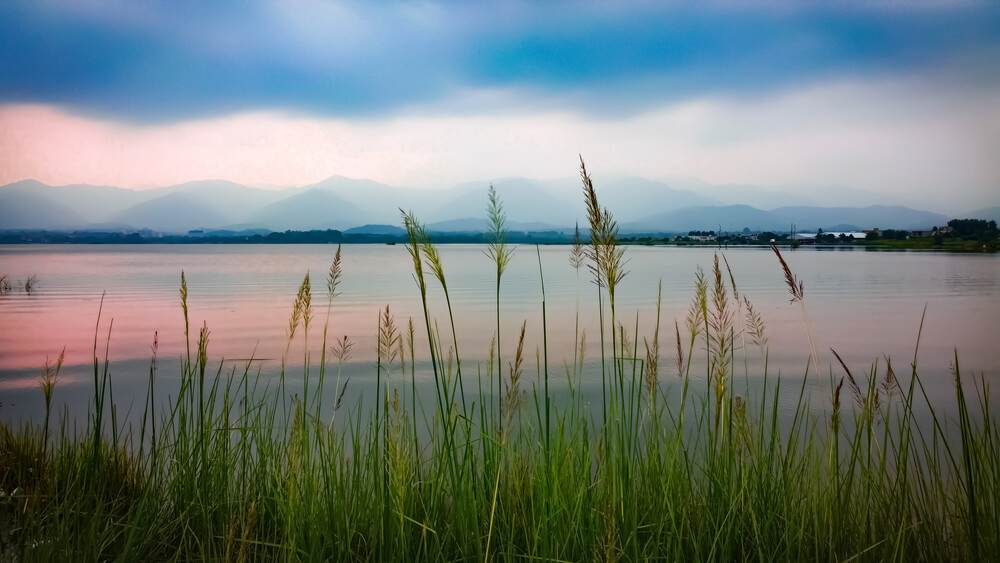 Several recreational activities are available at Rawal Lake, including boating, fishing, bird watching, and swimming. The lake also has several restaurants and cafes, making it a great place to relax and enjoy the scenery. Rawal Lake is a popular destination for both local and international tourists and is a great place to enjoy the beauty of Pakistan.
Ayub National Park
It is Asia's largest national park, but do you know why such parks are important? There are many reasons why national parks are so important. First and foremost, they protect unique and fragile ecosystems. National parks also provide opportunities for people to enjoy and appreciate nature, leading to greater environmental appreciation. Additionally, national parks can serve as educational resources, providing information about the natural world and the importance of conservation. Finally, national parks provide recreational opportunities for people of all ages, which can help to promote physical activity and a healthy lifestyle.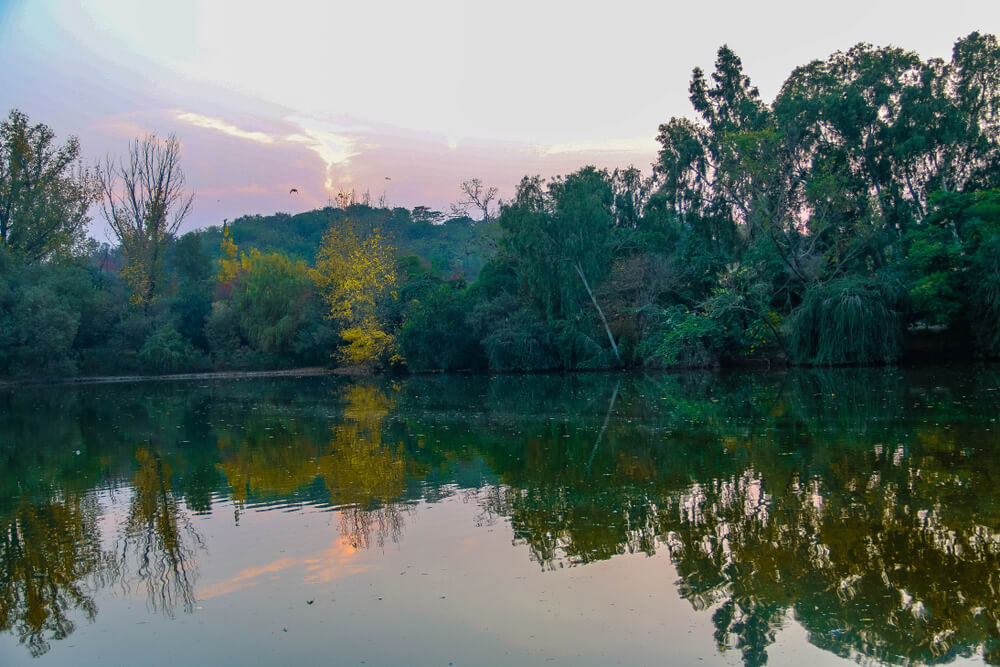 Ayub National Park, also known as Ayub Park or Topi Rakh Park, is a national park located on the Grand Trunk Road in Rawalpindi, Pakistan. The park was established before the creation of Pakistan and covered an area of 313 acres (127 ha). It is claimed to be one of Asia's largest parks. The park is named after the former President of Pakistan, Field Marshal Ayub Khan.
The park is a popular recreation spot for residents of Rawalpindi and Islamabad. It offers a variety of facilities, including a jogging track, an amphitheater, a zoo, a lake, and a children's play area. The park also hosts several events and activities throughout the year, such as a flower show during spring.
There's plenty to do at Ayub National Park in Rawalpindi! It is a great place for a picnic, with plenty of green space to relax and enjoy the scenery. There are also several lakes where you can go for a swim or try your hand at fishing. If you're feeling active, there are hiking trails to explore. The park is also home to several historical landmarks, making it an ideal spot for those interested in Pakistani history and culture. It is truly one of the best places to visit Rawalpindi with family.
Fort of Sangini
The fort of Sangini is located in the city of Gujar khan, district of Rawalpindi, Pakistan. It was built in the 16th century by the Sikh rulers for tax collection and to keep the surrounding area under control. Later, the British Army used it as a garrison to keep prisoners. It is one of the most popular tourist destinations in the Rawalpindi district and is a must-see for anyone visiting the city. The fort is surrounded by a gorge on three sides, with only one opening gate. The main entrance to the fort is through a massive gate, which leads into a courtyard. The courtyard contains the shrine of Sahibzada Abdul Hakeem. Most people come to visit the shrine. People also visit the beauty of the surroundings and get a glimpse of the history of Pakistan.
Saddar Rawalpindi
Many options are available if you're looking for things to do in Saddar Bazar Rawalpindi. From shopping and dining to entertainment, there's something for everyone in this vibrant market.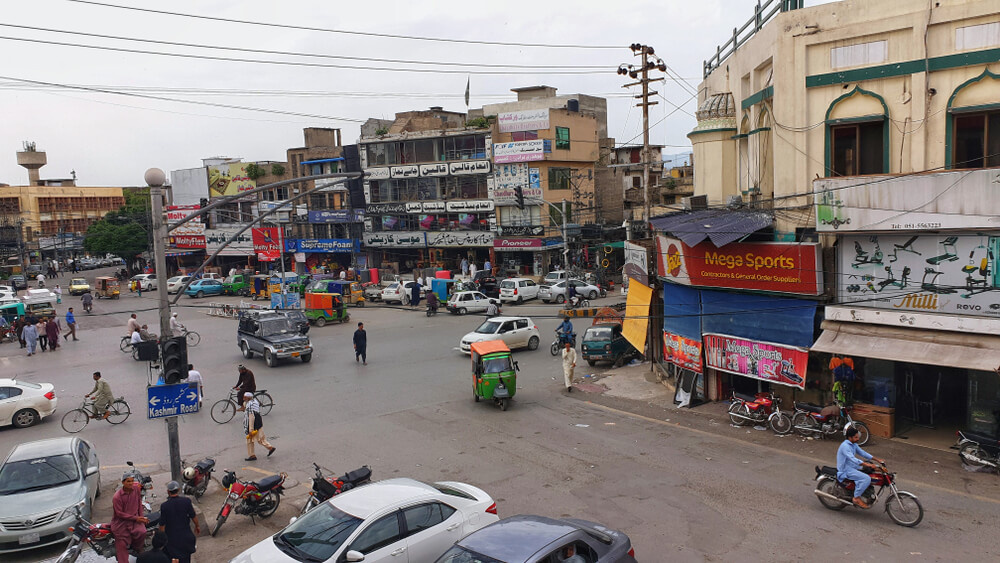 One of the best things to do in Saddar Bazar Rawalpindi is to stroll around and take in the sights and sounds of the market. There's a huge variety of shops and stalls to explore, selling everything from clothes and accessories to food and souvenirs. Local stuff and brands such as Diners, Uniworth, and Khadi can be found. You can also find plenty of places to eat and drink because Saddar has its special food street that makes for a perfect place to refuel after a day of exploring.
The Rawalpindi Cricket Stadium
It is an international stadium located in Rawalpindi, Pakistan. It has a seating capacity of 25,000 and is one of the largest cricket stadiums in Pakistan. The stadium has hosted many international matches, including Test matches, One Day Internationals, and Twenty20 Internationals. Rawalpindi Cricket Stadium is also the home ground of the Pakistan Super League team Islamabad United.
Jawa dam
People can enjoy many types of water activities, and dammed lakes and rivers provide the perfect setting for many of them. Dams create a controlled environment where the water level is always consistent, making it ideal for swimming, boating, and other recreation. The calm waters also make it easier to fish, and the increased oxygen level in the water can make for great conditions for scuba diving and snorkeling. One such beautiful Dam present near the Rawalpindi city center is the Jawa dam.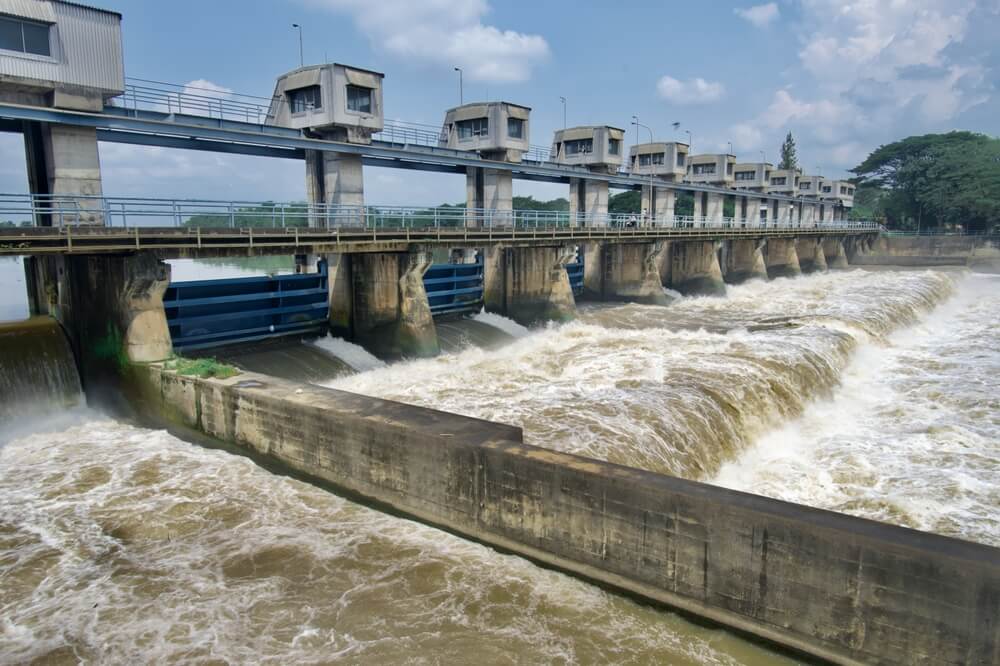 The dam is located in Dhalla and boasts a water capacity of 900-acre⋅ft – making it the perfect spot for a relaxing boat ride or jet skiing adventure. And because it's still relatively unknown, you'll be able to enjoy its tranquility without the crowds. If you're looking for a breathtaking spot to take in some natural beauty, look no further than the Jawa dam in Rawalpindi District. This gorgeous dam is creating quite a stir lately as more and more people discover its hidden gem status.
Chinar Golf Club
Chinar Golf Club is located in Bhurban, Rawalpindi district. It's a great place to play golf and enjoy the beautiful scenery. The club has various facilities and services, making it an ideal place to visit. There is a pro shop, driving range, and putting green. The club also offers lessons for those who want to play golf. Chinar Golf Club is a great place to spend a day or two. Whether you're a beginner or an experienced golfer, you'll find that Chinar Golf Club is the perfect place to visit.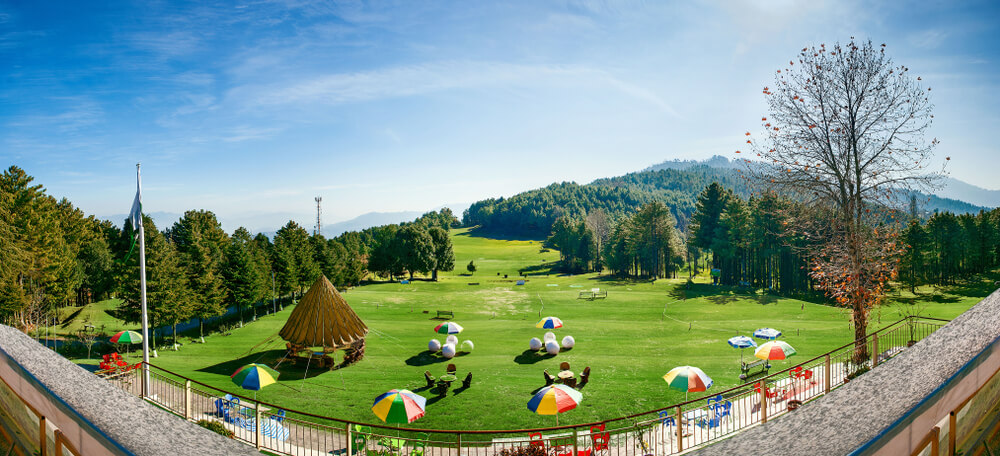 Kotli Sattian
It is a Tehsil of Rawalpindi District in the Punjab province of Pakistan. Its name is derived from the mountain named Kotli and the Satti tribe residing in the area. Kotli sattian is located on the banks of Jehlum River, 50 km away from Islamabad. It has many amazing viewpoints and hilltops, such as Chevra Hilltop. There are three waterfalls in Kotli Sattian – the Bissa waterfall, the Rooh waterfall, and the Neela sand waterfall.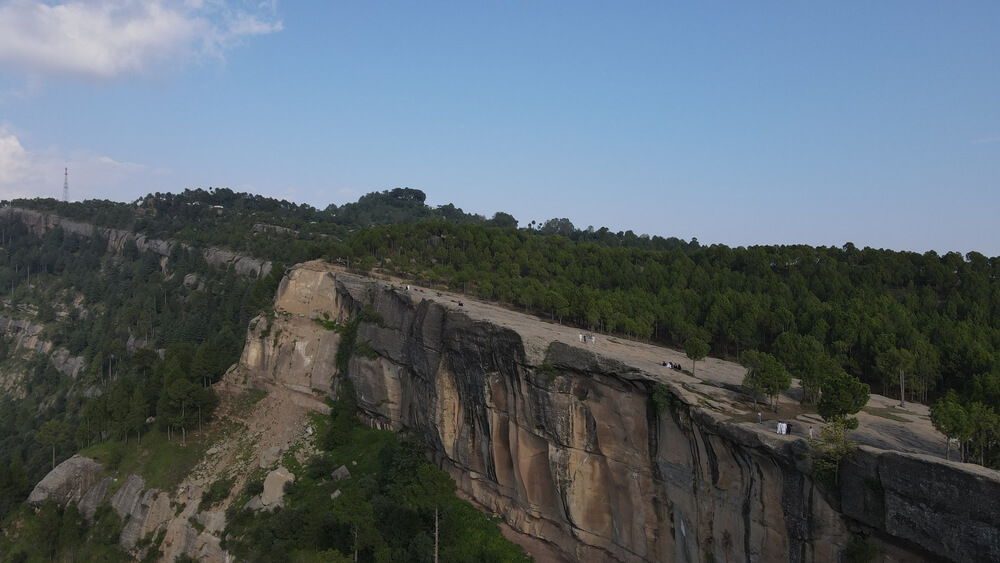 They are close to each other, making it easy to visit all three in a two-day trip. The Bissa waterfall is perhaps the most popular of the three due to its impressive height of 50 feet. The Rooh waterfall is smaller than the Bissa, but its picturesque setting makes it well worth a visit. And finally, the Neela sand waterfall gets its name from the striking blue-green color of the water. It's a beautiful sight and worth seeing if you're in Kotli Sattian.
Bissa Waterfall
It is a sight to behold in Karore village of Kotli Sattian. From Islamabad, it takes 1.5 hours to reach the waterfall. The weather is a bit hot in the summer because it is located between two huge mountains, so the place doesn't get much airflow. On the other hand, Karore Valley is windy and offers excellent views all around from up high. Try to get there early in the morning to avoid the heat in the summer. It is an excellent getaway from the hustle and bustle of the city.
Fort Pharwala
Fort Pharwala is a tourist attraction 40 km from Rawalpindi in the Kahuta district. It is in a picturesque setting with the Himalayan range on one side and the Soan river on the other. The fort was built by the Ghakhra clan in the 15th century. The fort is made of red sandstone and is surrounded by a moat. There are three gates; Bohri Gate, Haathi Gate, and Begum gate. The fort has a mosque, a palace, and several other buildings that have turned into ruins over time. The fort is open to the public, but the locals who claim themselves the descendants of Ghkhras are not welcoming.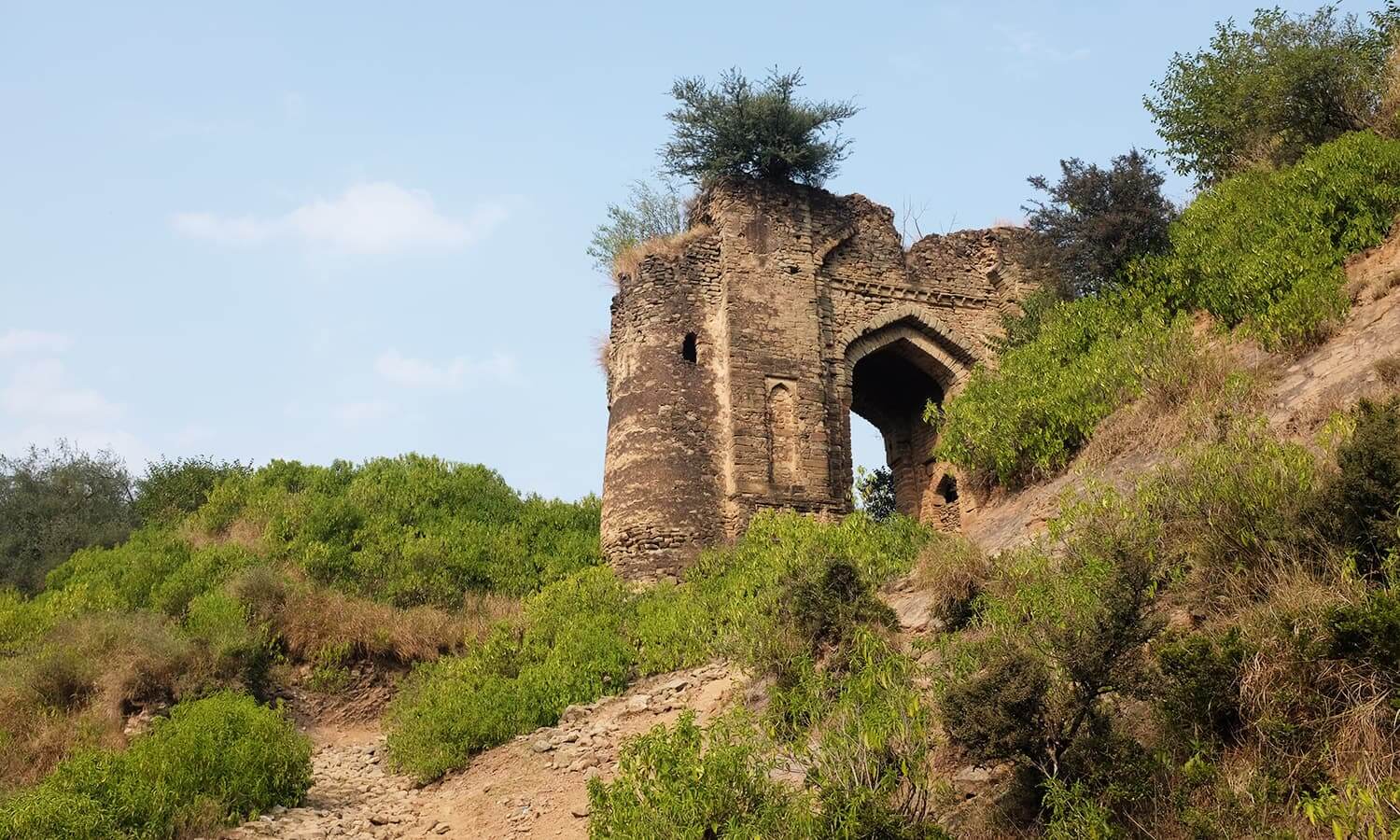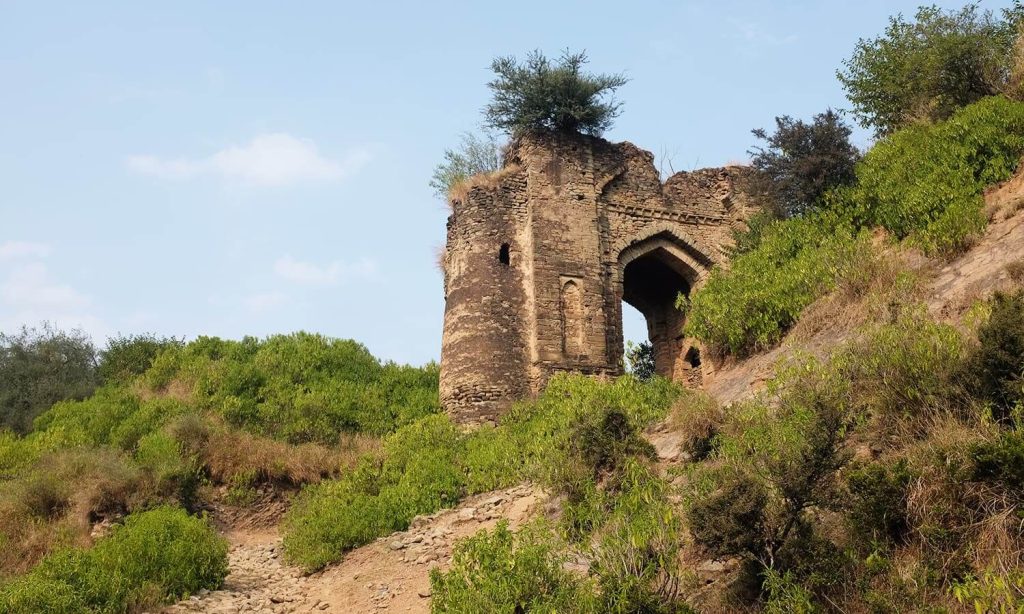 FAQs
Which place is famous in Rawalpindi?
Rawalpindi is a famous city in Pakistan for its many historical and cultural landmarks. Rawalpindi's most famous tourist attractions include the Army museum, the Neela sand waterfall, and the Raja Bazaar.
Which is the most beautiful area in Rawalpindi?
There are many beautiful places in Rawalpindi, but one of the most scenic and popular areas is Murree and the waterfalls in Kotli Sattian.
Is Rawalpindi good for tourists?
Rawalpindi is also home to several parks and gardens, which make it a beautiful place to live and visit for tourists. The people are friendly and cooperative.
Is Pindi worth visiting?
Yes, Pindi is worth visiting because of the never-ending list of attractions it offers. Some of the most enjoyable places in Rawalpindi are visiting Kotlisattian, national parks, waterfalls, and amusement parks. If you are a foodie, the food street here will pull you back to Rawalpindi, every time you visit Punjab.
Which places provide the best nature in Rawalpindi for travelers on a budget?
Rawalpindi and its adjoining areas offer many budget-friendly options to explore. The Jinnah Park, Nawaz Sharif Park, and Ayub national park provide the best nature in Rawalpindi for travelers on a budget. Tourists can enjoy various activities that would not only be entertaining but also not strain their wallets.
Conclusion
Rawalpindi is a beautiful city in Pakistan that has a lot to offer tourists. The city is home to many historical and cultural sites and natural beauty. The people of Rawalpindi are warm and welcoming, making it an ideal destination for those looking for an authentic experience and an amazing time with friends and family.