Minar e Pakistan
Have you ever seen the Minar-e-Pakistan in Lahore? It's an incredible sight to see! Minar-e-Pakistan is one of the most popular tourist destinations in Lahore. It is located in the greater Iqbal Park Lahore. The minaret was built to commemorate the passing of the Lahore Resolution, which called for the creation of an independent Muslim state in British India.
Today, Minar-e-Pakistan is one of Pakistan's most recognizable landmarks and a symbol of the country's independence. Visitors to Minar-e-Pakistan can enjoy stunning views of Lahore from the top of the minaret, and the site also houses a museum dedicated to the history of Pakistan.
Interesting Facts about Minar-e-Pakistan
Here are a few most interesting facts about the Minar-e-Pakistan that will increase your curiosity about visiting this place:
1. The building is also known as the "Pakistan Tower." It stands 70 meters above the earth.
2. The tower's construction began in 1960 and was finished six years later for Rs. 7058000.
3. The steps leading to the tower represent Pakistan's movement. The first step is built of Taxila, the second out of forged stone, the third out of carved stone, and the fourth out of white marble.
4. The tower is a work of art that combines Mughal and Islamic architecture. The tower's lower half is designed like a flower and is 8 meters above ground, while the building is 62 meters tall.
5. The Construction Committee included Mukhtar Masood, the producer and deputy director of Lahore.
6. Many other tourist sites in Pakistan have been built by Mian Abdul Khaliq&Co., including the Gaddafi Stadium (also designed by Murad Khan) and the BRB Canal.
7. Plant inscriptions are etched on the ten converging white marble panels at the base. The description includes the text of the Lahore Resolution in Urdu, Bengali, and English, as well as the text of the Delhi Resolution, which was adopted on April 9, 1946.
8. The qualities of the Quranic passage and Allah's 99 names are carved in Arabic calligraphy in numerous paintings, while Pakistan's national song is in Urdu and Bengali.
9. Shards of Muhammad Ali Jinnah in Urdu, Bengali, English, and passages of the Iqbal logo containing other vital inscriptions are also present.
History of Minar-e-Pakistan
It was determined in the 1935 Government of India Act to have communal representation through separate electorates.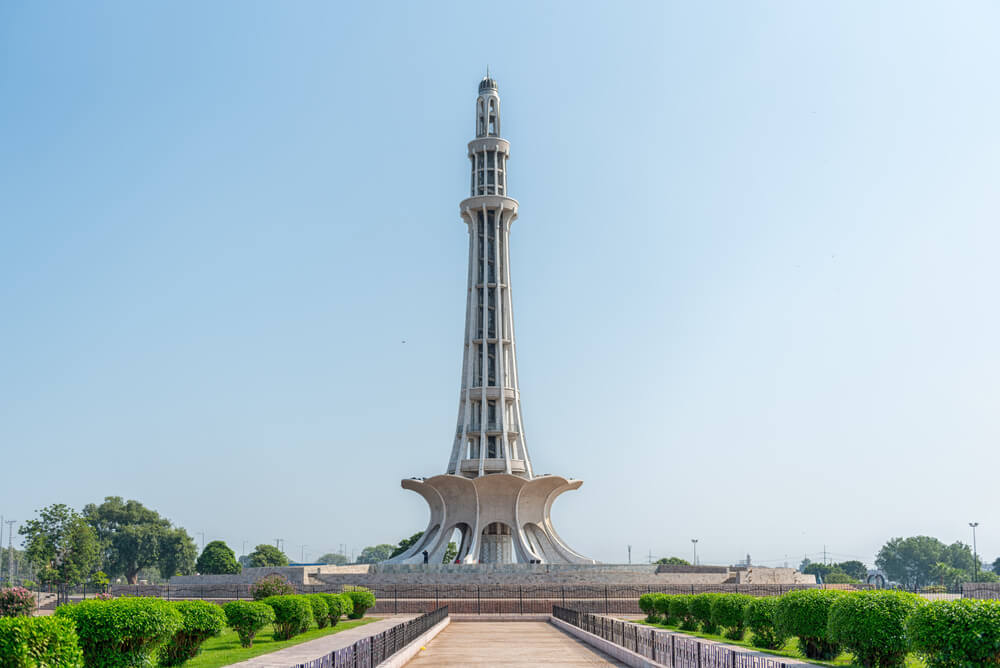 When elections were held under this Act, the Indian National Congress took control of six of the eight provinces. Muslims were neglected during the Indian National Congress government from 1937 to 1939, and Congress leadership failed to represent Muslims.
Lahore Resolution
By 1939, establishing a separate nation was gaining traction among Muslim leaders. The All India Muslim League met at Minto Park from March 22 to 24, 1940. A.K. introduced the Pakistan Resolution.
Bengal's Chief Minister at the time was Fazl-ul-Haq. Sardar Aurangzeb Khan of NWFP seconded it, as did Zafar Ali Khan of Punjab, Chaudhry Khaliq-uz-Zamaan of the United Provinces, Qazi Muhammad Essa of Balochistan, and Sir Abdullah Haroon of Sindh.
March 23, 1940, is the day when Muslims requested a different country. It restated Allama Iqbal's presidential address from Allahabad in 1930, in which he revealed his vision of a separate nation for India's Muslims. The Lahore Resolution requested that Muslim-majority parts of India's north-eastern and north-western zones be combined as independent states.
The Lahore Resolution offered the Indian Muslim community fresh hope. The quest for a sovereign state gathered traction, and Pakistan was established on August 14, 1947, seven years later.
To commemorate the site where the Pakistan Resolution was enacted, a tower was built at Greater Iqbal Park, with the foundation stone laid on March 23, 1960. The tower took eight years to build and was completed in 1968, making it a historical landmark in Lahore.
Structure of Minar-e-Pakistan
The Minar was built when the resolution was passed, calling for an independent state of Pakistan on March 23, 1940, by Muslim architect Naseer-ud-din Murat Khan. The minaret's base is 8 meters above ground, and the towering structure is 62 meters above a star-shaped base. This raises it to a height of 70 meters above the ground. It has a lovely design that looks like the petals of a flower unfolding. The Minar-e-Pakistan has a diameter of approximately 9.75 meters.
There are 324 steps up to the top of the Minar, from where one can get a breathtaking view of Lahore. The Minar is illuminated at night, which makes it visible from quite a distance.
Symbolic Representations of Four Platforms
The base comprises four platforms and represents the struggle for independence. The first platform is made of uncut and unpolished Taxila stones, signifying the tireless sacrifices of Indian Muslims in the liberation struggle. The second level is constructed of hammer-dressed stones, depicting the arduous journey to independence.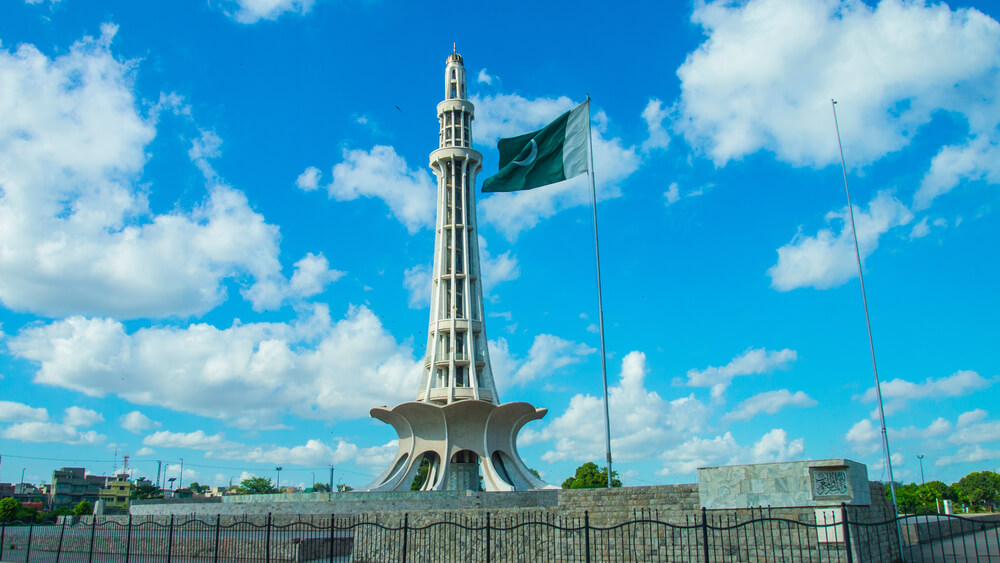 At the same time, the third platform is made of chiseled stones, representing how the Pakistan Movement gathered speed. The fourth platform is polished white marble, meaning Pakistan's success.
Attractions at Minar e Pakistan
Minar-e-Pakistan offers a wide variety of attractions to its visitors. So, if you are interested, read on!
Inscriptions
Some of the must-see attractions at Minar-e-Pakistan are the inscriptions. These include:
Quranic Verses
Quranic verses are inscribed on the Minar's surface in calligraphy by Pakistani artist Nizamuddin Yusufzai. These verses are from Surah Al-Mulk and discuss unity, faith, brotherhood, and self-control.
99 Names of ALLAH
The minaret is adorned with 99 names of Allah inscribed in calligraphy on its outer walls. These names are a reminder of the importance of God in Muslim life and serve as a powerful symbol of national unity.
Lahore and Delhi Resolution's Text
Lahore and Delhi resolution text is inscribed on the marble of Minar-e-Pakistan. You can read text easily in four different languages: English, Bengali, Urdu, and Arabic.
National Anthem of Pakistan
As you go inside the Minar, the first thing you see will be the National Anthem of Pakistan, and like other texts, it's also written in three different languages. It's a great sign to represent the culture of the country.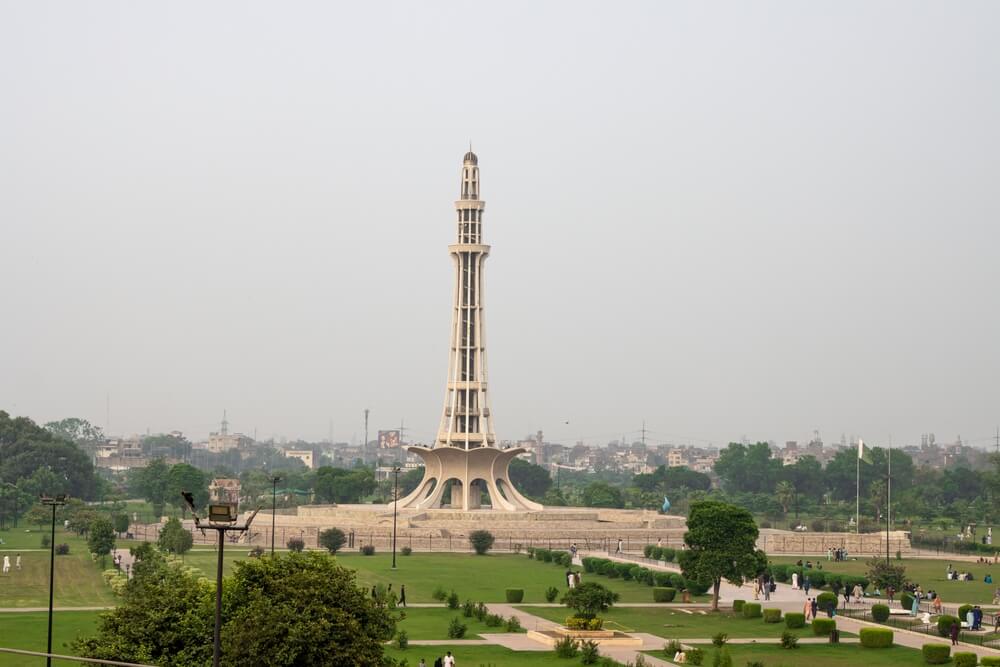 Excerpts from Speeches
There are also excerpts from Mohammad Ali Jinnah's Bengali, English, and Urdu speeches. Some of Allama Iqbal's famous couplets are also inscribed on the walls.
Huge Park and Kids' Play Area around Minar-e-Pakistan
Minar-e-Pakistan is a national monument, a vast park, and a kids' play area.
It was built to commemorate the day when the Muslim League passed the Lahore Resolution, demanding an independent Pakistan. The park surrounding the Minar is a great place to take a walk, relax, and enjoy the fresh air. The kid's play area is an excellent place for children to let off some energy.
There are also several food stalls in the park, so you can grab a bite to eat before or after exploring the Minar.
Beautiful Grassy Gardens
The Minar is in Iqbal Park, one of Pakistan's largest urban parks. The park also contains several grassy gardens, fountains, and walkways. A garden with several species of flowers and plants surrounds the Minar. The Minar and its surrounding gardens are popular tourist destinations, offering a beautiful and serene setting for visitors to enjoy.
Beautiful Lake
A beautiful lake surrounds the tower. This lake is the most popular attraction where holidaymakers can spend quality time together.
This lake provides oxygen to fish, plants, and birds that inhabit the lake. One of the essential features of this like is that you can enjoy a boat ride. There are two types of boats available, manual and automatic. It's up to you which suit you want to take.
Badshahi Mosque View
From the park, you can get a stunning view of Badshahi Mosque. Emperor Aurangzeb built the mosque in the 17th century, which is considered one of the finest examples of Mughal architecture. Its massive dome and graceful minarets are visible all over the park, and it is truly a sight to behold.
Wide Walking Space
The park is a great place to take a walk, relax, and enjoy the views of the city. A wide walking path also runs around the park's perimeter, making it perfect for a morning jog or evening walk. Minar-e-Pakistan is a beautiful and peaceful spot in the city and an excellent place to exercise.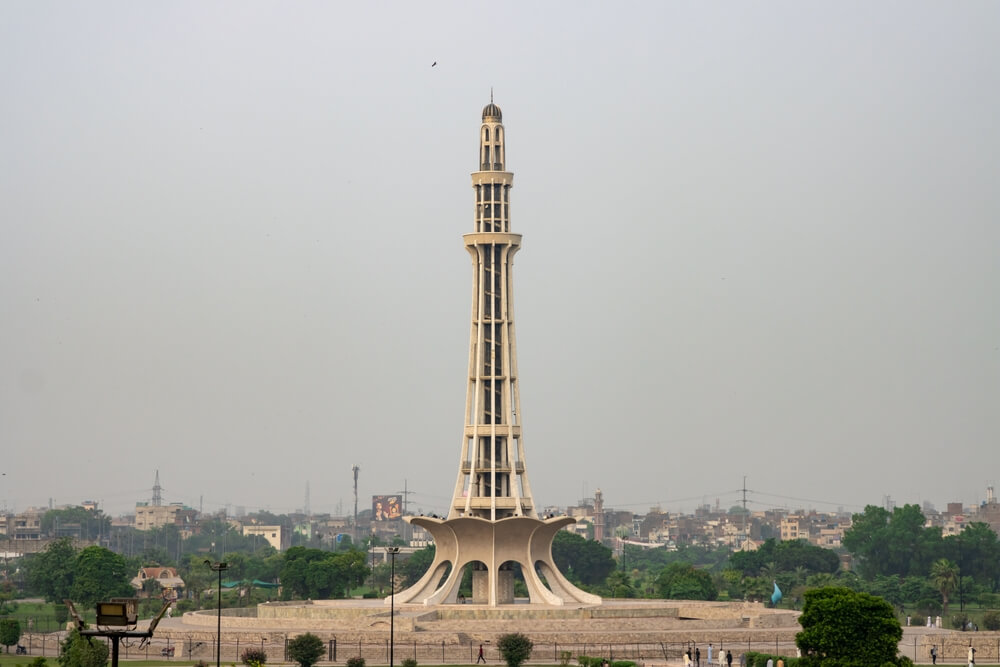 Beautiful Night View
At night time, Minar is illuminated with green lights. This makes a perfect scene to spend the night in an open sky.
Tomb of Hafiz Jalandhari
Hafiz Jalandhari, a famous Pakistani poet, is buried at the Minar. His tomb is just to the Minar's left, and a simple stone slab marks his grave. Visitors to the Minar often pay their respects to Hafiz Jalandhari; many consider his tomb sacred.
Picnic Point
Picnic Point at Minar-e-Pakistan is famous for locals and tourists, offering stunning cityscape views. The tower is illuminated at night, making it an even more impressive sight.
Enjoy the surrounding park, an excellent picnic or stroll spot. With its clear skies and beautiful scenery, Picnic Point is an ideal spot for anyone looking to escape the hustle and bustle of the city.
Food Court
The food court at the Minar-e-Pakistan is a popular spot for locals and tourists alike. Various food options are available, from fast food to traditional Pakistani cuisine. A food court is also a great place to watch people.
You can see various people, from families to students to businesspeople. Minar-e-Pakistan is a beautiful place to visit, and the food court is a bonus.
Minar Pakistan Lahore Ticket Price:
There is no ticket fee for Minar-e-Pakistan.
Minar Pakistan Timings:
The Minar is open for visitors from 9:00 AM to 8:00 PM daily.
Location of Minar-e-Pakistan:
Address: H8V7+534, Walled City of Lahore, Lahore, Punjab
Conclusion
Pakistan is a fascinating country with a rich history and culture. The Minar-e-Pakistan monument is an important symbol of the country's independence. The tower is a beautiful example of Muslim architecture and has become a popular tourist destination, and it's worth a visit if you're ever in the area. 
FAQs
Who built Minar-e-Pakistan and why?
Minar-e-Pakistan was built to commemorate the Lahore Resolution, also known as the Pakistan Resolution, passed on March 23, 1940. The resolution called for establishing an independent Muslim state as a federation of provinces in British India.
What is the old name of Minar-e-Pakistan?
The Minar was initially known as the Lahore Resolution Tower. It was later renamed to Minar-e-Pakistan after the country's independence in 1947.
What is Minar-e-Pakistan known for?
Minar-e-Pakistan is a national monument and one of Lahore's most popular tourist destinations. It also symbolizes the Pakistan Movement, which fought to establish an independent Muslim state in British India.
How many stairs are in Minar-e-Pakistan?
There are 324 stairs leading up to the top of the Minar.
How big is Minar-e-Pakistan?
Minar-e-Pakistan is 70 meters tall and has a diameter of 9.75 meters at the base. It is constructed of concrete and steel and is decorated with mosaic tiles and inscriptions.