Hazuri Bagh Lahore – A Beauty Worth Visiting
As you make your way to Badshahi Mosque through Greater Iqbal Park, you will be led straight to the Beautiful garden of Hazuri Bagh.
Lahore is famous as the "City of Gardens," and Hazuri Bagh is one of the oldest gardens in Lahore. Built during the time of Ranjit Singh, it will attract you to visit this place.  
This garden is in front of the main gate of Badhahi Mosque, and you will enjoy Hazuri Bagh's serenity with the majestic view of Badshahi Mosque.
Hazuri Bagh Lahore is in the center and is surrounded by Lahore Fort, Ranjit Singh's Samadhi, and Roshnai Gate. You will see the beautiful Baradari (twelve doors) in the center of the garden, which is the main attraction of this place.
It has hosted many important state events throughout history and has served as a central place of pleasure for Maharaja Ranjit Singh.   
History of Hazuri Bagh
Mughal Emperor Aurangzeb Alamgir built this garden alongside Badshahi Mosque. Aurangzeb used this garden as a resting place and named it Serai Alamgir. This area served the purpose of interacting with troops as well.
This garden gained the name in the reign of Maharaja Ranjit Singh, as he was called Huzur by his courtiers. Later the order of Ranjit Singh, an additional center pavilion was built in the Baradari of Hazuri Bagh garden.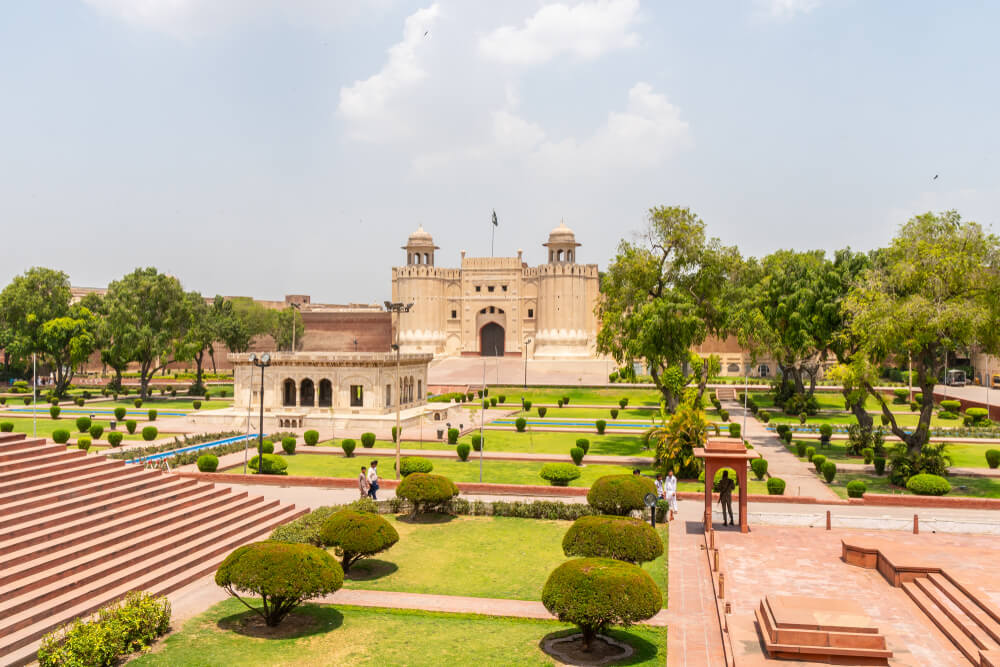 Ranjit Singh ordered the construction of Baradari in Hazuri Bagh in 1813 to celebrate the attainment of Kooh-i-Noor from Sujja Ullah. The construction took five years, and in 1818, this whole structure was completed.
Experts in horticulture were engaged in making this garden breathtaking. The garden was set in Mughal layouts. You will witness the marvels of Mughal Architecture. Faqir Azzizudin was the supervisor of this garden, and he took inspiration from Mughal architecture.
This Baradari was used as Ranjit Singh's court, and he conducted his meetings and state affairs from this place. Later it was enjoyed by his son, Maharaja Sher Singh.
The Architecture of Hazuri Bagh
You will see that this whole garden resembles the Mughal-style layout. The central pavilion, also called Baradari, is the heart of this garden you will love the most. Ranjit Singh ordered the construction of this Baradari with white marble. Still, he settled on stripping marble from other Mughal buildings due to a lack of funds for new marble.
Some of the marble you will see covering the pavilion was stripped from the Tomb of Nur Jahan, Zeb-un-Nisa, and Asif Khan. The whole top was from the Tomb of Jahangir. The original Baradari was a double story, but in 1932, the upper story was demolished due to a storm. What you see now is just a single-story pavilion.
This Baradari is covered with lush green and a well-maintained garden on four sides. There are also many small fountains in the garden for you to witness.
There are 16 ornamented pillars inside this Baradari. It is a square structure with stairs on two sides. There is also a basement with chambers, but it is not accessible. The ceiling is covered with mirrors and colorful marble pieces.
Attractions at Hazuri Bagh Lahore
There are many attractions in Hazuri Bagh for you. You can enjoy the lush gardens and fountains while resting.
Once you have visited Badshahi Mosque and Lahore Fort, you can sit in this beautiful garden and enjoy your evening here. There is also a Baradari Present in the center of Hazuri Bagh. It is a beautiful square pavilion made of white marble.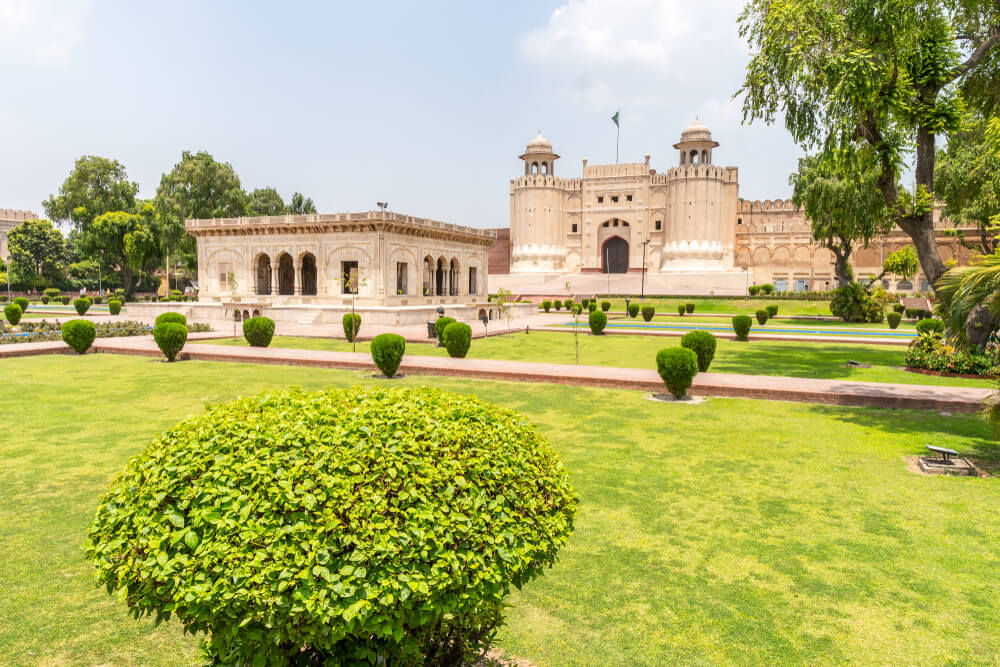 Surrounding the famous garden, you will see the main entrance of Lahore Fort_the Alamgir gate, Badshahi Mosque, Tomb of Allama Muhammad Iqbal, Samadhi of Ranjit Singh, and Roshnai Gate.  You can enjoy all these attractive places while visiting Hazuri Bagh.  
Lawns and Greenary Places
You will witness the Mughal styled well-maintained lawns and greenery in Hazuri Bagh. Multiple fountains surround these lawns.  These small fountains create a beautiful arrangement beside the lawns. These lawns are divided by multiple walkways so you can enjoy a stroll in Hazuri Bagh beside the Baradari. 
Baradari
A beautiful 12-doored 13.4 meters wide on one side, Baradari is the centerpiece of the whole Hazuri Bagh.  Made of white marble, Maharaja Ranjit Singh used this beautiful pavilion as the central court. 
Royal Look
This whole garden and central pavilion Baradari were inspired by Mughal architecture. The white marble you see covering the whole Baradari was made by stripping Tombs of Mughals. Faqir Azzizudin, the supervisor of these gardens, was ordered by Maharaja Ranjit Singh to set the layout of this garden in Mughal style.
16 Ornamented Pillers 
This whole Baradari stood on 16 pillars which you can see from the outside. These are highly ornamented and add more beauty to the whole structure. 
Beautiful Fountains with Shaded Lights
Beautiful fountains cover the whole garden and shaded lights beside them add a wonderful accent to this garden.  You will see the wonders it creates at night time especially. The sprinkling water looks like falling pearls. 
Basement Chamber
A basement chamber is also present beneath this Baradari. It is not accessible by anyone and has permanently been closed to the Public.  Many of us don't even know about this basement.
Tomb of Allama Iqbal
The Tomb of Allama Iqbal, the National Poet of Pakistan, is also located in this garden just beside the main entrance of Badshahi Mosque. You can see this Tomb while visiting Hazuri Bagh.
Surrounded By
Four critical historic buildings surround this beautiful garden. All of these locations can be seen from Hazuri Bagh.
Badshahi Mosque (West)
On the west of Hazuri Bagh, you can see the famous and majestic Badshshi Mosque. Built by Mughal Emperor Aurangzeb, this magnificent Mosque's main entrance opens in Hazuri Bagh.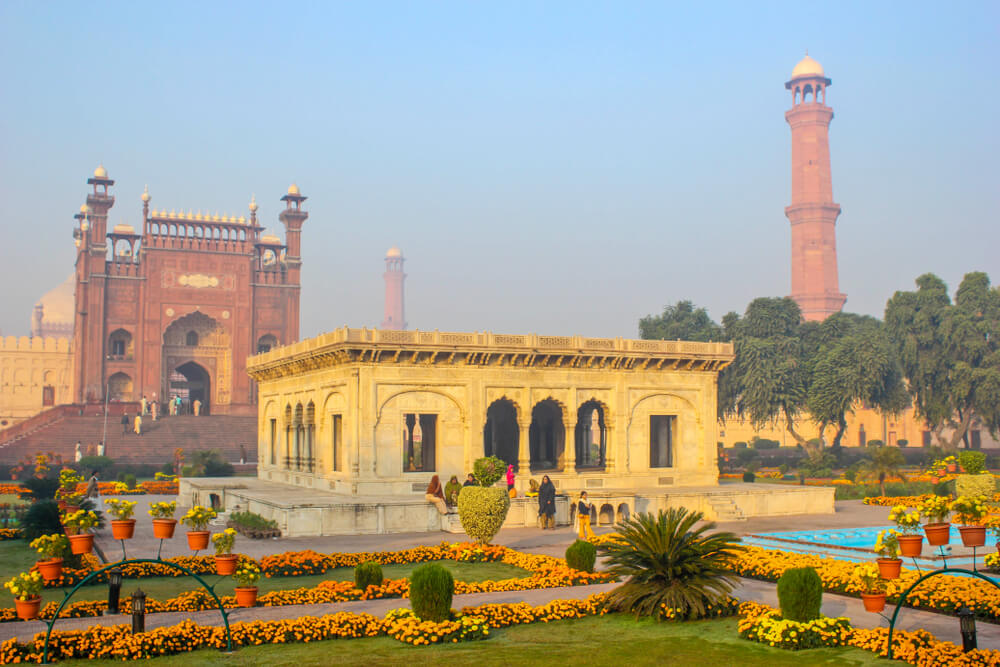 Lahore Fort (East)
The primary and most important gate of Lahore Fort opens in Hazuri Bagh. The great Alamgiri Gate can be seen through this garden. You can sit in the garden and enjoy the view from there. 
Samadhi of Ranjit Singh (North)
The Samadhi of Ranjit Singh is present in the North of Hazuri Bagh, which stores the urns of Maharaja Ranjit Singh. It overlooks the famous garden, built by himself. 
Roshni Gate (South)
Roshni Gate is among the 12 gates of the walled city of Lahore. This opens in Hzauri Bagh. Fort road food street is located on the other side of this gate. You can see this gate clearly as it is among the last surviving gates of Lahore.
Hazuri Bagh Lahore Ticket Price
There is no separate ticket for Hazuri Bagh. You can visit it while visiting Badshahi Mosque and Lahore Fort. The ticket is only purchased at the entrance of Greater Iqbal Park; from there, you can visit all these places.
Hazuri Bagh Lahore Timmings and Visiting Days
Hazuri Bagh can be visited from 8:00 AM to 7:00 PM seven days a week. But the visits are not open to the Public at this moment. Due to security concerns, you can only see this beautiful garden from the outside.
Hazuri Bagh Lahore Location
The famous garden is located in Shahi Mohalla Lahore near Badshahi Mosque. 
Conclusion
Hazuri Bagh holds an important place in history. Even present-day, it is one of the most important locations for state dinners. Many vital guests are catered to here. This article sheds light on the history, architecture, and main attractions you can enjoy while visiting this severe place.
FAQs
Who built Hazuri Bagh? 
It was built during the reign of the Mughal emperor Aurangzeb. Later it was restored by Maharaja Ranjit Singh under Faqir Azizuddin.
Why is Hazuri Bagh not open to the Public?
It is not open to the Public due to security concerns because of the threat of terror attacks.
How to visit Hazuri Bagh?
Hazuri Bagh itself is not open to the Public and Tourists. However, you can visit the garden while visiting Badshahi Mosque Lahore and enjoy it from afar.
Where is Hazuri Bagh located?
It is located in Shahi Mohalla, adjacent to Badshahi Mosque and Lahore Fort.
How to get Hazuri Bagh Lahore ticket? 
You can not get tickets to Hazuri Bagh Lahore, but you can get tickets to Greater Iqbal Park, from where you can visit Bagshahi Mosque and Lahore Fort while catching glimpses of the famous garden.
What are the visiting days of Hazuri Bagh Lahore? 
You can visit Hazuri Bagh Lahore on any day. Its entry is open seven days a week from 8:00 AM to 7:00 PM.