Food Street Fort Road Lahore
What's the first thing that comes to mind if you hear the word Lahore, history, culture, hospitality, or food? Whether you were born and raised in Lahore or are a tourist visiting Lahore for the first time, you will always be enchanted by the historic grandeur and alluring food of Food Street Fort Road.
For most people visiting Lahore for the first time, it's about exploring the old city with enticing food. And wouldn't it be splendid if you got to enjoy both of them in the same place? Food Street fort road Lahore offers a fine dining experience with rich historical views and ambiance.
History of Food Street Fort Road Lahore
This place was opened to the public in 2012 by Hamza Shehbaz sharif. In 2013, Walled City Authority, with the help of the private sector, took charge of this place and made it into the heaven on Earth that it is now.
This place is surrounded by exemplary and magnificent buildings, all dating back to Mughal Era. The reflection of the Mughal lifestyle is portrayed perfectly in this serene place.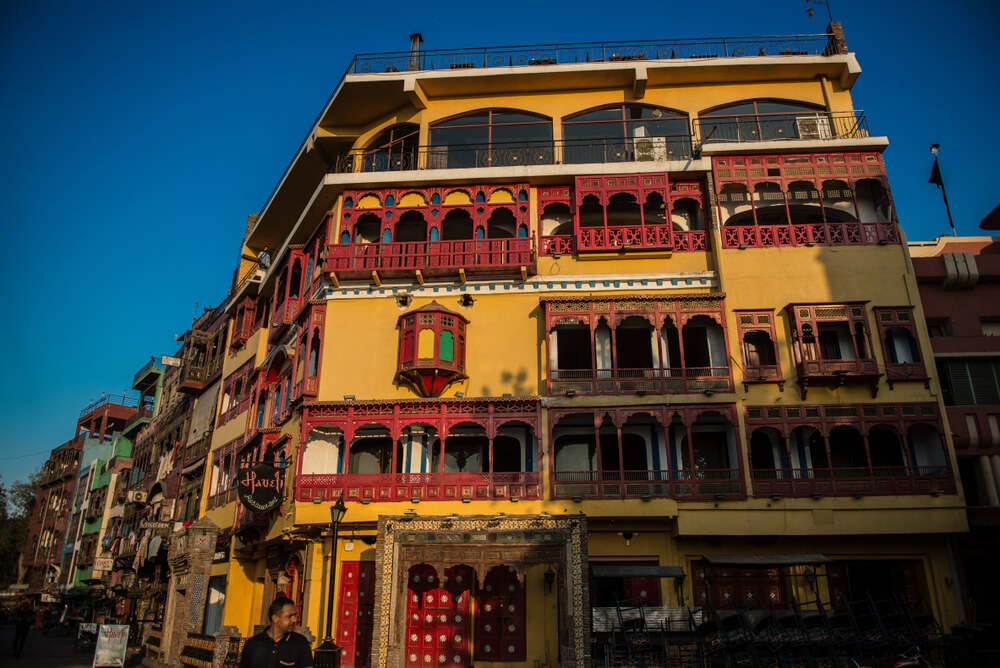 The architecture is worth praising. All the beautiful Haveli located in this place are restored. Some have been converted into restaurants, and some are open for the public to visit. It feels as if you have time-traveled to the Mughal era.
Attractions near Fort Road Food Street Lahore
Greater Iqbal Park, located near Fort Food Street Lahore, is famous among families. All the important events such as Pakistan Day, Independence Day, Eid, and Christmas are thoroughly celebrated here. Families enjoy the tours of historic attractions and then return to Fort Road Food Street to enjoy the food in full Lahori Style.
Walled City Authority provides tour guides to tourists. You will have a complete informative visit with all the narration of events done by tour guides. At night many restaurants entertain guests with Qawali night or cultural festival.
You can book a fully guided tour by any trip advisor or can have private time with friends. Most famous attractions are Lahore Fort, Badshahi Mosque, Tomb of Allama Iqbal, Shahi Hamam, Wazir Khan Mosque, Sunehri Mosque, Dehli Gate, Minar-e-Pakistan, and many more.
Each of these places holds a very deep-rooted history. These are the attractions that made Lahore what it is today. The beauty of Lahore is shown through its diverse culture and food. From spice-induced Mughalai food to mild and umami Pakistani flavors, Food Street Fort Road offers every type of dish associated with Lahore at some point in history.
Food Street Fort Road Restaurants
Food Street Fort Road Lahore is covered with restaurants that provide a fine dining experience to its customers. These restaurants are famous among tourists and offer a tremendous Pakistani cuisine experience with outdoor seating options.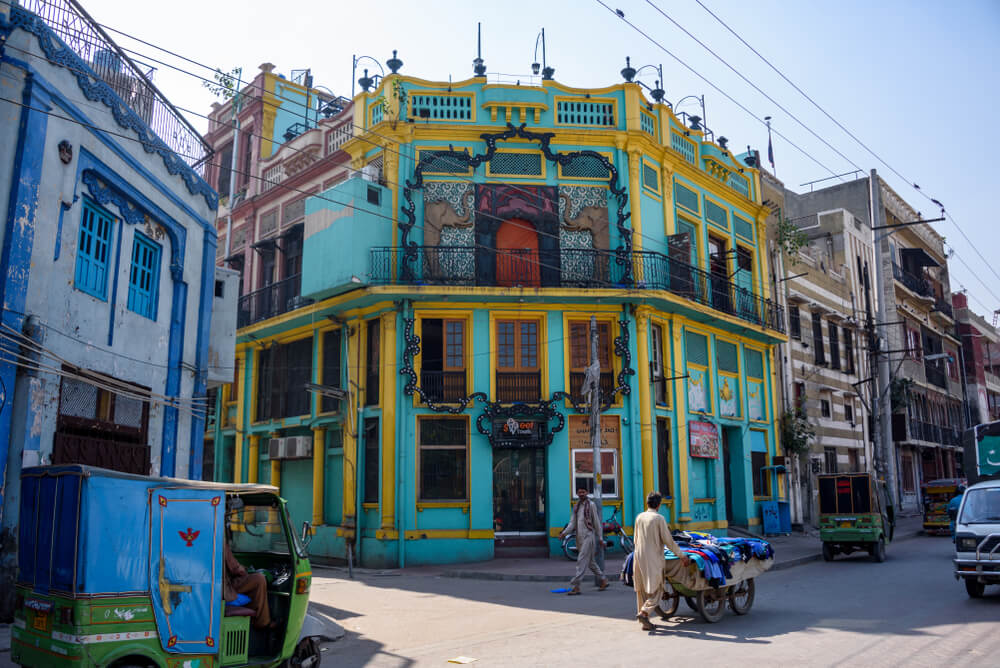 Each restaurant is famous for its signature dish and unique ambiance. Some even have a small museum inside to attract tourists. The heavenly food, lively environment, and majestic views make these restaurants the best in Lahore.
It's a complete package so let's talk about each of these restaurants individually.
Haveli Restaurant
Haveli restaurant is significant in Lahore's history at the start of Food Street. It was previously known as Haveli Khalil Khan. Its terrace gives a beautiful view of Badshahi Mosque and is customers' most sought sitting area.
The restaurant restored the Haveli with low wooden doors, colorful handmade tiles, iron rods, and carvings on windows.
The food is just as good as the interior of the restaurant. You can enjoy various Desi food such as Barbque, Karahi, Handi, and much more. They also have Burgers and Chinese, but people mostly prefer Desi food. All these delicacies come with a price, and when it comes to Haveli Restaurant, every penny is worth spending.
Coco's Den
It's the oldest restaurant in Fort Road Food Steet Lahore, dating back to 1996. It's an old house converted into a restaurant with a rich cultural heritage. This place is trendy among foreigners and locals due to its unique interior full of art and history.
It offers a fine dining experience with a rooftop view of Badshahi Mosque, Roshni Gate, and Hazuri Bagh. The rooftop sitting also has a chapati setting which adds to your understanding of desi food.
Coco's Den also caters to special events and gatherings. You can pre-book them for such occasions. Their menu has a wide variety of desi food as well as vegetarian dishes. All the dishes are prepared in desi ghee, making them taste even more delicious.
Andaaz Restaurant
Andaaz has set the bar high from the beginning with its beautiful interior and royal services. They have a limited variety on the menu, but every signal dish is made perfectly. Andaaz gives you a chance to experience high-end fine dining.
The prices are a little higher than other restaurants, but once you experience the royal treatment they provide, you will realize it is worth it. They have well-trained chefs for every cuisine they offer.
Riwaj Restaurant
It is located in the center of the long food street along the pavement and can be spotted due to its signature red sofa chairs. Most restaurants give a terrace view of old Lahore, but Riwaj gives a beautiful and serene view of the colorful Fort Road Food Street.
The restaurant is not fancy, but if you want to enjoy good food at a reasonable price, it is just the place for you.
Shahi Bawarchi Khana
This new addition to Food Street is perfect if you are looking for an affordable restaurant with a good view and ambiance. Recently opened Shahi Bawarch Khana offers a wide variety of menus prepared with quality ingredients by skilled chefs.
Like all the other restaurants mentioned above, you will experience great food with majestic views of old Lahore.
Sweet Tooth
Sweet tooth is a well-known desert parlor in Pakistan. They are famous for their unique dessert menus, such as chocolate gold gappy and caramel lava cake. Their Fort Food Street outlet is just as unique as others.
Like many other restaurants, it is also in an old house that was refurbished. The outer layout is the same, but the interior gives you a colorful and happy vibe.
Their menu is very creative. You have many choices, from cardamom chai ice cream to chocolate burgers.
Fort View Hotel and Restaurant
This restaurant is located at the corner of Food Street and gives a 360 view of old Lahore. Its menu is also very good with all the desi dishes, but it stands out because it has both a hotel and a restaurant.
Well-equipped and furnished rooms with all the essentials are ready for you to stay in. Many tourists prefer to stay here due to its location. It's easy to explore old Lahore if you are living near it.
Two Dishes that got International Fame
Many dishes in Lahore are famous, but two words from old Lahore have acclaimed international fame.
Phajjay Kay Paye
The oldest food legacy of Lahore is Phajay Kay Paye. This place is popular among all Lahore tourists. People across the globe are familiar with the name and especially visit this place.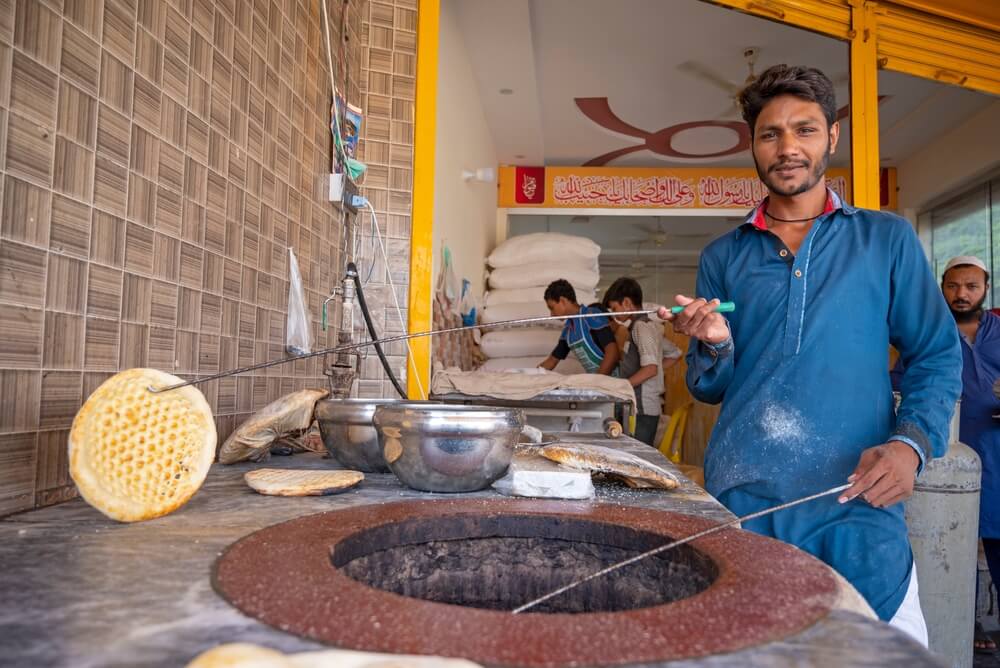 Taj Mahal Halwa Puri.
If you have visited Lahore and have not tried halwa puri from this place, you have missed a lot. This place is famous for its traditional halwa puri and is loved by locals and tourists.
Variety of Lahori Food
The Fort Road Food Street offers a variety of tempting Lahori food at an affordable cost. An assortment of Hareesa, Siri Paye, Bong, Aloo Tikki, Badshahi Biryani, Shahi Chicken Korma, Shahjehani Murg Masala, Mughlai Murg Kebabs, Mughlai Chicken Pulao, Mughlai Paneer Kabab, Reshmi Kebab, Chaamp Masala, Murgh Achaari, Tandoori Chicken, chicken, beef, mutton and fish Barbecue, Anda Paratha, Chicken Paratha, Mughlai Parathas, Plain Paratha, Tandoori Paratha, Lachha paratha, Jalebi Paratha, Mutton and Chicken Karhai, Kheer, Shahi Naan, and Roti, Badaam Halwa, Qulfi, Firni, Halwa Puri, traditional sweet and much more is available for all the visitors.
Entertainment
This place offers a lot of entertainment for every age group. From puppet shows to musical nights and dhol, this is complimentary with the food. All you have to do is pay for the food and enjoy everything else free of cost.
Street Performers and Musicians
This place is filled with talented street musicians and performers. Some of them have been working in this place for many years. Others are carrying the legacy of their ancestors.
Puppet shows
The puppet show is enjoyed by children very much. Most young ones are pretty excited to see it. These puppet shows also carry life-learning messages. It is perfect for little ones.
Live singing
Most of the goals of this time have been performed in Fort Road Food Street. Many restaurants also offer live Qawali nights. Their singing will soothe your soul.
Music
Music has always been an essential part of the Mughal era. Taan Sain is a prominent figure in history. Many musicians rose to fame from Lahore. The music played in this place is an accurate depiction of the cultural diversity of this place.
Music Instrument Market
This place is not only famous for its food but also for its nearby bazaar. The same is with the market for musical instruments. You can get tabla, dhol, sitar, and many more devices from here at a reasonable price.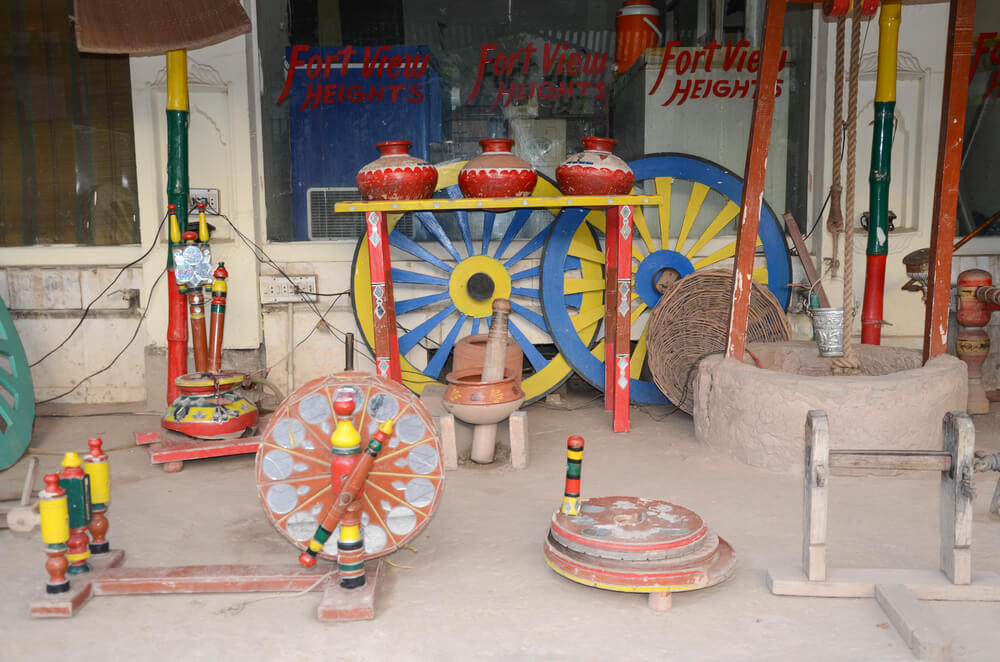 Decorated wall with Antique Lock and Key
The antique lock and the key decorated wall are well appraised among foreigners. Art galleries are frequently visited places by tourists. You can collect souvenirs from this market to return to your loved ones.
Excellent View of Shahi Qila and Mosque
This place gives an excellent view of Shahi Qila and the mosque. The serenity and vibe of this place are unmatchable. There are no words enough to describe the beauty of the pictures.
Night Time View
Night time in Fort Road Food Street is the most beautiful, with all the Colours and views. This place is highly recommended if you want to experience all the desi food and culture.
Location and timings of Food Street Fort Road Lahore:
Fort Road food street is located near the fort road, and Roshnai gate of the walled city of Lahore and is the hub of authentic Lahore cuisine with the majestic view of Badshahi Mosque, Lahore Fort, and Hazuri Bagh.
Food Street Fort Road Lahore is a family-friendly place, and now you can enjoy it seven days a week. All the restaurants have both lunch and dinner timings. People mostly prefer dinner time because of the serenity of that place at night.
Conclusion
The words used to describe this place are inadequate compared to the beauty of this place. Once you visit this place, you will wish to travel back to the Mughal era. Alas, you cannot do it, but you can enjoy this experience close enough through Food Street Fort Road Lahore.
FAQS
What is the best way to see Food Street Fort Road Lahore?
The best way is to have a tour guide who will give you all the information about that place.
What are the famous restaurants on Fort Road Food Street Lahore?
Some famous restaurants include Haveli, Coco's Den, Andaaz, Fort View, Shahi Bawarchi Khana, Riwaj, and Sweet Tooth.
Is Fort Road Food Street worth it?
Worth it. It is a complete package. You get to experience all the beautiful views with delicious food.