Alhamra Arts Council
Lahore is the cultural capital of Pakistan. Alhamra Arts Council is the heart of Lahore. Being in a city famous for its cultural heritage, Alhamra Arts Council is an accurate depiction of our culture.
Alhamra is an Arabic word meaning "women in red clothes ."This name was given to the royal enclave in Spain by the Arabs. This word suits Alhamra Arts Council as the building is covered in red bricks.
The architect of Alhamra Arts Council Lahore, Nayyar Ali Dada, took inspiration from this word and adorned this building with red bricks. The building was awarded Agha Khan Award for Architecture at the seventh award ceremony held in Spain in 1998.
Interesting Facts about Alhamra Arts Council
1. Alhamra Arts Council is a multipurpose theatre located in the heart of Lahore on Mall Road.
2. The Royal enclave inspires its architecture in Spain.
3. The architect of Alhamra Arts Council is Nayyar Ali Dada.
4. Its construction was completed in 1992.
5. It was completed in four phases.
6. Initially, only one auditorium was planned with 1000 seat capacity.
7. Mughal impressions inspired its architecture.
8. Theatre present in Alhamra House is used for many art performances.
9. Cultural events and shows are conducted in this place every year.
10. In 1998, Alhamra Arts Council was awarded Agha Khan Award for architecture in Spain.
History
Alhamra Complex is the successor to the society founded in 1949 by Pakistan Arts Council. Former Governor Punjab General Ghulam Jillani Khan took an interest in the construction of the art complex, and it is due to his efforts that this modern complex is thriving.
For the past 20 years, Alhamra has emerged as a hub of cultural activities in Lahore. It has not only revived the dying art but has also added an international dimension to it. The city of Lahore, situated on the bank of river Ravi, has always been of glorious traditions.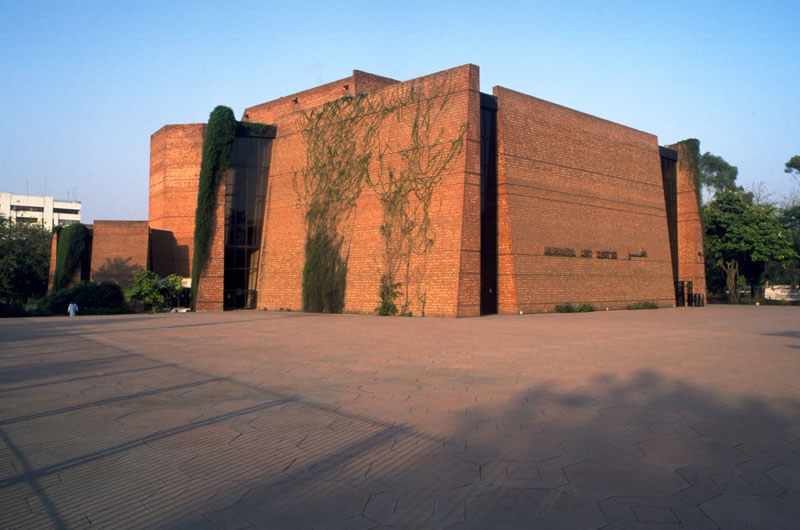 The people of Lahore celebrate their culture gloriously and are very interested in bringing this culture to life through different art forms.
Being the cultural hub of Pakistan, Lahore has a deep-rooted cultural history that has evolved over the centuries. Punjab is the vast land of love tales and legends with HEER RANJHA, LAILA MAJNU, SASSI PANNU, and MIRZA SAHIBAN.
Alhamra Art Council provides a platform for these performers to showcase their talents.
The architecture of Alhamra Arts Council
You can see a blend of modern and traditional architecture required to build the cultural center in Lahore. Lahore has both pre-colonial and post-colonial architectural wonders. To combine the dominating and massive Mughal style architecture with the rhythmic patterns of British architecture, the architect Nayer Ali Dada found the right balance.
He is a regional modernist due to his brutal whistle sensitivity to the context. Alhamra Art Complex brings modern architecture to life, not an impression of traditional and global architecture.
The red bricks cladding the whole building give the entire experience warmth and promote social interactions. The interior concrete walls give you a vibe of calmness and smoothness. The contrast between both is what makes this place mesmerizing.
The giant octagonal structure is very intimidating. But the fragmentation was the strategy to give soft impressions; hence it creates a more intimate setting.
Interior spaces, art galleries, theater, auditorium, and the exterior areas of informal courtyards combined show cultural sustainability. Octagonal volumes and the voids create a pattern; while providing an opportunity for the expansion of the cultural center.
The construction was completed in four phases, the first phase was completed in 1984, and the last step was completed in 1992. With time additions were made to the whole structure.
Attractions offered by Alhamra Art Council
Alhamra art complex has many attractions to offer people who visit this place. The art galleries are beautiful, and many exhibitions take place in the art gallery. Renowned painters and artists exhibit their works. Their work is praised.
Auditoriums are used for cultural events, and you can enjoy these events. Theatres are also entertaining their audiences with performances.
An open courtyard is used for social interactions. Artists all over Pakistan look forward to any events taking place here. The overall ambiance here is perfect. The art academy is famous, and many young artists are polishing their talents here.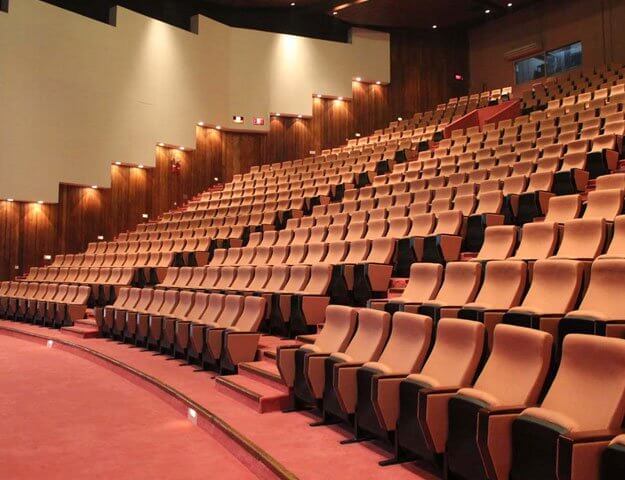 The art museum is among the most frequently visited places. Adbi Baithak is very much enjoyed here, and this place is for those of you who are literature enthusiasts. Puppet Theater and music recording studio are also present.
Exhibitions at Alhamra art gallery
Alhamra Art Gallery is used for art exhibitions. Artists display their paintings and sculptures. They are widely appreciated for their imagination and hard work.
Photography exhibitions are also very popular in Art galleries. The world that students and professionals capture through their lens is appreciated.
Some of these art exhibitions are open to the public, whereas others are for private audiences. The invite-only shows also take place here.
Activities at
Many activities are taking place in the Alhamra Art Council that keeps the talent alive. The management has taken the initiative to develop facilities for all the art forms, including the performing arts. They also run a production house that gives a chance to young talents. They also provide market support and professional video and audio aids.
Conducting cultural festivals and functions to promote local art and handicrafts strengthens our artists. All these activities are conducted in Pakistan and on many international platforms.
Alhamra Art Museum
Alhamra Cultural complex at Qadafi Stadium Lahore has a 1200 sqft. Art museum with the capacity to display 200 artworks. It houses a collection of paintings, prints, sculptures, and ceramics owned by the Lahore Arts Council. The work of renowned artists and old legends is displayed here permanently.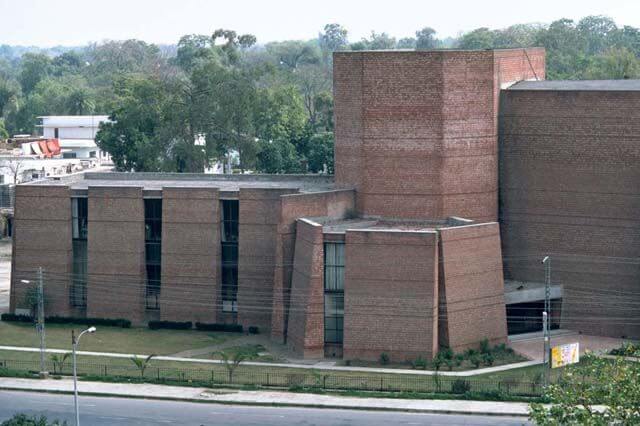 Alhamra Art Academy
Alhamra Art Academy offers different courses for children and young students. They offer Kathak Dance, Drama/Acting, Drawing/Painting, Vocal/Singing, Guitar, Tabla, Flute, Violin, Harmonium, Sitar, and Sarangi. They are soon offering a one-year Diploma in Music.
Apart from these courses, they also offer summer camps for students launching short courses in drawing, painting, calligraphy, acting, and singing during summer vacations.
Events and Healthy Competitions
Alhamra Art Council organizes different seminars and events. Poster competitions, painting, and drawing competitions are also organized. Cash prizes are distributed among winners and certificates to the participants.
Seminars and lectures on different instruments are also arranged. Almost 300 video lectures were given on Sarangi, a popular musical instrument dating back in time.
They also organize literary festivals and cultural conferences. Art lovers from all over Pakistan come to these events.
Vouchsafing
You can get scholarships and different grants from Alhamra Art Council. If you are looking for fellowships, diplomas, loans monetary aid, then you will get that from Alhamra Art Council.
You can avail of all these if you are engaged in study, research, furtherance, promotion, and creation of art, design, and other performing arts such as music, drama, dance, singing, and mimes.
Alhamra Art Council Ticket Price
The ticket price varies with every event. Some cultural events are a little pricy while you can enjoy others at more affordable.
Similarly, some of the art exhibitions in Alhamra Art Gallery are open and free for everyone, while you have to buy tickets for others.
Alhamra Art Council Timings
The administration office is open from 8:00 am to 5:00 pm on all working days. The art complex is available for events seven days a week from 8:00 am to 1:00 am.
All the activities take place within this time.
Alhamra Art Council location and contact info
Email: info@lac.punjab.gov.pk
Telephone: 042-99200953, 042-99200917
Address: 68- Mall Road, Lahore.
Conclusion
Alhamra Art Council is working day and night to bring life to art. They cherish the artists by providing them with a lot of opportunities. The piece of information shared above about the activities, events, and courses offered will help us understand the importance of art in our life.
F.A.Qs
What are the courses offered at Alhamra Art Council?
They offer Kathak Dance, Drama/Acting, Drawing/Painting, Vocal/Singing, Guitar, Tabla, Flute, Violin, Harmonium, Sitar, and Sarangi. They are soon offering a one-year Diploma in Music.
How to take admission to Alhamra Art Council?
If you are an art enthusiast and eligible for admission, all you have to do is fill out the admission form. All the further details about access are provided on their website and in their office on Mall Road, Lahore.
Who is the owner of Alhamra Arts?
It is under the Lahore arts council, and there is no single owner; instead, a whole management team runs it. Ms. Moneeza Hashmi is currently serving as chairperson.