Zainab Market
Karachi is the most significant and busiest city in Pakistan; It has a lot of shopping malls, shopping centers, and traditional bazaars. Zainab Market Karachi is just one example of many shopping centers in the city. It allows people from all walks of life to shop at their heart's desire.
Shopping centers are popular among the public because of their multiple shopping options; Zainab Market Saddar is one example. As Karachi is a vast city, there are various markets and malls to cater to the need of the public, as shopping is one of our favorite hobbies.
Zainab Market Karachi Timings & Locations
The timing for Zainab Market Saddar is from Monday to Saturday, from 10:00 AM to 10:00 PM.
The market's location is, as mentioned, Zainab Market, Abdullah Haroon Road, Saddar, Karachi. The Nearest landmark is the Karachi press club.
What is the Zainab market famous for?
Zainab Market is known for its variety, low cost, and bulk shopping options. If you are looking for everything in one place, visit Zainab Market; you can find anything and everything of your choice. There is a wide variety of clothes, bags, shoes, and more that only a person can imagine.
The best way to get a reasonable price is by bargaining with the shopkeepers as they tend to tell high prices, but they are ready to offer discounts if you are interested in buying.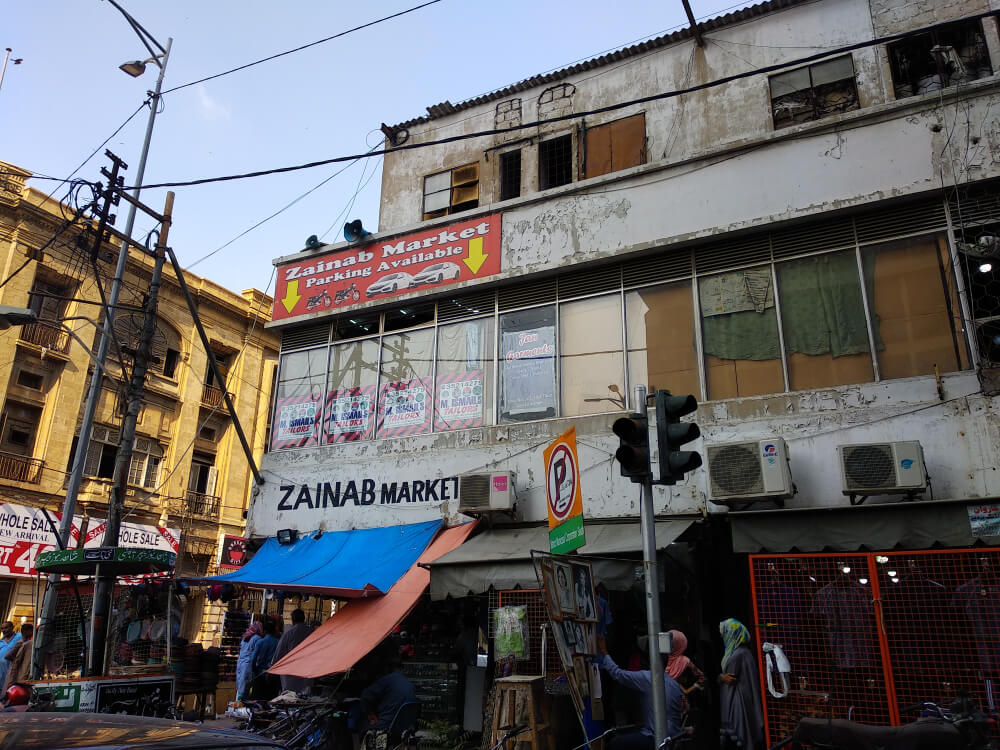 One of the essential things Zainab Market is famous for is the endless shops and variety it carries. You can never run out of options here.
Local and International Brands
To visit and shop in Karachi Zainab Market, you have to sharpen your haggling abilities as it is a shopping test, As you can pick between top brands at reasonable costs. You can find nearly anything on the market, including bags, clothing, footwear, jewelry, crafted works, scarves, shawls, and many different items.
Truck art is one of South Asia's most established types of craftsmanship. It shows Pakistan's traditions, customs, and lifestyle. Since truck art is so popular, having it on souvenirs, home decor, and ceramics is a genuine honor. Besides the Zainab market, you can find no other place for such traditional, creative items at the best prices to sell both famous and local brands, as the crowded market is full of noise with the sound of people haggling to get a lesser price. Participate to see what limits you can get, then, at that point, stroll along the market's roads to experience the local culture.
Best Market for Bulk Purchasing
If you are a small business owner looking to start a business from scratch, check out Karachi Zainab Market. It has the best options: clothing, bags, jewelry, or pottery. The possibilities are endless. If you can't afford designer goods or ready-made clothes, you can get the best material and embellishments in the Zainab Market at affordable prices.
All it needs is some time and effort, as the market is vast, and you have to wander around and bargain to buy the items you require. Many people buy stuff from the Zainab Market in Bulk so that it is cheap, saving themselves several visits.
Famous Shopping Spot
You can undoubtedly find bags, wallets, and ladies' purses in this Zainab Market, all made of excellent leather. It's not just about the quality; the price is similarly excellent. It is reasonable and intelligent not to spend on expensive brands when the same thing can be purchased for less part of the cost.
Zainab Market is the best spot to look for all age groups. All sorts of sizes and natures of Pants, Western Attire Brands, Shirts, Pants, Women's Scarf, Athletic apparel, leather jackets, sweaters, coats, artificial jewelry, Crockery Floor coverings, Kitchen Extras, Pieces of clothing, Machines, Beauty care products, an immense assortment of Shoes, all shades of Socks, a lot of embellishments accessible in this famous and enormous market.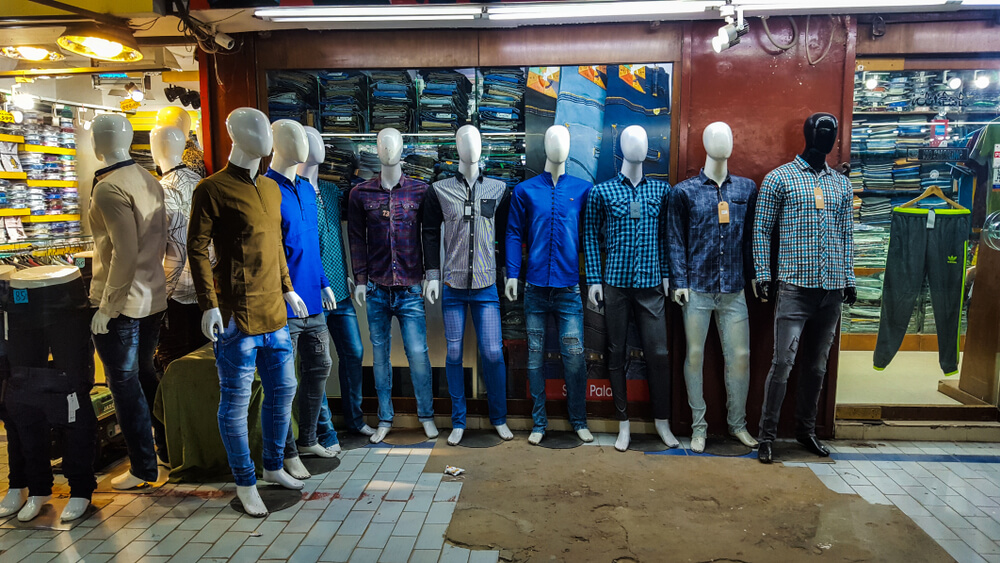 Jewelry enhances every outfit and is a must-accessory for every woman. And getting it at excellent quality and cost is a genuinely overwhelming task. If you appreciate antique-style gems, this is the best store for you. Fizza Jewelry has many antique necklaces and earrings made from pure copper and precious stones. The styles of these adornments are one of a kind, and the costs are top-notch.
Apart from this, there are many jewelry shops where you can explore and check the jewelry as per your requirement; from antique to modern and bridal jewelry, there are endless options. You can bargain your way to get the best deals from the shopkeeper as this market is known for the best-priced goods.
Infinite Variety Options
As perhaps Karachi's oldest market, Zainab Market shows different attributes. Individuals in Karachi can most likely effectively visit the area and buy their ideal items.
There is likewise a huge variety of western dresses, including excellent quality brands like Adidas, Nike, and Polo. The items are made for these brands, yet they are sold at lower costs here in the local markets because of minor imperfections. Such pieces are an excellent option for designer wear as the defect is usually tiny.
Western dresses that retail at a significant expense from brands are effectively accessible here for somewhere in the range of 500 and 1500 rupees and are of remarkable quality.
Zainab market is especially notable for its leather bags, handicrafts, and home décor items. In this way, we should check probably the most popular leather goods and bag items stores that you will be shocked to see.
Online Purchasing Through Official Site
In today's age, online shopping is a great convenience, and for shopping lovers, there are multiple choices for online shopping from Zainab Market Karachi. Visit their online website "https://www.zainabmarket.online/," through this website, you can get all the most recent items online at home, or you can approach their Whatsapp number to place an order at +92 (331) 9228813,
You can send a text message to the official number to get your preferred item. You can avail of this service as per your requirement at whatever point you need to purchase from Zainab Market effectively and fastly. It is fantastic for shopping for western and eastern items and home decor for every shopper across the city.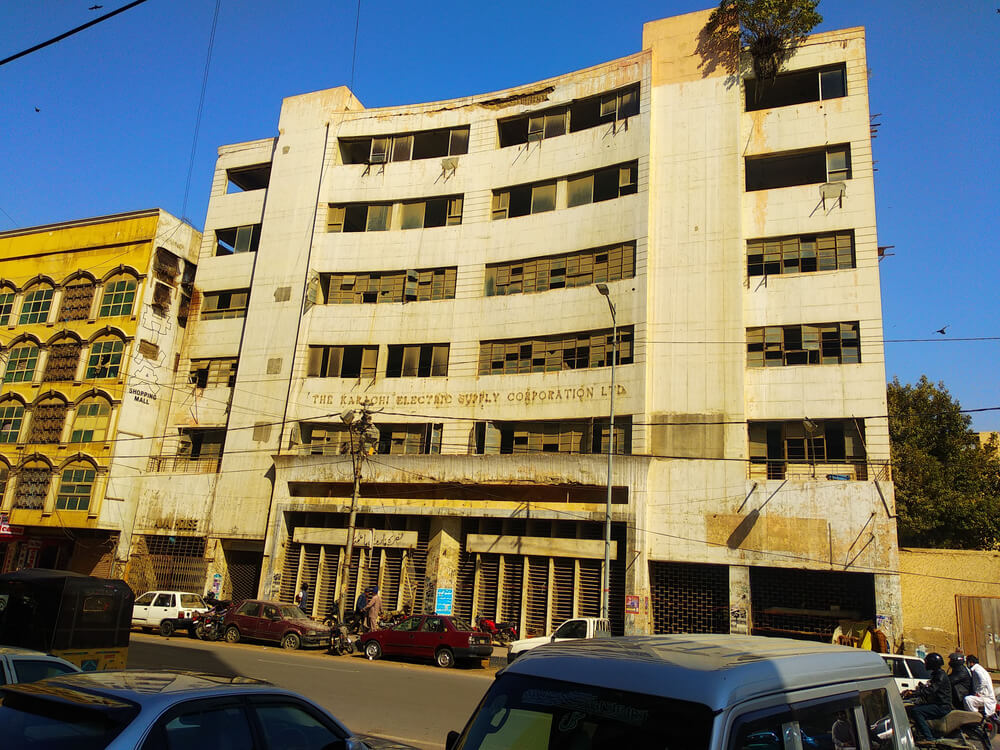 Many families, couples, young people, and young ladies can benefit from online shopping at home with only a single click and get all they want.
Best for Fancy and Cheap Stuff
Zainab Market Karachi is the best place to get cheap shopping options and fantastic deals, from clothes to shoes to bags and home décor stuff, and it is available here.
VIP Creations is the best shop for a wide assortment of hand-painted home styling. They have results of outstanding quality and style that will change your home into something genuinely one of a kind. They likewise offer cutlery with unique home decor theme items, which you can get as per your requirement.
Collection for All Age Groups
Zainab Market Karachi is a famous Shopping center for all ages, situated in Saddar close to Avari Pinnacles Inn, Sindh, Pakistan. Essentially, this market has a complete variety from western to eastern, all kinds of things for people of all ages. You can shop for your children, elders, parents, and yourself at one time. It is quite a prominent place, so you need a whole day to stroll through and find suitable options. This place is known for its variety and affordability.
Zainab Market Timings
The timing for Zainab Market Saddar is from Monday to Saturday, from 10:00 AM to 10:00 PM. Timing may vary on holidays and special occasions. Sunday, it remains mostly closed. Check the timing before leaving your house, so you do not waste your time and transportation costs.
Location of Zainab Market Saddar
The market's location is, as mentioned, Zainab Market, Abdullah Haroon Road, Saddar, Karachi. The Nearest landmark is the Karachi press club. If you are driving to the Zainab Market, you can use the below coordinates for navigation.
24.8565511120115 °N, 67.0283758828034 °E
If you are using public transport or taxi, everyone knows the Zainab Market Saddar. Hence it is not an issue to reach the market.
FAQ
How big is Zainab Market?
Zainab Market is the oldest and most massive market in Karachi.
Is the Zainab Market worth it?
Yes, visiting Zainab Market and shopping there is worth it as it has unlimited options.
Conclusion
If you want to shop all items under one roof, check and visit Zainab Market. It has an endless variety of everything one could need. From clothing to home décor to jewelry, this place has it all. The best part is several options available for people of all ages, from infants to the elderly; good options are available at very reasonable prices.
Online shopping is also available on the Zainab market website and WhatsApp contact, which has eased the shoppers from leaving their houses. You can purchase your required goods online, and they will deliver them to you. Many homemakers and people with busy schedules opt for online shopping for ease and convenience. Consider visiting this market for a beautiful and budget-friendly shopping experience.