Margalla Hills Islamabad – Mother Nature at its Best
Margalla mountain ranges are the lesser Himalayas and are located north of the capital city of Islamabad. The average height of the margalla hills is 1000m, and the highest peak is called Tilla Charouni. These receive a few inches of snowfall every year. There are two legends associated with the word margalla. According to one legend, margalla is a Persian word that means a lot of snakes, and according to the other legend, the word means to strangulate. People believe that a lot of robbers and bandits used to strangle the passerby and rob them.
Attractions at Margalla Hills
The Margalla Hills National Park's boundaries include Rawal Lake, Shakarparian Park, and the Margalla Hills. A little over 31,000 acres are covered by hills containing several tall mountain peaks and deep valleys. The tallest mountain in this area is Tilla Charouni, which rises to 5,263 feet.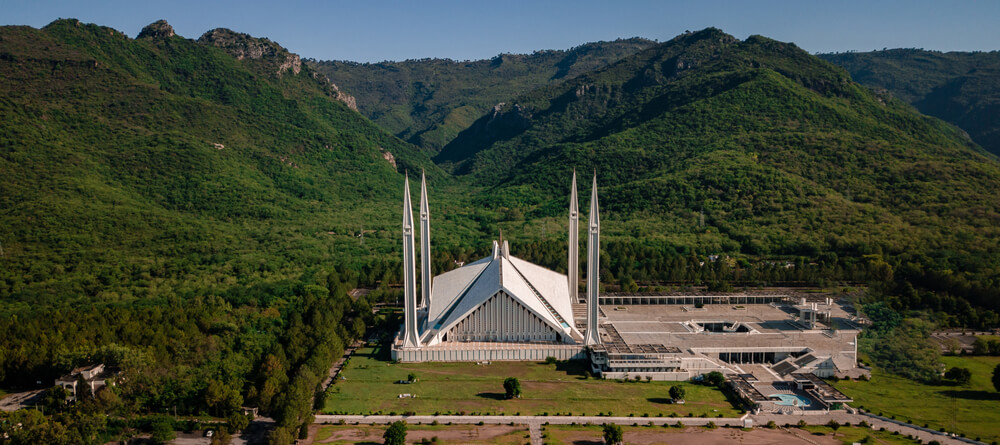 Pir Sohawa and Daman-e-Koh are two of the most well-liked places to visit in this area. A magnificent park and viewing point called Daman-e-Koh are situated 2,400 feet above sea level. Many travelers stop here along their route to Pir Sohawa, 3,600 feet above sea level, where the renowned Monal Restaurant is located. The Margalla Hills occasionally receive snowfall, but mainly the climate is hot and dry, with flora covering most of the high area.
The Infrastructure of Margalla Hills
The Himalayan mountains continue in the Margalla Hills. The hill's fertile soil is surrounded by lush trees, bushes, and boulders. Numerous animals and birds have their natural habitat in the woods on the mountains. The Pakistani government's forestry department and local authorities have tried to boost tourism in this region.
Every year, numerous private clubs and the government organize a hiking trip to raise awareness of the value of the Margalla Hills among people of all ages. People can now enter the forest, wander safely, and discover the natural resort thanks to the government. People who want to go trekking and camp overnight can come here because it is the safest place.
Paleontology
The formation of margalla hills is 40 million years old, as indicated by the fossils found under the rocks. There is also evidence of fossils of marine life, suggesting a time when the margalla hills were under the sea. Sandstone and limestone are mixed up in several beds, while some are of shale, just for finding human fore Trends dating back about 1 million years that are well preserved in sandstone.
Flora and Fauna
It has a wide variety of birds, including kites, crows, larks, Robins, black Patridge, vultures, eagles, shrikes, and spotted doves. Animals, including monkeys and carnivores like Leopard, can be easily seen in the margalla national park.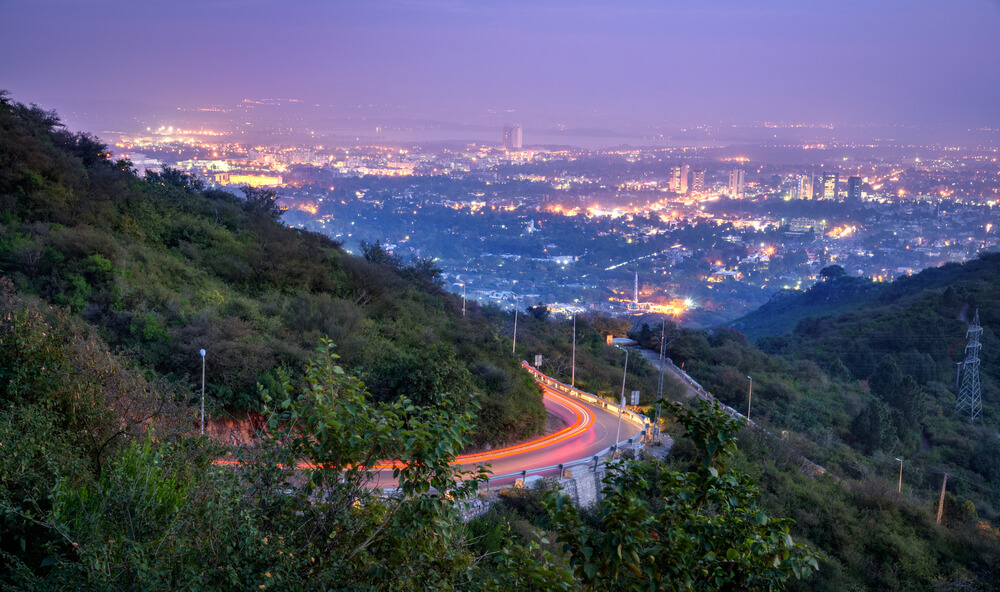 The margalla national park is also home to an endangered specie of Leopard, and the authorities are trying their best to conserve them.
CDA and World pheasant Association is also trying to conserve cheer pheasant by rearing them in the margalla national park.
Margalla Hills Islamabad Attractions
Hiking
Numerous hiking trails in Margalla Hills are open to experienced and inexperienced hikers. The best time of year to trek in Pakistan is the early winter when the weather is moderate and pleasant, with fewer odds of rain. This is because Pakistan often experiences a scorching environment in the summer. The hiking trails have numbers from 1 to 6, with Trails 3 and 5 being the most well-known. Bari Imam Trail and Saidpur Trail are two of the remaining paths.
Remember that the terrain might be challenging in some places while going through the hills; it is not recommended to hike alone. You shouldn't be concerned about getting lost, though, as the City Development Authority (CDA) has positioned direction markers and hiking milestones at frequent intervals all along the paths to prevent you from wandering off course. Additionally, these signs might direct you to discover the best viewpoints and hidden springs on your journey.
Trail Routes
· With a hike of between one and two hours, Trail 1 goes to the summit of the Pir Sohawa Road. You may go to Monal Restaurant in only 20 minutes by continuing to walk.
· You can approach Daman-e-Koh on Trail 2 after a 1 to 1.5-hour walk from where it starts, which is close to the Islamabad Zoo.
· Islamabad's most well-known and historic hiking trail is Trail 3. It begins at sector F-6 on Margalla Road. The trail's steep hills make it somewhat strenuous. The path will take you to a 30- to 50-minute route that climbs to the Viewpoint. After passing the Viewpoint, you can travel another leisurely 45 to 60 minutes to arrive at the Pir Sohawa, where you can select between The Monal and La Montana for dining. It is a roughly one hour and thirty-minute walk overall.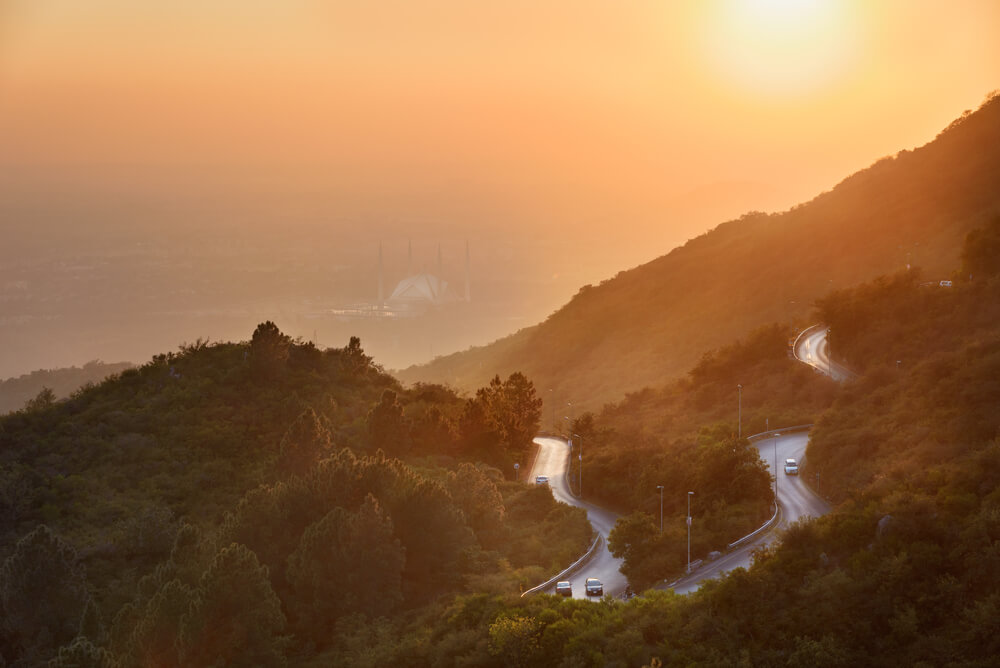 · Among Trails 3 and 5, which are separated by 1.5 kilometers, Route 4 serves as a connecting trail.
· Parallel to Trail 3, Trail 5 starts near Sector F-5 on Main Margalla Road. With this much simpler climb, you will reach the peak of Pir Sohawa Road. An expected 2.5 to 3.5 hours are needed to complete this trail. This trail should be taken if you wish to see a cascade in Margalla Hills.
· Because of its entrance's excellent concealment behind Sector E7's Shah Faisal Mosque, Trail 6 is less frequently used than the others. This trail has a marked path from a valley to its summit at Pir Sohawa Road. This route has a separate track for mountain biking, cycling, and bird watching.
· The Saidpur Trail, so named because it runs through the Saidpur village, follows a small river as it passes through the community and enters a valley where a track leads directly to Monal Restaurant. However, locals are the ones that use this trail the most.
· The Bari Imam Trail also begins close to the Bari Imam Cave at the farthest end of Main Margalla Road. You can get close to Pir Sohawa Road after ascending challenging hills, and then you can walk 5.5 kilometers to reach Trail 3.
Rock Climbing
There are various places in Margalla Hills where climbers can practice their techniques. However, only a few cliffs have been built specifically for the activity. If you enjoy rock climbing, you can visit any of the cliffs listed below:
For Beginners
Jasmine Corner
Saidpur Village
For Skilled Climbers
Musical Lounge
Shahdra Wall
For Experts
Bird Watching
Bring binoculars and start scanning the skies; you will undoubtedly come across magnificent feathered companions here. Here, you might see a variety of birds, including: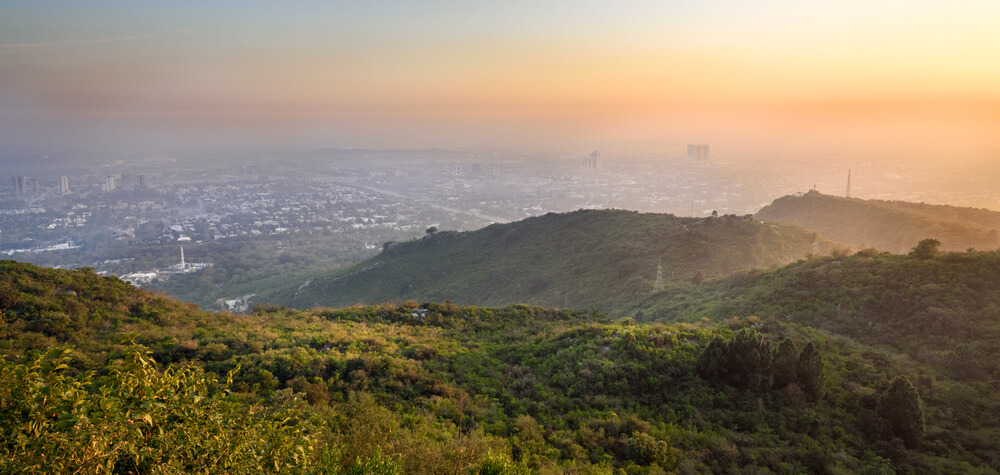 · Heavenly Flycatchers
· spotted falcons, eagles, and doves
· Yellow-vented-Vented Bulbul Pheasants
· Griffon vulture of the Himalayas
Some of these birds live here year-round; others are merely wintered migrant birds that go from colder northern regions to this location. Some species only come to the area to reproduce in the spring and summer.
Wildlife
With various geographical regions and temperature zones, nature has wonderfully blessed Pakistanis. Nearly 300 plant species, 54 butterfly species, nine amphibian species, 37 fish species, 380 different bird species, 20 reptile types, 15 large mammal types, and about 21 small mammal types can all be found in Margalla Hills. Here, you may see a variety of creatures, such as:
Reptiles
Native Cobra, Saw-scaled and Viper Russell's Viper
Mammals
Asiatic Leopard, Red Fox, Grey, Goral, Golden Jackal, Porcupine Gazelle, Chinkara, Wild Boar, Apple bats, Rhesus monkey, Yellow-Throated Marten, Pangolin, and Leopard Cat.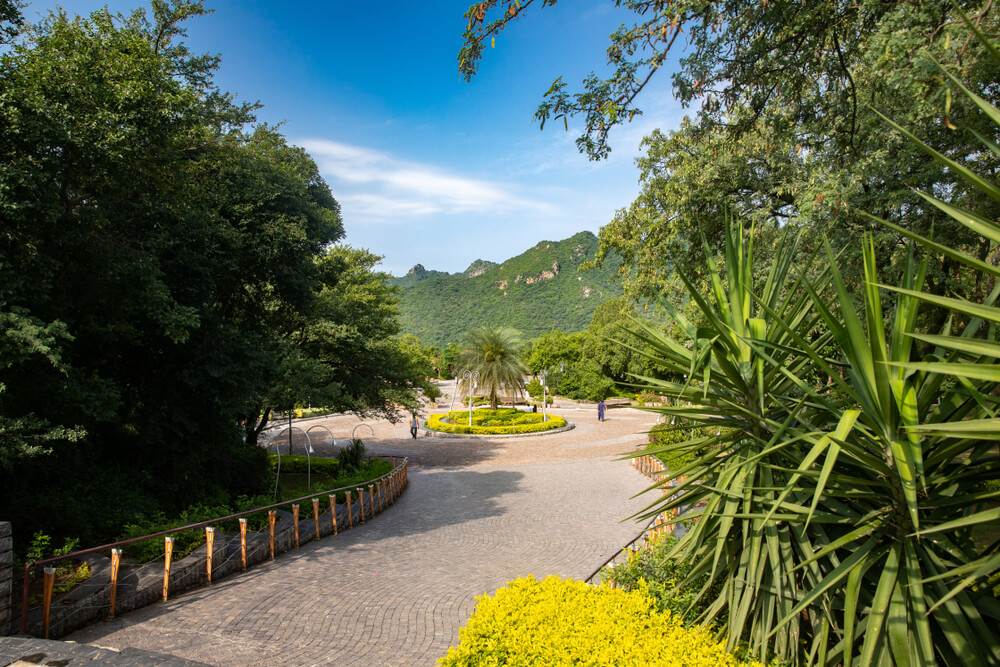 Shah Allah Dita Caves
On the slopes of the Margalla Hills are the Shah Allah Dita Caves. The 2400-year-old caves have Buddhist-era artwork on their walls. In the past, Muslim ascetics, Hindu sadhus, and Buddhist monks meditated in the caverns. The caverns are named after a dervish from the Mughal Empire. Another name for the caverns is "Sadhu ka Bagh."
The fact that there is an ancient cave in a city like Islamabad and the experience of seeing them are astounding. The wall paintings created by the inhabitants who resided there hundreds of years ago astound you. People travel here to explore the caves and take in their beautiful murals. When people view those artworks, they become motivated and understand that they can do something akin to making themselves immortal if they direct all of their energies in the proper direction.
A custodian of the caverns named Ghulam Rasool stated that they have been looking after these caves since their grandpa, who received this duty from a Hindu family after partition. The platform-like formations encircling the area were initially utilized for meditating by Buddhist monks, then by Hindu sadhus, until Muslim monks took over during the Mughal Empire, according to the archaeological finds of this historical location, he claimed.
Monal Restaurant
The renowned Monal Restaurant is located in Margalla Hills and is an excellent choice for lunch or dinner after sightseeing. For those who prefer to eat a filling lunch before touring the neighborhood, the restaurant also has a brunch option on Sundays and a breakfast menu every day except Sunday.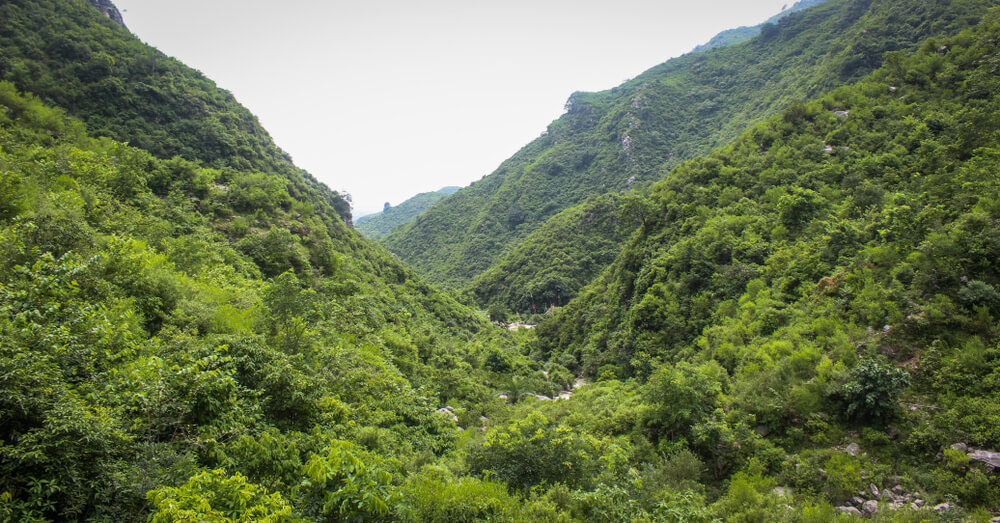 The menu offers Pakistani, continental, and fast-food alternatives and various pizza and pasta meals. The restaurant is famous for its breathtaking views of Islamabad and the surrounding lush hills.
La Montana
La Montana is another eatery on Pir Sohawa Road, with similarly breathtaking views of the hills and vegetation around Islamabad, the country's capital. This restaurant has a varied menu that includes foods from all over the world, including continental, Pakistani, and seafood.
Picnics and Barbecues
You are permitted to host barbeques inside the area as long as you are cooking your meals sensibly without harming the environment and ensuring that the fires are extinguished when you depart your camping place. If cooking outside is not your thing, you may always take your family on a picnic and enjoy the fresh air. Margalla Hills exploration is a must for locals and tourists due to its attractions.
Margalla Hills Location
Margalla Hills, which form the base of the Himalayan range, is situated towards the north of Islamabad, the country's capital. It is a location that all residents of Islamabad and tourists to the capital must visit since it offers beautiful vistas and a variety of chances for outdoor enjoyment.
Although there are several hiking trails in the area, Monal Restaurant and Pir Sohawa are accessible by automobile via a well-paved road. The Pir Sohawa Road begins at the foot of the hills next to Daman-e-Koh, close to the Japanese Children Park and Islamabad Zoo.
Conclusion
Margalla Hills is an incredible display of nature under the sea long ago. The National park is home to many plant and animal species. Margalla hills are famous for two primary reasons, i.e., hiking and bird watching. The CDA manages six well-maintained hiking trails that lead to different destinations to the top. You can also spot a remarkable variety of big and small birds in the park and hear them chirping from far away. Margalla Hills are a great recess from the hectic city life.
FAQs
Why is Margalla famous?
The flora of Margalla hills makes it quite popular, offering a great view and an incredible display of nature.
Is Margalla Hills Safe?
Margalla Hills Are incredibly safe to travel to and offers a healthy environment and fantastic experience.
How high are the Margalla Hills?
The highest point in the MM hills is 1604m, whereas the smallest is 685 m high.
How many trails are in Margalla Hills?
There are at least 30 well-identified trails in the mm National Park, of which six are fully developed and offer a unique hiking opportunity.