The Unmatched Centaurus Mall Islamabad
Islamabad, one of the most stunning and scenic cities in Pakistan, is renowned for the sight of several gardens and woodlands, including the Margalla Hills National Park and the famous Shakarparian. It's a city of assortment and extravagance – one of the top 4 attractive capitals worldwide. There is so much to discover in Islamabad that there is no better place to stay than in the heart of the city center. You'll be entranced by majestic landmarks like the Faisal Mosque, the Pakistan Monument, and Centaurus Mall.
In the Centaurus mall, you will see the Information Desk on the Ground Floor, where the administration Team can help you with any of your questions and queries. The mall has 250 plus brands. It has 11 million visitors every year.
Centaurus Mall is the gigantic shopping mall in the region, providing 24 hours security, a CCTV system, and an uninterrupted power supply. They do have a Backup firefighting system as well. While entering the mall, you need to abide by some rules like:
· Your Shoulders and knees should be covered
· No pets are allowed inside the mall
· It's a No smoking zone
Reaching the Centaurus Mall is easy and simple when utilizing Rawalpindi and Islamabad Metro Service. The most immediate Metro Stop to The Centaurus Mall from Rawalpindi is The Centaurus Mall Metro Stop. If you are coming from the Secretariat Metro Stop of Islamabad, the nearest Metro Point would be The Stock Exchange Stop. So, you can take a ride from any Metro station and always end up at The Centaurus Mall in a maximum of 20 minutes.
History of Centaurus Islamabad
The Construction of Centaurus Mall Islamabad started in 2006, and the was opened to the general public on 17 February 2013. Sardar Yasir Ilyas is the mall's owner, and the mall's developers are Pak Gulf Construction, Al Mahad Group of Companies (Saudi Arabia), and Sardar Builders.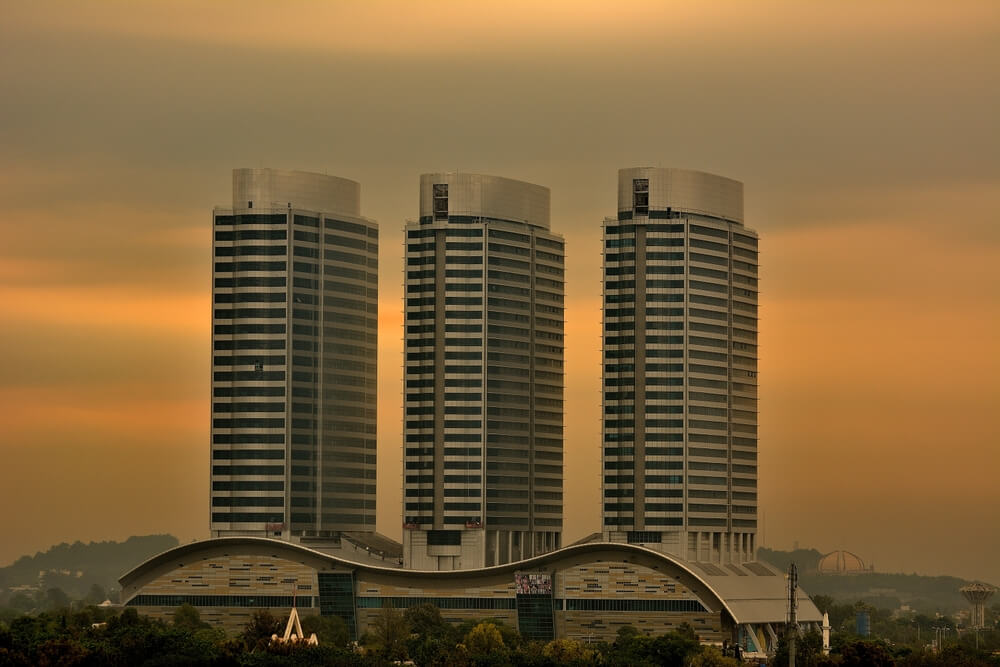 A British-based Architectural Company designs Centaurus named WS Atkins. The building comprises three towers. All three towers are linked via a shopping mall with around 250 shops. The mall building is 100-meter-high (361 ft) and has 26 floors.
Attractions offered by Centaurus Islamabad
The world-class architecture and ideal location in the capital city Islamabad make the Centaurus an attractive and appealing place for visitors who come for shopping or entertainment and the corporate business community. At the same time, the luxurious life at the apartments of the Centaurus mall provides a proper way for the business community and elite class persons to be a part of such a modern and comprehensive, multipurpose place. Visitors are provided with residential solutions, a corporate place for business, and all living facilities and amenities including a shopping mall, availability of national and international brands, restaurants, state-of-the-art cinema, a supermarket, and a fun city for the children.
In short, Centaurus mall Islamabad is a comprehensive and complete real estate project which offers a place to work, live, dine, shop, relax, be entertained, and much more.
Events
Centaurus mall Islamabad has the facility to organize a different set of events. A few are described below.
Rabi-Ul-Awal Exhibition
The blessed month of Rabi' Al-Awwal is important in the Islamic Calendar as it marks the birth of the Prophet Muhammad (PBUH). Eid Milad-un-Nabi, also known as the Birth of Holy Prophet PBUH, is celebrated on the 12th Rabi-ul-Awal. The Muslim Ummah celebrates this tremendous day wholeheartedly to show great devoutness and alliance with their Prophet (SAW). Mosques, homes, and other commercial buildings seem to be blazed with green lights and flags on this promising day. People embellish their homes and even streets and roads with full enthusiasm to show great happiness on this day.
On the same lines, Centaurus Mall holds an exhibition this month where people participate with full zeal and enthusiasm.
Air Force Day
Air Force Day is celebrated in Pakistan as a national day on 7 September, after the annual celebration of Defence Day. Airshows and other programs mark the Pakistan Air Force's (PAF) role in defending the nation in the Indo-Pakistani War of 1965. On 7 September 1965, a single Pakistan Air Force Pilot, Squadron Leader M.M. Alam, Sitara-i-Juraat, in his F-86 Sabre, shot down five Indian Air Force attacking Hunter aircraft in a single sortie, an unbeaten world record.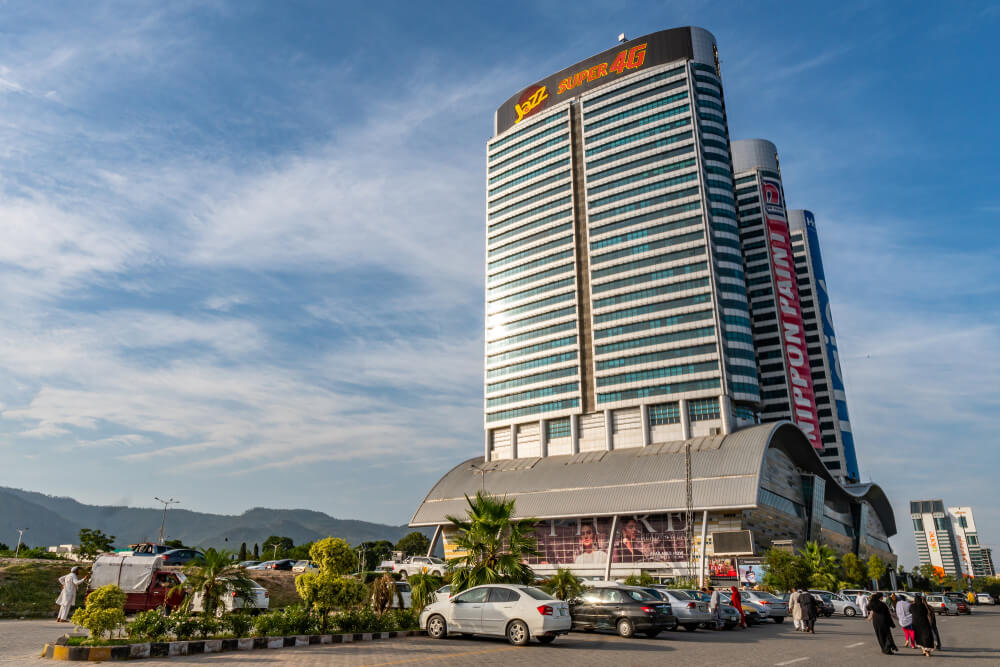 On the same lines, Centaurus Mall holds an exhibition this month where people participate with full zeal and enthusiasm. You will find a lot of crowds on this day, and the mall is fully decorated; you will hear national songs from all around.
Artisans
Artisans exhibition is also held in Centaurus mall from time to time, and it proves to be a wonderful show. Surely an amazing event for art lovers. People participate with full energy and are quite enthusiastic about the show. A good crowd is always seen enjoying the incredible talent and art at the exhibition.
Furniture Expo
The furniture expo has been done in Centaurus mall many times and is managed well by the administration. Different brands display their furniture items on exhibition day, and people do take a lot of interest. The exhibition is organized on the ground floor.
Christmas
Like any other exhibition, Christmas exhibitions have always been well planned by the Centaurus mall administration. The mall is well decorated on the day, and many brands give away discounts. The mall becomes overcrowded during such events, so it is better to come early to enjoy the celebrations.
Hajj Exhibition
The Hajj is an annual Islamic pilgrimage to Mecca, Saudi Arabia, the holiest Muslim city. It is an obligatory religious duty for Muslims that must be performed at least once in their lifetime. It must be done by all who are financially and physically capable of undertaking the pilgrimage and sustaining their family during their absence from home.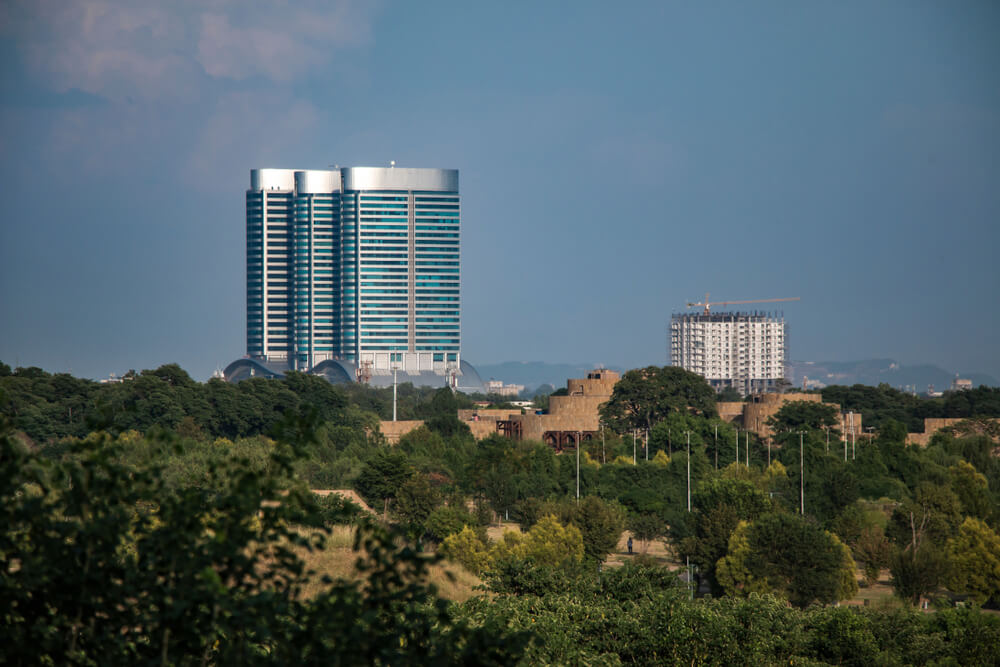 The Hajj exhibition is arranged yearly in Centaurs mall with full zeal and spirit. In 2021, despite Covid, the administration planned the exhibition for the pilgrimage with full protocols of Covid SOPs. The event went successful with no negative outcomes or hassle.
IT Expo
IT expo is another interesting exhibition arranged in the mall where different IT brands come up with stalls and guide people about the latest technologies. It is an interesting event for youngsters as they get to learn a lot about the latest advancements in technology in the fast-paced world.
Havoline
The Havoline exhibition was also successful as people learned about the importance of engine oil quality and features. It was especially great for young boys who love cars and want to know more about how to improve their performance.
Mango Fest
In summer, a mango fest exhibition is always conducted by the administration of Centaurus mall, and people love to be a part of this exhibition. Mangoes are one of the most popular summer delights in the country, and there is no way we miss a chance to celebrate them.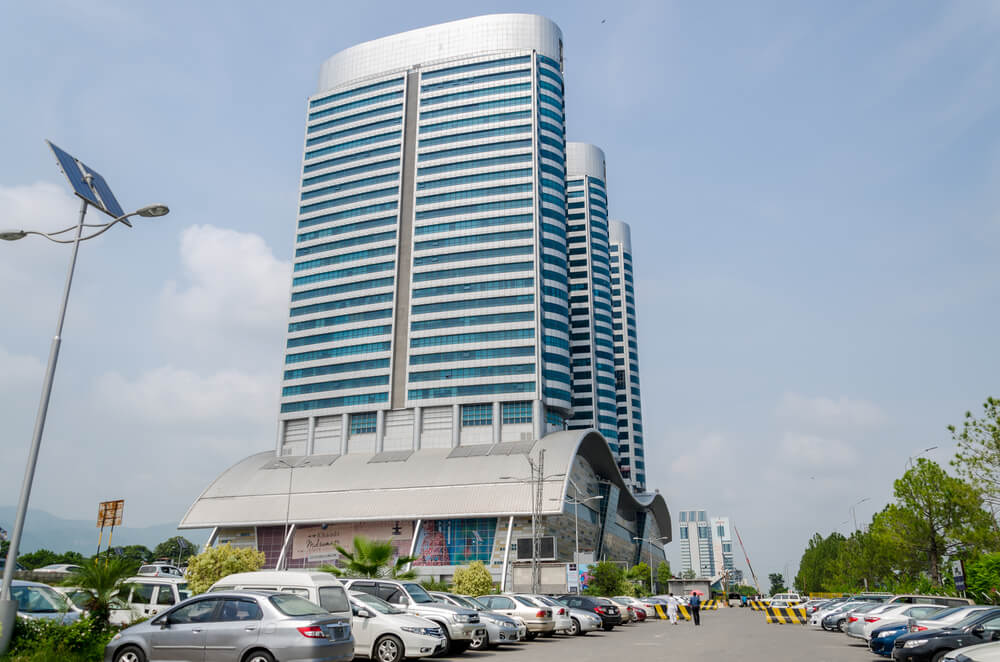 Painting Exhibition
Painting exhibitions are done in the mall off and on. The mall has always seen good participation from the people in this kind of exhibition. It's a great activity; you will find amazing paintings in exhibitions from all around Pakistan.
Brands
The Centaurus mall Islamabad has 250 shops, home to national and international brands. The mall is a shopping hub for every age. The names of the few brands floor-wise are written below:
Ground Floor:
On the ground floor, you will find Accessorize, Afghan Carpet, Aldo, Al-Fatah, Baskin BR Robbins, Bonanza Satrangi, Charles & Keith, Diesel, Dockers, Friends Home, International House of Luggage, Levi's, Miniso, Saeed Ghani Perfumes, Saeed Ghani Herbal, Shaheen Optics, The Body Shop and many more.
First Floor:
A few shops on the 1st floor are Adidas, Alkaram Studio, Babyshop, Bareeze, Book Exhibition, Borjan, Diner's, Edenrobe, Ego, Hang Ten, Hugo Boss, Illusion, Insignia, J. Fragrances, LimeLight, Minnie Minors, Nike, Nishat Linen, Real Jewellers, Reebok, Sapphire, Women'Secret and many more.
Second Floor:
A few brand names on the 2nd floor of the mall are Almas, Batik, Breakout, British Lingerie, Cambridge, Charcoal, Cougar, Ideas, Junaid Jamshaid, Lawrencepur, Makeup City, Rang Ja, Royal Tag, Sony World, The Entertainer, Ultra Club and much more.
Third Floor
The names of the brands on the 3rd floor are Agha Noor, Almirah, Balochistan Dry Fruit, Beechtree, BTW, Charcoal, Diamond Crown Jewellers, Eastern Art & HandiCrafts, Engine, Equator, Gemmy Home, Khan Shoes, Maria B, Ndure, Outfitters, Urbansole, WB by Hemani, Zellbury, Zubaida's and some others.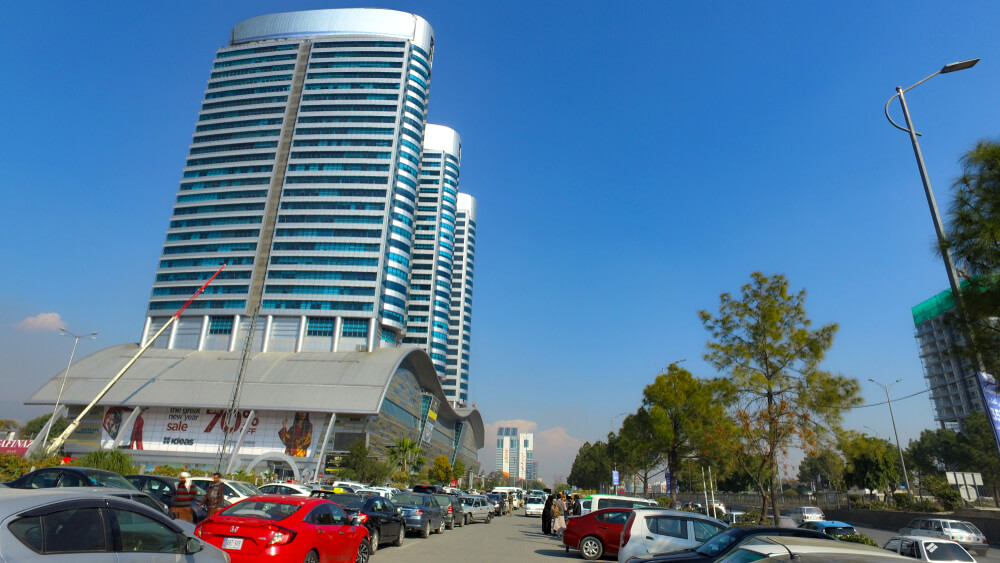 You will also find numerous stalls and local vendors on each floor offering reasonable items for kids and ladies.
Fourth Floor:
The 4th floor is full of food restaurants, Cineplex, and a fun city. You will find numerous food brands, both local and international. It is also the most crowded floor of the mall.
Local and International Brands
It's the shopping hub in Islamabad, with many National and International brands available. Once you visit the mall and see many things of absolute quality. Sometimes discounts are offered, you won't be able to leave unless you buy something.
Cineplex (cinema)
Cineplex is located on Level 4 of the mall. A 5-screen Cineplex with 3D and DTS sound. The times for the cinema are from 10:00 AM to 11:59 PM. The cinema is completely booked on weekends, but you can easily find a few slots on weekdays. Not only this, on Tuesdays, you can avail of the 'buy one get one free offer on all shows. Cineplex showcases all recent Hollywood and Bollywood shows along with local movies.
It is open seven days a week. To book an appointment, please call on 051-111-626-384
Fun City
The fun city is on Level 4 of the mall and is 25,000 sq. feet. It proffers 5 thrilling attraction Rides, 50 different types of Arcade Games, 10 Kiddie Rides, Novelty, Sports, Redemption, and Video games. Fun City is an immaculate Play Center for people of all ages. It forms an essential part of society by nourishing a platform for people of all ages for social relations and active play in a safe, secure, and conveniently reachable location.
Food Court
The food court is uncovered on the mall's fourth floor and comprises several regional and global fast food chains. International coffee shops are also found throughout the mall.
A few food restaurants are Broadway Pizza, Burger Lab, Chacha jee, China Grill, Cheezious, Crunchies, Desi Pakwan, Fredrigo's Pizza, Hardees, Howdy, KFC, Mcdonald's, Monal, OPTP, Subway, and a lot more.
Prayer Mosque
It is also available on the 4th floor of the shopping mall.
Different Stalls
Besides shops, the mall has also provided different stalls to the people where you find different items like cultural shoes and other items, etc.
Centaurus Mall Timings
The timings of the mall are as under:
Sunday to Thursday 11:00 AM to 11:00 PM
Friday and Saturday 11:00 AM to 11:59 PM
Centaurus Mall Location & Contact info
The mall is located at Plot # 01, Jinnah Avenue, Sector F-8, Islamabad, Federal Capital, Pakistan. The contact number is 92 51-8483040
Centaurus Mall Ticket Price
There is no entry fee to the mall.
Conclusion
Centaurus is a state-of-the-art facility that offers all types of amenities like home stores, apparel, accessories, an indoor amusement park, an extended food court, and 23 floors of residential apartments. It is one of the best go-to places for quick shopping. The parking area of Centaurus is huge, and you can park your vehicle easily. Plan your visit now.
FAQs
Who is the owner of Centaurus Islamabad?
Sardar Yasir Ilyas is the CEO & Group Director at The Centaurus Pakistan.
How much did Centaurus cost?
It is estimated that the Centaurus mall cost around 15 billion.
When did Centaurus open?
The construction of the mall started in 2006 and was opened to the public on 17th February 2013.
How many floors is Centaurus?
There are 26 floors in the Centaurus mall. The first 4 floors are for shopping malls, and the other floors are used for residential apartments and office areas.