Rakaposhi
Twenty-seventh, most elevated in the world and twelfth highest in Pakistan, Rakaposhi Peak is an amazingly mesmerizing mountain located in the Nagar Valley of Gilgit Baltistan.
Rakaposhi is known as the most famous and beautiful peak of Hunza Valley. This mountain is vast and covers almost 20 kilometers from East to West. Interestingly, Rakaposhi Hunza is the only lordly peak in the world, reaching an elevation of 7,788 m with unmatched nearby attractions.
Rakaposhi Hunza, Attractions and Location
In this article, you will find everything you need to know before exploring this wonderful place. From the attractions to the best timings to visit, weather, location, what to expect, the facilities, network, and the best route to Rakaposhi Hunza, we have got it covered to facilitate you in planning a memorable visit.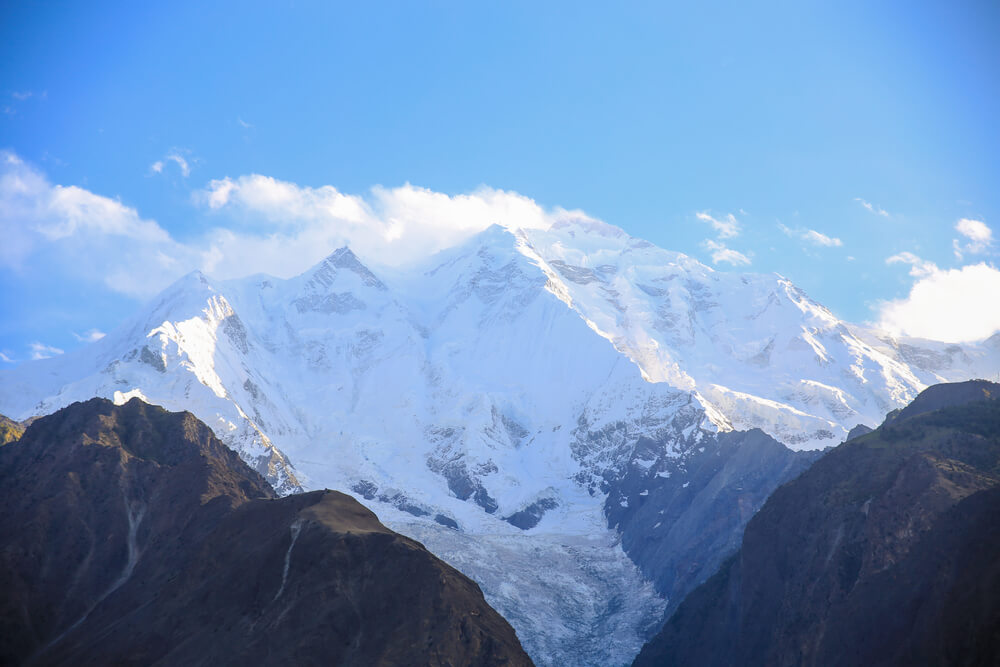 Why is it called Dumani?
Renowned for its natural beauty, Rakaposhi Hunza is also called Dumani which refers to ("Mother of Mist" or "Mother of Clouds,") as it is engulfed in clouds almost 365 days a year.
In the local language, Rakaposhi is known as snow-covered, featuring shiny crystal-like snow throughout the year. Hence, Rakaposhi further glorifies the flawless Nagar valley in mesmerizing northern Pakistan.
What is the meaning of Rakaposhi?
The name Rakaposhi beautifully describes the traits this place holds. It is no less than a jewel of Nagar Valley as it adorns it with its immense beauty. Its name means "Snow-Covered." Because of its breathtaking beauty, it is the most-visited peak amongst travelers. Though it retains high ranks among the world's highest mountains, it's famous for its magical beauty.
Weather of Rakaposhi
The weather of Rakaposhi remains cold almost throughout the year. However, the summer season is quite a pleasant time. While in October, the wind is quite chilly.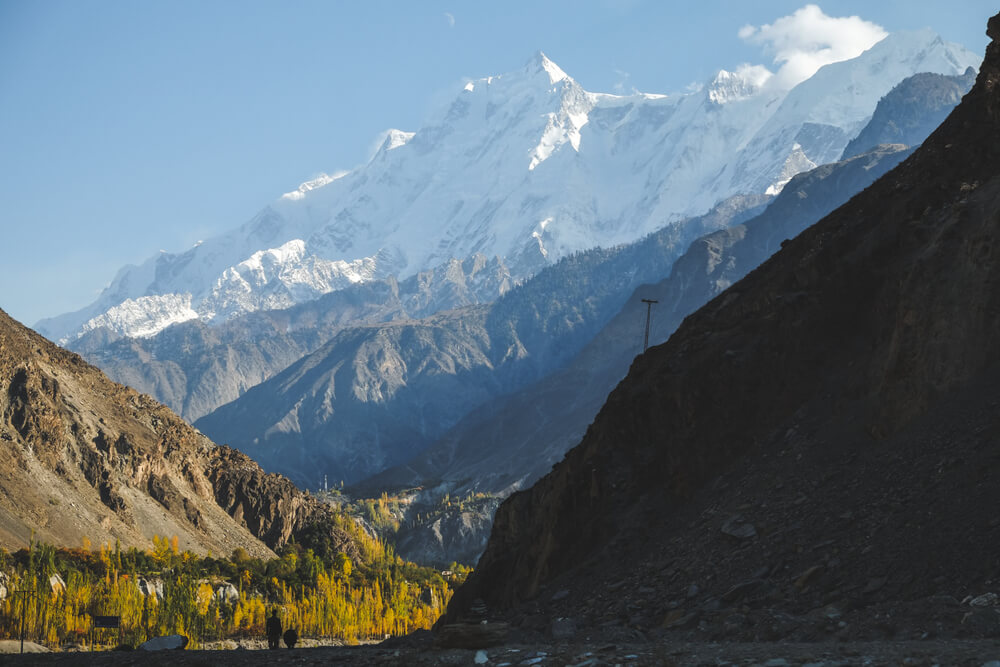 When is the Best Time to Visit Rakaposhi?
Visiting this impeccably beautiful place any time of the year is a treat. However, the best time to visit is from May to October if you wish to hike in the Karakoram Range. After October, this heavenly place gets unbearably cold and snowy, which makes it difficult to hike and explore it to bits. In addition, October can be a month of breezy winds, and the temperature might decrease below zero; therefore, it is better to do a one-day round-trip hike if you plan to visit during this time.
Recommended Gears
Hiking Stick
Hiking Shoes
Umbrella / Rain Coat
Water Bottle
Camping Essentials
Attractions at Rakaposhi
You can explore unlimited points and attractions on your visit to Rakaposhi View Point. It is one of its kind, with High Mountain rising from the plowed field to about 7788 meters in height, thus making it the best attraction for travelers worldwide.
The best and the most beautiful one is the "Zero point of Rakaposhi," also the nearest viewpoint of Rakaposhi in Gilgit town. This mountain range has been dedicated to Community Park by the Nagar people; therefore, you can see Marco Polo sheep, Snow leopard, Brown Bear, Wolves, and some other endangered species to be found nowhere else.
The glaciers here are to die for; the two exceptionally alluring glaciers are Diran and Minapin Glaciers. The cold water descending downwards makes this place look like a piece from heaven that grants soul and mind calmness. Also, the best camping spot in Rakaposhi is known as the Rakaposhi base camp. You will have epic fun here, do try to climb the nearby hills and witness the 360-degree view of the pieces of heaven from these hills. You will not get bored with this place's beauty, guaranteed.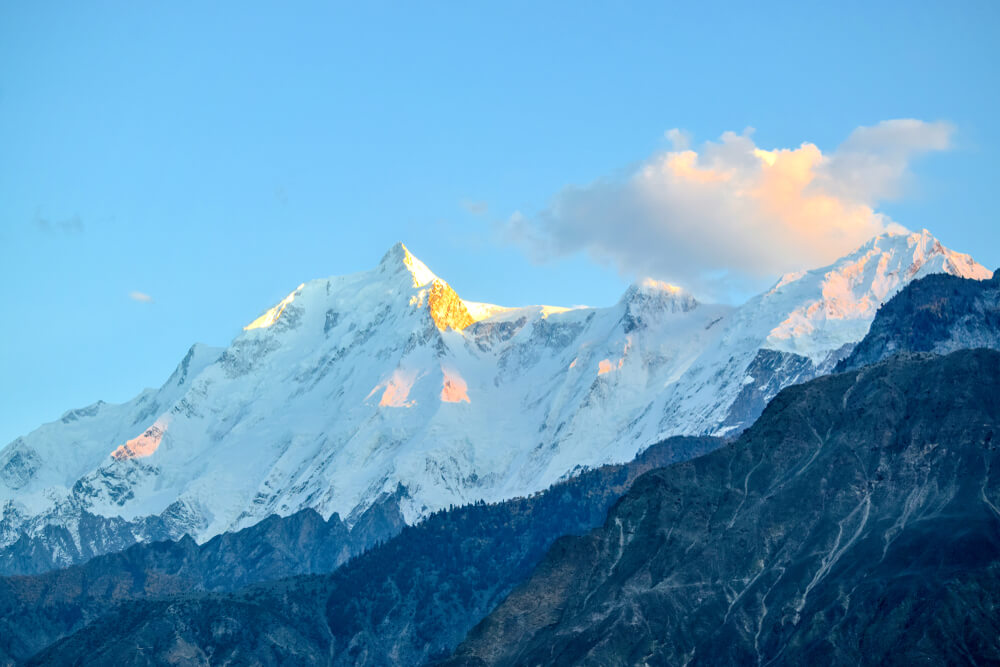 In summary, the attractions here are unlimited. For instance, the view of Karakoram elevated peaks, the best climbing and trekking adventure, and beautiful glaciers. You'll instantly fall in love with the heavenly beauty of Hunza Valley and its people, the ancient Silk Route, the sight of endangered animals, and a perfect sunset view that seems no less than a painting; this place has a lot to offer.
Ice Caped Mountains
Want to see the most amazing ice-embellished mountains in the world? Rakaposhi is your place to go; the ice-capped mountains here are to die for, you can relish these mountains all by yourself, and the pictures of these peaks will stay with you forever.
This out-of-the-way place has amazingly stunning locations like Nanga Parbat and Fairy Meadows. The base camp at Rakaposhi is no doubt going to be the highlight of your trip. Just imagine 5000 meters high ice-capped peaks from the base camp with amazingly eye-catching surroundings; what a sight!
Beautiful Glaciers
Rakaposhi Hunza is also known for its breathtaking glaciers. Some beautiful glaciers are the Diran glacier, the Minapin glacier, and the Rakaposhi glacier.
Beginning with the Diran glacier, you should include it in your travel list. This magnificent glacier will leave its print in your mind forever. It is a vast sea of ice comprising icy poles of around 20 meters. Crossing or walking over this glacier can be dangerous, but you can go near and touch it to get the feel of this stunning glacier.
The second most spectacular glacier is the Minapin glacier. It is one of the most beautiful glaciers you will ever see, with bright colors that look more like a psychedelic pattern and can attract anyone who sees it. The view of Minapin glacier from the ridge is the most pleasing; you can take alluring pictures and spend quality time enjoying the natural beauty.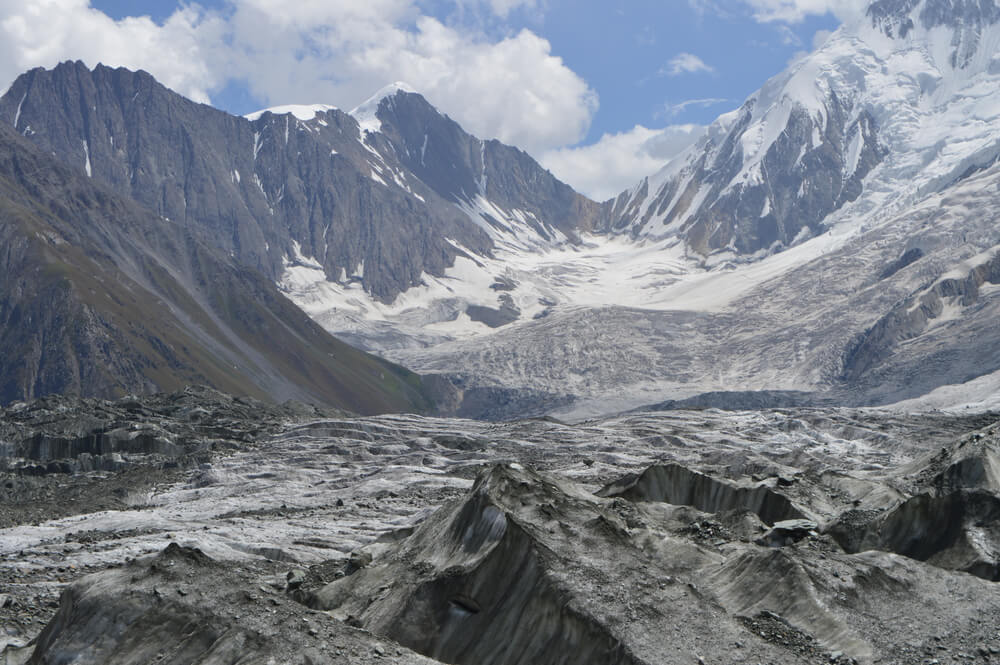 Then there is the stunning Rakaposhi Glacier on the downward slopes of the Karakoram Mountains in Gilgit near Ladakh. These places are equally beautiful and will give peace to your mind and soul.
Rakaposhi View Point
The most scenic place of Rakaposhi Hunza is the Rakaposhi View Point, also known as "the Zero Point of Rakaposhi"; you can get a clear and the closest view of Rakaposhi from this point. This excellent viewpoint is located on the Karakoram Highway in a charming Ghulmet village of the beautiful Nagar Valley.
The Karakoram Highway is all about the fantastic spots that attract tourists from everywhere; they visit this place and explore the jewels of this Highway. There are archeological sites, painting-like views, cultural points, and fascinating architectural wonderment.
Rakaposhi Viewpoint is one of these jewels adorned with alluring natural beauty. You can stay here overnight to explore every corner of this place and get amused by the natural beauty and calmness this place radiates.
It is recommended to visit this place in the summers, so that you can be pleased by the glacier water, sit near it and soothe yourself with the calmness of the area, and take some iconic pictures. The Rakaposhi View Point took years to get where it is now, much developed and tourist-friendly. The more tourists visit this place, the more infrastructure development there will be.
The prominent attractions here are mountains, the beautiful glaciers surrounded by lush green land, and streams that flow downwards. You can enjoy a perfect breakfast here with no less than stunning and dreamy views. Try Chap-shoro on your visit as it is the famous food of this place. What else do you need? Gorgeous scenery with a lavish breakfast, whoa!
Beautiful Breathtaking View of Sunset
Believe it when someone says there is no better sunset than in Rakaposhi Hunza. The magnificent view of the sunset will make you marvel at the gold and lordly silver mountains with ice blue flowing streams and the perfect sunset. So make sure you visit in the evening to get drooled by the most amazing sunset ever.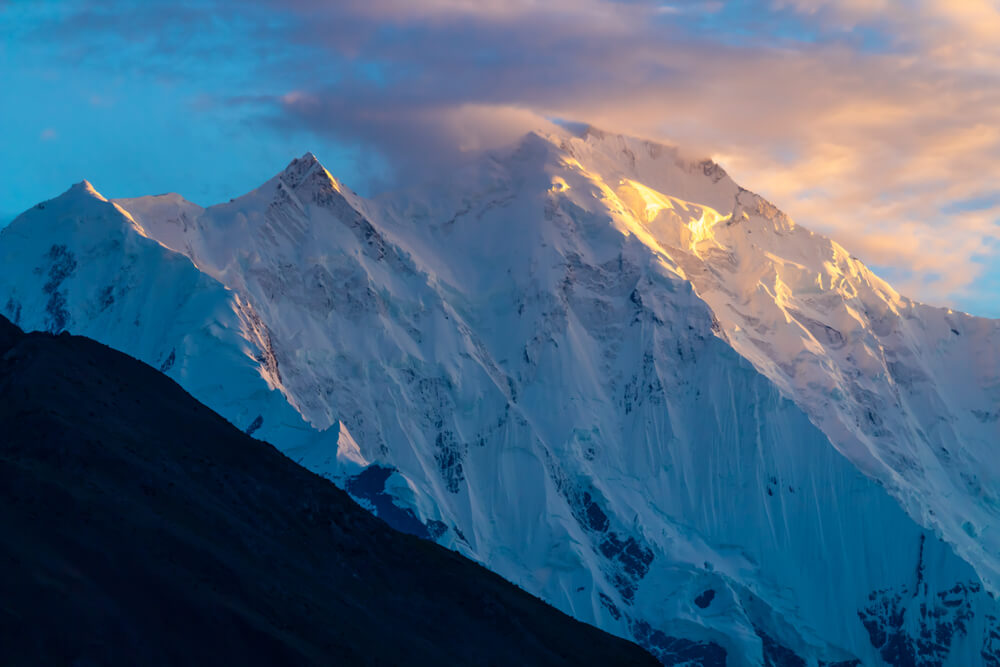 Clean Fresh and Cold Water Stream 
The perfectly lofty snow-capped mountains would have been incomplete without cold streams flowing from the glaciers. These mountains are higher than the clouds, with the most alluring water flowing, making it a breathtaking view of all times. You can enjoy the crystal clear water flowing from glaciers into the Gilgit River. Moreover, you can do ablution here, offer prayer and enjoy the best time of your life.
Is Rakaposhi difficult to climb?
As beautiful as it could get, Rakaposhi Hunza is a rugged peak to climb from all directions. Therefore, opting for western routes will take a lot more time. Alternatively, if you plan to go through northern routes, you will find them too high with steep inclination, thus offering more risk. In contrast, the southern and eastern ways are plain but risky because of the high avalanche possibilities.
The first expedition that climbed it was British-Pakistani in 1958. Until now, eight people have climbed it from 3 distinct directions. It is difficult to climb but not an impossible adventure.
How to Reach Rakaposhi?
You can reach Rakaposhi via different routes, and every route has pros and cons. The routes which people climbed successfully are the following:
Southwest Spur/Ridge is comparatively long but less challenging and technical. There are some rock peaks where you have to be extra careful, but overall this is a less technical route. The second route is from the east side, which is the shortest route.
In General, the third route is the northwest ridge which is not recommended because it is the longest, the most technical, and most challenging route to reach Rakaposhi Hunza. The fourth one is the North Spur which is the shortest of the other two routes but is super tricky.
Things to do at Rakaposhi
There is so much to explore in Rakaposhi. You can go trekking, camping, and enjoy the fantastic sunset. There are several shops from where you can eat the tastiest food, enjoy the sight of breathtaking glaciers, and whatnot. The Rakaposhi base camp is one of Pakistan's most epic camping spots. The surrounding hills give an amazing 360-degree view, which eases the hectic climb.
Camping
Camping in Rakaposhi base camp will be your trip's highlight. High mountains in the surroundings and lush green land in the middle alongside Minapin Glacier offer the perfect spot to camp. Tourists look forward to camping here and completing the Rakaposhi base camp trek. After spending quality time here and enjoying the alluring beauty of Rakaposhi, you can start trekking from the Rakaposhi base camp.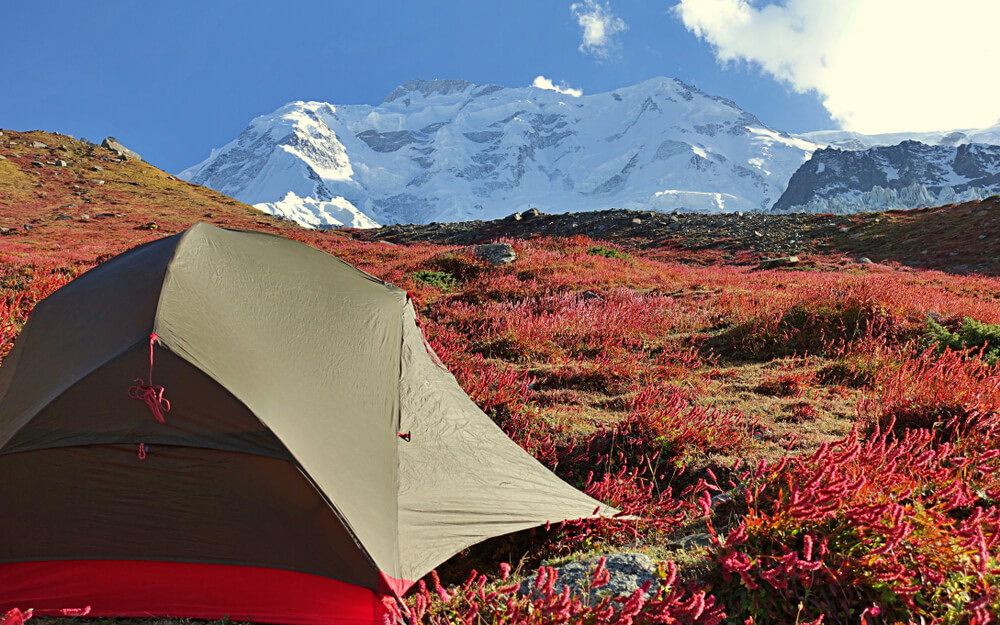 Moreover, there is Hakapun campsite in the middle of Minapin glacier and Rakaposhi base; there is no perfect camping place than Hakapun here. Therefore, at least one night's stay here is a must.
Photography
What can be better than Rakaposhi Peak for photography? It has the most beautiful spots one can imagine. From high mirror-like snow-covered mountains that peak from the clouds to lush green meadows, ice blue clear and fresh water flowing from glaciers, endangered animals, small villages, perfect eatery places, sunset views, and the list goes on.
You can capture much on camera and cherish memories throughout your life. This place will give you some of the best clicks of your life because that's how beautiful Rakaposhi is. Do not forget to stand on the ridge and capture one of the most beautiful glaciers, the Minapin Glacier.
Climbing
It would be best if you had good health and an adventurous attitude to enjoy climbing here. It will take a long time, but the right decisions, timing, and stopping at the right places can make this adventure worthwhile.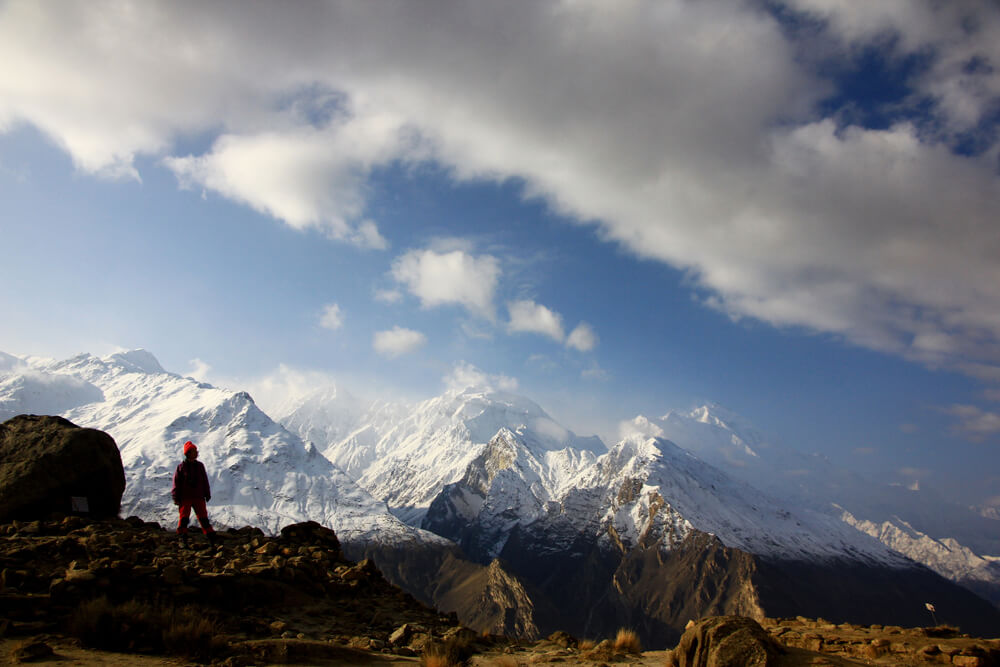 Climbing from June to September is recommended as these are summer months, and the weather is not extremely cold. Moreover, going from the east side is comparatively better as that is the shortest route. Anyways be ready to witness the best and worth it sites on your journey.
Site-Seeing
There are so many sites that a tourist must visit, including Diran, Rakaposhi View Point, Minapin Glacier, Normal Valley, and many more. Moreover, there are some fantastic cultural heritage sites in the Rakaposhi viewpoint that you must explore and enjoy.
The site of glacier water joining the Gilgit River is worth everything because the view of this fantastic scene will always stay in your memory.
Facilities at Rakaposhi
Rakaposhi has developed due to the attraction of tourists; there are several hotels, restaurants, small tuck shops, and handicraft shops. You can book any hotel and enjoy exceptional customer service at an affordable price.
Hotels & Resorts
One of the famous resorts is the Rakaposhi Resort. The best thing about this resort is that Rakaposhi View Point is closest to here. Therefore, it has beautiful views from the balcony and spacious rooms with outstanding room services.
Small but perfect and cozy describes Hunza Rakaposhi View Hotel the best. It is located on Karakoram Highway, between Gilgit and Hunza. Tourists can get an amazingly alluring view of the Rakaposhi Mountains from here. It is one of the best and most recommended stops for tea and breaks. There are tidy washrooms with clean running water and amiable staff. You can enjoy food with a scenic view here, and the most attractive thing about this hotel is that it has a river next to it, thus making this place even more beautiful.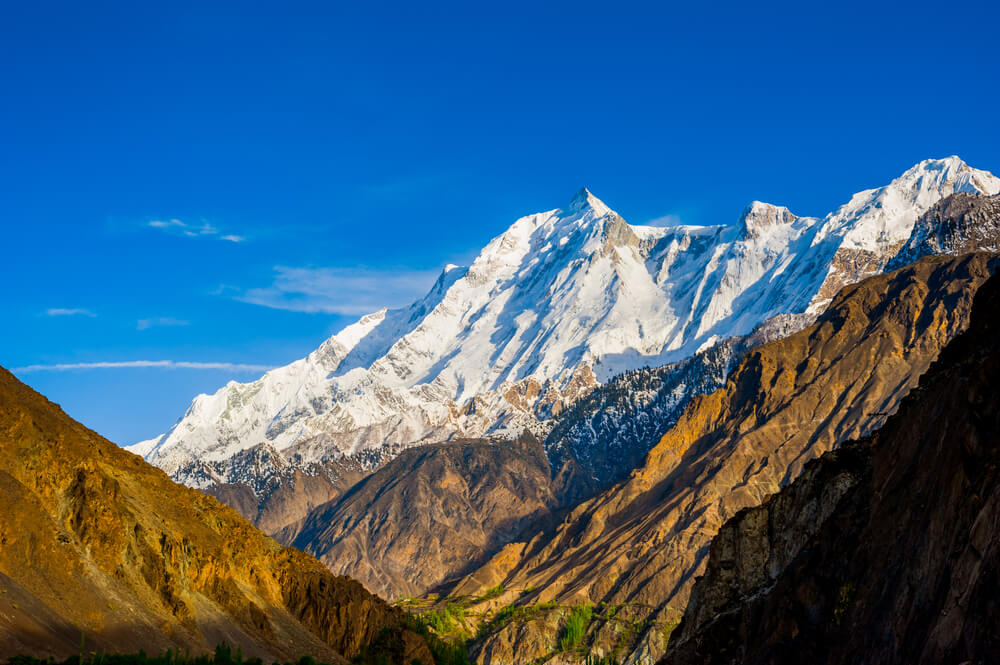 How about taking your pets along while you travel? Not to worry, Rakaposhi Camping Site Aliabad Hunza, Located in Hunza in the Gilgit-Baltistan region, offers free pet accommodation and free parking. It has big and spacious rooms; you can enjoy outdoor dining, clean washrooms, the best room services, and amazingly lush green landscapes. This place is always a safe stay for tourists.
The next on the list is a mesmerizing view of the Serena Inn in the beautiful Hunza Valley. It is undoubtedly one of the most known and liked hotels in Hunza. From all directions, this hotel is surrounded by majestic Karakoram Mountains, and one can witness the splendid views of lush green lands, Rakaposhi elevated peak, the clear flowing water of Hunza River, and some alluring apricot orchards. This place gives the visitors much-needed peace and calmness from their chaotic and busy life.
Next is the Eagle's Nest Hotel, a charming hotel from where you can witness the most talked about sunset and sunrise of Rakaposhi. Then there is the Osho Thang Hotel in Minapin. It has an amazing scenic view and an excellent place with delicious food. Moreover, there is an electricity and water facility available 24/7. So you will have the best quality time here with great views and tasty food.
There are several guest houses in Pissan and Minapin with restaurants. So you can easily have tasty lunch and dinner from these places.
Hence, you do not need to worry about hotels because you will have a list of hotels with different budgets.
Restaurants
There are some quality restaurants where you can enjoy mouth-watering food, for instance, Magpie Nest and CFC Restaurant, and a visit to Karimabad market for the most famous and delicious food of Hunza is a must. Moreover, there are a lot of local food places which provide quality and popular food in Rakaposhi.
Handicraft Shops
Your trip to Rakaposhi is incomplete without shopping. Lucky for you, Rakaposhi has some quality handicraft and jewelry shops for you to explore. You can buy art and craft from here, handmade things, and antique jewelry. You can also purchase beautiful carpets, caps, and handmade shawls for your friends and family.
How much is the Distance to Reach Rakaposhi from Hunza?
The distance from Hunza to Rakaposhi is 24.0 kilometers. It is long but the most adventurous journey you will ever have.
Location of Rakaposhi Hunza:
Rakaposhi 7788-M is the twelfth-highest peak of Pakistan in the Karakoram Mountain range. It is near Gilgit city and is located in Nagar Valley.
FAQs
What is Rakaposhi famous for?
Rakaposhi is proudly the unique mountain on the Earth, with an elevation of more than 5,000 meters between its base and summit. Conversely, all the other gigantic mountains worldwide are lower than 5000 meters from the bottom to the peak.
It rises from rich plowed land to an elevation of 25,550 feet. That's why you can view the mountain from different places. It is believed that this mountain is known for its height and the natural beauty that it holds.
How tall is Rakaposhi?
Rakaposhi is the 27th gigantic peak in the world and the twelfth tallest in Pakistan, with an elevation of 7,788 meters.
Is Rakaposhi the most beautiful mountain in the world?
Rakaposhi is known to be the third most alluring and beautiful mountain in the world. , But it is to be noted that it is not famous for its ranking, but is known for its immense beauty.
How many people climbed Rakaposhi?
It is a rugged peak to climb. The first victorious expedition happened in 1958 by a British-Pakistani. After him, some other people also tried climbing it and succeeded. Until now, eight people climbed this elevated peak from distinct directions, which is excellent.
Conclusion
Rakaposhi Hunza is one of the most famous mountains on the Earth, with a great ranking. Also known for its immense beauty, this mountain has so much you can explore. Snow-covered elevated peaks that seem like a mirror, green land, beautiful glaciers, streams, rivers, shops, and restaurants make this place an attraction for tourists. This 27th most lofty mountain in the world is a must-see place to visit.