Karimabad
Karimabad is no less than a piece of heaven on earth; it is the capital city of Hunza Valley, elevated at 2,435 meters from sea level. It is indeed one of the best places for visitors to take a break from the chaotic routine to experience the scenic hikes of Rakaposhi. This place has several fantastic tourist points for you to explore and cherish, such as; landscapes, cafes, restaurants, Karimabad Bazar, and many others. You will have a great time in Karimabad Hunza.
Karimabad Hunza, Attractions and Location
This article will cover all the information about Karimabad, for instance, things to do, attractions, timings, weather, location, etc.
So let's dive right in!
History of Karimabad
Karimabad Hunza was formerly called Baltit and was controlled by the Mir of Hunza, a monarch. The Baltit Fort at that time was known as Mir's palace. Also, this location was called the caravan resting stop, which was used for slave trading.
Until the mid-20th century, Baltit was known as Hunza Valley's capital for approximately 750 years. Fortunately, after the independence of Pakistan in 1947, the Mir of Hunza joined Pakistan voluntarily. Initially, the capital had been moved from Baltit to a little lower area. More buildings and infrastructure were constructed here, and it was then the new capital of Hunza, Karimabad.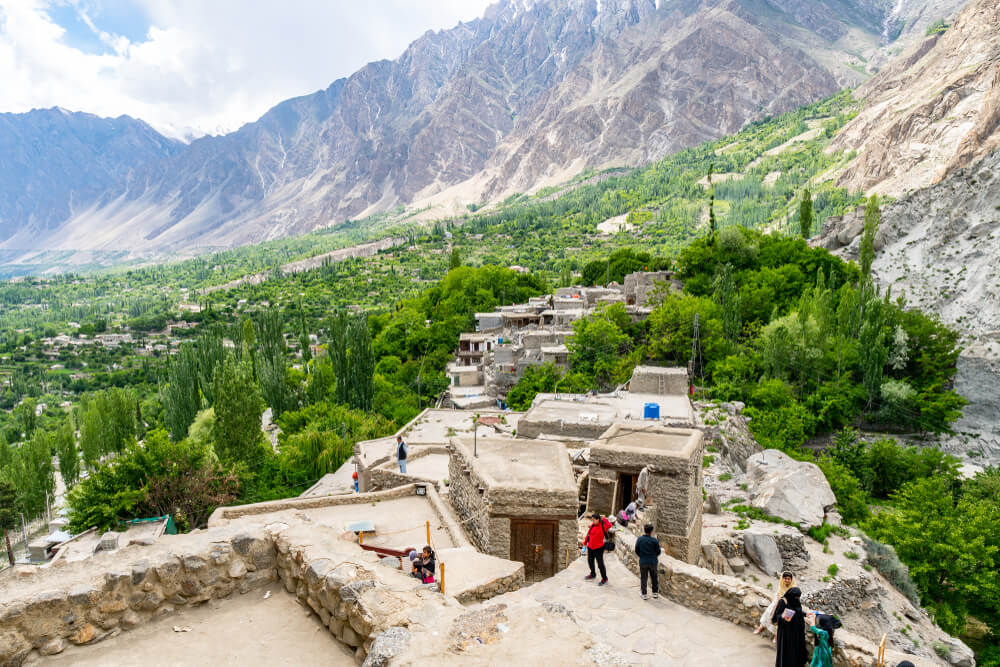 This new down hilly and developed area was a new tourist attraction; it had a lot of attractive places such as shopping malls selling handicrafts, jewels, restaurants, lush green landscapes, and many more. Proudly, Baltit and Karimabad village got the world Tourism award in 2000, where different countries such as Australia, Idia, Indonesia, Britain, and many other beautiful countries competed.
Karimabad Weather
The average temperature and weather in Karimabad Hunza change radically throughout the year. There are fewer snow and rain chances, but the temperature is cold and chilly with zero humidity.
When is the Best Time to Visit Karimabad?
Visiting Karimabad, Pakistan, any time of the year is no less than a treat; however, it is recommended to go from April to October. Moreover, from June till October this place gets very crowded so if you do not like crowds, avoid going in these months. Since mid-summer is vacation time, Hunza Valley can get a lot more crowded, and you will find a significant number of locals and Chinese people enjoying the magnificent Karimabad Hunza in a warm temperature.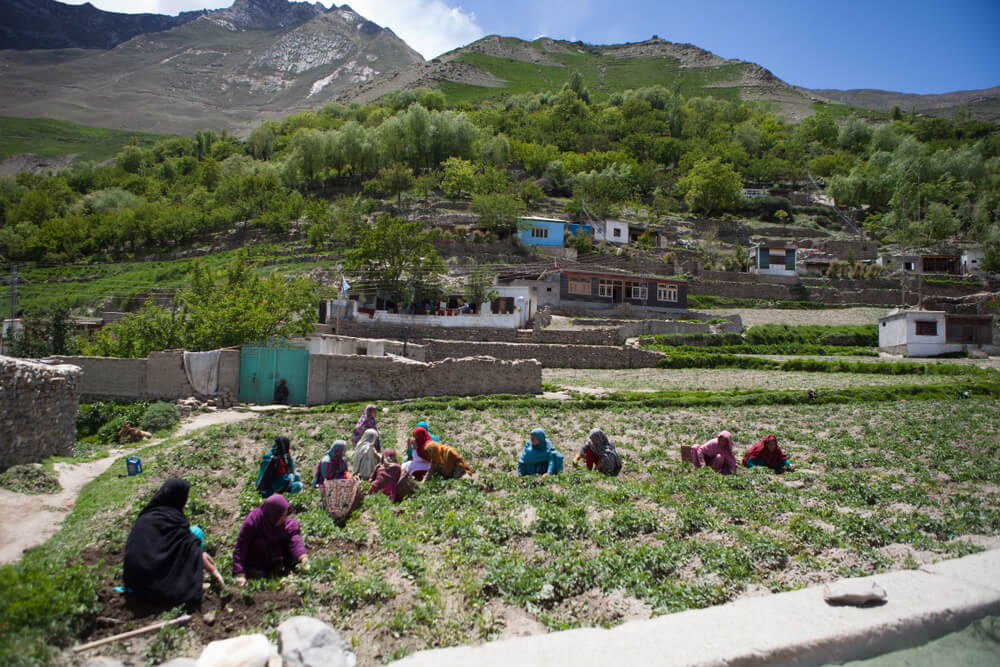 Recommended Gears
The things that you should always carry with you while traveling to Karimabad Hunza and exploring it are the following:
– Umbrella
– Warm Clothes
– Water Bottle
– Snacks and Drinks
What are the Main Attractions At Karimabad?
You will need quite a few days to explore all the main attractions in Karimabad. There must-visit places at Karimabad are Baltit Fort, Altit Fort, Karimabad Bazaar, Eagle Nest View Point, and the Ganish village.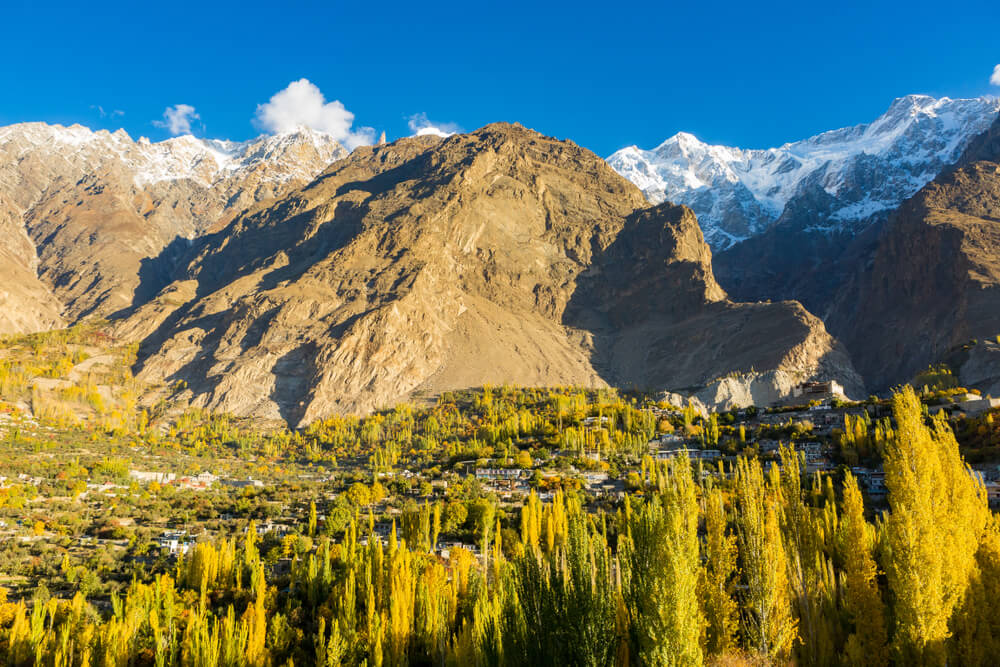 Karimabad Bazaar
Do not miss this fabulous Karimabad Bazaar on your visit to Karimabad Hunza. It is a small bazaar but lively and attractive. You will find gems, antique pieces, charming carpet shops, handmade local things, cafes, and small workshops. This road leads to the Baltit stop, but once you enter the bazaar, you will spend hours looking at different things and exploring every shop. Many people visit this place, so it is the best opportunity for you to meet and get to know the locals.
The most exciting and eye-catching thing about this bazaar is the local women self-stitching local caps and silver jewelry and designing outfits with gems and stones. It is recommended to dress up nicely before visiting to wear these caps and jewelry and click some pictures even if you do not want to buy them.
Altit Fort
Altit Fort is located at the bottom of the valley and is not as maintained and developed as other places, but it is still worth a visit. To reach Altit Fort, you can go straight on the Sultan road, across the river, and then down the Ahmedabad road. Finally, you will see this alluring fort. The fort's exterior is mesmerizing, and to die for, visit this place to witness such a unique exterior.
Baltit Fort
Would you want to visit a fairy-tale-like fort in your life? Baltit Fort is your go-to place; it was made in the 8th Century CE on the peak of a hill, thus making it even more attractive. You will find it the most significant place in Hunza Valley. The sublime location of this fort will take you in awe at first sight. Snow-covered mountains surround the fort, thus making it a perfect place to take pictures, so do not forget your camera.
To get to this magnificent fort, be ready to climb a steep road for 15 minutes; you will pass through a small yet attractive village before reaching this dream-like place. The most exciting part is that it will give you an uninterrupted view of Karimabad and its valleys. If you plan to visit on a clear day, you will be fortunate enough to witness Rakaposhi and Diran's elevated peaks. On your visit, do not forget to explore the village and walk around to spend quality time.
Eagle Nest View Point
You will not find a better place to view sunset and sunrise than Eagle Nest View Point. While standing at this point, it is hard to express the spectacular view of the valley in words. Interestingly, no matter what time you go up there, you will find this panoramic point looking scenic every time.
Eagle Nest View Point is located 15 minutes drive from Karimabad city on the peak of a hill in Duikar. It is the best place to relax and view the best spots in Hunza. It is recommended to go on a jeep since the road is steep and you will need experienced drivers to get up there.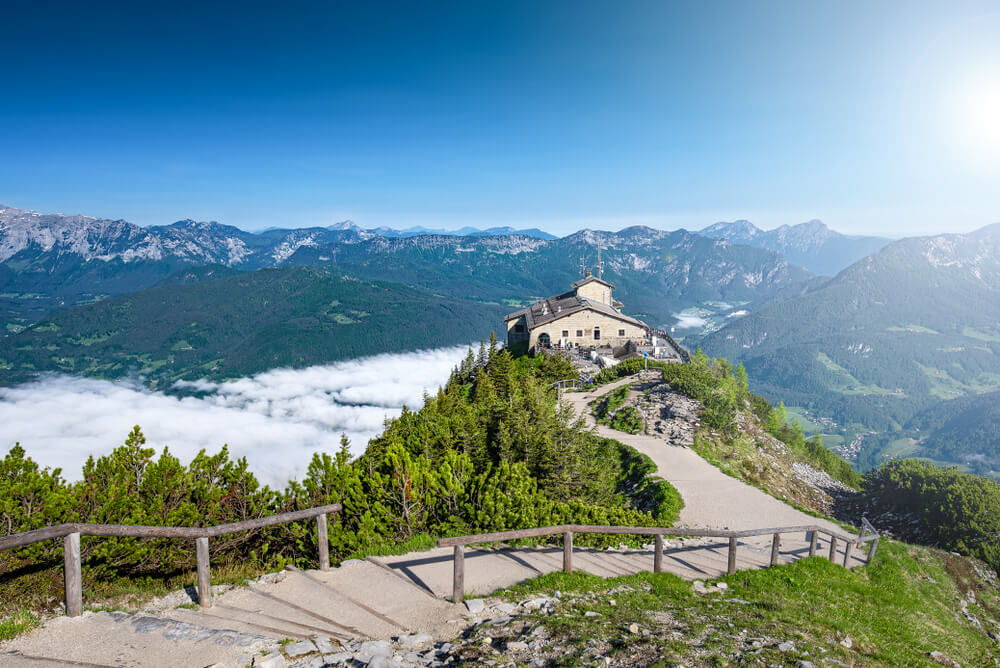 Moreover, there are two options: you can opt for the beautiful camping sites or the charming Eagle Nest hotel, which is indeed one of the best hotels in Hunza Valley, Pakistan. If you go there, do not miss to view the first ray of sunlight touching the peaks and radiating some fantastic colors. It is undoubtedly a magical and spectacular view that will remain in your mind. In addition, take good pictures of Rakaposhi peak, Ultar peak, Lady Finger peak, and other peaks and the Hunza river below.
This breathtakingly gorgeous place is worth a visit.
Ganish Village
If you are fond of historical things, Ganish Village is your place. It is a fantastic place to explore since it is the first place people settled in Hunza some thousands of years ago. People from different places came and settled here. When this place became populated, they enlarged their area around Hunza Valley. Visit the years-old mosques, one of which is 400 years old that is a must place to explore, and the Shikari watchtower.
How to Reach Karimabad?
To reach Karimabad, you will have to fly to Gilgit from Islamabad, Lahore, or Karachi since there is no direct transport. The second option is to take more than 20 hours by bus from these main cities. If you go for the first option, look for the cheapest and best deals, such as Expedia or Sky scanner.
From Gilgit, it is easy to reach Karimabad, you can go via a van from the bus stop, and it will take around 3 to 4 hours to reach your destination.
If you are near Karakoram Highway, for instance, Minapin, it is recommended to take a lift directly to Karimabad. You will find amiable people who willingly help and guide you through Karimabad, so do not worry about that.
Things to do at Karimabad
The spectacular Karimabad Hunza offers visitors various exciting activities and attractions to enjoy and spend quality time. From hiking and camping in the surrounding mountains and valleys to visiting the ancient Baltit fort that overlooks the village, there is plenty to keep visitors busy while in Karimabad Hunza valley. There is so much to explore and do at Karimabad. You can go hiking, fishing, sightseeing, photograph beautiful sites, visit Karimabad Bazar and shop, listen to the local music, and enjoy people dancing.
Hiking
Want to go hiking? Karimabad Hunza is the best place to go trekking to the stately glacier. Ultar Sar looks spectacular at the height of 7,388m, the view is breathtaking, and there are various options for camping and hiking. The trek is challenging, so you have to be physically fit and strong to go for it. You can also view the mesmerizing Lady Finger Peak at 6000 m. Therefore, you need to be perfectly ready, as the journey can be arduous but worth it.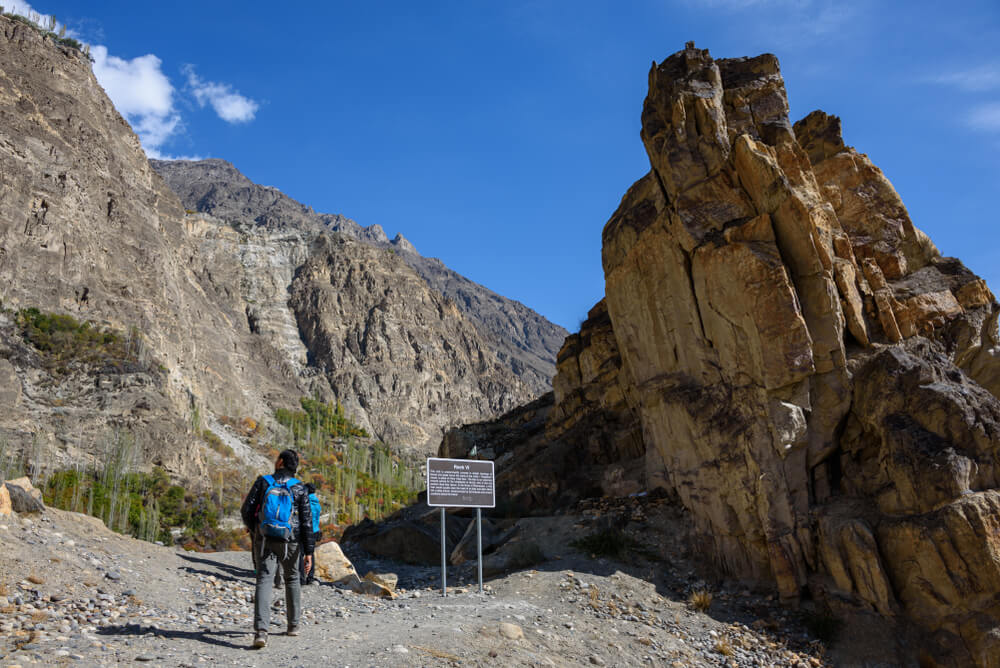 Fishing
Fishing is the most fun activity in Karimabad; trout fishing is widespread in Karimabad.
Site-Seeing
It has many popular attractions, including Hunza Valley, Altit Fort, and Eagles Nest, making it well worth a visit.
Photography
There is no better place for photography than Karimabad, Pakistan. You can take pictures from the hills, the sunset and sunrise from Eagle Nest View Point, the handicrafts, and some hundred years old mosques are worth capturing.
Facilities at Karimabad
There are a lot of facilities at Karimabad, from hotels, restaurants, local food stalls, bazaars, resorts, and camping sites to everything you will need on your trip.
Hotels and Resorts
One of the best hotels in Karimabad is the Baltit Heritage Inn; you will get free internet access, exceptional room services, and a fantastic view. The second best is the Diran Peak View hotel. There are various attractions surrounding it; the most elegant and scenic one is Satrangi Lake.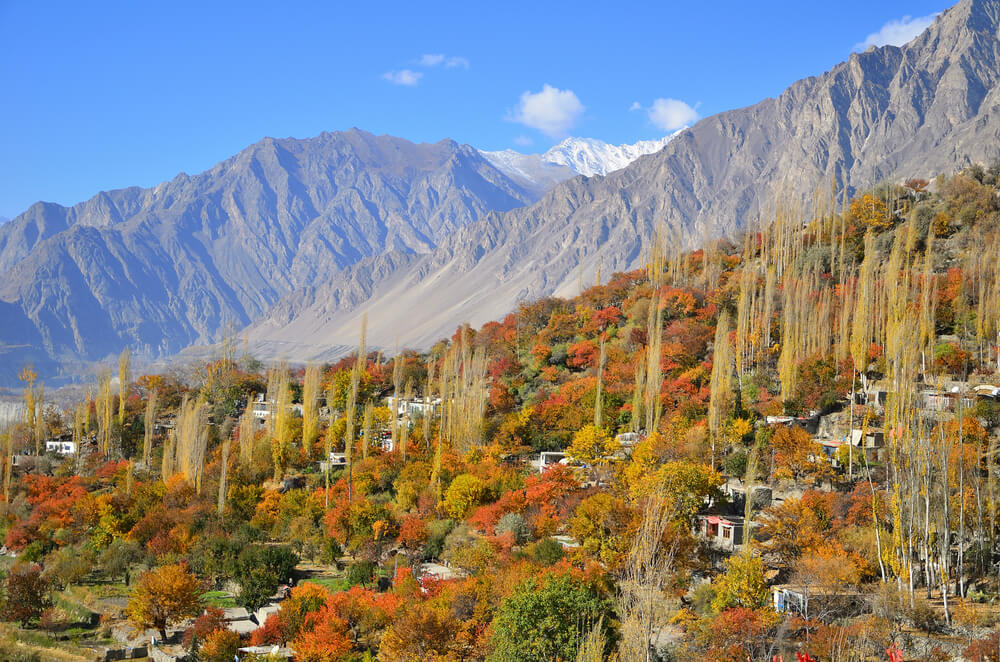 Hotel Mountain Villa Hunza is another perfect place if you visit Karimabad. Some spectacular places are far from this hotel, such as Baltit Fort, Altit Fort, and Satrangi Lake. One of the fantastic accommodations is Spire Resort Hunza; it is the best place you would want to explore the entire city.
Then there is Lady Finger Guest House and Lodge, located near many attractions. It has some cozy, comfortable, and spacious rooms with brilliant room services. There is also a Hunza Lounge with outstanding facilities such as a garden, wifi, clean washrooms, and fantastic food. Hence, on your visit to Karimabad, you do not need to worry about your accommodation because you will find someamazingc places.
Restaurants
There are some brilliant restaurants and cafes in Karimabad where you can enjoy the tastiest food. Café D Hunza is quite famous; the best part is that it has the most reliable internet. You'll fall in love with its delicious walnut cake. For traditional food, you can visit Hidden Paradise Hunza. Pizza Pamir is the place for all pizza lovers. Next is Osho Maraka; the view from this restaurant is breathtakingly attractive.
Market
There are some local markets where you can buy traditional and handmade things. Moreover, there is one famous bazaar from where you can buy pretty much everything.
How much is the Distance to Reach Karimabad from Hunza?
Distance from Hunza to Karimabad is not far; it will take 8-10 minutes because the driving distance is only 7 kilometers from Hunza to Karimabad.
Location of Karimabad Hunza:
Karimabad Hunza is the capital of Hunza Valley, in the northern part of Gilgit-Baltistan, a mountainous valley.
FAQS
Is Karimabad a city?
Yes, Karimabad is the capital city of Hunza Valley.
Does the Internet work in Karimabad?
eSIM works fine in Karimabad Hunza, but you cannot wholly rely on it since the connection might not be so strong. Therefore, the only reliable internet is in Café De Hunza, order a cup of coffee and enjoy free internet.
Conclusion
Karimabad, Pakistan, is the capital of Hunza Valley and, undoubtedly, a must-visit place. There are various attractions discussed above you will love to explore. Also, hiking, fishing, camping, and photography are some activities that won't get you bored. So, without a second thought, pack your bag to visit this heaven-like place.