Gulmit
Gulmit, also called Gul e Gulmit, is a beautiful, small-scale village located at a magnificent picturesque point in Upper Hunza, Gilgit Baltistan. It is a historical place featuring several alluring mountains, hotels, shops, and historical sites such as museums.
Gulmit is almost 8200 feet from sea level; here, you will find fields of several fruits such as apples, apricots, etc. There is no better place to relax and enjoy free time than Gulmit Hunza. This place will offer unique activities, such as walking in the fields and into high peaks; therefore, be ready for a fun-filled trip.
History of Gulmit
When Hunza had the status of a state, Gulmit was known to be the summer capital. However, after the state's eradication, it turned into Tehsil's seat of government. It is believed that Qutlug Baig made the fort in Gulmit in the 16th century. He was known to be the first ruler to set up a rule in Gulmit Hunza.
Before Qutlug Baig, Hazur Jamshid (1550-1556) ruled Gulmit. After his death, one of his sons went to Gilgit, and the other left for Hunza. Meanwhile, Qutlug Baig, with the aid of locals, took control of Gulmit and the nearby villages.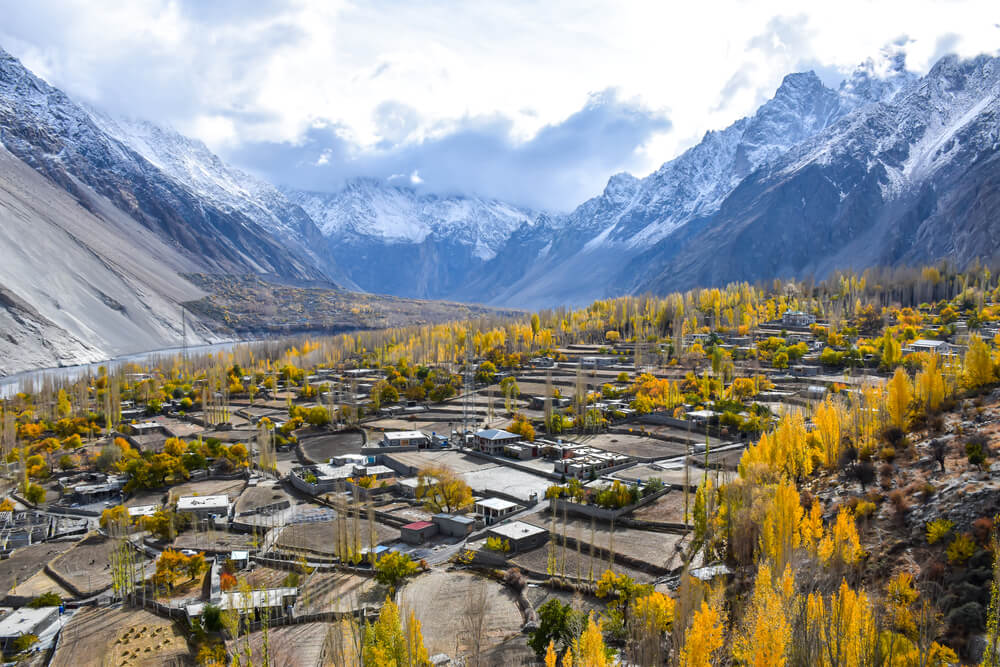 The historical, undamaged house in Gulmit is known to have been made around six centuries ago. The majority of the people living here have Central Asian ancestral backgrounds. They communicate in the Wakhi language and are from the Shia Imami Ismaili sect of Islam.
What is the Meaning of Gulmit?
The meaning of Gulmit is "the land of flowers" because you will find beautiful and colorful flowers here.
Weather of Gulmit
The weather here adds to its beauty. It has the image and emotion of a breezy desert climate. In summer, the temperature is relatively mild, ranging from 18 to 24 degrees centigrade. Conversely, it is freezing in winter, and the mountain peaks remain covered in snow.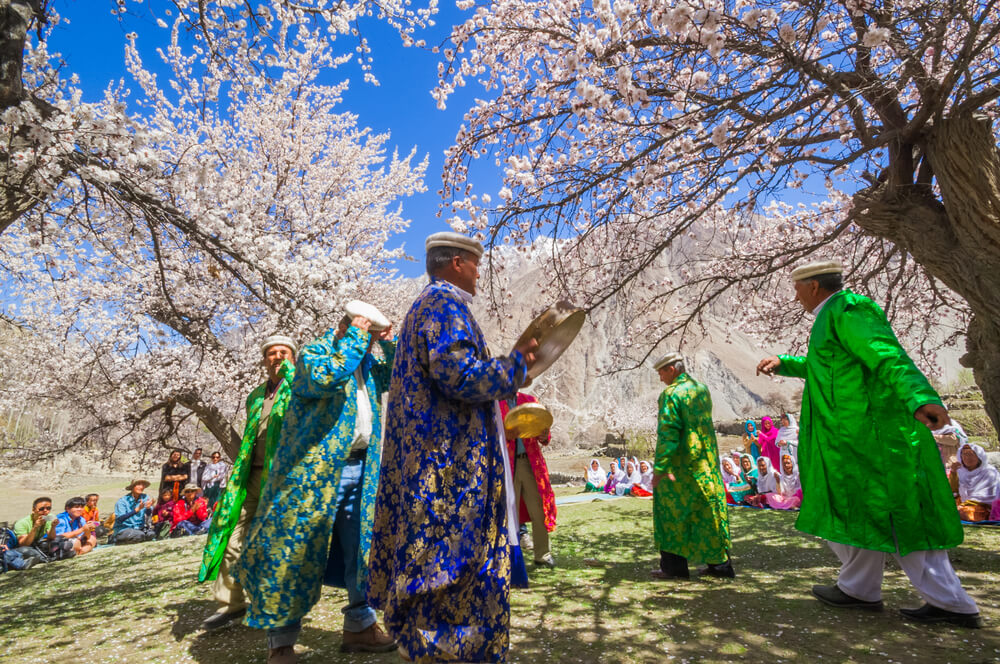 When is the Best Time to Visit Gulmit?
Visiting this fantastic place is a treat no matter what you plan to visit. However, it is best to go in the summer to enjoy the average temperature with some cold and fresh breeze.
What Are the Main Attractions At Gulmit?
The natural beauty of Gulmit Hunza will undoubtedly take you back by surprise, but you will be even more astounded to witness the historic buildings there. These buildings are the most exciting and dramatic places as they give the vibes of the old civilization of the city. Some of the most recommended attractions are below;
Gulmit Museum
If you love to explore historical things and old civilizations, Gulmit Cultural Museum is your must-see place. It is located next to a hotel named Marcopolo Inn, while the name is written in Urdu and English.
You will find and discover the kind of traditions and beliefs not previously known to you. Also, you will come across some unique historical artifacts, for instance, a tea kettle from the times of queen Nur Jahan. This kettle features copper construction with silver polish, thus giving it a very antique look.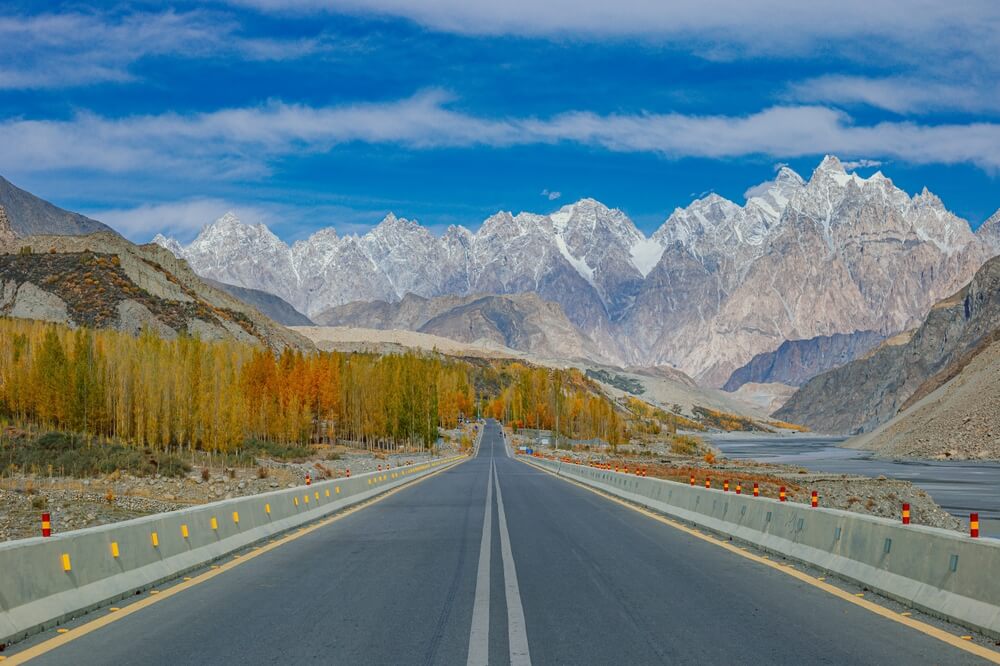 There is a five-gold-star matchlock gun; it is known that it injured a commander in the Battle of NIlt. Besides all the good points this place holds, the local authorities don't look after the way the other two Hunza museums are invested. With a little more investment, the Gulmit museum could be even better.
Ondra Fort
If you ask for one place to visit in Gulmit, it is for sure Ondra fort. It is situated on an approximately 25 min hike from Gulmit. This fort is a fantastic tourist attraction in Hunza. When you reach the top of Ondra Fort, you can have a 360-degree view of all the beautiful places, such as Attabad Lake, Shishper peak, Shishket Village, etc.
This place is no less than a miracle and natural wonder. The locals themselves built around 1600 stairs to this place to boost tourism. You will be amazed to see the scenic views on the way to this place, and then once you reach here, the view is breathtaking.
Gulmit Glacier
You will see the Gulmit glacier northwest of Gulmit village, which is evacuating its defrosting into the Hunza River in the east. Steep-high hills cover the Gulmit glacier and rocky peaks on another side. The ice of the glacier usually remains covered with black waste. Therefore, proper attention to this place can undoubtedly restore its natural beauty. Despite this, the beauty this glacier holds is to die for.
Passu Cones
Want to see the most enchanting and scenic place in Hunza? Passu Cones is your destination. It is situated 30 minutes drive from Attabad Lake. The pointy and saw-edged peaks of Passu Cones are breathtaking.
High mountains surround Passu while a beautiful crystal-clear river flows between them. This place will not let you get bored because you can do photography, go trekking, hike, and walk.
Gulmit Tower
It is a majestic granite tower covered by clouds at 5,800 meters. Multiple people have tried to climb it since 1988 but have had no success. Hence, you don't suggest climbing; instead, witness its magnificence. We bet the beauty of this tower is going to stay in your mind forever.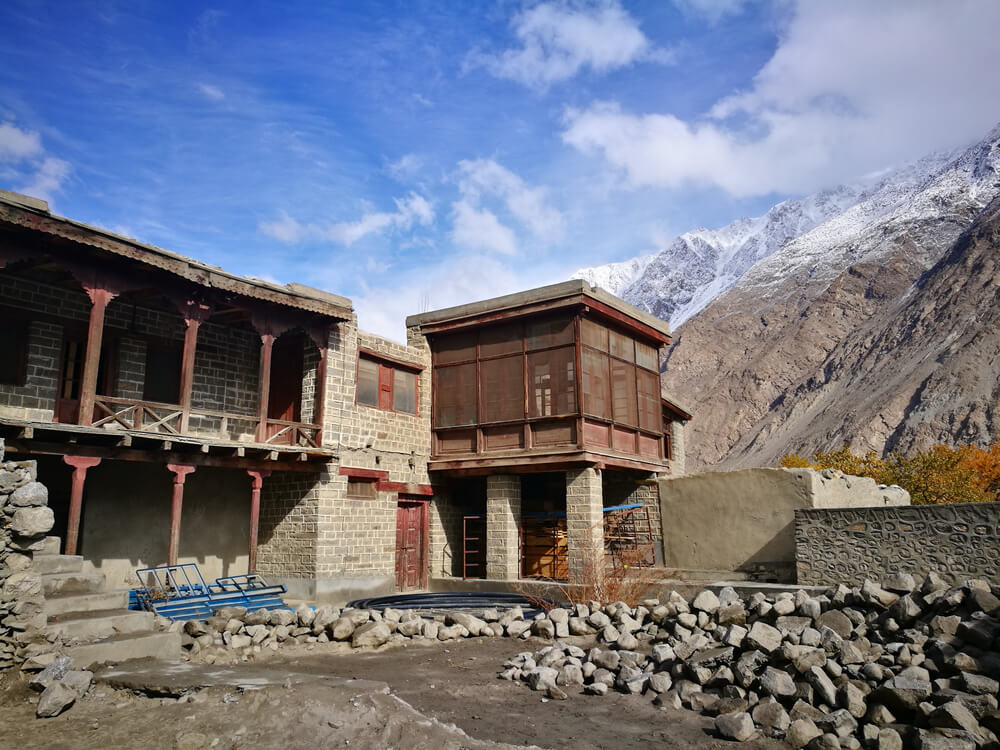 Variety of Fruit Orchards & Flowing Streams
Gulmit is also known for fruit orchards, such as orchids of apples, apricots, walnuts, peaches, and fields of wheat and maize. In spring, you will find these orchards in full bloom, and the fragrance of these fresh fruits gives a soothing impact. The flowing streams between the majestic mountains in Gulmit Hunza are the best to witness.
Magnificent Mountains
Some majestic mountains give different colors and are famous for their natural beauty. One such peak is the Passu Cone. Besides this, the entire Gulmit Village is surrounded by lordly mountains that give the place a scenic view.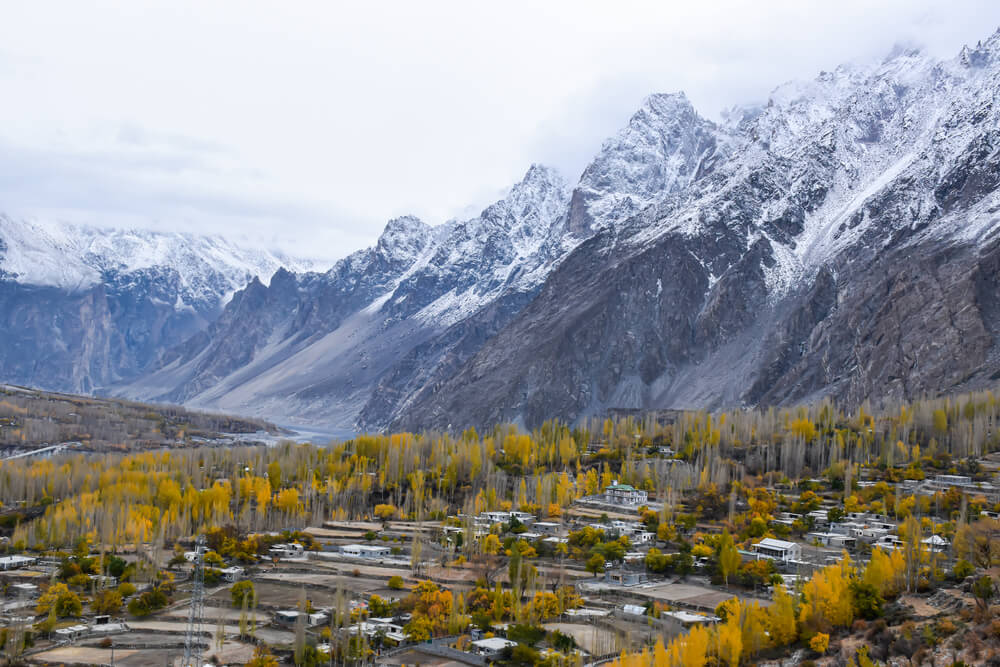 Tomb of Salim Khan
In the old part of the village, you will find Salim Khan's tomb, a great tourist attraction.
How to Reach Gulmit?
The cheapest way to go from Islamabad is to drive a car. However, it will take 8 hours and 22 minutes for you to reach as the road distance is around 605 kilometers. You can also fly to Gilgit and then, via taxi, go to there.
Facilities at Gulmit
In Gulmit, you will get many facilities to ensure your trip is enjoyable and comfortable. There are various restaurants, hotels, parking areas, WIFI facilities in hotels, and so on. The people here are also friendly and guide you regarding local food, attractions, and the shortest routes.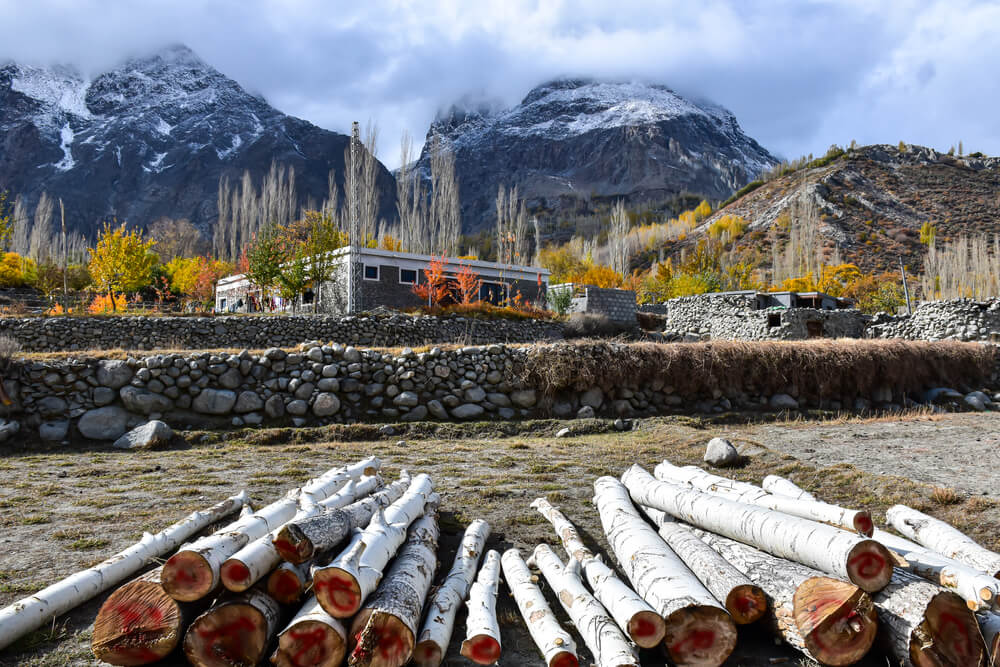 Hotels and Resorts
Some hotels and resorts will give you comfortable accommodations in Gulmit. For example, Gulmit Continental Hotel is beautiful, with the most comfortable bedrooms and international, local, and Pakistani Cuisine. Then there is Sarai Silk Route Hotel, surrounded by gigantic mountains. Also, the hotel provides the best customer service to the guests.
The third beautiful hotel is the Marcopolo Inn, located in Gulmit. It provides free parking, allows pets, and offer complimentary breakfast and high-speed internet services. Also, the rooms here have a fireplace, kitchenette, and perfect room services. The significant part is that the rates of this hotel are pretty reasonable. Finally, Passu tourist Inn Gulmit is also worth staying at.
Restaurants
If you are a food lover, you don't have to worry because there are many phenomenal restaurants to enjoy the delicious local cuisine. Some of the best restaurants are Gulmit Food Hut, a traditional restaurant, Lakhani restaurant, Gulmit Biryani House, Dad Ali Garden View Restaurant, and Amin Biryani and Chowmein House. All of these places have unique tastes and ambiance.
How much is the Distance to Reach Gulmit from Hunza?
The total distance between Gulmit and Hunza is around 33 miles, 53 kilometers, and 800 meters.
Location of Gulmit Hunza:
It is located at a height of 8200 feet above sea level in Upper Hunza, Gilgit Baltistan.
FAQs
What is Gulmit Famous For?
Gulmit is famous for its mountains, hills, glaciers, historical places, and museums.
Are the Roads to Reach Gulmit Safe? 
All the roads to Gulmit are safe to drive, but it is better to go during day time for a comfortable and enjoyable trip. Also, you can enjoy the panoramic landscape during the daytime and take photographs.
Which is the famous restaurant in Gulmit?
Gulmit Continental Hotel Hunza is the best and most famous place to stay and dine. It is a complete package, and the local soup here is a must-try.
Conclusion
This epitome of natural beauty is a worth it place to visit. It has so much to explore and enjoy that the days you will spend here will pass in a blink of an eye. You will indeed love yourself for visiting Gul e Gulmit, so now is the time to pack your bags and make up your mind to tour this heaven-like place.