Beautiful Leepa Valley in Azad Kashmir
The Leepa Valley is an agriculturally viable region in the Hattian Bal District of Azad Jammu and Kashmir. The area, which includes several others, is divided into these sectors- Nokot, Kasirkot, Dao Khan, Leepa, and Chananian.
Weather at Leepa Valley
At the start of Autumn, Leepa Valley is bathed in rich reds and yellows while green leaves still cover much of the valley floor. This is an exquisite time for sightseeing, but it also means winter is fast approaching. Snow covers everything when it arrives, making Leepa Valley a prized place for those who visit during these months.
What language do people Speak in Leepa Valley?
The Leepa Valley is located in western Pakistan, on the other side of the mountain range that separates it from India. Officially, the people here speak Urdu. But if you ask them which language they prefer, most will tell you that it's Kashmiri, followed by Pahari-Potwari and Hindko. Gojri is also spoken by some members of this community, but only as a second language since it's not their native tongue.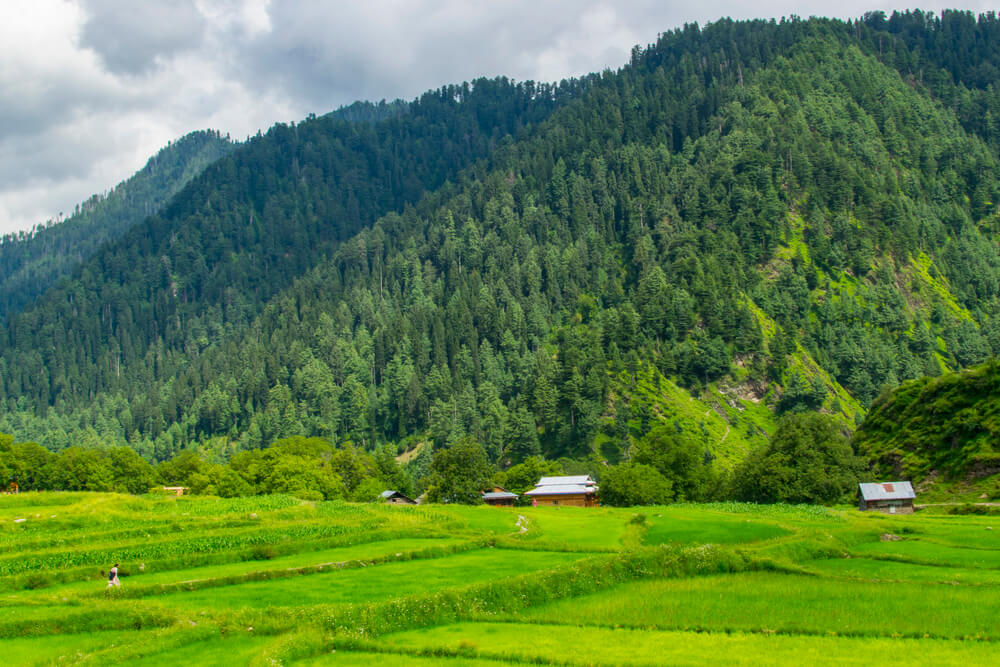 When is the Best Time to Visit Leepa Valley?
The best time to visit the Leepa Valley is during early autumn. When it starts getting cold and all the leaves turn colors, it's an unparalleled opportunity to explore this hidden treasure trove of a valley that cannot be seen anywhere else in Azad Kashmir.
Attractions at Leepa Valley Kashmir
If you're looking for an exciting vacation filled with beautiful landscapes, look no further than Leepa Valley, Kashmir! This area has several attractions, such as:
● Line of Control (LOC)
A border known as the Line of Control is visible everywhere if you look east or west. In the summertime, its fertile fields become filled with life, making for beautiful views.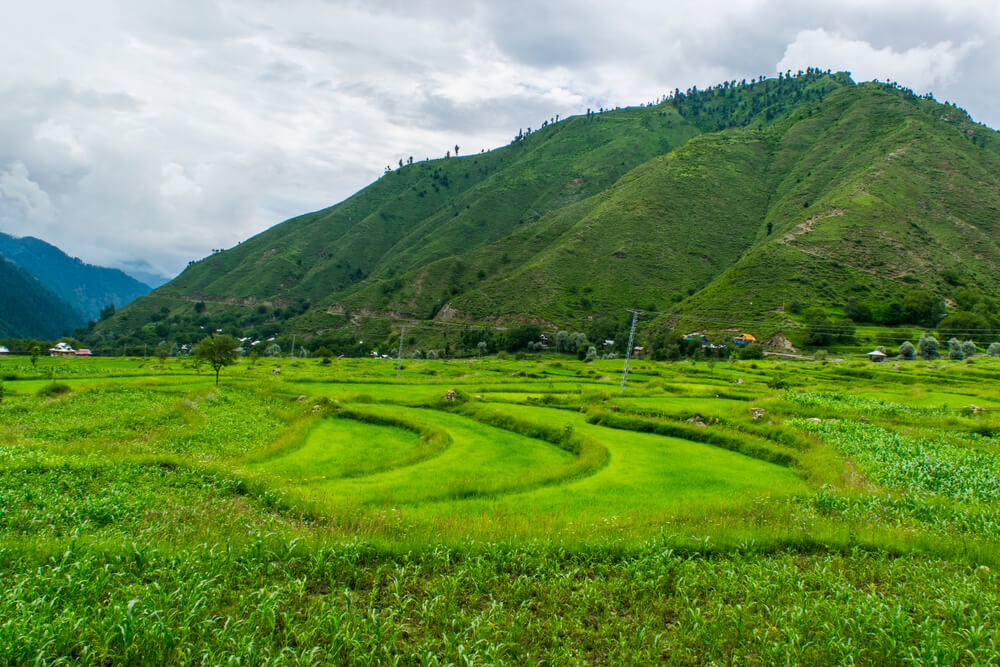 ● Lush Green Rice Fields
The lush green rice fields in Leepa Valley are in great demand. They are famous because they have been grown here for centuries, and their quality is unsurpassed by any other place.
The soil conditions are perfect for growing this crop, requiring little maintenance or input from the farmers. It also proliferates—in just six months—so there's a big payoff at the end of the season.
Undoubtedly, these fields will continue to be popular among people who love delicious white rice and want to eat healthily!
● Typical Wooden Kashmiri Houses
The cottages in Leepa Valley are three-storeyed wooden buildings rarely found anywhere else. These typical Kashmiri houses are made from oak and pine wood with large windows that allow plenty of natural light to come in during the day. In addition to their aesthetic appeal, these cottages are incredibly durable; they can easily withstand strong winds and heavy rainfall because of their strong foundation and thick walls made of wood.
These wooden houses protect from the elements and ensure privacy for their inhabitants; they have thick walls that block outside noise, so you can enjoy the peace inside your home even when activity is happening outside!
If you're looking for a place to vacation where you can get away from it all while still being close to nature, look no further than Leepa Valley, Pakistan; these beautiful cottages will make for the perfect getaway destination for your family!
● Outstanding Scenic Beauty
The scenic beauty of the Leepa Valley in Pakistan is outstanding. The mountainous region boasts lush greenery and crystal-clear lakes that make you feel like you're living in a fairytale.
The Leepa Valley is known for its beautiful waterfalls and breathtaking views, so it's no surprise that it attracts tourists worldwide. If you want to experience something extraordinary, head on to this part of the world – you won't regret it!
● Snowfall Throughout the Year
The region of Pakistan is well-known for its extreme weather conditions. The temperature drops below freezing point during the winter, and snow falls everywhere. The locals love this time of year because it allows them to play in the snow without traveling far from home. The winters are relatively mild compared to other parts of the world; however, if you don't dress appropriately, you could get sick, so wear proper clothes.
● Variety of Fruit Orchards
The Leepa Valley in Pakistan has a wide variety of fruit orchards. The more popular types include apples, pears, cherries, and peaches. The crisp sweetness of these fruits makes them ideal for eating as they are or using in recipes such as pies or pastries.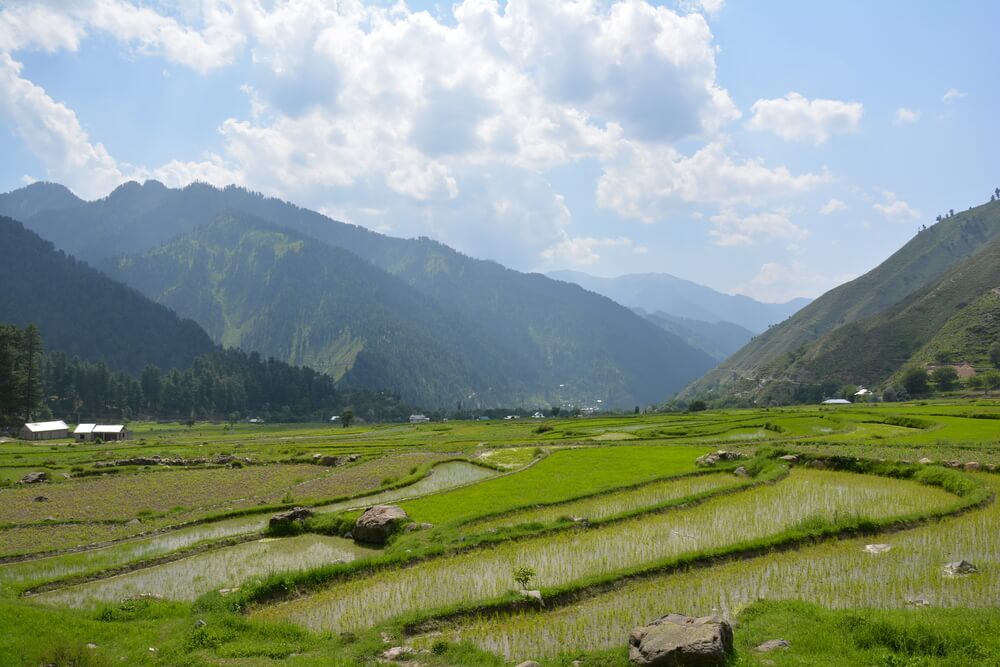 If you're looking for something sweet but don't want all the extra calories from processed foods like cookies or cakes, visiting one of these orchards would be the perfect way to spend an afternoon with your family!
● Beautiful Flowing Streams
The Leepa Valley is a breathtaking place located in the northern part of Pakistan. It's known for its beautiful, flowing streams and clear blue lakes. This area has been attracting tourists worldwide because of its stunning natural beauty. People come here to swim in the cool water or relax by the shoreline. Many hiking trails lead to breathtaking views of the surrounding landscape.
The Leepa Valley is perfect for anyone looking for peace away from the hustle and bustle of everyday life. It's also great for families who want to spend quality time outdoors!
● Jhelum River Passing Through the Valley
The meandering Jhelum River flows from East to West between the evergreen Mountains and meets up with the Neelum River before reaching Muzaffarabad City. A 59-kilometer-long metalled road runs alongside this river, connecting its major cities – such as Muzaffarabad, Domel, and Chokothi- all of which lie within the range of this line.
Facilities in Leepa Valley
Leepa Valley is a popular tourist destination in Azad Kashmir. The area boasts numerous hotels, resorts, and restaurants serving local cuisine and international favorites. Leepa Valley also has its marketplace where visitors can purchase souvenirs and other items to take home as reminders of their time here.
● Multiple Hotels & Resorts
There are multiple hotels and resorts in sleep valley, such as:
The Green Village Resort is priced at Rs 10,428 per night and has a beautiful view of the Neelum Valley. The Midway Lodges in the Neelum valley are priced at Rs 3,500 per night and have all of the comforts of home while also providing spectacular views of the valley itself. Finally, Dream Valley Resort is priced at Rs 3,080 per night and is right next to the Neelum river, so you can go swimming or fishing any time during your stay!
These resorts are beautiful places to visit in Pakistan because they provide great hospitality with a fantastic view for an affordable price. If you're looking for somewhere to spend your vacation, then make sure to check out one (or all) of these hotels and resorts because you won't be disappointed!
● Variety of Restaurants
The city of Leepa Valley has a wide variety of restaurants. Some popular places include Pakeeza Hotel & Refreshment Centre, Meer Refreshment Center, and Tikka House Nokot. Each one offers something different, so there's something for everyone!
Pakeeza Hotel & Refreshment Centre is the perfect place to enjoy delicious North Indian cuisine with your family or friends. They have everything from paneer tikka to vegetable samosas! Their prices are very reasonable, considering how delicious their food is!
Meer Refreshment Center specializes in Mediterranean foods such as shawarma and falafel sandwiches on pita bread. They also have a wide selection of hot and cold beverages such as juices and tea! This place is perfect if you're looking for something quick but still want something that tastes great.
Tikka House Nokot serves classic American dishes like burgers, fries, and even ice cream sundaes! Their portions are enormous, so it's enough to share with someone else or have leftovers later in the day! Plus, they're open until late at night, making them perfect after a long day at work or school!
These restaurants are all within walking distance of each other, so you can quickly check out all three of them during your visit to Leepa Valley!
● Market
The Markets in Leepa Valley is a great place to shop. There are many vendors selling everything from vegetables to clothes. One of the most popular places to shop is the Leepa primary market, which only opens on Fridays from 1:00 to 2:30 pm. It's an excellent place for locals and tourists because there's something for everyone. Whether you're looking for new socks or want some fish for dinner, this market has it all!
How do you feel about reaching Leepa Valley?
From Reshian, one enters the valley through three roads leading to Leepa. The curving Defence Road meets up with the valley via Hanjna and Barthwar Gali before reaching Bali Camp at its endpoint. Frequently traversed by locals and military personnel alike, jeeps are the only transportation available for residents in this region, while motorcycles are slowly becoming more prevalent. With over 400 jeeps traveling daily on the winding path between Reshian and Leepa, it's no wonder they're currently considered essential here!
Nearby Villages
Leepa Valley is a small place in Azad Kashmir. It has many neighboring villages, a few of them are:
● Reshian
Located approximately 68 km west of Muzaffarabad, the provincial capital of Pakistan-administered Kashmir, Reshian acts as both an entrance and exit point to the lush green Leepa Valley. It is positioned at 1674 meters (5427 ft) above sea level. We recommend renting a jeep from here to continue exploring this breathtaking region.
● Dao Khan
Dao Khan is worth visiting due to its serene and untouched atmosphere. Being about 75 KM away from Muzaffarabad, it offers an escape from the hustle-bustle of city life but at the cost of bumpy roads.
● Chananian
Chananian is located opposite Leepa Village, across the LOC, at 2226 meters. A trip to this remote location requires booking a jeep ride; it is approximately 60 kilometers away from Naily, and vast forests surround it.
How Much is the Distance to reach Leepa Valley From Muzaffarabad?
The distance from Leepa Valley to Muzaffarabad is about 93.3 kilometers (about 57 miles). It takes about 3 hours and 18 minutes to get there by car. If you plan on going there, leave early because it will take some time!
Location of Leepa Valley Azad Kashmir
The Leepa Valley is arable in the Hattian Bala District of Azad Jammu and Kashmir, Pakistan. It is located between 34.3136°N 73.8981°E and has approximately 80,000 people who mainly depend on agriculture for their livelihoods.
FAQs
Why is Leepa Valley famous?
Leepa Valley is a district in the state of Jammu and Kashmir. It is famous for its delicious white honey and fruits. In addition, it is also known for its typical Kashmiri-style architecture, mainly in the form of 3 storied wooden houses.
If you're looking for an unforgettable experience, Leepa Valley should be on your list!
Can tourists go to Leepa Valley?
The valley remains open for domestic tourists. This place offers fascinating scenery to tourists. If you want an adventure that will make you feel like you're living in another world, then this is where you should go.
Tourists from all over the world come here to experience something different than what they're used to back home. If you want an adventure that will make you feel like you're living in another world, then this is where you should go.
Are the Roads to Reach Leepa Valley Safe?
The roads to reach Leepa Valley are safe. They are some of the best streets in all of Pakistan. That's because these roads are well maintained by the Pakistani government and its army, who protect them from terrorist attacks or other threats to travelers' safety. So don't worry about traveling to this beautiful part of the world; pack your bags and go!
Conclusion
Leepa Valley is a beautiful place filled with lush greenery and flowing streams. It is where people can come together despite their differences and have a good time. People should visit the valley to see what peace looks like.