Parks in Dubai
There is no denying benefits green spaces and parks can provide for people who live in cities. Spending 10 percent of time near nature can decrease 4 percent premature mortality, and people growing up away from nature are more susceptible to developing mental disorders such as depression and anxiety. What makes parks in cities notable is easy access to open spaces, even in the most crowded metropolitans, and space suitable for families.
You might be surprised that Dubai has 23 public and 13 theme parks. Considering its small size, these numbers are pretty astonishing.
Whether you are looking for a pretty place to relax, want to entertain your kids outdoors on the weekend, or soak up some rays under the shade of a tree, there are plenty of options to enjoy these activities and more in parks in Dubai.
Parks in Dubai can be divided into family parks, accessible parks, and beach parks, each having something unique for visitors to enjoy. Recently, many new parks in Dubai have been inaugurated to cater to the residents' and visitors' growing recreational needs.
In this blog, we look at some of the best parks in Dubai that are worth visiting.
Family Parks
Recreational spots such as parks are widely dispersed in Dubai. Dubai has many family parks well suited to meet the requirements of families and kids who visit these parks. These parks are built with an emphasis on amenities and activities that benefit families significantly younger family members. The government has taken action to provide facilities in these family parks to ensure that visitors can easily indulge in physical activities such as sports, running, and cycling paths.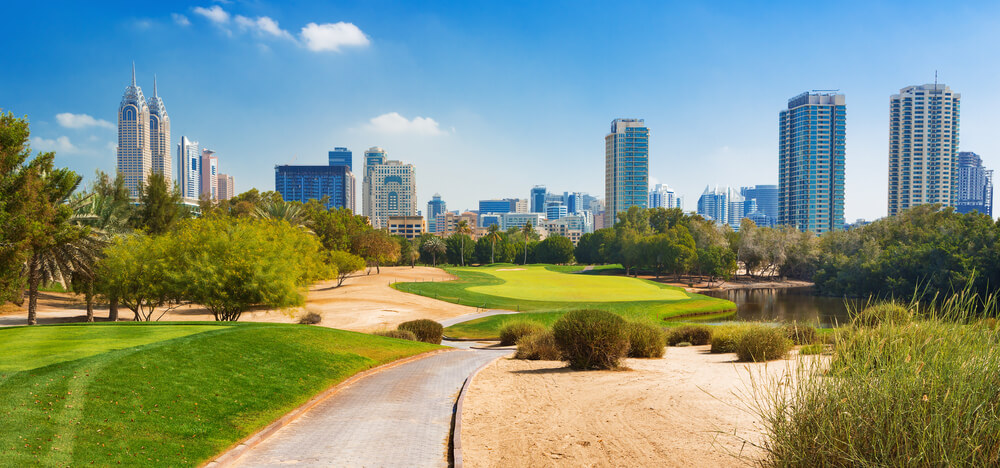 The family parks are the main attraction for the visitors and residents of Dubai during the hot summer months after the sunsets. When the temperatures cool in the evening and at night, these parks get crowded with runners, walkers, and families looking for recreational activities. These parks are the busiest in the cooler months, from October to April, when people enjoy weekend picnics and barbecues.
If your family loves to spend time outdoors, many beautiful options exist for enjoying nature and open space in Dubai. Family travelers who have experienced parks with their kids recommend these parks around the city. Here are some of the best family parks in Dubai.
Al Sufouh Park
The naughtiest members of families, the kids, are the hardest to please and control. Parks are the best choice to let them enjoy the weekend or spend quality time. Al Sufouh Park is a treat for kids to enjoy many easy rides such as swings, slides, seesaws, etc. It is also a perfect place to fly kites or soak in some sun rays during the winter. Kids can also play football games or run around and expend energy. There is a full-size basketball court for older kids and teenagers to play. Families looking for a nice shady picnic area can also find many spaces here, allowing them to enjoy a picnic while enjoying the majestic views of Burj khalifa.
This family Park in Dubai is free for all the residents, and it offers many facilities, including a restaurant and a coffee shop. From Sunday to Wednesday, it is open from 8:00 a.m. to 10:00 p.m. These days, only women with their kids are allowed to visit the park. From Thursday to Saturday, the times are 8:00 a.m. to 11 p.m., and men can accompany their families.
Town Square Park
Located on the Al Quadra road, the residents of Dubai love town square Park, but sadly it doesn't get the attention it deserves. This hangout for families has a spacious running field and many facilities. People can come here and dining options, from street food trucks and pop-up stalls to the Mediterranean-style Caya with its attractive terrace and delicious menu.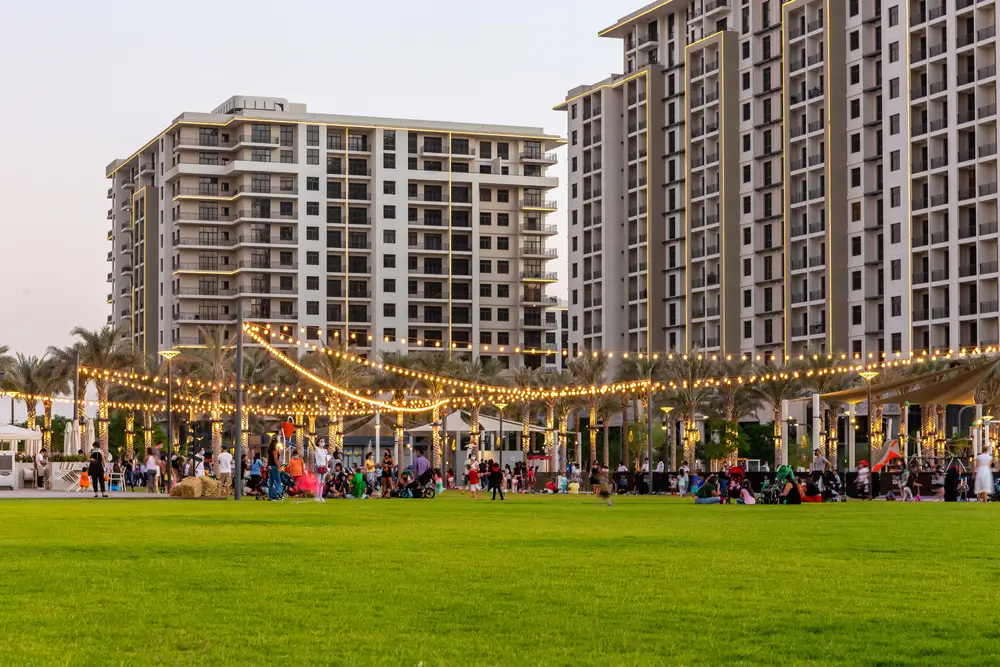 You can enjoy lots of exciting activities with your family and friends while entertaining the kids of your family in the Town Square Park Dubai. The park offers free entry, and it is open throughout the week from 10:00 a.m. to 9:00 p.m.
Safa Park
Safa Park is one of the most popular recreational spots for the residents of Dubai. This leafy sanctuary is in the middle of the city and offers the downtown Dubai skyline and Burj khalifa. It has different amenities and facilities to enjoy other sports activities, such as a jogging track, basketball, and tennis courts. The park also offers rental bikes so visitors can cycle the park's trails.
With so much to enjoy and explore in the park, we recommend you rent a bike and enjoy this beautiful park.
Safa Park is open from 8:00 a.m. to 10:00 p.m. from Sunday to Wednesday and from Thursday to Saturday, from 8:00 a.m. to 11:00 p.m. It is located on Sheikh Zayed Road, and you must pay 3 dirhams per person to buy a ticket.
Beach Parks
A park by the majestic coastline is all you need for you and your family to enjoy a peaceful time. If you aim to reconnect with nature and unplug at a bargain price, Beach Parks in Dubai will not be missed. These parks give you the beauty and serenity of nature and provide facilities and amenities for you to enjoy many recreational activities along the coast. Here are a few of the most renowned beach parks in Dubai.
Al Mamzar Beach Park
Can there be a good combination of recreation besides a park with a beachfront? Al Mamazar is a beautiful tourist hotspot for its scenic views and all-in-one package. Visitors enjoy the breathtakingly beautiful view of blue water along the beach, lush green spaces, and lawns. Many families come here to enjoy picnics and barbecues. Friends and families can enjoy water activities like boating which costs 5 dirhams for adults and 3 dirhams for children. Lifeguards are always present there to assist in case of an emergency.
People interested in keeping fit by jogging can use the jogging track that gives you beautiful views from all sides. Running in a gym has benefits, but the benefits multiply if you do any physical activities in a setup close to nature. Keeping the kid's needs in check in any setting is essential to enjoy a place entirely. Here at Al Mamzar Beach Park, there are many entertaining options for kids to get occupied and enjoy.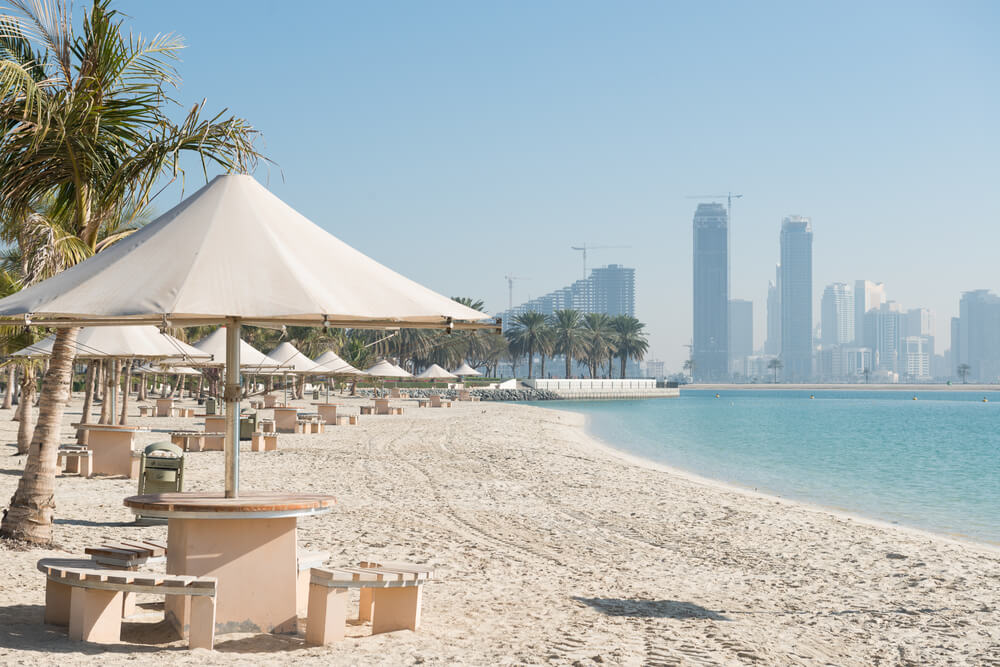 And if this is not enough, you can rent chalets along the beach within the park premises! After a long day at the beach, you can rent a chalet here and rest peacefully while soaking in the scenic surroundings' freshness.
Located at Al Mamzar Beach Park Road, this park is open from 8:00 a.m. to 10:00 p.m. from Sunday to Wednesday. From Thursday to Saturday, it is available from 8:00 a.m. to 11:00 p.m. Monday and Wednesday are reserved for only female visitors.
Jumeirah Beach Park
Sprawling Jumeriah beach park promises two things to its visitors; majestic views of the Burj al Arab and the infinite beauty of the beachfront. It is a recently redeveloped park in Dubai where beautifully managed lawns meet the beautiful sandy beach. The park also is a great place to gather your family and friends for a get-together in the form of a picnic or barbecue party.
It is an excellent decision to choose Jumeriah Beach Park because it is not short of space and has beautiful views. If your family and friends have toddlers and kids, there is no need to worry about keeping them engaged. The park has vast lawns where the kids can run around, play games and enjoy their time. The playgrounds are also a big catch for kids to spend some time playing. As a precaution, you can pack some toys and games for your kids, like Frisbee.
If you plan to bring along some food items, that is fine. But if cooking is not your thing, there are many dining options like cafés and food kiosks in the Jumeirah beach park where you can enjoy a diverse menu.
Enjoy unlimited fun at Jumeirah Beach Park located at Jumeirah 1, Jumeirah, and Dubai by paying 5 dirhams entrance fee. Jumeirah beach park remains open from 8:00 a.m. to 10:00 p.m. Ladies-only days are Mondays and Wednesdays.
Umm Suqeim Beach Park ( Burj Beach Park )
Umm, Suqeim Beach Park is located near the world-renowned Burj Al Arab Hotel, and it offers visitors magnificent views of the infinite sea and this spectacular hotel. This splendid beach of Umm Suqeim is also called sunset beach because hundreds of people flock here daily to witness the breathtakingly beautiful sunset in Dubai. This public beach is open 24 hours a day, and many facilities are provided here, such as a nearby park called Umm Suqeim beach park, changing cubicles, and showers.
The proximity of this park to the beach makes it worth visiting spots for the residents of Dubai as well as the visitors. You will be amazed to know that among the many facilities at Umm Suqeim beach park, you can access the beach library, where books can be borrowed for free as you watch the waves crashing on the shore. The park has a clean sandy beach where people can set up their mats and enjoy the view with friends and family. Several benches are placed along the coast and on the park lawns where people can sit comfortably. Children can run around playing in the sand or enjoy various rides in the playground within the park.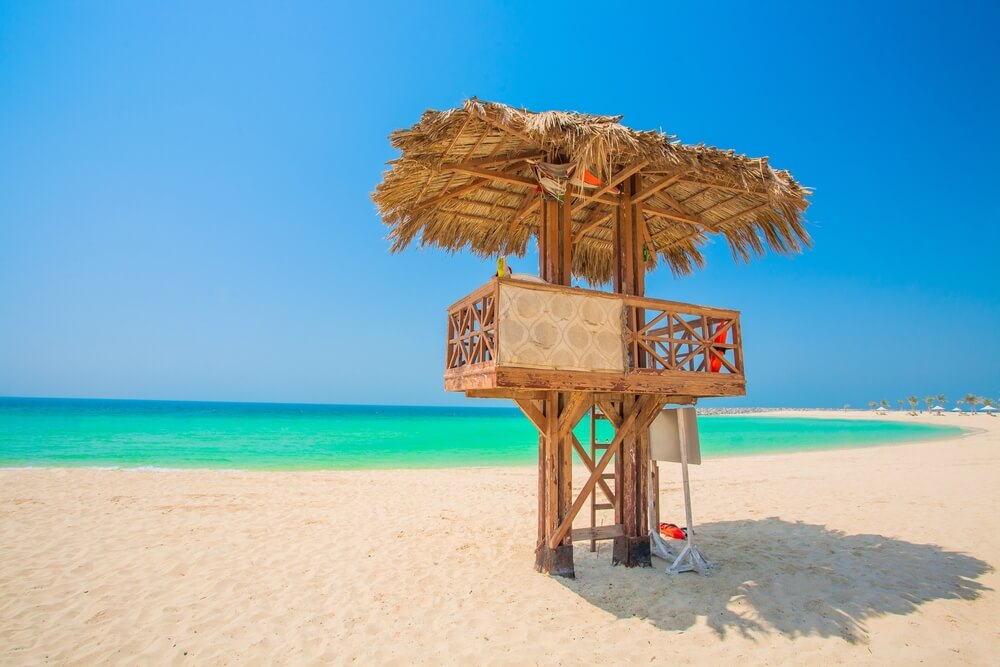 A beautifully constructed and maintained jogging path along the beach is the major attraction for many visitors to the park. There are many restaurants and small cafes where you can buy food, drinks, and other snacks. The restaurants also have clean and hygienic restrooms.
This small green heaven in the middle of the busiest metropolitan is open for children and ladies on weekdays, while men or only allowed if they are with their families on the weekends. This setup gives the women a perfect setting to enjoy themselves along the beach or get in shape on the jogging track.
Another striking feature of this Park is that the modern facilities at the beach allow you to swim at night. Due to light issues, Dubai authorities have banned visitors from swimming in the sea after sunset. However, at Umm Suqeim beach, you can swim in the dark because the light system lights up the ocean from the 12 m high light poles.
The entrance to the park is free, and you can get there by the city bus. The garden at East Street Jumeirah 3/ umm Suqeim is open from 8:00 a.m. to 10 p.m.
Barbecue Parks
It's known that traveling or visiting a place isn't complete without having delicious food. And there are not many people in the world who would don't like a barbecue in a serene environment or an along the beach, right? If you are visiting Dubai or living here and curious about any specific barbecue spot in the city, then let me tell you that you have plenty of options to enjoy making and eating a Barbeque in many of Dubai's beautifully managed parks. Here are some of the best prospects in Dubai to organize a barbecue in the garden with your family and friends on a sunny afternoon or evening.
Zabeel Park
Dubai is ornated with different parks, but Zabeel Park stands out. Spread over 52 hectares, the park was built in 2005 and offers many superb recreational facilities to youngsters and adults alike. One of the most popular attractions of this Park is the glow garden which is an iconic beauty attracting hundreds of visitors to the park. As the sun sets, the park's glow garden is flooded with different colors of lights, giving the feeling of an enchanted fairy tale setup. The glow garden and Dino Park entrance fees are 70 dirhams per person. You can enjoy breakfast on the top floor of Dubai Frame restaurant while enjoying the beautiful scenery.
Another attractive feature of Zabeel Park is the sky, which utilizes 3D augmented reality screens to show you the panoramic view of Dubai's significant past, present and future attractions.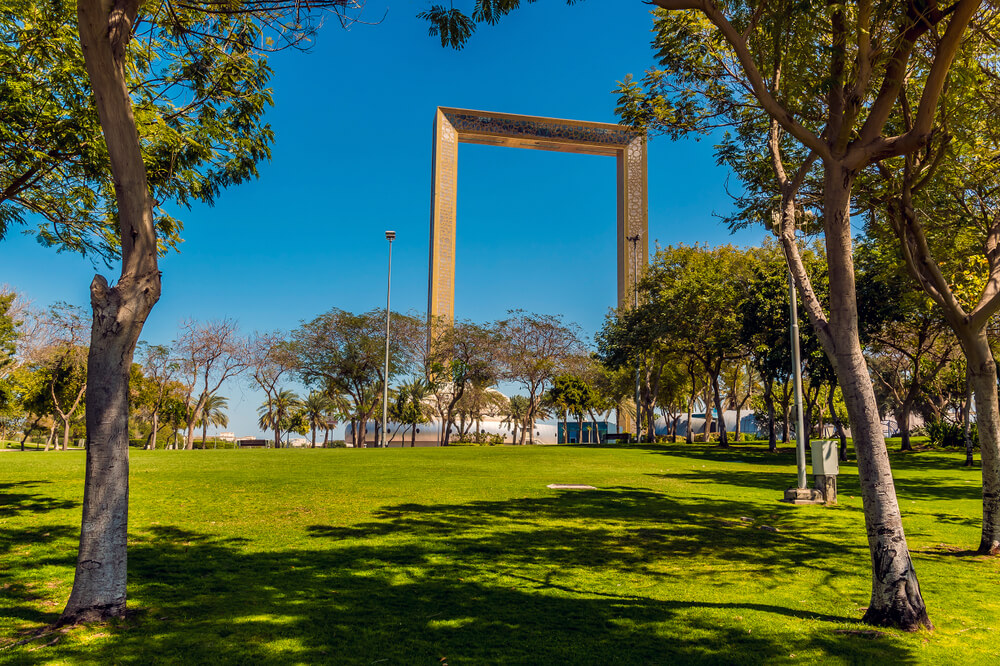 There are a lot of workways and playgrounds with lush green surroundings for you and your children to enjoy, run along, and play. The garden here has different rides and slides for the kids to enjoy.
Overall, Zabeel Park is a combination of innovation and traditional recreational activities that will leave you amazed. The park is open from 10:00 a.m. to 11 p.m. for an entrance fee of 5 dirhams.
Mushrif Park
Mushrif is another gem of a park located in Dubai. Public parks in Dubai are designed so that families with members of all age groups enjoy many activities.
People interested in the different accommodations worldwide would find the global village intriguing and exciting. This section of the park displays over 100 traditional houses worldwide. These houses from other countries show how a German or a Swedish house looks.
Adventure-loving people would love the Aventura section. It has additional airtime and adventurous challenges with other difficulties, such as thrillers, Rangers, and extreme circuits. If you do not indulge in these activities, you can always experience the least thrilling zip lines or swings in the air. It would be best to remember that this facility differs from Mushrif Park, so it has a separate ticket policy and other rules. Kids have to pay 149 dirhams, whereas adults are charged 189 dirhams. If you are only visiting the Aventura facility, it costs 10 dirhams.
There are many playgrounds and walking paths where you can jog or walk while your kids play in the garden.
Mushrif Park also has many public pools for adults and kids. You can swim all you want for a fee of 10 dirhams for adults and 5 for kids. You may also access the volleyball, football, basketball, and handball courts. Besides these attractions, many valuable facilities such as vast parking spaces, clean restrooms, mosques, train ride services, and theatres are also available. The park is open from 8:00 a.m. to 11 p.m. throughout the week, and the entrance fee is 3 dirhams per person.
The park's location at Al khawaneej road makes it ideal for Al Mizhar, al-Warqaa, and Mirdif residents.
Creek park
Visit the second largest Park in Dubai, located in the city's heart between the Garhoud and Maktoum bridges. Creek Park is perfect for family and friends for a picnic day out. You will be amazed that this Park, built in 1994, has a total land area of 96 sectors containing three helipads, botanical gardens, a children's play area, and whatnot.
One of the park's most prominent features is the lush green lawns and landscaped gardens that are stunningly beautiful for a leisurely walk. Apart from the unique beauty and serenity of the park, there are many things you can enjoy here, such as. You can visit the Dubai Dolphinarium, where seals and dolphins swim about and show different acrobats that amaze you. You can also swim in these water dwellings.
Children may have different time priorities than adults, so you can take them to the children's City where you are commissioned off educational and entertaining activities. They can enjoy the global technology exhibition, a science gallery, a nature center, and a planetarium. It is also located nearby, so the parents don't have to juggle the children at different places.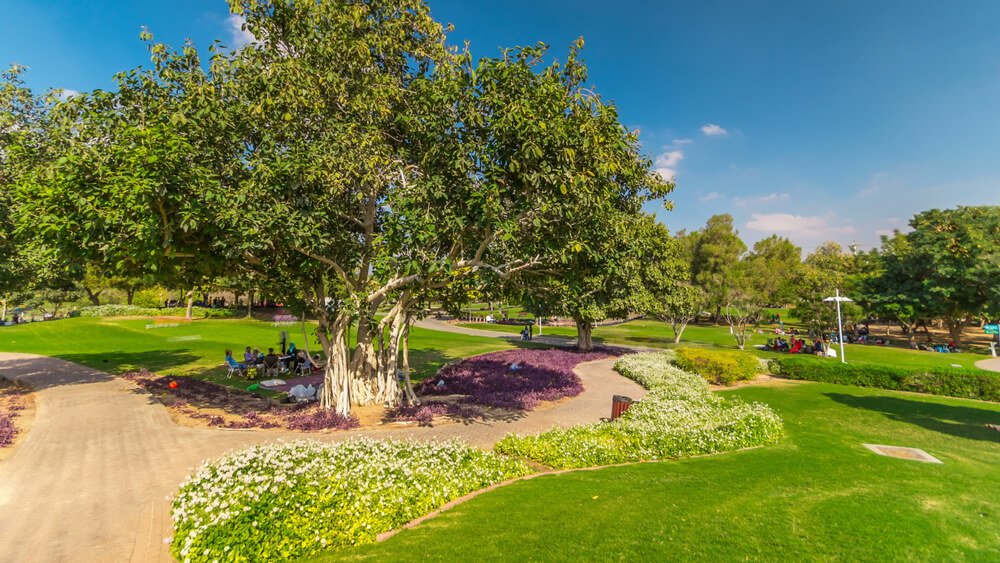 Dhow Cruise lets you take a quick tour of Dubai Creek Park. You have to pay a small fee to ride the dhow.
You can enjoy live plays at an amphitheater area that can accommodate 1200 people at one time. You can also have a picnic and the lush lawns of the creek park or play golf on the 18-hole mini golf course of the park. You would find it impossible to walk a 96-hectare park on foot to explore, so you can either rent a bicycle or ride a mini train that can get you around Creek Park quickly.
The park is open all days of the week from 8:00 a.m. to 11 p.m., and it costs an entrance fee of 5 dirhams. Don't forget that this entrance fee does not include the separate charges for each attraction in the park. The creek park located in Umm Hurair 2 is perfectly nestled between Bur Dubai and Deira.
Free Parks
Let's face it, who doesn't like beautiful recreational areas for free? Let's look at all the free parks in Dubai for you.
Uptown Mirdif Park
People living in the uptown Mirdif and surrounding areas will find this community Uptown Mirdif Park, ideal for participating in different activities and spending quality time in the serene environment. The green spaces give lovely views of the gardens containing a variety of trees, shrubs, and herbs. The park aims to increase shady areas, so many tall trees are planted in addition to 255 ornamental plants. The park is a perfect place for some relaxing time in the evening or over the weekend.
The park's sports fields invite the visitors to play different sports, such as tennis and football, or maintain their fitness by exercising or jogging. The uptown Mirdif Park also has a designated children's play area. Keeping in mind the needs and priorities of the children, the play area is equipped with many rides and games suitable for all ages. It is one of the most crowded places in the park where families flock in with children.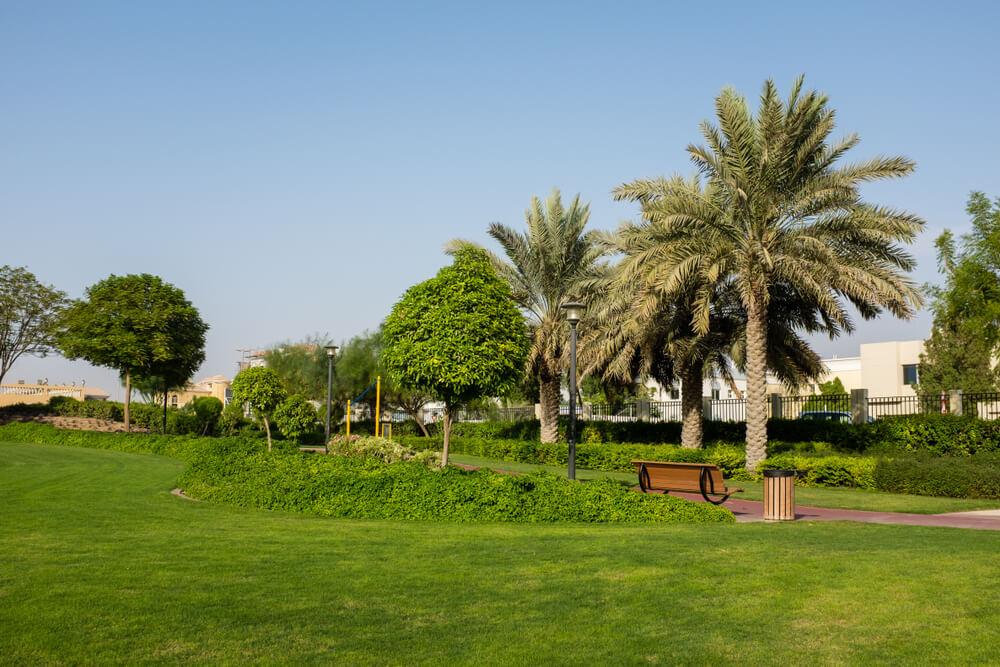 A Mirdif running track is also present for the nearby residents of uptown Mirdif. Designed by specialists that keep in mind the security and safety standards so that people running on the track enjoy a relaxing time, this running track is a significant attraction for fitness freaks.
While you run, jog, or let the kids play, you don't have to worry about an empty stomach. Many fast-food restaurants are near the park, so visitors can enjoy delicious meals after spending quality time in nature with their families. There are also cafes in the park where you can comfortably sit or enjoy a cup of tea and watch your kids playing nearby.
Apart from these unique activities, you can enjoy a nearby deep ocean custom aquarium and explore the uptown Mirdif with its open-air shopping centers, supermarkets, and international eateries. This area is also home to many popular retail stores, stylish residential properties, and commercial hubs. The park is open all days of the week, Sunday to Saturday, from 6:00 a.m. to 11:00 p.m.
Al Qusais Pond Park
Another beautiful and one of the largest community parks in Dubai is the Al Qusais Pond Park, which is spread around the beautiful blue lake. It is a very crowded place during the cooler months of the year when visitors flock in.
The first thing that attracts visitors to Al Qusais Pond Park is the spectacular views of the Pond and the lush greenery surrounding it. Visitors visit the park to enjoy the beautiful sunsets or leisurely morning walks. This well-maintained Park is close to the Al Qusais apartment community and other neighborhoods. The park is located at 169 Baghdad Street, Al Qusais. It is open throughout the week, even on public holidays, from 8:00 a.m. to 12 a.m.
Among the many facilities offered to the visitors, one of the main things that many parks lack is the cleanliness and maintenance of this Park. Al Qusais Pond Park is a very well-managed community Park with a hard-working staff who is always there to clean any mess. Therefore, despite being a community park, the Al Qusais Pond Park is astonishingly elegant and tidy. There are dozens of benches and seating areas under the shady trees for people to relax and cool down even during the hottest summer months.
There is also a small children's play area at Al Qusais Pond Park with various swings and slides to enjoy. People interested in maintaining their fitness in this sedentary lifestyle will find many options in the park, such as the gym equipment installed at various places. People who are conscious of fitness and want to exercise can use this equipment. They can also run on a 2 km long jogging track lined with shady trees so that people can enjoy a comfortable run.
Al Nahda Pond Park
Even though Al Nahda Pond Park is not one of the largest parks in Dubai, it still attracts many people due to its top-class facilities and services. One of the main reasons why people keep this park crowded is its proximity to the residential spaces and buildings of the Al Nahda area and other neighborhoods. This small Pond Park is a green haven for families looking for a treat from the busy metropolitan and its noises.
There are many things people can enjoy or do at Al Nahda Pond Park. The Al Nahda Pond Park in Sharjah has a designated fitness area for visitors to exercise or use different sports equipment. During the summer evening, this is one of the most crowded places. It gives the residents an unparalleled opportunity to keep fit and healthy.
Children also enjoy the Al Nahda Pond Park after a long day at school. There are many safe facilities in the children's play area for them to enjoy, such as swings, slides, and a lot of room to run around.
Visitors can also rent bicycles to enjoy a bike ride inside the park. The bikes can be rented for one hour for a fee of 20 dirhams + 50 dirhams of insurance.
Just adjacent to the park are many restaurants, such as Indian, Chinese, or Continental. You can enjoy a diverse menu of these restaurants or go to a nearby cafe that offers juices and fast food options. Hardee's and McDonald's are open 24 hours daily with drive-through services. Just across the road from this park, you can also find the LuLu hypermarket. This market is a convenient option for shopping for groceries and other things.
The Al Nahda Pond Park is open at different times of the day, so if you have to visit it, you must respect the timings. It is available in the morning from 8:00 a.m. to 1:00 p.m. and in the evening from 4:00 p.m. to 10:00 p.m. Located in the residential area of Al Nahda along Ittihad Street in Sharjah is not to be missed.
Al Barsha Pond Park
In the southern districts of Dubai, inland of the Palm Jumeirah and Dubai Marina, Al Barsha Pond Park is a medium-sized park built around an artificial lake. This artificial lake is a beautiful place to explore in Al Barsha Pond Park. You can use the running track around the lake to examine it. You can also rent pedalos to enjoy the lake and its beauty.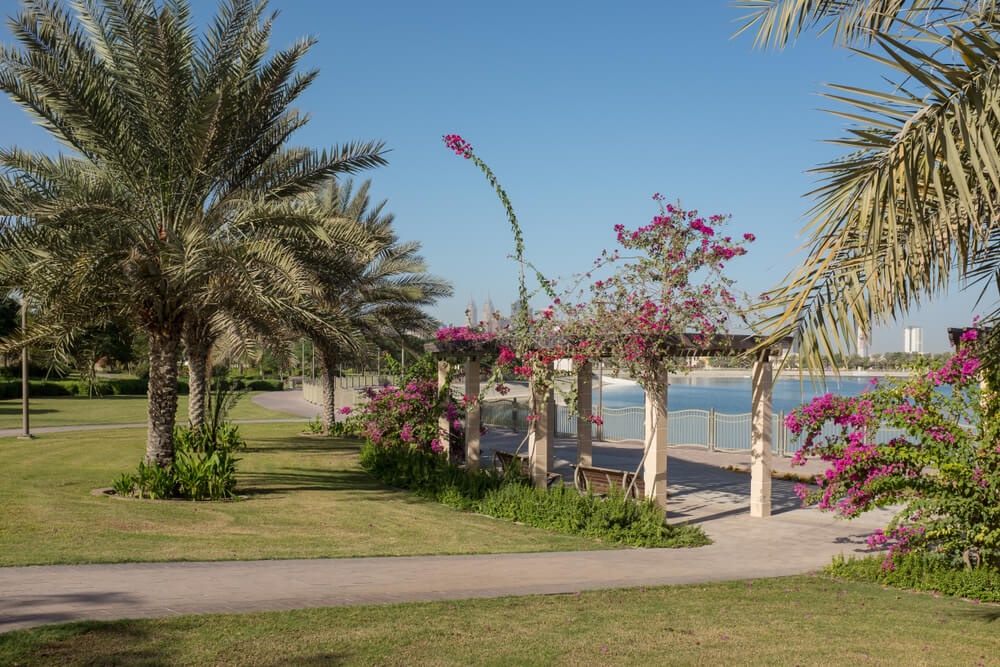 The park is also famous for organizing different events or different activities. You can join some events like seasonal or fun fairs or arrange birthday or lunch parties with friends and family. But don't forget to book a spot for your event by contacting the management.
There is no time limit; however, 8:00 a.m. to 11:00 p.m. is when you notice many people here. Pon Park is in the Al Barsha neighborhood near the Al Barsha 2 sub-community.
FAQs
Are all parks Free in Dubai?
No, not all parks are free in Dubai. Some of them charge entrance fees, such as Jumeriah and Zabeel Park.
How many parks are there in Dubai?
The number of parks here is staggering for the small size of Dubai City. It has 23 public parks and 13 theme parks.
Can we barbecue in parks in Dubai?
Yes, it is allowed in some parks to set up a barbecue, such as a creek park and Zabeel Park. It would be best to ask the park management before starting a barbecue.
Conclusion
Parks are essential in any community that promotes positivity, a healthy lifestyle, and social interactions. Parks in Dubai are one of the best in the world. They feature many fundamental modern facilities to ensure a comfortable experience for the residents and visitors of Dubai. Whether you are looking for a family park for a picnic or a beach park to get mesmerized, Dubai has got you all coved. Read our list of parks in Dubai, select what suits you, and enjoy.