PAF Museum
What do you think of when you hear the term Museum? Perhaps history, science, or culture? Most people would answer with one of these options, but what about the environment? Or, in this case, aviation and aerospace history? It is understandable if you don't know about what I'm talking! The Pakistan Air Force Museum in Karachi, Pakistan, is more than just an impressive collection of aircraft on display to demonstrate the rich history of the PAF (Pakistan Air Force); it also inspires future generations to respect and work towards protecting their environment. 
The PAF Museum Karachi aims to create greater harmony between the PAF and the general public, making it accessible and appealing to national and international tourists. So if you're ever in the vicinity of Karachi, be sure to pay a visit to the PAF Museum.
History of Pakistan Air Force
In 1933, the British colonial administration of India built the first air force base on the continent close to Drigh Road when Karachi, a coastal megacity in Pakistan with over ten million residents, was a 250,000-person town. This station is now known as Shara-e-Faisal Air Force Base.
Following World War II's end, Britain could not continue to denounce the persistent call for independence made by the people of South Asia. On August 14 and 15, 1947, Pakistan and India became two independent states. In the distribution of resources, India received the lion's share of military assets. As a result of India's hostility toward the emergence of the Muslim nation on the subcontinent, Pakistan's Army, Navy, and Air Force did not receive the small amounts of weapons and equipment officially acknowledged as Pakistan's rightful share allocated by the departing British. At the time of its founding, the RPAF had only 16 fighter aircraft.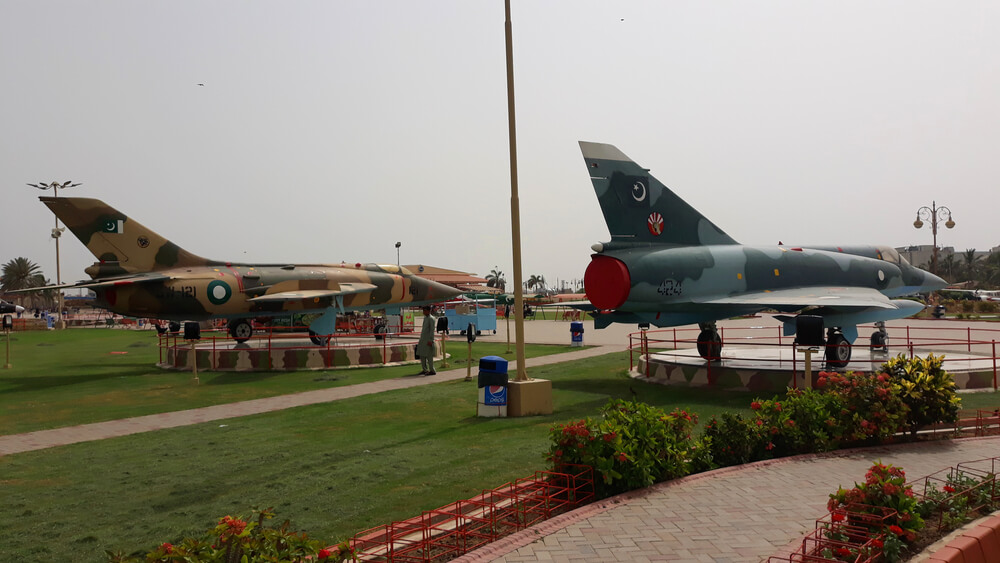 In 1947, a spontaneous revolt by the Kashmiri people and Hindu Raja led to the first conflict between Pakistan and India. Young Pakistan's air force had to work around the clock to airlift and drop desperately needed supplies to Pakistani troops, who eventually stopped the Indian aggressors' advance. Since then, PAF has played an integral role in the country's defense in every battle and fought bravely. The 1965 and 1971 wars with India are testimony to this fact. Its commitment to safeguarding peace has been an indomitable force in securing our borders with China, India, and Afghanistan. Since its establishment, PAF has been at the forefront of defending Pakistan's borders from aerial threats.
Attractions at PAF Museum Karachi
The Museum has many fascinating artifacts and exhibits, including fighter jets, helicopters, and uniforms. A section on the PAF's history covers everything from its early years in the war with India to its current involvement in the War on Terror.
Visiting the PAF Museum Karachi is a great way to learn more about Pakistan's Air Force and its contributions to the country. It is also fun to spend an afternoon with family or friends!
Open Air Exhibitions at PAF Museum
The Museum houses fascinating exhibits that chronicle the history of the PAF from its inception to the present day. But what makes it truly special is its open-air exhibitions.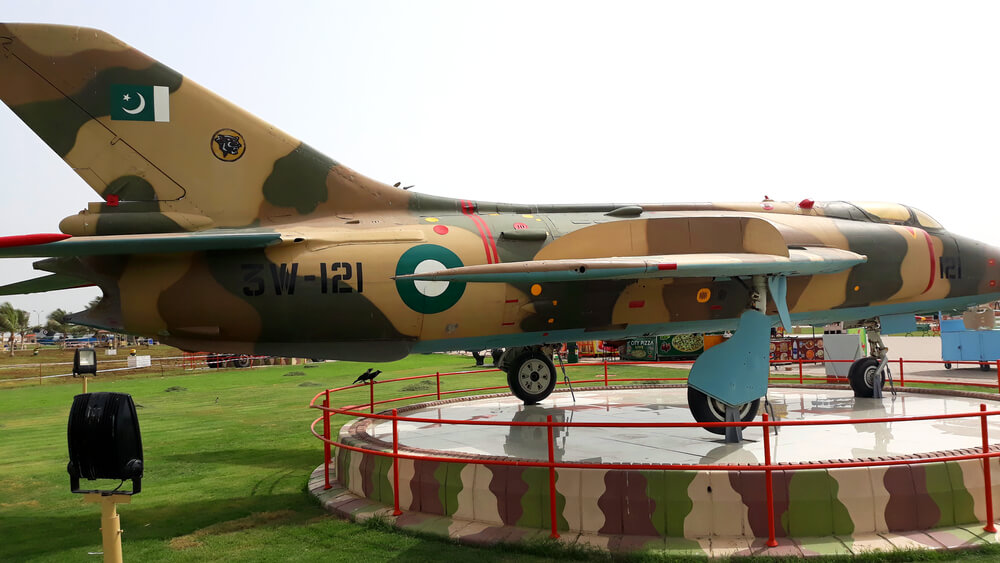 Here, in its lush green lawns, visitors can see aircraft that have been in service with the PAF over the years and how these aircraft are maintained and even restored. Aircraft on display include Huskie (Helicopter), T-6G (Harvard), Beech D-95A (Travel Air), Antonov An-12, Aero Commander, MFI-17 (Mushshak), U-Mig15, F-6, F-104 Starfighter, and F-86 Sabre, etc.
Archive Gallery
The Archives Gallery at the PAF Museum is home to many rare artifacts, including the Viking aircraft used by Quaid-e-Azam, an Indian Gnat aircraft, and many others. There are four sub-galleries inside; one presents model aircraft and paintings that illustrate the history of aerial conflict, and the other displays various fighter aircraft models from around the globe. Two galleries are devoted to "SHUHUDA" and the combatants from the wars of 1965 and 1971. Operation Swift Retort is the focus of one recently created gallery.
Shuhada Monument
The Pakistan Air Force has a proud tradition of bravery, sacrifice, and professionalism. The Shuhada monument serves as a lasting reminder of the courage and heroism of our Shuhada while also paying rich tribute to them. It is a symbol of patriotism. As this monument is more than just a brick building, each name engraved on it is an entire chapter of the glorious history of the Pakistan Air Force. It will inspire future generations to embody the bravery of our Shuhada by igniting their desire for sacrifice, sense of nationalism, and professionalism.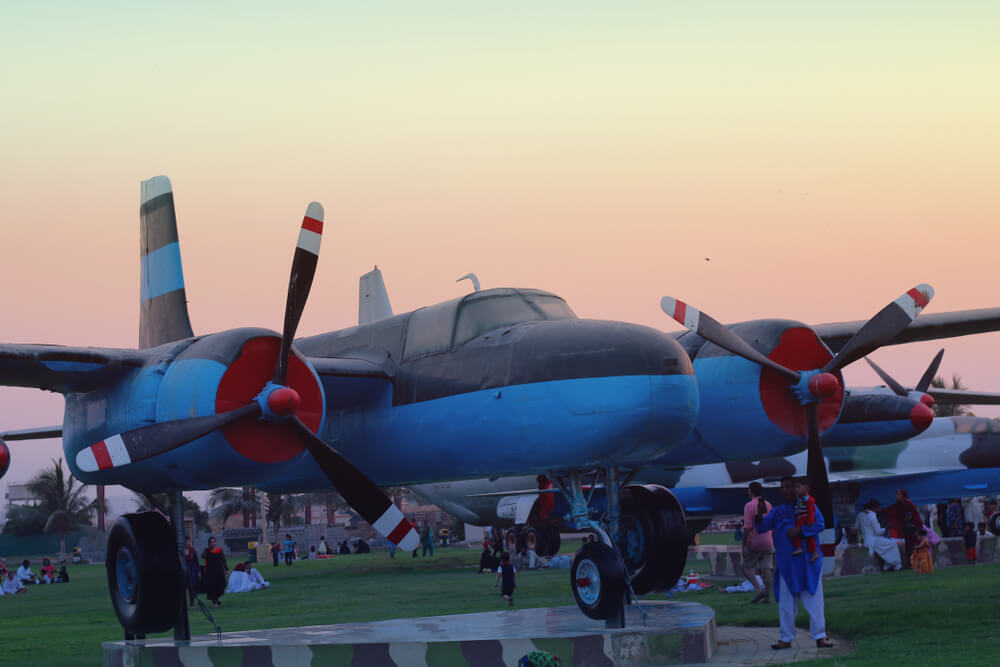 Multiple Rides and Swings for Children at PAF
There is also a kids' play area with swings and merry-go-rounds for children of all ages and food stalls on the vast open grounds. While an electric toy train zips, adding to the amusement.
Beautiful Lawns for Sitting and Picnic
It's not just the aircraft and war machines on display at the PAF Museum – it's also the lush lawns that provide a perfect backdrop for a relaxing day out. The PAF Museum is also great for taking your family and friends for an enjoyable day out.
Pack a picnic basket, take food from nearby foodcourts, and spend a lazy day sitting on the lawns, enjoying the peace and beauty of nature by strolling around the gardens.
Convention Centre and festivals at PAF Museum
Pakistan Air Force Museum Karachi also hosts various festivals and events open to the general public. These events are an excellent opportunity for people from all walks of life to come together. They also help create greater harmony between the PAF and the general public.
The Pakistan Air Force Museum also has a convention center that is available for small private events in addition to hosting small festivals.
Facilities Offered by PAF Museum Karachi
Pakistan Air Force Museum Karachi provides many facilities to its visitors and their families. So, let's check them!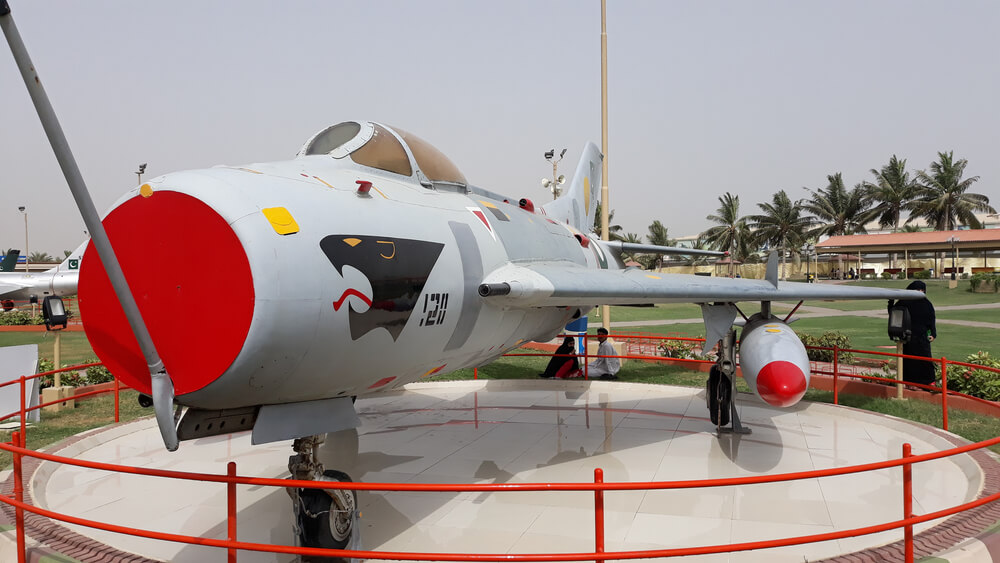 Souvenir Shop
The PAF Museum's Gift Shop is open to the public, where you can purchase lovely gifts like toys, sceneries, mugs, badges, watches, and many other attractive items.
PAFWA Shop
When visiting the Pakistan Air Force Museum, stop by the Pakistan Air Force Women Association (PAFWA) Shop. Pafwa is a welfare organization that works to provide low-paid PAF employees with educational, financial, and social aid. It also takes part in relief efforts following natural disasters like floods or earthquakes. Many handicrafts and artifacts in the PAFWA Shop would make beautiful presents for your loved ones and enable you to support a worthwhile cause.
Cafeteria and Restaurant at PAF Museum
A selection of food and drinks is available in the cafeteria and restaurant of the Pakistan Air Force Museum. The food selection includes salads, sandwiches, pizzas, burgers, fries, and many more. Beverages include cold/hot drinks, mineral water, and soft drinks at market rates.
Parking Space at PAF Museum
You can drive your car to the PAF Museum Parking lot outside the Museum or park in onsite parking meters. Motorcycles, scooters, and rickshaws have to pay PKR 30 for parking slots, while cars have to pay PKR 50. A bus or coaster must pay PKR 300. Parking attendants will take payment at the parking slot.
PAF Museum Ticket Price
To visit the PAF Museum Karachi, you must purchase tickets at the gate. The admission cost for adults is 100 rupees and 50 rupees for children (3-12 years) and students with ID cards. In addition, defense personnel and their families must pay PKR 50. Senior citizens above 60 years, Handicapes, and children below three years are free to enter.
Pakistan Air Force Museum Timings
Pakistan Air Force Museum Karachi is open daily throughout the year. Its timings are 9:00 AM to 9:00 PM from Monday to Thursday and from 3:00 PM to 10:00 PM on Friday. It is open on Saturday and Sunday from 9:00 AM to 10 PM.
Location of PAF Museum Karachi
Pakistan Air Force Museum is located next to Faisal Base on the city's busiest road, i.e., Shahrah-e-Faisal near Karsaz in Karachi, Pakistan making it accessible for national and foreign tourists.
FAQs
Why is PAF Museum Famous?
Pakistan Air Force Museum Karachi is famous for its rare relics. But the Museum isn't just a place for dusty old airplanes. It promotes greater harmony among the PAF and the general public. Kids enjoy visiting this Museum because it has interactive displays and activities teaching them about aviation and Pakistan's history. As a bonus, the Museum is clean and safe! You can explore it at your own pace. In short, if you're looking for something fun to do with your family or want to know more about PAF, you should visit the PAF Museum!
Who built Pakistan Air Force Museum?
Pakistan Air Force built the PAF museum Karachi to preserve and convey their history to future generations. The Museum opened its doors in 1990 in two abandoned hangars in a far-flung Base area. From its modest beginnings between 1999 and 2004, the Museum has grown significantly.
Is the PAF Museum Worth Visiting?
Yes, the PAF Museum is worth visiting! Pakistan Air Force Museum is a treasure trove of heritage, stories, and exhibitions for aviation enthusiasts. PAF Museum is also not just a place to visit for those interested in history; families can come here, tour around, and create their candid pics to capture life's precious moments.
Conclusion
The Pakistan Air Force Museum is not just a museum. It is a place where the public can learn about aviation and appreciate the history and work of the PAF. It has a large play area, numerous amusements, food courts, and a garden where more than 50 different types of Pakistani Air Force fighter planes and other equipment are on display.
Visit PAF Museum Karachi to escape the urban rush, and don't forget to follow the admission rules!