Lok Virsa Museum
The Lok Virsa Museum Islamabad is a treasure trove of Pakistani culture, art, and history. The museum offers a diverse and exciting collection of traditional Pakistani art and artifacts. Visitors can explore the museum's galleries to learn more about the country's customs, dress, architecture, music, and folktales through exhibits ranging from crafts to music and traditional clothing. The museum also hosts regular cultural events, a great way to learn about Pakistani culture. There is also a library on site where guests can research more in-depth topics related to Pakistani culture. If you want a unique and informative experience in Islamabad, visit the Lok Virsa Museum.
Lok Virsa Museum Islamabad, Attractions, Tickets, and Timings
Lok Virsa Mesum, also called the Pakistan National Museum of Ethnology, is a popular tourist destination that offers visitors a chance to learn about Pakistani culture and heritage. There are a variety of fascinating attractions and exhibits showcasing traditional clothing, art, music, and more. You have to purchase tickets at the entrance. The museum remained open daily except Mondays.
History of Lok Virsa Museum
Established in 1974, Folk Heritage Museum is an institution to promote Pakistani heritage and culture with the mission of researching, collecting, documenting, communicating, preserving, and promoting the country's heritage. Lok Virsa obtained the status of an autonomous organization through an Ordinance promulgated by the Government of Pakistan in 2002. Lok Virsa is generally known as the Museum for Pakistanis because they are the true guardians of their culture and traditions. The museum has multiple display halls and occupies an area of 60,000 square feet, making it one of the largest museums in Pakistan.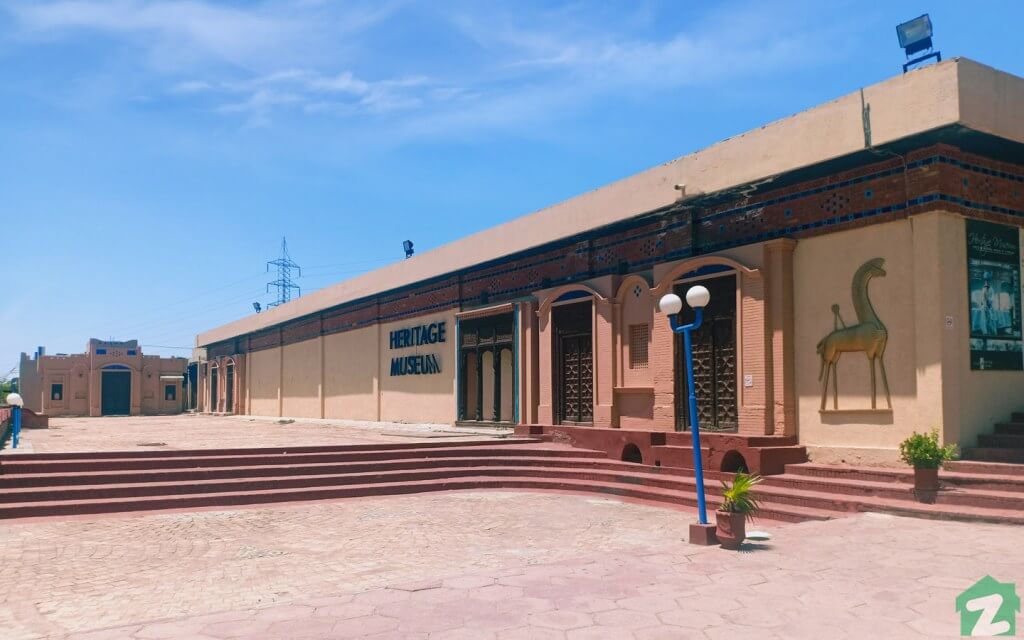 The Folk Art Museum Islamabad is a must-visit for art enthusiasts and history buffs. The museum is home to a wide variety of traditional folk art from all over the country and artifacts from different periods in Pakistani history. Whether you're interested in tilework, woodwork, metalwork, or textiles, there's something here for everyone. The museum is also a great place to learn about the culture and customs of Pakistan. Visitors can enjoy exhibits about the history and lifestyles of various Pakistani communities.
Attractions offered by Lok Virsa Museum
Lok Virsa Museum Islamabad offers a variety of attractions, including traditional music performances and art exhibits. Folk Heritage Museum has three main sections: the Gallery of Visual Arts, the Library & Resource Centre, and the Archive. The Gallery of Visual Arts displays paintings, sculptures, textiles, jewelry, woodwork, and other crafts from Pakistan. The Library & Resource Centre has a collection of books, journals, catalogs, slides, audio-visual material, and software on traditional Pakistani folk arts. The Archive preserves photographs and old documents related to traditional Pakistani folk arts. There are numerous buildings at the museum and an outdoor museum that can hold up to 3000 visitors. Now we are going to do a virtual visit to some of its attractions.
Pakistan Monument Museum
An impressive monument dedicated to the people of Pakistan is present at the entrance of the Islamabad Heritage Museum. The Pakistan Monument Museum was founded in 2010 to honor all those who fought and risked everything for Pakistan's independence. The structure's design, which spans 2.8 hectares (6.9 acres), is inspired by the Subcontinent's rich Architectural style. Its petal-shaped construction represents Mughal architecture's typical muqarnas. The resulting petal-shaped form underlines the importance of Pakistani unity and oneness. Rather than representing the four provinces (as is commonly assumed), it reflects the four distinct cultures of Pakistanis. Each of the four giant petals represents one of the four cultures: Punjabi, Balochi, Sindhi, and Pakhtun.
In contrast, its three smaller petals represent minorities, i.e., Azad Kashmir and Gilgit Baltistan. They are standing united, defending Pakistan's flag's star and crescent. Despite their independence, the seven petals come together to form the nation of Pakistan. The monument's flag star (made of gleaming black granite with golden stars) represents those who gave their lives to Pakistan. The crescent moon is stainless steel and features inspiring texts by Quaid-e-Azam Muhammad Ali Jinnah and Allama Iqbal. Several paintings are adorning the inside walls of granite petals. These paintings are of particular significance as they showcase famous places in Pakistan and prominent leaders of the country's freedom movement with a touch of musical and theatrical themes. Lahore Fort, Badshahi Mosque, Khyber Pass, and Minar-e-Pakistan are among the landmarks depicted on the Pakistan Monument. From this monument, you can observe A panoramic view of the Islamabad metropolis, Centaurus Mall, Faisal Masjid, and Margala Hills. Lok Virsa Pakistan Monument Museum is full of Pakistan's rich culture and history.
Sufis and Shrine Hall
Pakistan is a land of many cultures and religions. One of the most popular religions in Pakistan is Islam, and within Islam, there are many sects. Sufism is one of the most popular sects of Islam in Pakistan, and followers of Sufism often revere saints and shrines. Among these treasures of Pakistani culture and history, one section illustrates Sufism and shrine paintings. This area contains intricate images and illustrations of various shrines around Pakistan and portraits of Sufi saints in performance positions. The exhibit displays photographs of the shrines of Data Ganj Bakhsh, Shah Rukne Alam, and Bahauddin Zakariya. Anyone visiting the Lok Virsa Museum should make sure to stop by this section and take a look! The art is beautiful and fascinating, providing insight into the spiritual side of Pakistani culture. The Picture Hall is a popular tourist attraction and provides visitors with a unique glimpse into the world of Sufism.
Lok Virsa Library
The library has a vast collection of manuscripts, rare books, documentation, and other artifacts related to Pakistan's cultural heritage. The library includes about 36,000 books and journals. In addition, the library has a collection of two hundred (200) publications on cultural anthropology, Pakistani folklore, art history, ethnology, and craft by Lok Virsa. The library continues to assist students, academics, and scholars with their studies on Pakistan's cultural legacy.
Anyone can access countless articles, original study reports, field surveys, and publications on Pakistani culture. Heritage Library provides extraordinary opportunities for self-directed learning and exploration. So that people of all ages and interests can benefit from it.
Virsa Research and Publication Centre
Visitors to the Museum can learn about traditional Pakistani culture through exhibits and publications from the Virsa Research and Publication Centre. This center publishes research on traditional Pakistani culture, including music, art, folklore, and oral traditions, and undertakes field surveys and interactive village-to-village folk tradition recordings. It organizes and publishes research in folk and traditional heritage areas, including oral traditions, folk music, romantic folktales, nursery rhymes, children's games, birth and wedding festivities, and so on. It publishes books on many aspects of Pakistani mythology and cultural heritage, spanning all of Pakistan's provinces and areas. Folk songs, stories, romances, epics, entertainment, folk literature, Sufi poetry, cultural features, cultural evaluations, folk masterpieces, oral traditions, and rare reprints are all published in volumes. It would not be unfair to refer to Lok Virsa as a cultural repository of literature relevant to Pakistani cultures. Original research works in Pakistan's local languages, and Urdu translations of the regional text are published. Sponsorship has shifted from academics to the general population. The center's work helps preserve and promote Pakistan's cultural heritage.
Virsa Media Centre
The center is home to various multimedia exhibits that showcase Pakistan's music, art, and culture. Visitors can explore the center's digital exhibitions, listen to traditional Pakistani music, and watch short films about Pakistani culture. The Virsa Media Centre produces recordings of folk music and cultural heritage. It assisted in the editing, compilation, and production of fifty-one cultural documentaries plus three thousand hours of voice tapes. A professional studio is open for business, as are mobile units that can encapsulate events in any part of the country. Lok Virsa is one of the largest national traditional music and cultural publishers. Lok Virsa's audio and video cassettes, Discs, VCDs, and DVDs are currently available on the market. Lok Virsa edited, compiled, and produced 36 cultural films and over 500 cassette tape labels showcasing the nation's cultural legacy. The Virsa Media Centre is a valuable resource for anyone interested in learning more about Pakistan's rich history and cultural traditions.
Art & Craft Gallery
The Lok Virsa Heritage Museum is home to o a variety of art and craft galleries from all over Pakistan. The museum has a section devoted to each region of the country, displaying each region's traditional clothing, jewelry, and artwork. These galleries display traditional Pakistani art forms and crafts, including embroidery, pottery, and carpets. A section is also dedicated to Pakistani folktales, featuring hand-crafted puppets and sets beautifully. This museum is excellent for learning about Pakistani culture and traditional art forms.
Traditional Paintings
The museum on the interior is a wonder. That truly appealed to me. The Lok Virsa Pakistan museum has an extensive collection of paintings, including traditional and modern works. It depicts portraits of everyday life in Pakistan from all walks of life, including Chitral, Hunza, Gilgit, tribal areas, Sindh, Baluchistan, KPK, and Panjab. It makes us feel that we have entered a new universe where real people are all around us.
Statues of Historical Leaders
The Lok Virsa museum depicts current Pakistani history and the role of women by displaying large sculptures of Benazir Bhutto, Bilquis Edhi, Noor Jahan, Begum Mehmooda Salim Khan, Anita Ghulam Ali Begum Qazi Isa, Praveen Shakir, and Fatima Suraya. There are statues of many of the country's most notable figures, including Quaid-e-Azam Muhammad Ali Jinnah, the founder of the nation, and his sister Fatima Jinnah. The museum also has exhibits on the history of the Pakistan Movement, as well as the Partition of India. In addition, there are displays of the cultures of Pakistan's different regions, including Sindh, Punjab, Balochistan, and Khyber Pakhtunkhwa.
Exhibits at Lok Virsa Museum
Pakistan's Lok Virsa Museum showcases the diversity of the country's cultural heritage through its art and artifacts. It houses and publicizes artistic crafts, classic artistry from Pakistan's provinces, and each area's music and history. Lok Virsa Museum Islamabad displays pottery, statues, hand-crafted jewelry, knitted fabrics, block dyed fabrics, wood, metal craft, crystal work, ceramics, tiles, pearl, bone, and marble arts and building facades.
The Mohenjo Daro Gandhara art depiction at the Lok Virsa Museum's entrance is a beautiful piece of art that is well worth seeing. This ancient artwork was created over 4,000 years ago and is a remarkable example of depicting scenes from rural life of how talented the artists of that time were.
The famous poet, Waris Shah, wrote the tragic story of Heer Ranjha in 1766. One of the most famous depictions of this love story is at the Lok Virsa Museum in Islamabad. The museum features an exhibit of Heer and Ranjha, surrounded by beautiful scenery.
Among its many exhibits, there is a section dedicated to Iran, showcasing aspects of Iranian culture and history. One of the fascinating aspects of this Heritage museum is its linkage with Iranian culture, which is evident in the many exhibits on Iranian art and history. This section also preserves many vintage Iranian carpets.
The Kashmir and Karakorum displays are particularly engaging, with paintings, textiles, and other artifacts on display. The vivid colors and intricate designs of the Kashmiri pieces are stunning, while the Karakorum pieces depict a strong and proud culture.
Visitors to the Lok Virsa Museum in Islamabad can explore the many cultural artifacts of Pakistan at this unique museum. Among these is a section devoted to swat culture, which offers a fascinating glimpse into the lives of the people who call this region home. The exhibits include clothing, jewelry, and other items that reflect the unique traditions and customs of swat.
Uzbekistan Corner at Lok Virsa Museum
The freshly built Uzbekistan corner at Lok Virsa Museum is gaining many visitors. The corner was constructed with the help of the Embassy of Uzbekistan to promote Uzbek traditional and cultural heritage. Entry into the Uzbekistan Corner at Lok Virsa Museum in Islamabad, Pakistan, transports visitors from the hustle and bustle of the city streets into a cultural oasis. Visitors can learn about the history and customs of Uzbekistan by exploring exhibits that showcase topics such as food, music, architecture, and art. The vibrant displays of traditional dress, intricately-carved furniture, and ornate rugs provide a snapshot into people's daily lives in this Central Asian country.
Lok Virsa Mela
If you're looking for a fun cultural activity to do in Islamabad, be sure to check out the Lok Virsa Museum's annual Lok Virsa Mela (festival). The museum annually hosts a Mela (fair) celebrating Pakistan's traditional culture and heritage. The Mela is a family-friendly event celebrating traditional Pakistani music, dance, art, and crafts. Pavilions of all four provinces, along with Gilgit Baltistan, are arranged that display all cultural things belonging to these provinces. Thousands of residents and visitors flocked to Lok Visa to support the country's skilled and gifted artists. The entire "Lok Mela 2021" event was stunning, and one couldn't help but admire the skills of Pakistani artisans. These artisans' minds and hands created masterpieces that can only understand by being present and seeing the sights and experiencing with the heart and soul. The event offered an insight into Pakistan's rich culture and traditions.
Calligraphy
A calligraphy is an art form that involves writing out the text in a decorative way. This ancient form of writing is still in use today, and while it may look simple, it isn't straightforward. The Lok Virsa Museum has an extensive collection of calligraphy pieces across Pakistan. In genuine eastern tradition, Azim's calligraphy depicts the sacredness and spirit of the written word with subjective aesthetics. Azeem crafts his calligraphic works with an obsessive devotion that transcends his love of play as an artist, using three-dimensional techniques in wood, metal, gold, silver, and leather. From April 22 to the end of Ramzan, the National Institute of Folk and Traditional Heritage (Lok Virsa) hosted an exhibition of Islamic calligraphy.
Lok Virsa Museum Ticket Price
Ticket Prices for Lok Virsa Pakistan are PKR 50 for local visitors, while foreign visitors pay PKR 500. Local students must pay PKR 10, and children under seven can visit it for free.
Lok Virsa Museum Timings
Tuesday through Sunday, the Lok Virsa Museum in Islamabad is open from 10 am to 8 pm. However, it remains closed on Mondays. Don't forget to bring your ID card. The Lok Virsa Museum is a must-see for anyone interested in Pakistani art and culture.
Lok Virsa Museum Location & Contact info
Lok Virsa Museum Islamabad is located on Shakarparian Hills on Garden Avenue in Islamabad Capital Territory. You can contact the museum at (051) 9249209 for any queries.
Frequently Asked Questions
Where is Lok Virsa Museum located?
The Lok Virsa Museum, located above Shakarparian Hills on Garden Avenue in Islamabad Capital Territory, exhibits Pakistan's living cultures. From textiles and clothing to woodwork and metalwork, there's something for everyone at the Lok Virsa Museum.
What are the opening hours of the Lok Virsa Museum?
It is open from Tuesday to Sunday, and you can visit it anytime between 10 am and 8 pm. Due to a prayer break, the museum shuts for one hour on Fridays between 1 pm and 2 pm. The museum offers visitors the chance to explore traditional Pakistani culture through its many exhibits.
Who built the Lok Virsa museum?
On September 17, 2002, the Govt. of Pakistan issued an Ordinance granting Lok Virsa the status of an autonomous organization. However, the government opened it in 1974. The museum contains various artifacts from all over the country, providing visitors with a comprehensive look at Pakistan's rich heritage.
You can find traditional Pakistani handicrafts and other items from around the region in shops at Lok Virsa Museum. Whether you're looking for a souvenir or just something different to take home with you, these shops are worth checking out! Whether you're interested in traditional crafts or modern art, the Lok Virsa Museum has something to offer everyone. You can buy some of the beautiful handmade items you just discovered and bring them home as a memento of your vacation at the Pakistan National Museum of Ethnology's gift shop. Now that you are fully informed, you can visit the Lok Virsa Museum in Islamabad.