IQBAL MUSEUM
Many places in Lahore reflect the past of Pakistan; one of these places is Lahore Allama Iqbal Museum. A prestigious white colonial building with an eye-catching garden at the front depicts the whole life of Allama Iqbal before our eyes. We can see a museum on one side of the road; on the other side, Lahore railway station is spotted. Iqbal museum, also known as Jawed manzil, is located in the city of Gardens, Lahore. The museum was built in Jawed Manzil, the last residence of Allama Iqbal before he left this world. From 1935 to 1938, he spent the last three years of his life at Jawed Manzil. He left this world on April 21, 1938, in Jawed Manzil. You must be wondering why it is called Jawed Manzil. It is because the last residence of Alama Iqbal is named after his son, Jawed Iqbal. Its one of the most famous museum in Pakistan
IQBAL MUSEUM LAHORE ATTRACTIONS, TICKETS, TIMINGS, AND LOCATION
Iqbal museum, located on Alama Iqbal Road near Lahore railway station, is a tribute to the greatest poet and philosopher of the subcontinent. He is also recognized as Pakistan's "spiritual father." The museum remains open on all days of the week except Wednesdays. Moving onwards in the article, we will learn entrance timings and the many attractions this sacred museum offers.
INTERESTING FACTS ABOUT IQBAL MUSEUM LAHORE
If you have a keen interest in knowing about the lives of historical legends, then this is the perfect place for you. The most interesting fact about the Jawed Manzil is that all the rooms are kept in the same condition as in the 1930s. Various personal belongings of Alama Iqbal are displayed in the museum. They are preserved in their original condition, including clothes, diaries, original manuscripts, and some old furniture like the bed, prayer mat, and bookshelf. Visitors can go through almost the entire house and ponder upon the inspiring life of Alama Iqbal.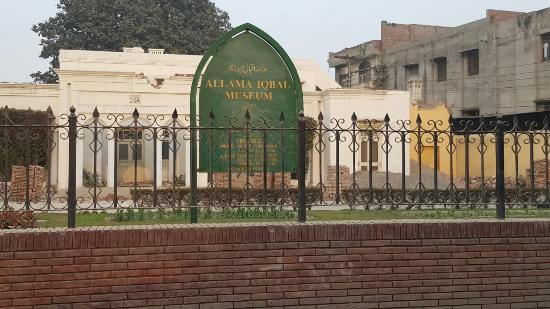 HISTORY OF IQBAL MUSEUM LAHORE
Showcasing the entire life of the national poet and thinker of Pakistan, Iqbal Museum was constructed in 1934 under the supervision of the elder brother of Allama Iqbal, Sheikh Atta Muhammad. Initially, it was known as Jawed Manzil. It was built on approximately 7 Kanals, 31,500 square feet of land on expenditure of about Rs. 42,025/-. Allama Iqbal shifted into Jawed manzil in 1935. After Allama Iqbal died in 1938, the government converted it into a historic house museum. It consists of belongings and artifacts of Allama Iqbal. Considering its historical significance, under the Federal government act of antiquities act, of 1973, this house was protected and declared a national monument of Pakistan. Furthermore, on December 2, 1977, the chief of army staff and president general Muhammad Zia Ul Haq inaugurated the Allama Iqbal Museum Lahore. This museum covers the historical period between 1877 to 1938.
Every Pakistani knows that Dr. Muhammad Iqbal is one of the most prestigious personalities in Pakistani history. He is popularly known as a Muslim philosophical thinker as he taught a sense of responsibility and freedom in the minds of Muslims through his enthusiastic and exuberant poetry. He was a firm believer in the fact that the youth of any state can change their destination as long as they are provided with the appropriate opportunities. He wanted Muslims of the sub-continent to have their separate homeland, but he did not live enough to see this happening. He played a critical role in the formation of Pakistan. He is regarded as one of the most influential characters in Urdu literature. He had done work in Urdu and Persian languages. However, he is most famous for his writings in Persian. He had done many literary and narrative masterpieces. He had written beautiful poetry for children as well. Iqbal is renowned as the "Poet of the East" or "Shair e Mashriq." Another title attributed to him is "Muffakkir-e-Pakistan", meaning the thinker of Pakistan. Iqbal also wrote some work in the English language, apart from Persian and Urdu literary works. He produced two works on the development of Metaphysics and the reconstruction of religious ideas in Islam, as well as some correspondence in English. There is a special place in the heart of every Pakistani because of the devotion and sincerity Allama Iqbal had for Pakistan.
ATTRACTIONS OFFERED BY IQBAL MUSEUM LAHORE
Iqbal museum Lahore offers a delightful scene for visitors as it forecasts many historical treasures, natural beauty, and a sense of history. It showcases many relics from the life of the national poet of Pakistan. It has a significant historical significance in Pakistan. Today, visitors can explore many attractions of museum-like handwritten poetry and various belongings of Allama Iqbal. Now one by one, we will discuss the interests offered by the jawed manzil. Anyone interested in reminiscing Pakistan's national hero's life should visit it.
Handwritten drafts of Iqbal's works
As you enter the jawed manzil, you will spot a supplication from one of the books of Allama Iqbal, i.e., Bal e Jibreel. he wrote that supplication when he visited a mosque in Cordoba, Spain. Iqbal completed the first draught of "the reconstruction of religious conceptions in Islam" in June 1921. In this draft, he focused on the fact that Islam is not the sort of religion you think it is. He showed how you could make a new interpretation of Islam. He emphasized that the true essence of Islam is not only in its teachings but also in its spirit and culture.

In his draft, Iqbal used two sorts of styles. One is formal style, and the other one is informal style. The former style is used for negotiation and providing evidence with examples. At the same time, the latter is used for expressing sentiments and emotions. He also explained the sovereignty of God and how to strengthen your faith in God almighty.
Portraits of Iqbal and his family
A beautiful sculpture of Allama Iqbal is placed at the jawed manzil's entrance. In the drawing room, you will see black and white portraits from the time of the partition of the sub-continent. You can find a portrait of the teacher of Allama Iqbal, Shamsul Ulama Maulvi Mir Hasan, who died in September 1929. Along with the teacher's portrait, you can spot a portrait of Ata Muhammad, the elder brother of Allam Iqbal, who died in 1940. both portraits are lying side by side. Moreover, the walls also adorn black and white classy portraits of Iqbal's visionary parents, imam Bibi and Sheikh Noor Muhammad.
There is a portrait showing Allama Iqbal where he can be seen going towards Allahabad to deliver the famous Allahabad address in 1930. there is a portrait in which you can spot Allama Iqbal sitting with Chaudhary Rehmat Ali, the prominent leader who proposed the name of Pakistan. Portraits of 3 wives of Allama Iqbal are also placed in Allama Iqbal Home.
AWARDS
Various national and international organizations awarded our national poet many reputable awards. Following is the list of awards acquired by Muhammad Iqbal:
Order of Pakistan (OP)-1st class, awarded on his birthday anniversary in 1967 by the President of Pakistan.
Order of Merit (OM)-1st class, was bestowed by Pakistan's President in 1967. The Sitara-e-Imtiaz-1st class was awarded on its 70th birth anniversary by the Government of Pakistan in 1988.
Shaheed-e-Millat Award- the 3rd highest civilian award to Allama Iqbal by the Government of Pakistan in 1954.
MEDALS
A medal is displayed along with other documents, rewarded by Scotch Mission High School, Sialkot, on passing the high school examination in the first division.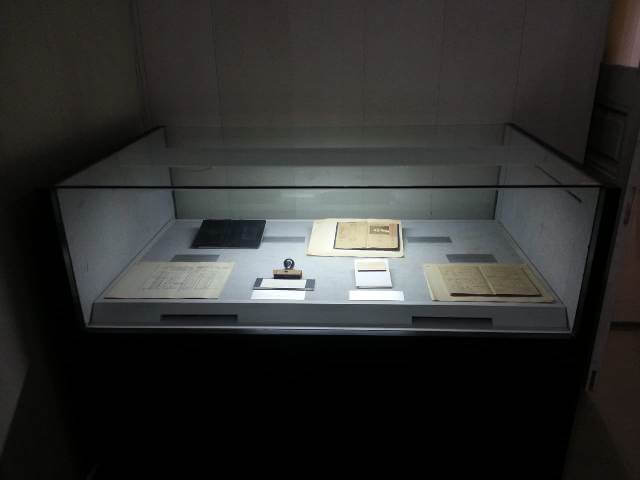 Furniture
there is a drawing room in which Allama Iqbal used to meet people. There are four brown-colored chairs, a sofa set, and a tiny table. In the dining room, there is a round black colored table surrounded by six black chairs. A mirrored dressing table is also placed.
Crockery
Antique-style crockery is placed on a shelf in the dining room.
Walking stick
There are photographs of Iqbal sitting on a couch while holding his walking stick adorning the museum's walls. Walking sticks Iqbal used to stroll around are preserved and displayed on a glass shelf along with other belongings.
Prayer-mat
A historical dark red colored prayer mat is placed in the museum on which Allama Iqbal prayed when he visited a mosque in Cordoba, Spain. Moreover, you can see a portrait of Allama Iqbal sitting on a prayer mat, busy praying.
Passport
An old passport once used by Allama Iqbal is also taken care of and displayed on a glass shelf with other items.
Handwritten poetry
Among the collection of handwritten poetry displayed in jawed manzil is" Payam-e-Mashriq" meaning " message from the east to the west" is a philosophical poetry book that Iqbal wrote as a reply to Johann Wolfgang von Goethe, a famous German poet.
Another masterpiece written by Allama Iqbal and placed in jawed manzil is " Javed Nama" or called "book of eternity", published for the first time in 1932. it is a Persian book of poetry consisting of about 2000 verses, written by Iqbal in which he highlights the struggles faced by the Muslims of south Asia.
Another pinnacle of Iqbal's Urdu poetry is "Bal-e-Jibreel", also called " Gabriel's Wing" came into existence in 1935. In this book, Iqbal talked about the vision and intellectual ability required to promote sincerity and firm belief in the heart of Muslims, which will transform them into prosperous nations.
Educational degrees and various degrees of Dr. Muhammad Iqbal are displayed in the museum.
⦁ a Ph.D. Degree awarded by a university of Germany 
⦁ a degree of Bachelor of ARTS obtained from the University of Punjab, Lahore
⦁ a degree of Masters of ART, obtained from the University of Punjab, Lahore
⦁ D.LIT. Honorary degree conferred on Allama Iqbal posthumously by the TOYO university, TOKYO, Japan, on April 21, 1960.
600 objects denoted by Javed Iqbal
There is a total of 600 objects in the collection of Iqbal Museum Lahore; all are denoted by Javed Iqbal, including manuscripts, photographs, personal belongings, models of buildings, awards, degrees, and books related to Allama Iqbal. Every object in this collection has a story to tell about the life of Allama Iqbal.
Library
A library has been set up in Javed manzil Lahore. The government of Pakistan established it. It provides a facility for students and visitors who have a keen interest in the writings of Iqbal. The library houses almost 35000 books, including Urdu and Persian books written by Allama Iqbal. There are also some English books on humanities, art, history, and social sciences.
Nine galleries
Javed manzil Lahore is composed of nine galleries. Let's talk about what these galleries are showcasing.
Items displayed in the first three galleries
The first and foremost gallery among nine small yet prestigious galleries is dedicated to the early life and works of Allama Muhammad Iqbal. This section displays the biography of Muhammad Iqbal and some information related to Javed manzil.
Original Manuscripts 
The second gallery houses original manuscripts and degrees awarded to Allama Iqbal. A portrait of Iqbal's teacher is also displayed in the second gallery.
Certificates
The featuring components of the third gallery are certificates and degrees awarded to Allama Iqbal. A certificate can be spotted which was awarded by the university of Punjab in 1895 upon passing the intermediate examination with second division. This gallery also features photos of young Allama Iqbal with Chaudhary Rehmat Ali and other prominent figures of history.
Letters
Three letters from Allama Iqbal to famous calligrapher Parvin Raqam regarding the calligraphy of his rubaiyat are beautifully preserved and displayed. A letter from Allama Iqbal to Sheikh Ata Ullah is also shown. Letters written by Allama Iqbal to his son, Javed, are also there.
Documents
Some important documents of the life of Iqbal are also placed with great care. As you stroll through the museum, you will see the incredible mind of a hero from another era.
Items displayed in the fourth gallery
next to entering the fourth gallery will not be less than a surprise.
Very first editions
the featuring elements of the fourth gallery are various documents, poems, articles, and 1st edition of Iqbal's work displayed in their original condition.
Items displayed in the fifth gallery
The prominent elements of this gallery are some important photographs and models of various buildings and institutions associated with Allama Iqbal.
Models of important buildings
There is an eye-catching beige-colored model of Iqbal manzil, Kashmir area, Sialkot, where Iqbal was born on November 10, 1877. You will come across another white-colored scotch mission high school model, Sialkot, where Allama Iqbal passed his middle, matric, and intermediate examinations. Alongside, another model is displayed, which is of a government college, Lahore, from where Allama Iqbal obtained his B. A and M.A degrees.
Models of important photographs
In the fifth gallery, rare pictures of Iqbal's three wives are displayed, namely:
Karam Bibi
Sardar begum
mukhtar begum
Items displayed in a sixth gallery
The featuring elements of the sixth gallery are some personal belongings of Allama Iqbal, which are beautifully taken care of.
Daily use of objects; Dresses, shoes, etc.
There is a collection of two cotton shalwars of Allama Iqbal, along with a brown-colored wool sweater and four shirts, displayed on a glass shelf in a well-maintained manner. On another shelf, you can see a three-piece cotton suit of Allama Iqbal hanged in good condition along with a woolen tail coat. On another glass shelf, bow ties, a black weskit, and beige-colored gloves used by Iqbal are placed. Two brown-colored wool caps are also displayed. Moreover, when you enter the bedroom of Iqbal, you will see a pair of shoes placed on the floor.
Other three galleries: Rooms
Now you are ready to explore three rooms of Javed manzil's
Bedroom
In the bedroom, you will see some of his photographs, medications, one showpiece, and a simple bed on which an old pillow is placed. A bookshelf is also placed in the bedroom, filled with books to the brim.
Drawing room
The drawing room used by Iqbal is also well maintained, and every item is placed in its designated position. This is where he used to meet with key figures of the period. The room is airy with two white windows located. There are four chairs, an old sofa set and a small table placed along with some photographs hung on the walls.
Dining room
As you enter the dining room where Iqbal used to have dinner with his family, you will spot a round black-colored table with six chairs. A shelf filled with some old utensils used by him. A well-maintained dressing table is also there.
Iqbal museum ticket price
Entrance to Iqbal Museum is free.
Iqbal museum timings
Iqbal museum is open for its visitors from 9 am to 5 pm on all days of the week except for Wednesday.
The location of the Iqbal Museum
The museum is located on Alama Iqbal Road, railway colony Garhi Shahu, in Lahore, Punjab, Pakistan.
Frequently Asked Questions
What are the visiting hours of the Lahore Allama Iqbal Museum?
In the summer you can visit the museum between 8:30 am to 5 pm. There is a break of about two and a half hours between 12 pm to 2:30 pm to offer Zohr prayer. In winter you can have a visit between 9 am to 4 pm.
On which days can we visit Jawed Manzil?
You can visit Jawed Manzil on any day of the week except for Wednesday as they have a holiday on Wednesdays.
What is the price of ticket 2022?
Iqbal Museum has no specific entrance fee, but donations are welcome.
Where is the location of the Allama Iqbal Museum?
Allama Iqbal Museum Lahore is located near the Lahore railway station, on Allama Iqbal road, in Garhi Shahu, Lahore, Punjab, Pakistan.
Conclusion
The Iqbal Museum is a very informative and interesting museum that all should visit. It was listed as a UNESCO Tentative World Heritage Site. It was safeguarded under the Punjab Antiquities Act in 1975. A visit to this place can give you a deep insight into the life of Iqbal and his poetry. It provides a great deal of information about Muhammad Iqbal and his work, as well as the history of Pakistan. The museum is also in an excellent location, right next to the Badshahi Mosque.