Upper Kachura Lake
Upper Kachura Lake (also known as Kachura Lake) sits at an altitude of 2500 meters above sea level, making it one of the highest lakes in Pakistan. It's located in the Skardu Valley of Gilgit-Baltistan, in the Karakoram Mountains ranges of the western Himalayas. Because it's so high up in the mountains, it experiences freezing temperatures throughout the year and gets covered with frost.
Upper Kachura Lake Skardu Attraction and Location
Upper Kachura Lake, also known as Zambakha Lake, is a part of the Indus River Basin and is one of the scenic and beautiful destinations near Skardu in Gilgit-Baltistan. It lies 20 kilometers from the town and can be reached by road or Skardu. The Lake occupies long acres of land with a maximum depth of 70 meters. You can also enjoy skiing and boating here.
There are good hotels for staying nearby. But you should hire guides to get around the place. The best time to visit this site is from May to September when the weather conditions are pleasant, and many tourists visit too. However, remember your food provisions, which are unavailable at the site. So, you should plan well before going on the trip. Another thing to note is that while climbing up the mountain, keep checking on any symptoms of altitude sickness like headache and nausea because these will reduce if you descend back down the hill.
What is the Best Time to Visit Upper Kachura Lake?
The best time to visit this tourist attraction is from May to September. There are many reasons for this, but the chief among them is the lower temperatures, which can go as low as -20°C in December. It's not uncommon for the Lake to freeze completely by December.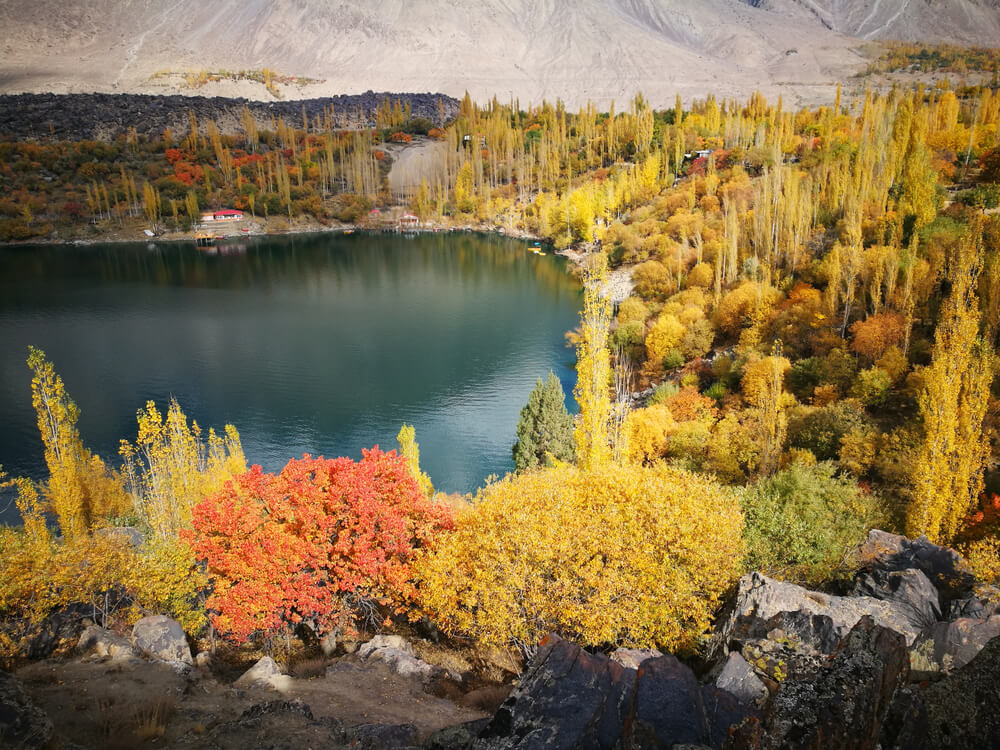 Recommended Gears
If you're looking for the perfect way to explore Pakistan, take this trip! You'll be provided with all the gear you need for hiking and trekking in remote, beautiful locations like Upper Kachura Lake Skardu.
Main Attraction of This Natural Beauty:
You're probably familiar with the breathtaking beauty of the Karakoram Mountain Range. But have you had the opportunity to visit Upper Kachura Lake? If not, you're missing out! This stunning Lake is located in the northern region of Pakistan and is one of the main attractions in the region.
There's no shortage of activities to keep you busy while you're here. You can hike, take a boat ride, or relax and enjoy the spectacular views. If you are a true explorer, this place is a must-see. Following are some highlighted activities from us:
Beautiful Trekking Path
If you are considering trekking in Pakistan, the best place is along the Karakoram Highway from Islamabad to Skardu. Along this route are numerous spots with outstanding views, and one of these places is Upper Kachura Lake. This trek goes from sea level to 2500 meters and has dramatic views of the Himalayan ranges at its end. The best time to do this trek would be around September when you can see red flowers all over and hues of yellow as well.
Encircled by Tremendous Mountains
Perched high in the majestic Himalayas, Pakistan's Upper Kachura Lake is a picturesque place to stop and escape it all. With huge mountains encircling it, this tranquil paradise with incredible views will be your little oasis on Earth. Whether you're looking for an adventure or just some peace – this natural beauty has covered you.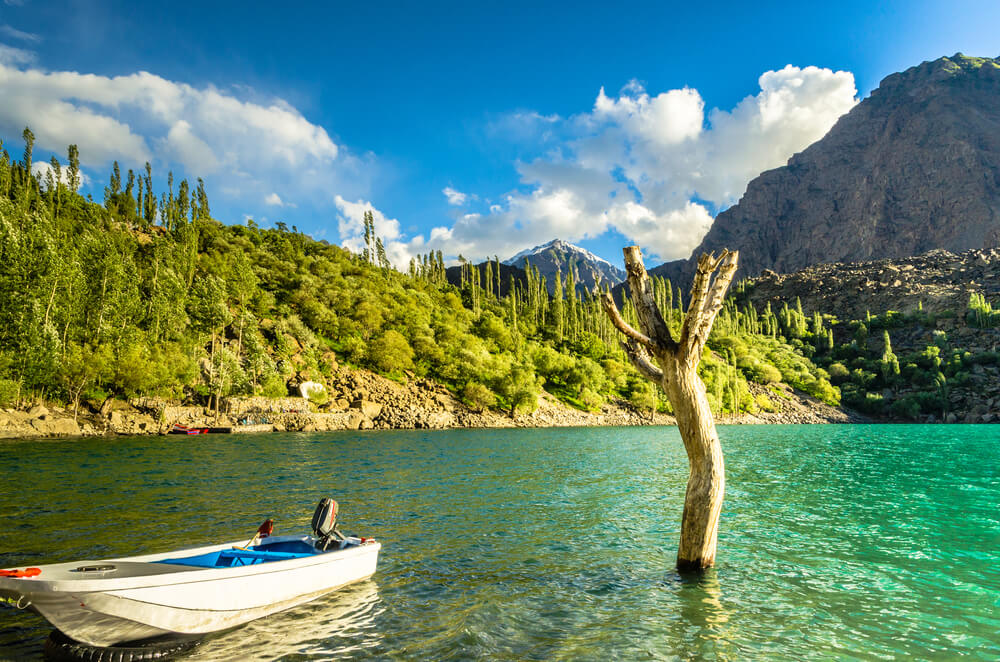 Apricot and Conifer Forest
This beautiful Lake offers travelers and locals a retreat in one of Pakistan's natural wonders. Boasting everything from conifer forests to apricot trees, the region attracts tourists and locals looking for their slice of natural beauty.
Deep Natural Water
The water is most profound at the center and measures up to 70 meters deep in this area. People often use an electric cord to retrieve items from the water. Electricity runs off of solar power! The massive round stones at the bottom of the Lake make for excellent resting spots when people are tired from swimming.
Best Picnic Spot
Upper Kachura Lake is serene and beautiful, making it the perfect spot for a picnic. The Lake has various wildlife, including red foxes, leopards, and ibex. Several birds can be spotted in the area, making it an excellent place for birdwatching.
Picnics are allowed in some regions of Upper Kachura Lake, and a few picnic spots are particularly scenic and peaceful. If you're looking for the best place to enjoy a picnic in Upper Kachura Lake, check out one of these spots.
Most Scenic Views of Lake
We watched people fishing and enjoyed the warmth and beauty of the sun setting over this Lake. The Lake was so; still, it felt like we were in the middle of a calm ocean rather than on land. After sunset, many swimmers entered the water to enjoy its cool refreshing temperature. This an excellent site for any traveler who wants to see one place in Pakistan that will give them an idea of what this country has to offer!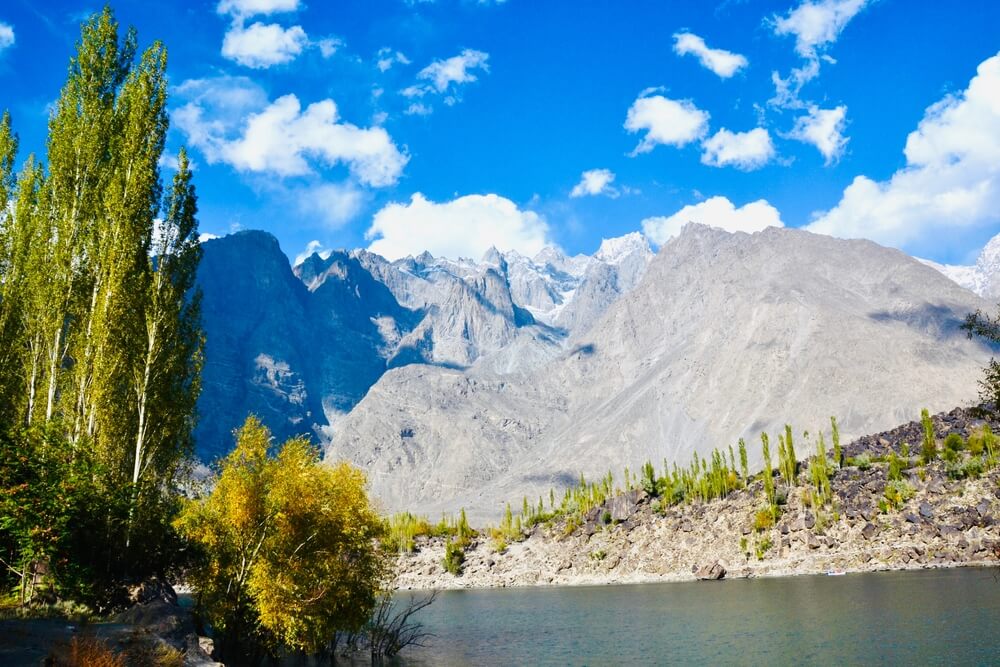 Things to do at Upper Kachura Lake
As one of the highest lakes of Gilgit Baltistan, Upper Kachura offers a great vantage point to see the natural beauty surrounding it. Bring your camera and wear comfortable clothes; you'll want to take pictures here. Keep an eye out for local fishermen as well.
Fishing
The people of Skardu have practiced subsistence fishing in this natural Lake for centuries. However, the high costs have limited access to boats and fuel and often require hours of trekking through the mountains from Skardu to the Lake. Recently, there have been reports that fishing in the Lake may have become more accessible and cheaper as skippers live on its shores.
Boating
Upper Kachura Lake is one of the world's most good lakes. It attracts those who love to experience its natural beauty and to take in that raw, untamed nature which can sometimes be hard to find even when you are adventuring through the remotest areas.
The best way to enjoy this area is by getting out on the water with your friends and family for a boating adventure. The water at this location freezes during winter, so visit during the spring or summer if you want to take your boat out on the water. If you are feeling adventurous, try renting kayaks and paddle out into the middle of it, where there is an island with peacocks roaming around it!
Trekking
Want to experience the other side of Pakistan? A trekking tour around this peaceful and pleasing destination offers an opportunity to explore the beauty and raw, untouched beauty that can be found all over Pakistan. As one of the highest lakes in the world, trekkers need to be prepared for high altitudes, so come ready with some time, boots, and layers. The route starts at Islamabad and follows the fairy meadows before climbing into the mountains.
The last part of the trek will take you to Lower Kachura Lake, which has breathtaking views of Nanga Parbat and Rakaposhi. Along the way, you will see lush green pastures, orchards, forests, and wildlife such as ibexes, red foxes, and brown bears – plus plenty of fresh water!
Photography
The water in the Lake makes for a stunning sight against the greenery and snowy mountains. Stand on the hill, point your camera down towards the water, and then turn your camera to take in all the breathtaking scenery. The towering Himalayan Mountains add even more drama to an already incredible scene. Breathtaking! We recommend standing at various spots on top of that hill and taking photos from every angle to capture this magic view as best possible.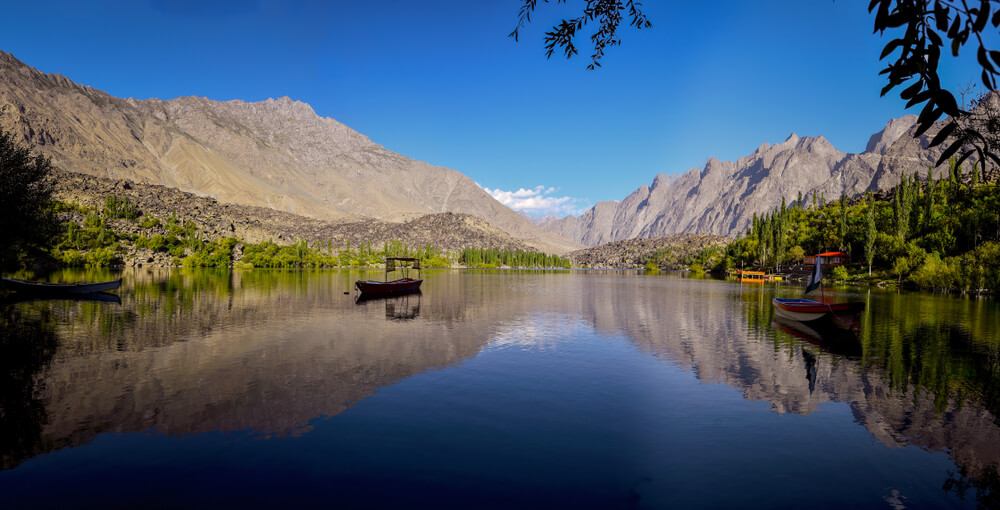 How to Reach Upper Kachura Lake?
The Lake is about 40 minutes from Skardu, the second-largest city in the northern Gilgit-Baltistan region. You can fly to Islamabad or Karachi and then board a flight to Skardu to reach there. If you're driving from Islamabad, it will take about 3 hours and 38 minutes by bus or car to reach the border at Torkham in northwestern Pakistan.
Facilities at Upper Kachura Lake
Upper Kachura Lake is not only an idyllic getaway for Pakistanis needing peace, but it also features various activities. You can go fishing at the Lake and enjoy viewing the beautiful landscape while trying to reel in some fresh fish. It's also just one of the few spots where you can enjoy skiing or snowboarding in all seasons due to its altitude of over 2500 meters.
Parking
If you visit this lake area, you may face some parking issues. First, there is no official parking lot. Instead, visitors can park their cars along the side of the main road. Parking spaces can fill quickly, especially on weekends and holidays.
Another thing to remember is that parking in the Upper Kachura Lake area is a cost. Visitors must purchase a parking permit from the office of the Rangers at the entrance to the area. The cost of the permit is 50 Pakistani Rupees.
Restaurants
Upper Kachura Lake is home to several restaurants serving local and international cuisine. There are also several hotels and guesthouses in the area and various shops selling souvenirs and handicrafts.
If you're looking for a place to relax and enjoy the stunning scenery of the Skardu Valley, Kachura Lake is the perfect spot.
Tourist Resort
Aside from breathtaking views, the resort has five villas with room for up to ten people. Each estate includes two bedrooms, one kitchen and dining area, one living room, and one bathroom. The view of the Lake from these villas is breathtaking. You can also sit out on the balcony and enjoy fresh fruit drinks as you watch little birds dart about in the early morning light or admire the beauty of this reservoir in Skardu, Pakistan.
How much is the Distance to Upper Kachura Lake from Skardu?
The upper kachori lake is in the Gilgit-Baltistan region, which means it's part of Pakistan. It takes around 40 minutes to drive from Skardu to get there. If you were to fly, it would take about 17 minutes. However, this option is only available for some people due to terrain constraints and a lack of commercial flights that service the area.
Boat Riding Ticket Price
Tickets for boat riding cost 200 Pakistani Rupees per person or about 2000 Pakistani Rupees; a complete boat can be booked for an hour-long ride. You can also buy tickets for children and senior citizens at the discounted price of 150 Pakistani Rupees. The ticket booth is near the Lake, in front of the Food Court, and other shops selling souvenirs such as t-shirts and postcards.
Location of Upper Kachura Lake
This earthly heaven in Pakistan is peaceful in scenic hills near Skardu. The Lake, fed by the snow from Mt. Rakaposhi and other Karakoram peaks, provides hydroelectric power to lower regions. Locals come here to dip into its calm waters, with rain often scarce in Skardu.
Why is Upper Kachura Lake famous?
Upper Kachura Lake is Pakistan's highest natural freshwater Lake, at over 2,500 meters. It was created by damming the Gilgit River and can be found in Skardu. While this breathtaking location may be famous for its beauty, it was created as an irrigation project to help struggling farmers, making it a beautiful place to visit anytime.
Is Upper Kachura Lake artificial?
This manifesting beauty in Skardu, Pakistan, is beautiful and surprising to some. The backwaters of the Indus River have formed the Lake following its natural course, which was later blocked by earth dams. This accumulation in the river causes it to run slower and deposit sediment, which causes many beaches to form on its banks – the longer these dams exist, the more sediment piles up and extends these beautiful beaches.
Conclusion
Pakistani upper kachura lake can be visited for a day tour that offers scenic views, forest walks, and whitewater rafting. The enchanting beauty of the place makes it an ideal location for socializing and dating. Boat rides are also available on the Lake, where visitors enjoy traditional food.
In conclusion, this Lake offers myriad ways to spend time with family and friends in a unique natural environment.