Explore Satpara Lake, Gilgit Baltistan
Satpara Lake is just one of Pakistan's many beautiful attractions in the Gilgit Baltistan region. It's located in Skardu, an area still relatively unknown to most Western tourists but offers an authentic glimpse into the region's rich culture and history. If you're looking for an off-the-beaten-path adventure in the Himalayas, Satpara Lake might be just what you're looking for!
Satpara Lake Skardu Attraction Timings & Locations
Satpara Lake is a big lake in the mountains. Small boats take tourists around the lake, which can take 15 minutes. It is worth visiting because it has good views of the surrounding peaks and villages on the other side. The ride also provides a great vantage point for photographing this scenic part of the world. The boat operator will allow you to fish if you want to try your luck (most people don't bother with it).
Story About Satpara Lake
Set in the Karakoram mountain range near Gilgit-Baltistan, Pakistan, Satpara Lake is considered one of the most natural wonders in South Asia. It has been designated as a wildlife reserve by the government of Pakistan. The lake is situated at an elevation of 2,636 meters above sea level, which measures about 2.5km square. Its most extraordinary depth reaches about 40 meters ( 130ft) and supplies around 3 million gallons of water daily to Skardu. In addition to being one of the largest freshwater lakes in Pakistan, it also produces saltwater, which makes it an oasis for fish and fowl alike.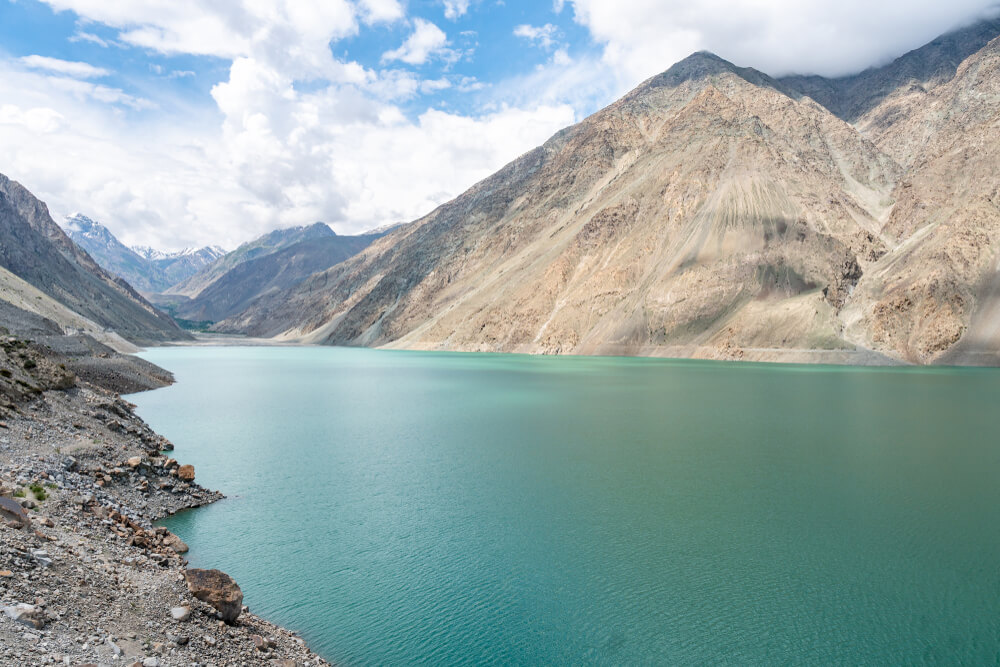 Recommended Gears
-Camping equipment (sleeping bag, tent)
-Enough warm clothes for all seasons (sweater, jacket, scarf)
-Camping stove and cooking utensils
-First aid kit
-Toiletries (soap, toothbrush, etc.)
-Hat or a sun visor
Main Attractions At Satara Lake 
Skardu Valley receives water from Satpara Lake, a natural lake close to Skardu in Gilgit-Baltistan, Pakistan, at 2,636 meters above sea level. After a long drive on bumpy roads, you can access this remote region through Taxkorgan Valley. The spectacular view of snow-capped mountains as you descend into the valley is unforgettable. The scenic beauty that unfolds before your eyes will leave you spellbound and captivated.
● Majestic Lake
Gilgit Baltistan has always been a region shrouded in mystery; the diverse culture that dates back centuries makes it home to countless treasures. One such treasure is Satpara Lake. Located in the heart of the valley at a distance of 23.8km from the town of Skardu, it is about 2,636 meters above sea level. A clear stream with emerald green water flows down from mountain peaks and feeds this divine natural reservoir providing a fantastic ecosystem for trout fish that grow to many pounds.
●      Rocky Terrain Surrounding Satpara Lake
Known as the Nanga Parbat Capital City because of its proximity to the 26,660 feet high Nanga Parbat peak, this region is famous for its lakes and meadows. Rocky terrain surrounds the city, making building roads or constructing buildings difficult.
● Picturesque Island
Satpara Lake is a small but stunning body of water. With the deep blue hues blending in with the white and black reflections of the surrounding rock faces, it is easy to understand why this location has earned its reputation as one of Pakistan's most picturesque locations. So while you might be slightly disappointed when you arrive at what seems like a tiny puddle by our standards, don't let its size fool you.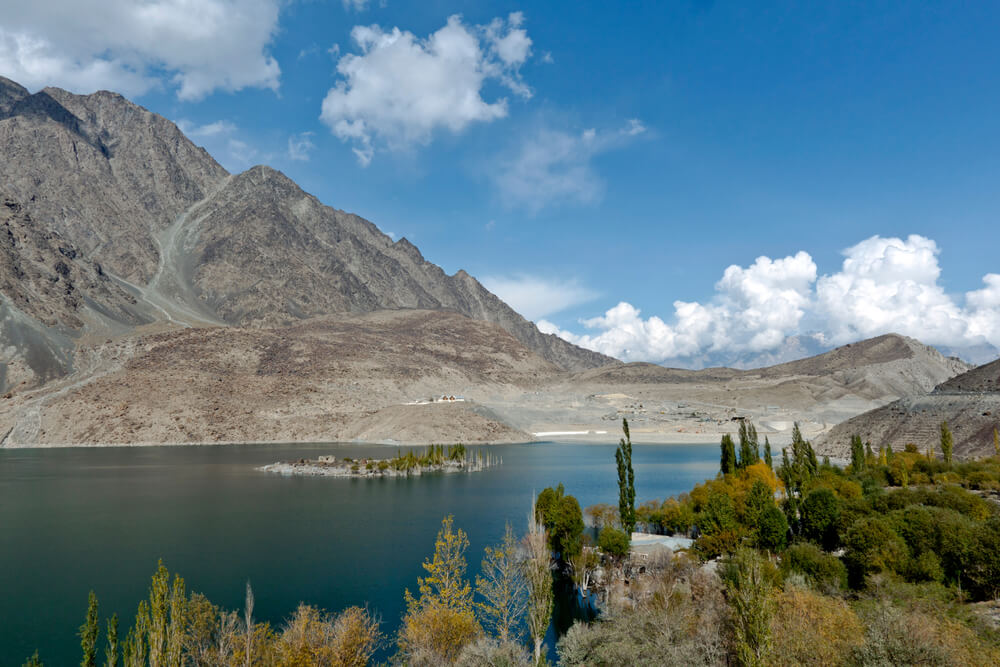 ● Satpara Dam
Constructed between June 2012 and June 2013 to save the Satpara River that had traditionally sustained the irrigation of 15,536 acres downstream, this earth-filled dam creates an artificial lake by storing water collected from summer snow melts. With a height of 128 feet, it was constructed with sediment brought in from two miles upriver.
●      Snow Covered Mountains near Satpara Lake
The sight of the snow-covered mountain ranges is a startling spectacle. The snow runs down in all directions, drenching everything it touches with white powder and adding another layer to the already gigantic peaks. Driving around, you see gorgeous alpine villages and remote hamlets on the sides of massive cliffs. Scrambling from village to village by foot or car is a fantastic way to enjoy the serenity of these altitudes while meeting the friendly locals.
● Lush Green Meadows
Gilgit Baltistan is home to many glaciers and lakes with green meadows. One such lake is Satpara Lake which can be seen from a long distance from Karakoram Highway. The pleasant summers are ideal for visiting this lush green area of Gilgit-Baltistan. You can take a break from the searing heat by relaxing in the refreshing water surrounded by high snow-capped mountains covered with colorful wildflowers.
●      Snow Falling near Satpara Lake
Satpara Lake is a shining oasis situated in the valley of Skardu. If you want to enjoy the mesmerizing view of snow, you can visit Satpara lake from November through January when the lake freezes over. Children take ice skates and play on the ice while men fish from its banks. The frozen lake emits an otherworldly glow that lends an airy, almost mystical quality to this time of year. However, the best time to visit at moderate temperature is narrated below.
●  Lake's Crystal Clear Waters 
This is a photo slideshow detailing all the natural beauty in the area. The first stop is Satpara Lake, crystal clear and set on the edge of a mountainous region with the snow-capped Himalayas in the background. This region has always been hidden from outside influences, but now it's starting to attract tourists who come to see this untouched, unspoiled land.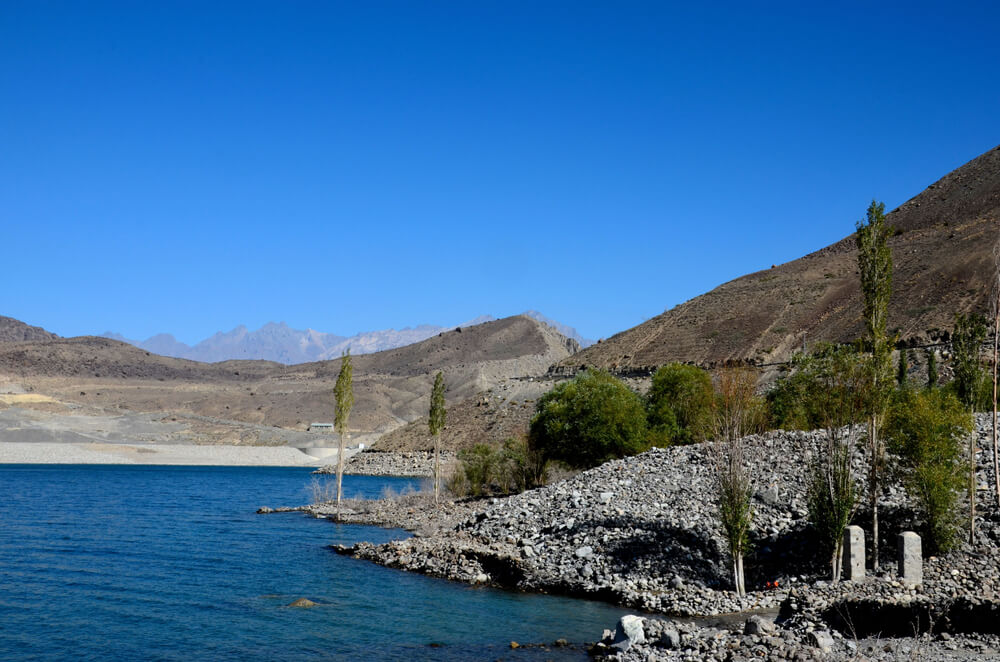 Things to do at Satpara Lake
Besides the refreshing water, water sports are also available for swimming, canoeing, and boating. Attractions – if you're an avid photographer, this destination has been made just for you, with a range of extraordinary landscape views to capture those perfect shots. Sights to see – take a trek on the upper reaches of the reservoir or climb up some old ruins dating back centuries.
●    Fishing at Satpara Lake
They are waiting for you here if you want to see trout fish. The name of this lake has yet to be made from any old name because it includes the word Fishing in its complete form to show the visitors that this place is a heaven for those who want to enjoy Fishing. This is also a campsite where guests can live at night too. Tents are available for their accommodation if they want to stay at night.
● Boating
The word boating might not be in your vocabulary, but that doesn't mean it isn't possible. The lake is so big that renting a boat is easy to do.
● Rowing
Hiring a rowboat to glide peacefully on the crystal clear water surrounded by snow-capped mountains is the ultimate way to experience this pristine landscape. This is just as wonderful for children as it is for adults. They also offer easy paths to walk or ride bikes around the lake. You'll find local tribespeople stopping to chat with you occasionally, and there are many restaurants where you can stop for lunch or snacks on your outing.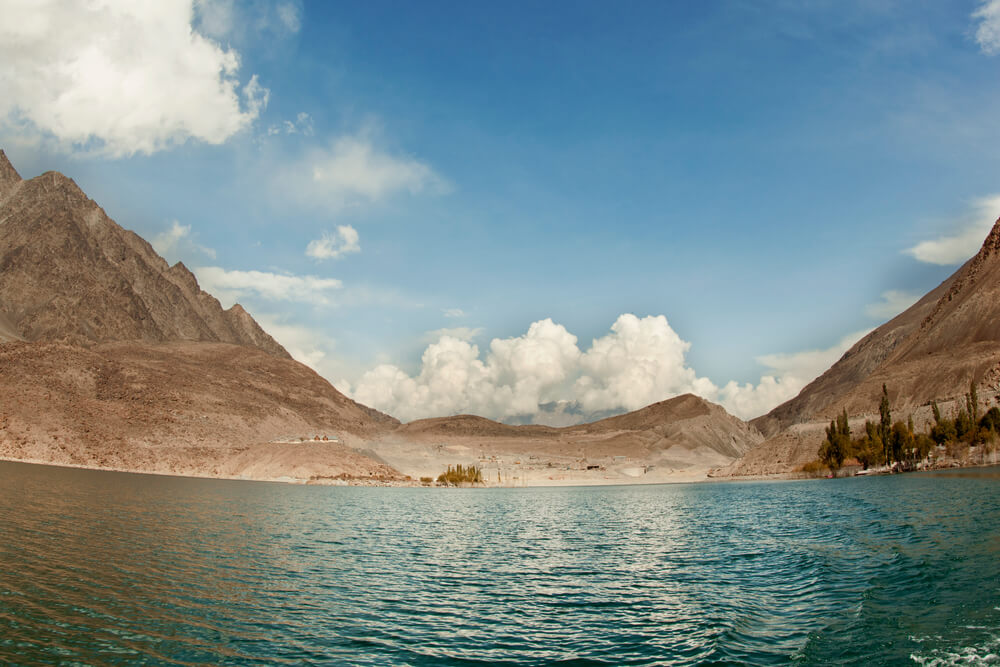 ● Photographs
Satpara Lake is just one of the many incredible spots in Gilgit Baltistan that have yet to be fully explored. This region is a true hidden gem, home to some of the highest mountains on earth. Recently, a nearby lake – Satpara Lake – was brought to attention by adventure-seeking trekkers documenting their trip via social media. With crystal clear water and unparalleled views, it's easy to see why it caught our eye.
When is the Best Time to Visit Satpura Lake?
The best time to visit Satpura Lake is from June to September. October is also the best month to visit Satpara. This is when you'll be able to see the blue waters that this area is famous for. But it might get too cold in the wintertime as temperatures can drop below -3 degrees Celsius to -6 degrees Celsius on average. So if you choose between summer and winter, plan with the following chart.
How much is the Distance between Satpara Lake from Skardu City?
Satpara Lake is about 23.8km away from Skardu city. To get there alone, you can head to a taxi stand in the center of Skardu. A few hotels in Skardu offer guides to take you to the lake.
Many local citizens tell stories about Satpara Lake being haunted by spirits. Many visitors claim to have seen mysterious lights or even specters.
How to get a Fishing License?
You will require a fishing license to fish in any provincial area in the country. Fishing licenses can be obtained from the Fisheries Office on a first-come, first-serve basis. The cost of the Fishing license is 1000pkr for one person.
Facilities at Satpara Lake
When you enter the region, you are overwhelmed by stunning vistas of sheer mountain peaks with verdant valleys. You must reach Satpara in at least two days to get acclimatized. There is a facility for staying at Hotels near the lake, and if you have your tent, you can pitch it anywhere around this location.
● Hotels and Resorts
The four-hour trekking trail leading to the lake is challenging but worth it. There are more than ten guest houses by the lake: each with a tent and a cabin where you can stay overnight. The cabin provides more comfort with beds, carpets, and heaters. Pack warm clothes in the winter (November to March) because there is no heating in the tents or cabins.
● Restaurants
Guests at Dewanekhas Restaurant Skardu enjoy many international dishes from Chinese to desi. Our chefs are ready to serve you a delightful meal no matter what your taste buds desire. When dining with us, please try the Stuffed Pumpkin Tarts (feta cheese, olive oil, pine nuts, sun-dried tomatoes, and basil) and the Saffron Risotto with Dried Figs and Honey…you won't regret it!
● Fishing Gear
Satpara Lake is located in Gilgit Baltistan at an altitude of 2,636 meters above sea level and measures about an area of 2.5km square. It is one of the biggest freshwater lakes in the world. With its name translating to High-lying Daughter or snowy maiden in Urdu, this natural body has never been investigated scientifically by experts, nor have its true origins been determined.
● Parking
One of Satpara's biggest attractions is its parking – an entire car park will be available. This means you won't have to scramble for a spot before sunrise, unlike other lakes in areas such as Swat or Naran, where parking is sparse. It also means you can return later in your trip and find somewhere to park easily.
Location of Satpara Lake Skardu
It is nestled between tall snow-capped mountains in the northern region of Gilgit-Baltistan province, at an altitude of 2,636 meters above sea level that measures about 2.5km square. The gorgeous lakeside with snow-capped peaks can be seen from miles away. This enormous jewel on earth isn't just a surreal place to visit, but it also offers a wide variety of outdoor activities such as mountaineering, trekking, skiing, etc.
FAQs
Why is Satpara Lake famous?
Satpara Lake is famous for its natural beauty. Lying on the slopes of the Karakoram Mountain Range at 2,636 meters above sea level, it measures about an area of 2.5km square; it has deep blue-green waters frozen in wintertime. Some striking scenery surrounds this hidden jewel; different shades of browns, greens, and blues surround you when you look up at the mountain ranges in this region.
The journey to get here will amaze you too!
Which dam is built on Satpara steam? 
Satpara Lake is a scenic paradise where a giant dam was built to provide water to local communities in Gilgit-Baltistan. It's located at an altitude of 128 feet,
making it the highest dam in the world. The awe-inspiring site offers travelers an incredible opportunity to see pristine waters flowing from great heights.
Conclusion
The spectacular natural beauty of the region is its most significant selling point. The lake is unblemished by pollution or trash, without visible signs that human civilization has arrived here. Whether you visit for a day or stay for a week at a local guesthouse, Satpara Lake offers an experience of natural beauty that will no doubt stay with you for the rest of your life.