Rawal Lake Islamabad, Pakistan
There are plenty of lakes to be found throughout Pakistan, but few are as beautiful as Rawal Lake, nestled in the heart of Islamabad. Although it's small compared to some of the other lakes in Pakistan, this lake is lovely and worth taking the time to visit when you're in the area. 
Rawal Lake was made for the people of Islamabad and Rawalpindi to fulfill their water needs. It takes up about 8.8 square kilometers of land and gets its water from the Korang River and some streams from Margalla Hills, just north of Islamabad. Here's a brief outline of Rawal Lake in Islamabad, Pakistan, so that you can plan your trip accordingly.
Rawal Lake Islamabad Attraction and Locations 
Rawal Lake is one of the most popular attractions near Islamabad. It's a freshwater reservoir that covers 8.8 square kilometers and has a live storage capacity of 37,500 acre-feet.
It was built by the Pakistani government to balance flows into the Jhelum River, prevent flooding and provide water storage for hydroelectricity. The lake can be reached by car or bus from Rawalpindi Railway Station or Lalik Chowk.
Attractions near the lake include Lal Masjid, Shakar, Parian National Park, Art & Craft Village, Margalla Hills, Pakistan Monument Museum, and Gallery 6.
What is the Best Time to Visit Rawal Lake?
Fall is an ideal time to visit Rawal Lake due to the warm temperatures and enjoyable outdoor activities. You'll also experience the cool breeze that blows off the lake.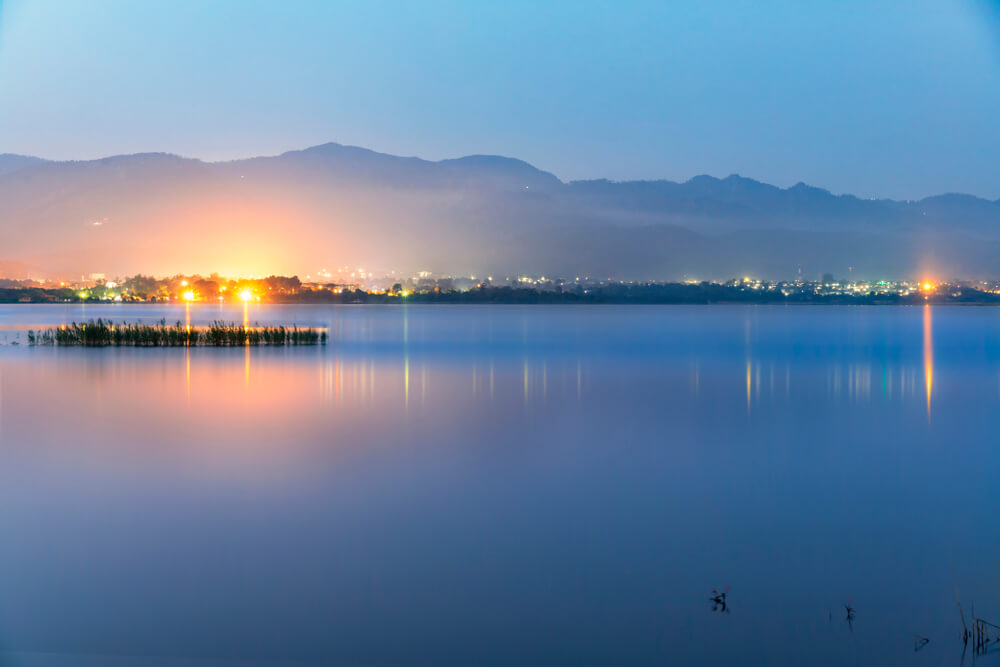 The best time for fishing is during May and June, with July being considered a relatively dry month.
February can also be a good time for fishing because many fishermen stop catching fish after December. After all, it's too cold outside. The lake opens for visitors from 08:00 AM to 8:00 PM.
Main Attraction at Rawal Lake
Families from the city make day trips to Rawal lake on hot summer days. Swimming is impossible as the water is dark green and muddy with untreated sewage. The park has many activities for children, including sandcastle-building competitions, carousels, and various rides.
There are also many other attractions nearby, such as an amusement park with rides and aquariums or Sakarda Beach.
Many Valleys at Rawal Lake
Rawal Lake is an artificial lake located just 2 kilometers (1.2 miles) outside the city center of Islamabad, Pakistan. It is 700 ft (210 m) in height and nearly one kilometer (0.6 miles) wide at the widest point.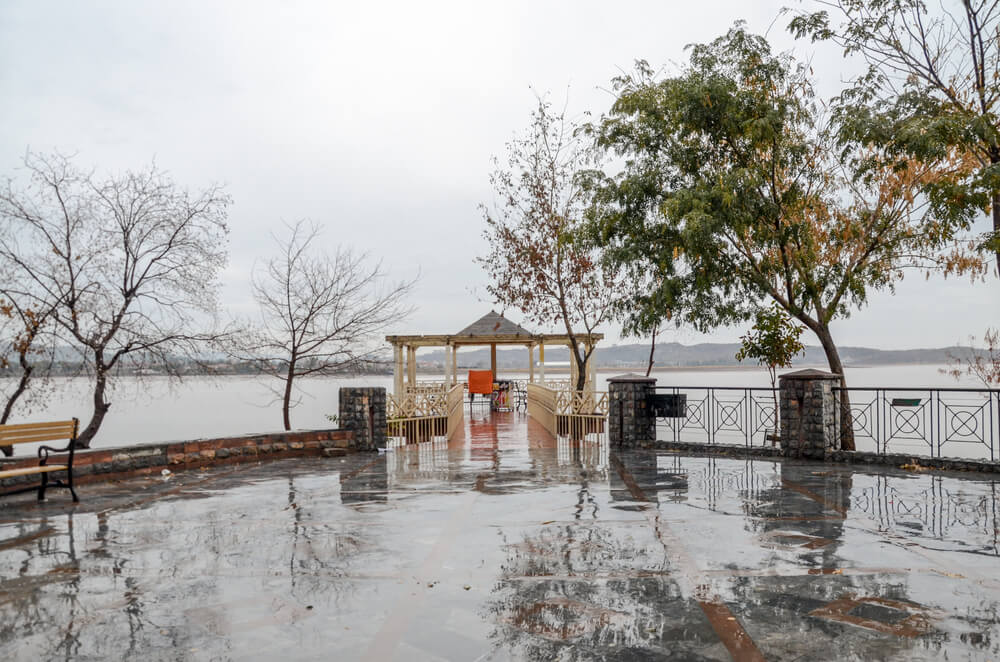 It was built by the Pakistani government to meet the water needs of a rapidly growing population for industrial and agricultural purposes and to provide recreational opportunities for residents.
High Mountains
It is located at about 700 ft (210 m). That is what makes it appear like a much bigger lake than it is. The mountains encircle it on three sides, and the forest-covered hillsides help to give it its distinctive geographical character and contribute to its beauty.
Surrounded by Flowering Trees and Gardens
Rawal Lake is a green oasis in the middle of the busy capital city. The busy streets are lined with flowering trees and gardens before you reach this oasis, making for a beautiful walkway.
One can escape from the hustle and bustle here as peace prevails amidst the environment. This calm contrast from one moment to another makes it so peaceful and worth returning to again and again.
Nestled deep within a valley, this lagoon provides an idyllic place for locals and tourists alike to enjoy pleasant walks through its many meadows lined with trees and flowers; sit on its shores at leisure, or partake in any number of recreational activities.
Murree Hills can be seen from the top of one part of the garden; Margalla Hills from another – provides an expansive view that fills all who look upon it with awe and wonder.
Wonderful Place for Visitors
Tourists can also bask in the joys of an outdoor picnic when they go to the park. The best time to visit is either early morning or right before dusk because, after 5 PM, it gets crowded – people can't seem to take their eyes off their screens these days!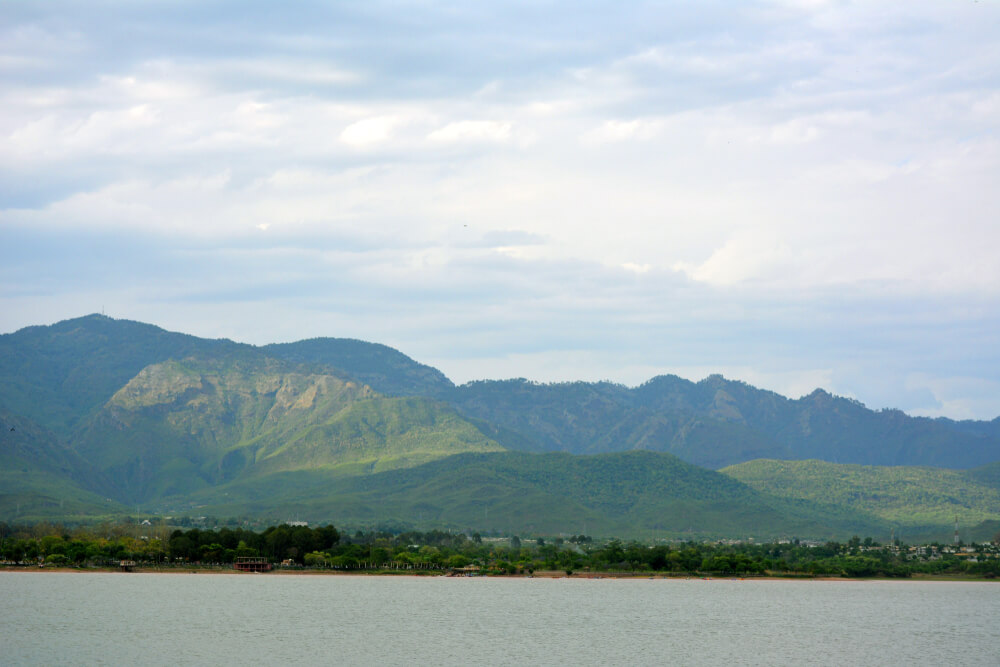 It's sad how much we miss out on what life has to offer nowadays; outside activities are becoming harder and harder with all this new technology taking over every aspect of our lives. But luckily, there is still a place where families can hang out together – it just takes a little bit more effort than clicking I agree on Facebook.
Walking Path Around theRawal Lake
One could stroll through the park to breathe fresh air and observe nature firsthand. Walking barefoot on the lush greenery at ease would provide relief from tension or anxiety.
Wildlife Spot
Mammals found in the region include Pangolin, Fox, Jackal, Porcupine, Jungle cat, yellow-throated marten, and Wild boar. Reptiles consist of Russell's Viper and Asian Cobra. In this area, there are many different types of Islamabad's native bird life – from peacocks to hoopoes to partridges – which make it an excellent place for birdwatching enthusiasts.
There are fifteen different species of fish within eleven genera that dwell in the lake, including Rahu (kingfish), Doula (drum fish), Thaila (large white carp), Carp Fish, Tilapia (garfish), and Mori.
Picturesque Sunset at Rawal Lake
Rawal Lake combines many of the joys that nature has to offer. The Margalla Hills are visible from around the shoreline, providing an incredible view for anyone fortunate enough to be here.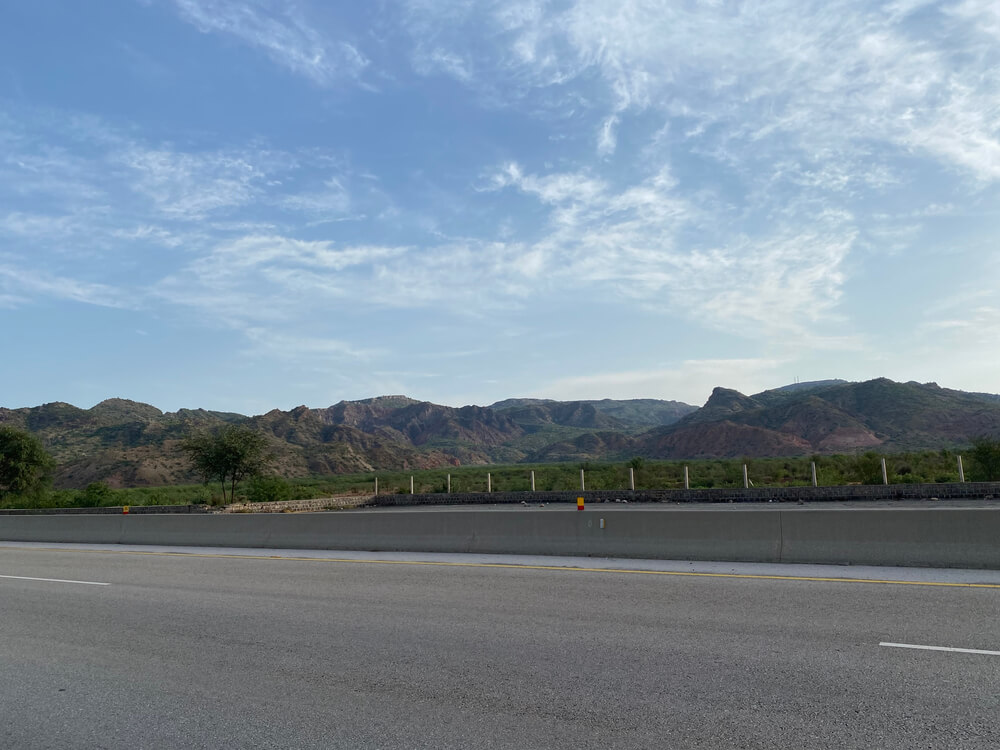 Coupled with a picturesque sunset over the water – it is no wonder why so many people enjoy spending time here when they can.
Lake View Park
Lake View Park is a recreational area and nature spot along Rawal Lake on Murree Road – Islamabad. It was built by Capital Development Authority (CDA) to give locals and tourists visiting the Rawal Lake region someplace healthy to come to relax.
With attractions such as picnic areas, including dedicated barbecue spots with grills, adventure sports, boating, fishing, and even bird aviaries that are home to rare species of birds – it is no wonder why this place attracts so many people!
A restaurant known as Dera also offers food and beverages at this location. CDA has taken special care to ensure everything stays in working order by allocating workers in various sections, such as gardeners, security guards, sanitation workers, and other management staff.
Many Swings for Kids at Rawal Lake
There are a lot of things you can do here. Boating is enjoyable if you know how to negotiate the price first, and there are many quad bikes and playgrounds for children and adults!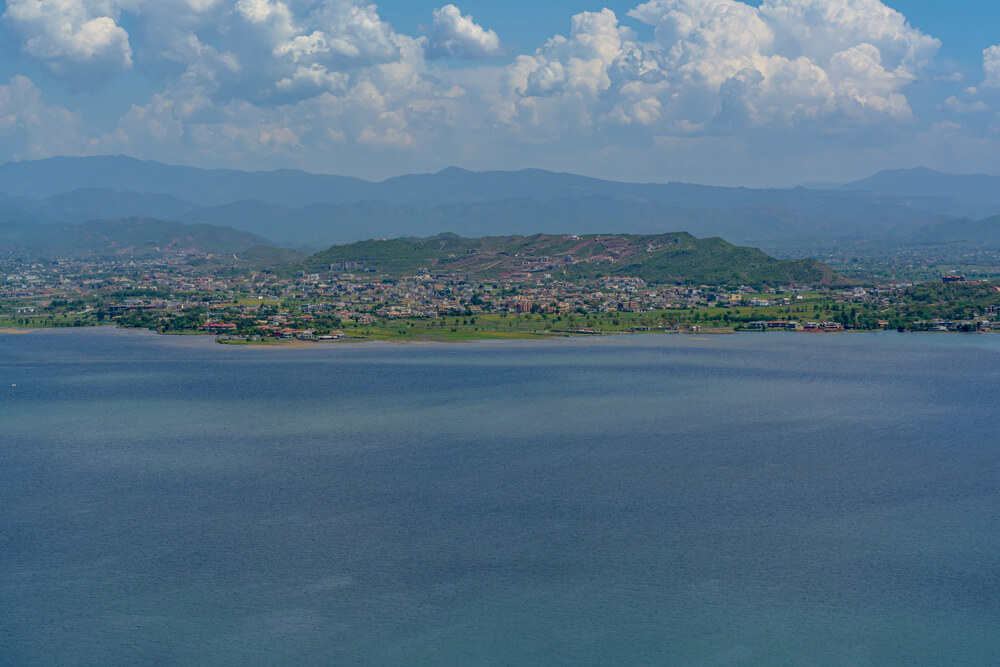 It's always fantastic near the lake because it looks beautiful, especially at sunset. Just one thing, though – don't tease the birds! Parents visiting should give this advice to their children so they won't needlessly scare them away from returning.
Birds Aviary
Birdwatching at the lake has been a fun activity for me. It doesn't require any company or cost and is perfect for teaching children about nature and bird species! These are some of the types of birds you can spot:
1. Falcons.
2. Eagles.
3. Hawks.
4. Pheasants.
5. Paradise Flycatchers.
6. Spotted Doves.
7. Pheasants.
8. Yellow Vented Bulbul.
Different Rides at Rawal Lake
Rawal Lake has something for everyone and is an excellent place for children. Visitors can enjoy various rides that provide a fun-filled, adrenaline-pumping day. The rides range from bumper cars to mini safari buses, so there's something for everyone. Whether you want just the thrill of the ride or you're looking for a trip with your family, Rawal Lake Islamabad will have the perfect attraction for you!
Things to do at Rawal Lake
The best way to explore Rawal Lake is by walking. The tracks that circle the lake are a 3-kilometer walk, providing some great exercise and amazing views of the blue water.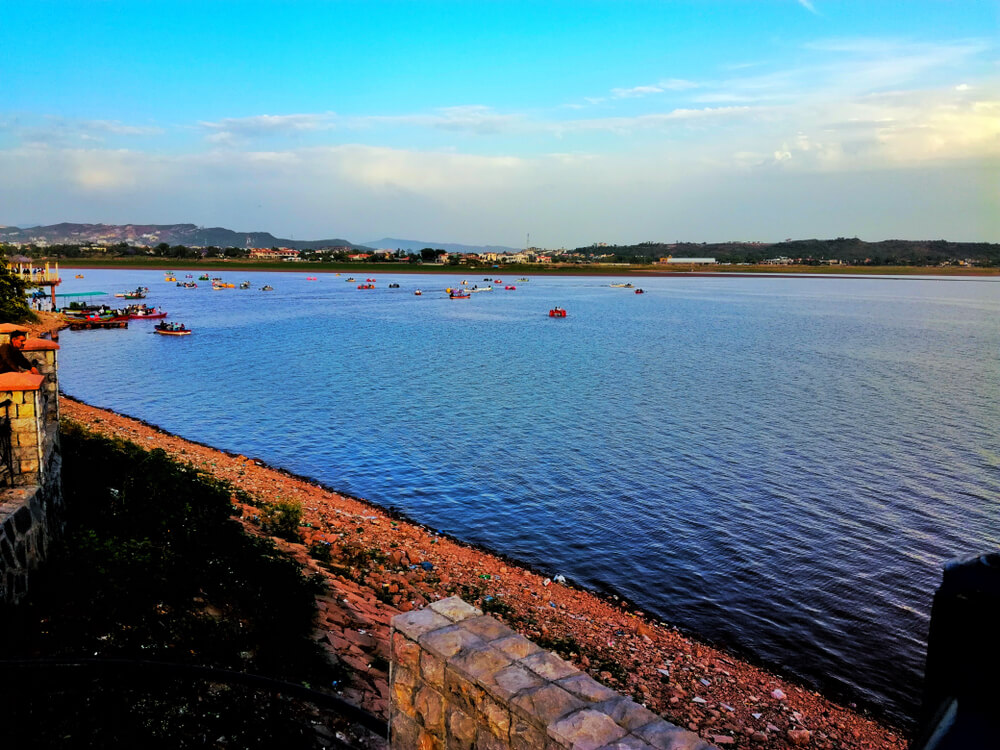 Locals like to jump into the water and cool off in the summer, but there are no lifeguards on duty so keep your kids close. Visitors can also go for a boat ride, grab ice cream from one of the food stalls or relax at one of the many picnic spots.
Boating at Rawal Lake
Rowing and boating are some of the most popular water sports in the park, with both canoeing and rowing remaining at the forefront for families looking to spend time together outdoors. Children will develop valuable skills while out on a boat due to its dynamic nature, making it an excellent activity for families.
Sailing at Rawal Lake
Sailing has become a viral activity for tourists in Rawal Lake. A sailboat tour of Rawal Lake is ideal for viewing wildlife, migrating birds, and enjoying scenic beauty. It is also an opportunity to explore its freshwater fish.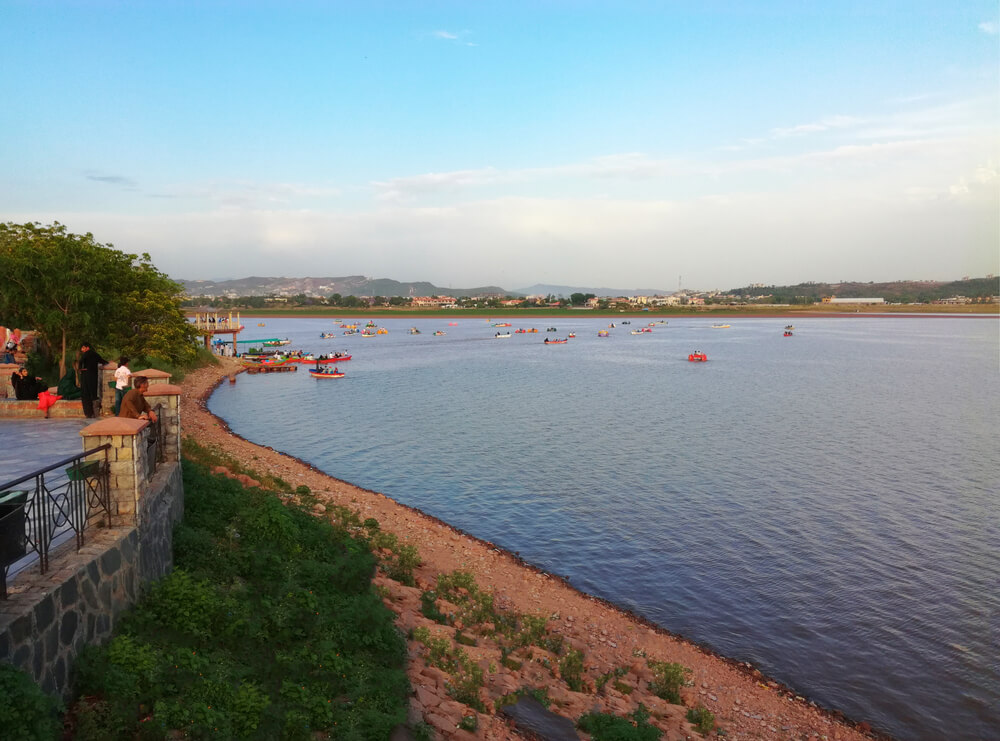 Fishing at Rawal Lake
Rawal lake is a large freshwater reservoir that houses some of the most prolific fisheries in the country. It is famous for its barrow, catfish, and tilapia fish species. This lake also has varieties of mudskipper, though these are not as prolific as some other types of fish.
Facilities
Known for its crystal clear water, unparalleled natural beauty, and as a hotspot for recreation activities such as swimming, picnicking, and camping, Rawal Lake is an attraction not to be missed. The beautiful blue-green waters of the lake are surrounded by lush green lawns and shaded paths that wind along the water's edge.
Several restaurants around the shore offer everything from Asian cuisine to traditional Pakistani dishes and clean family accommodations nearby; it has something for everyone.
Restaurants
Nearby restaurants to Rawal lake offer a variety of excellent options such as The Monal Islamabad, Zamana, Burning Brownie, Mocca Coffee, Chaye Khana, Pizza Party, Pine restaurant, Kabul Restaurant, and Hotspot for people who love BBQ Tonight.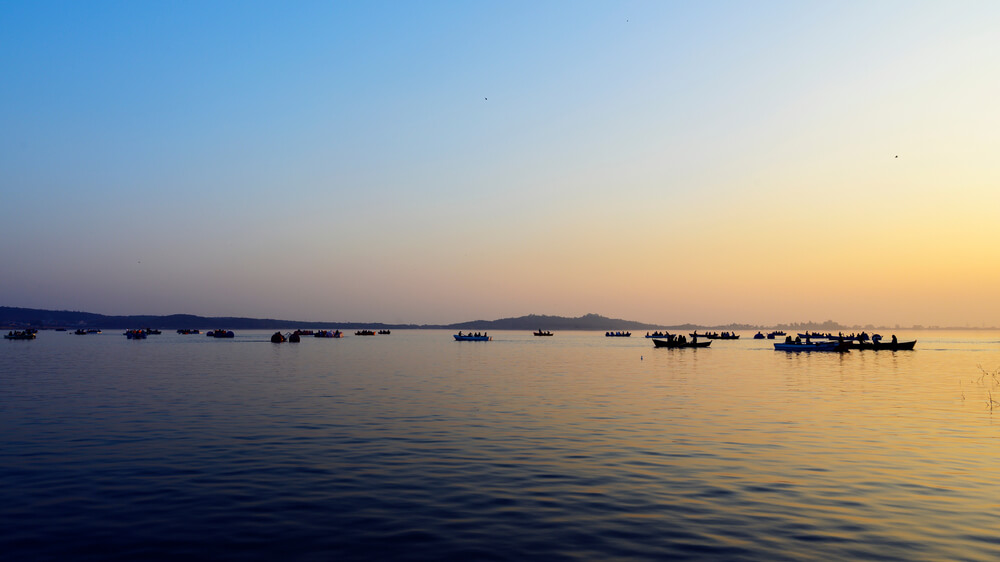 Hotels
Rawal Lake Hotels offers many options for food which is why it has become one of the most popular destinations to explore. Margala Hotel, Islamabad Serena Hotel, Dreamland Hotel, and The City Lodge are among the best Rawal Lake Hotels. Those looking for a little more variety can visit Magnolia Guest House, Bilawal Lodge, Chalet Islamabad, Islamabad Marriott Hotel, or Legend Hotel Islamabad.
Food
Rawal Dera serves superb and tasty meals prepared by the best-qualified cooks using the most excellent available ingredients. The restaurants around Rawal Lake also have an open-air ambiance with beautiful green lawns and sunny seating areas, which will make you hungry in the cold weather.
As thrill rides surround the location, it is excellent for corporate luncheons, parties, wedding parties, and celebrating birthday celebrations. The BBQ, Pakistani, and Chinese food will delight your taste buds.
Parking
Only authorized vehicles are allowed on the waterfront of Rawal Lake, and they must be registered with a parking card and shown at the entry checkpoint.
The park is open from 8:00 AM to 8:00 PM daily. Still, visitors should be aware that for security reasons, roads leading to the garden may be closed during certain hours, and parking cards are not valid after 8:00 PM—fees for parking range from 50 Rupees per hour to 500 Rupees per day.
Location of Rawal Lake Islamabad
Rawal Lake is located between the twin cities of Islamabad and Rawalpindi. Rawal Lake is located at Margalla Hills National Park, a popular tourist attraction. With coordinates of 33°42′N 73°07′E and a max depth of 102 ft (31 m), the total area covered by the lake is about 8.8 km2, with a catchment area of 275.2 km2 and surface area of 8.8 km2 (3.4 sq mi). The lake's water comes from nearby springs and canalization from other parts of the country.
FAQ's
What is the depth of Rawal Lake?
Rawal Lake, an artificial reservoir created by the Korang River and other streams from Margalla Hills, serves as a water source for Rawalpindi and Islamabad.
Korang River is a tributary to Rawal Lake, located within a limited section of the Village Malpur, Bani Gala, and Margalla Hills National Park. With coordinates of 33°42′N 73°07′E and a max depth of 102 ft (31 m), the total area covered by the lake is about 8.8 km2, with a catchment area of 275.2 km2.
Is Rawal Lake worth it?
Rawal Lake is one of those places that you take out-of-towners when they visit. It is a spectacular setting, nestled between lush green hills in the foothills of the Himalayas and situated in the traditional Margalla Hills National Park. It is worth a visit!
Conclusion
Rawal Lake is a popular tourist destination that provides recreation and relaxation for locals and travelers as well. It has also been home to many important landmarks and events in the past. The lake is a beautiful retreat for citizens of all ages. With good, clean surroundings and ever-changing views of the imposing mountains surrounding it, Rawal Lake is a must-visit while you are in Pakistan.