Hussaini Bridge – A Famous Yet Dangerous Bridge in Pakistan
Bridges are not only an infrastructure that allows people or vehicles to travel through rough terrains or water bodies, but they also act as essential landmarks of that place. Amongst the total 600,000 bridges in the world, do you know which one is the most dangerous? Hussaini bridge is considered one of the world's most dangerous and longest suspension bridges. Moreover, it's one of the many complex rope bridges in the Northern areas of Pakistan. 
The moment you see it, it will be hard to believe that such a bridge exists for commuting purposes in today's technological era. But over time, this hanging bridge has become a popular tourist attraction for those who love adventure and want an adrenaline rush.
Hussaini Bridge is located in Upper Hunza, Gojal Valley, and links the village of Hussaini with the rest of the region. It's made of wooden planks and hangs almost 100 feet above Borit Lake. The incline on both sides is very steep, and it's a scary experience to look down while crossing the bridge.
The bridge is often battered by strong winds and rainfalls, which makes it even more dangerous.
Despite its scary looks, Hussaini Bridge is crossed by locals and tourists daily. If you're planning to visit this place, go there in summer, as the bridge is often covered in snow and becomes slippery in winter.
Before you jump to any conclusion, let's unveil more facts about this exciting bridge so you can decide to visit it ASAP.
Weather at Hussaini Bridge
The weather at Hussaini Bridge is quite extreme as it's located in the mountainous region of Pakistan.
The summers are relatively hot, with temperatures ranging from 25-30 degrees Celsius. However, the strong winds blowing through the region often mitigate the heat.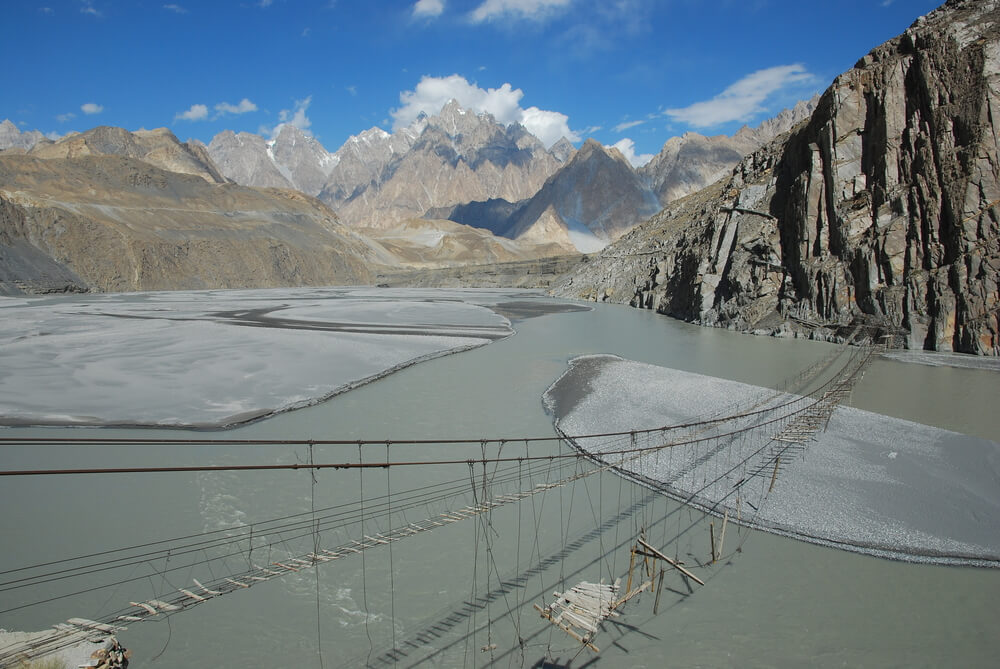 Winters are freezing, with temperatures dropping below zero degrees Celsius. The strong winds make the weather even more unbearable.
So, if you're planning to visit the Hussaini Bridge, it's best to do so in spring or autumn when the weather is more moderate.
Hussaini Bridge History
The Hussaini Bridge is located in the northernmost region of Pakistan. It's one of the world's most dangerous and longest suspension bridges.
The history of the Hussaini bridge dates back to British occupation in the Shishkat village of Gojal. But when the Karakorum highway was being constructed, the bridge shifted from Shishkat to Hussaini village in 1968.
The Mir of Hunza Muhammad Jamal Khan ordered this plan to connect the Hussaini village to another Zar Abad village, as these two were on opposite sides of the Borit river.
After that, between 1966 to 1977, the locals of the village rebuilt this bridge using ropes and planks from surrounding areas. It happened after the bridge got washed away in the flood.
The Hussaini bridge is one of Pakistan's oldest and longest suspension bridges. It is named after the Hussaini village, spans the Hunza River, and connects the towns of Hussaini and Zarabad.
The Architecture of Hussaini Bridge Hunza
Located at a distance of 45 km from Aliabad, this bridge has its important as it has become a famous tourist attraction.
The Hussaini Bridge is made of wood and rope; small wooden planks about six feet long are tied together using a strong string.
The stormy weather or strong winds make it almost impossible to cross this bridge. But still, this bridge miraculously survives everything and stays in its place.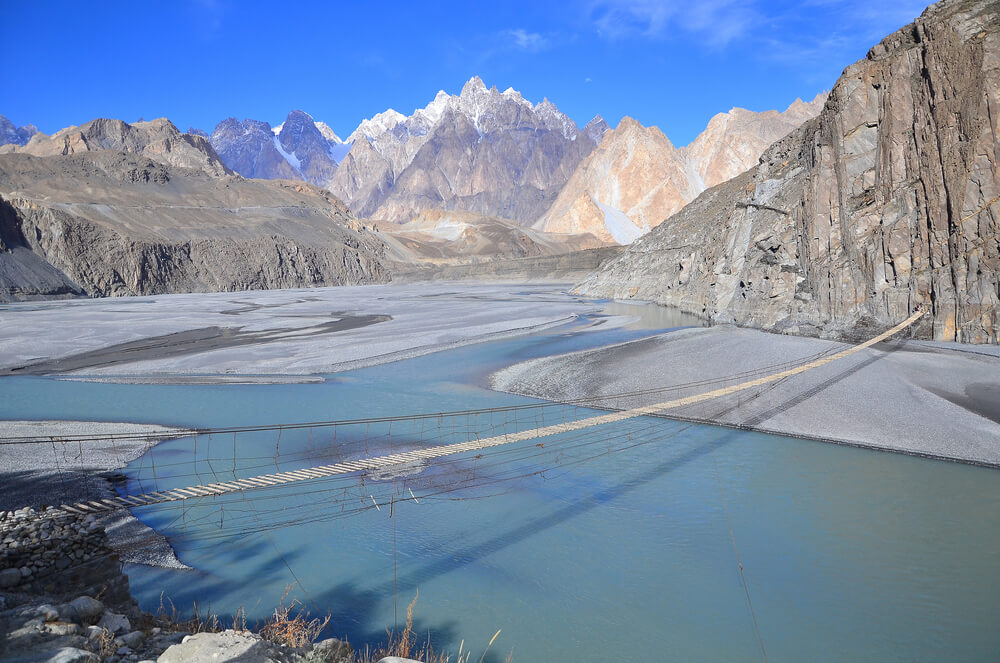 In recent years, this rope bridge looked poorly maintained, and many wooden planks are missing, which makes it even more dangerous.
However, if you visit the Hussaini Bridge in winter, then it will be a different experience for you.
The cold weather changes the color of the water, and it looks like a beautiful blue mirror. But the bridge becomes quite slippery because of the snow. Nevertheless, you can spend hours admiring the views and taking pictures.
One of the Most Dangerous & Second Longest Suspension Bridges in the World
Hussaini Bridge is regarded as one of the most dangerous bridges in the world because of its flimsy structure and location. It is a great height, and there are no safety measures.
Although it looks scary and there are no specific measures, still it's not that dangerous, and many hikers or adventurers test their nerves while crossing this hanging bridge.
The Hussaini Bridge is the second longest pedestal suspension bridge, the first most likely in Canada. This hanging bridge is almost 635 feet long and is made entirely of wood and rope.
The wooden planks are 6 feet long each and have a distance of about 4 inches between them; there's a total of 472 planks. The metal cables that extend from the end of this bridge connect it to the points deeply dug in the firm mountains.
When to Visit?
The Hussaini Bridge is a great place to visit all year round, but the best time would be from June to September when the weather is most stable. You can also enjoy the nearby attractions as the weather is suitable and everything's more enjoyable.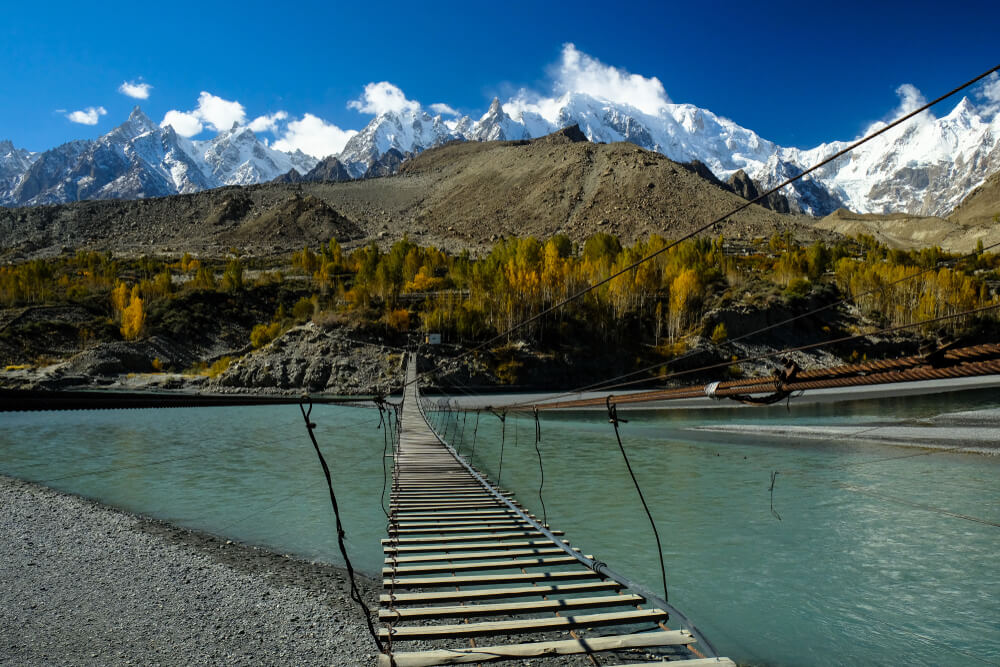 The summers are short and relaxed, while the winters can be long and cold with continuous snowfall. It can be hard to visit this place during winter as there's snow all around, and the bridge is slippery or sometimes inaccessible. So it's better to see Hussaini bridge during the summer or spring.
Attractions of Hussaini Bridge Hunza
Although poorly maintained and dangerous, Hussaini bridge Hunza became a popular tourist attraction. It's a perfect spot for those who want some thrill and want to conquer their fears.
Hussaini hanging bridge has a lot to offer in terms of adventure and breathtaking views. The Hunza river flowing under the bridge and the beautiful landscape all around makes it a perfect place to visit and spend some time in peace.
Best Place for Thrilling Adventure Seekers
Hussaini hanging bridge is the right spot for you if you're an adventure seeker looking for a place to get your adrenaline pumping. Unfortunately, the bridge is very poor and can be pretty dangerous to cross, making it thrilling.
It's not for the faint-hearted and is only recommended for those who are up for a challenge. So visit this bridge if you want something other than the usual tourist spots.
Exceptional Views from Hussaini Bridge
The views from the bridge are genuinely exceptional and breathtaking. The mountains, the river, and the blue sky all come together to create a picture-perfect view. It's a great place to take some photos and soak in the beauty of nature.
If you're lucky, you might spot some animals like eagles or ibex.
Hunza River Passing Under the Hussaini Bridge
The Hunza River is one of the most beautiful rivers in Pakistan. It's a great place to take a dip on a hot day or relax and enjoy the view.
The river also has fish, so it's a good spot for fishing enthusiasts. Apart from swimming and fishing, you can also try other thrilling activities in Hunza valleys, like hiking, skating, polo games, and biking tours.
All these activities are more fun when you have someone to enjoy them with, so bring your friends and family along!
Horse Riding for Trekking to Reach Hussaini Bridge
If you're feeling adventurous, you can try horse riding to reach the bridge. It's a great way to get some exercise and enjoy the scenery.
There are plenty of horse rental shops in the area, so you shouldn't have trouble finding one. It will be a new experience if you haven't tried horse riding amidst mountains. And even if you've experienced it before, it will be thrilling as the trek to Hussaini bridge is full of excitement and thrill.
Facilities Near Hussaini Bridge
There are plenty of hotels and guesthouses in the area, so you'll be able to find a place to stay.
There are also quite a few restaurants and cafes, so you can get something to eat after a long day of exploring.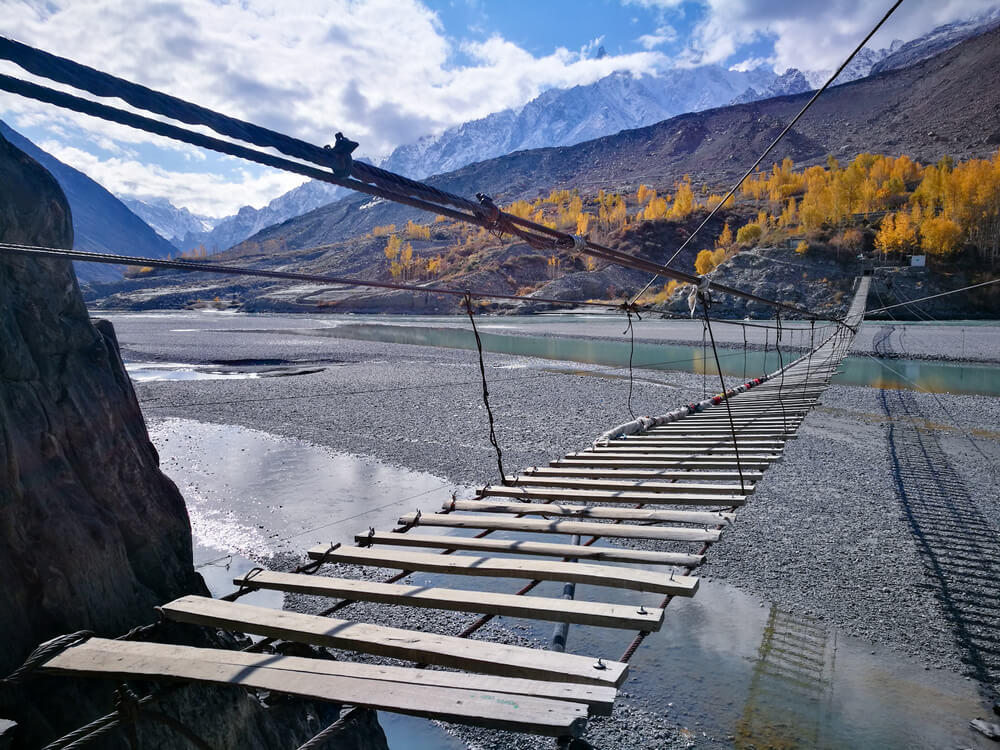 The area is a bit remote, so you won't find such lavish facilities near the Hussaini Bridge as you might find in a city. However, the necessities are all available, and you'll be able to enjoy your time here.
Hotels to Stay
*Oxus Inn
*Khik Khun Family Guest House
*Mountain View Guest House Hussaini Gojal
*Paradise View Guest House Hussaini
How Long is the Hussaini Suspension Bridge?
If you're wondering about the length of this miraculous suspension bridge, hold your heart as this bridge is relatively longer than you can imagine.
The length of the Hussaini bridge is 640 feet, too long to cover without getting faint for a second! But that's what makes it an even more thrilling activity to do.
All kinds of people and all genders can cross this bridge, but weak-hearted people shouldn't try this challenge.
Ticket Price
The Hussaini Bridge is located in a remote area, so the entrance fee is not very high. The standard ticket price for an adult is only nearly 200 rupees, while it is similar for kids.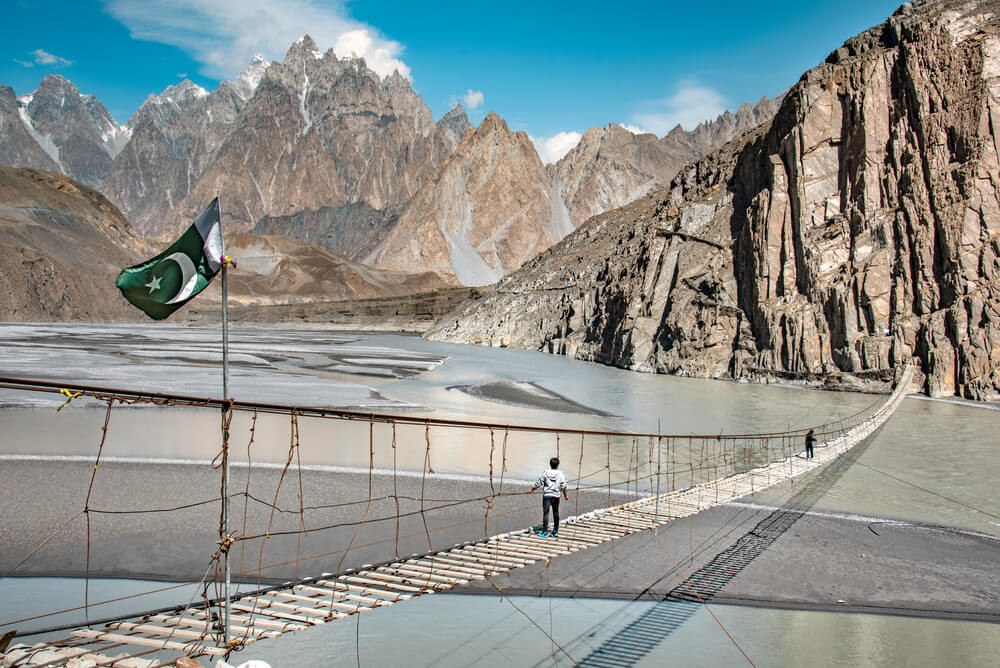 This price is quite affordable for an average person, and you can get a family ticket. So, if you plan to visit this place anytime soon, do not forget to bring your family along and make some beautiful memories!
How to Reach Hussaini Bridge?
The Hussaini bridge is located near Passu village in Hunza. You can hike to this bridge after walking for almost 40 minutes from Passu. This route is more accessible for anyone to cover without getting tired.
If you are not willing to hike, another option is available. You can take a horse ride which will take you to the location of the Hussaini suspension bridge.
That is a bit difficult as riding a horse in a mountainous area doesn't seem easy, but it will surely save you energy and time. After reaching the Hussaini bridge, you will be mesmerized by its beauty and the view.
Hunza to Hussaini Suspension Bridge Distance
The Hussaini Suspension Bridge is located over the Hunza river connecting Hussaini village to Zar Abad village. Hussaini is situated at a distance of almost 45 kilometers from Aliabad Hunza and 130 kilometers from Gilgit.
The total distance from Hunza to Hussaini Suspension Bridge Hunza is approximately 47 kilometers. Therefore, if you are planning to visit the bridge, starting your journey from Aliabad Hunza is advisable as it will give you sufficient time to reach the bridge and enjoy the scenic views.
Hussaini Bridge Location
The Hussaini Suspension Bridge is located in Pakistan's Gojal Valley of Hunza, Gilgit-Baltistan region. The bridge spans the Hunza river connecting Hussaini village to Zarabad village. It is one of the world's most dangerous and second-longest suspension bridges. 
The Hussaini Bridge is a must-visit attraction for those looking for a once-in-a-lifetime experience.
Frequently Asked Questions
How Much is the Height of Hussaini Bridge?
The Hussaini Bridge is approximately 100 feet high. Visitors can enjoy stunning views of the Passu cones while crossing this bridge. However, those who fear heights may want to avoid this bridge due to its size.
Where is A Suspension Bridge in Pakistan?
Pakistan is full of mountainous attractions and has several suspension bridges in those areas. Some of the most popular ones are the Hussaini suspension bridge, Deosai bridge-Skardu, Danyore suspension bridge, and Sharda bridge.
Where is The Longest Hanging Bridge in The World?
The longest hanging bridge in the world is located in Turkey. The Canakkale bridge holds the record for the longest hanging bridge, with a length of 2,023 meters since it opened to traffic at the beginning of 2022. Before that, the Akashi Kaikyo bridge in Japan held the record for being the longest bridge, with a span of 1991 meters.
The Hussaini Bridge is a perfect destination for those looking for an adrenaline-pumping experience. The scenic views and the challenge of crossing the bridge make it a popular spot among tourists and locals alike.
So if you're planning on visiting the Hussaini Bridge, gather enough spirit and courage to take on the challenge. And don't forget to enjoy the stunning views of Passu cones while at it!