Fairy Meadows – One of The Best Tourist Destination in Pakistan
Pakistan is blessed with mighty mountains, beautiful lakes, and scenic meadows, and you won't see a shortage of beauty here. It's sure that if you're on tour to Pakistan, you'll capture lots of delightful and charming scenes with your camera! So buckle up and plan your tour to one of the meadows in this country. If you're wondering which one to visit first, let me tell you about the fantastic meadows on the northern side of Pakistan. Nestled in the northern areas of Pakistan is a place called Fairy Meadows. The name says it all: this place looks straight out of a fairytale with its lush green meadows and picturesque views.
Fairy Meadows is located in the Gilgit-Baltistan region at an altitude of 3,300 meters. The local name for it is 'Joot,' which means 'Pastureland.' The name fairy meadows were given by German climbers who were there to conquer Nanga Parbat. 
Fairy Meadows Gilgit Baltistan is famous for its views of Nanga Parbat, also known as 'The Killer Mountain.' Nanga Parbat is the ninth-highest mountain in the world and is one of the most dangerous mountains to climb.
This place is famous for being the base camp for trekkers who want to conquer the Nanga Parbat.
There's a lot to see here, and you'll surely be awe-struck by the beauty! So let's take a detailed look into this and what you can explore there. 
The Beauty of Fairy Meadows
The greenery of this place, with snow on the top of the mountains, will take you away from your hectic urban life. You'll be mesmerized by the views and the peace that this place has to offer.
The moment you set up your camp amidst the Greenlands with all those pine trees having the mighty mountains in the backdrop, it feels surreal.
The place is named fairy meadows because of its matchless beauty and charm. It will be hard to believe that such a place exists by just reading about it, but we encourage you to pack up and explore it.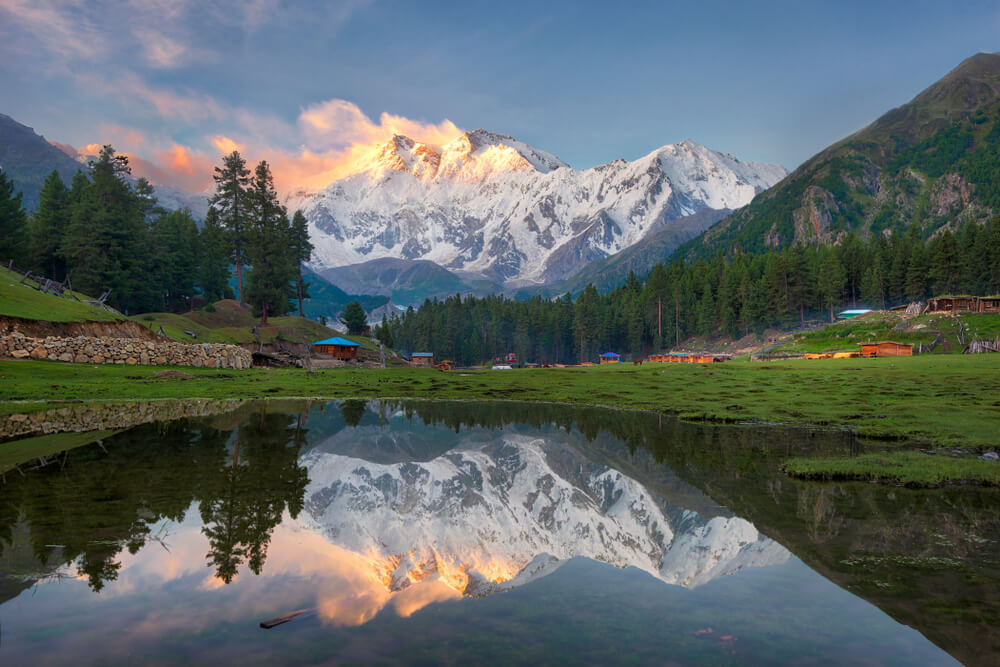 Thousands of photographers, geologists, and nature lovers visit this paradise every year to marvel at the beauty and scenery of Fairy meadows.
This place is a must-see for anyone who loves the outdoors and wants to escape city life's hustle and bustle.
Fairy Meadows got its name from German climbers mesmerized by its beauty and named it 'Zwergenwiese,' which in German means' Meadow of the Fairies'.
The History Behind The Name Fairy Meadows
There are many tales associated with the name Fairy Meadows. Some say that it got named by some German climbers, or according to others, an Australian climber named it because of its mesmerizing beauty.
As per one tale, a group of German climbers who were the first to scale Nanga Parbat were mesmerized by the beauty of this place and named it Zwergenwiese, which in German means' Meadow of the Fairies'.
As per the second story, an Australian climber in 1953, Hermann Buhl, named this place Fairy Meadows because of its scenic beauty. He was there to summit the peak of Nanga Parbat and later became the first person to summit the mountain.
Some also believe that the meadow got its name because of its seclusion. It's hidden away in the mountains and can only be reached by a long hike or a short flight on a small plane. But, no matter what the story is behind its name, there's no denying that Fairy Meadows is one of the most beautiful places on earth.
What is the Local Name of Fairy Meadows?
The heaven-like valley of this place got its name because it looks like a place with fairies living in it. 
However, the local name of this place is "Joot," which means 'pasture lands. They named it simply because it looked like a pasture land where one could graze cattle.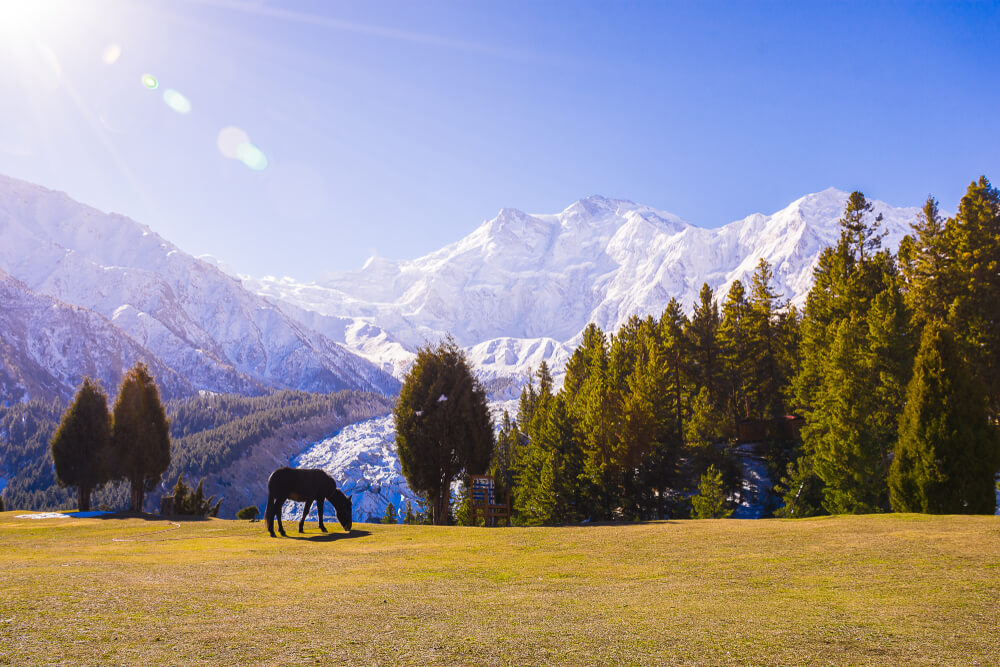 Another name for Fairy meadows is Heaven on Earth, as it is a place where you will find peace and tranquility.
What is Fairy Meadows Famous for?
Fairy Meadows is most famous for its trekking routes leading to the Nanga Parbat base camp, one of the world's highest mountains.
The meadows are at an altitude of about 3,300 meters, which makes them already excellent spots for stargazing and enjoying the views of the surrounding mountains.
Fairy meadows are famous for is matchless beauty, which one can find in very few places across the globe. In 1995, the Government of Pakistan declared this place a national park, which started getting popular among tourists and adventurers.
Another thing we can say is this place is famous for the challenging route to reach here. Therefore, this place is for those who love adventure and want to explore something different and new.
Fairy Meadows Weather
The weather here is primarily pleasant during summer, with temperatures ranging from 10-25 degrees Celsius. However, it can get chilly at night, so it's a good idea to pack a jacket or sweater.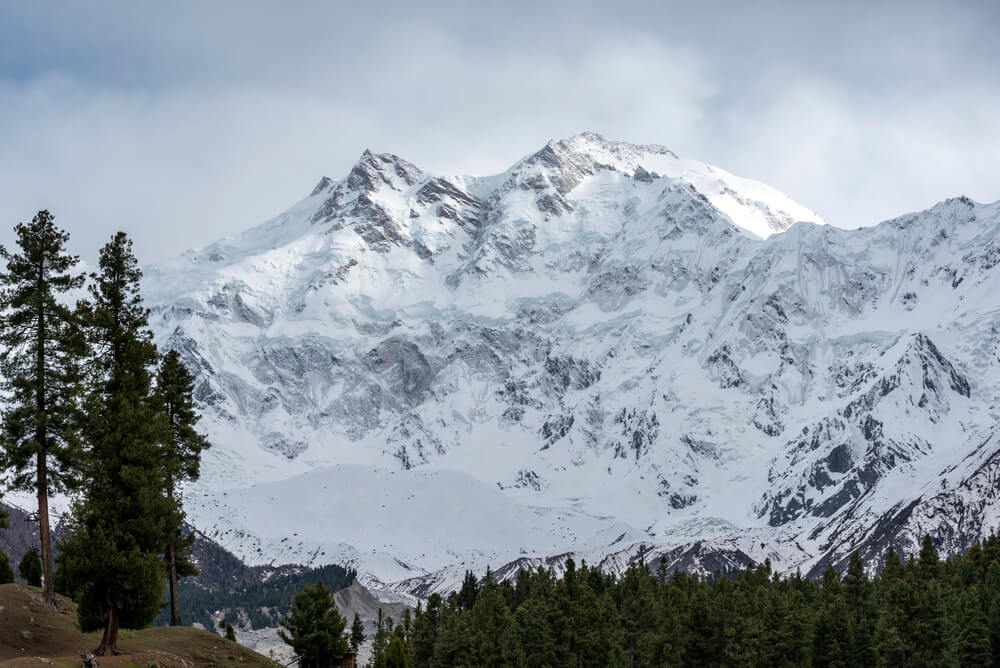 The winter months are much colder, with average temperatures of -3 to 5 degrees Celsius. It can also snow at higher elevations, so come prepared with warm clothes and a raincoat. And remember that it can be challenging to access the area during winter because of snow blockage.
When to Visit Fairy Meadows?
You can visit this beautiful valley most of the year; however, the best time to visit Fairy Meadows is during the summer months, from April-May or September-October.
That is when the weather is most pleasant, and the trails are clear of snow. This weather is considered the shoulders season, and it's still cold. But you're most likely to stay in here in April-May. 
However, if you don't mind braving the cold, winter can also be a magical time to visit, with the snow-capped peaks and tranquil atmosphere.
This national park is famous for its scenic mountain views and weather and is a popular tourist attraction. Although most tourists visit this place during peak hours, you can visit it in the off-season if you want to avoid the crowd.
What to Pack for Fairy Meadows?
* Hiking Shoes
* Hiking Stick
* Camping Essentials
* Warm Clothes
* Raincoat / Weather Proof Jacket
* Food & Water
Fairy Meadows Attractions
Fairy meadows are full of attractions; the beauty and scenery are a significant reason why hundreds of people visit this place yearly. In addition, the variety of activities here will surely make you spoilt for choice.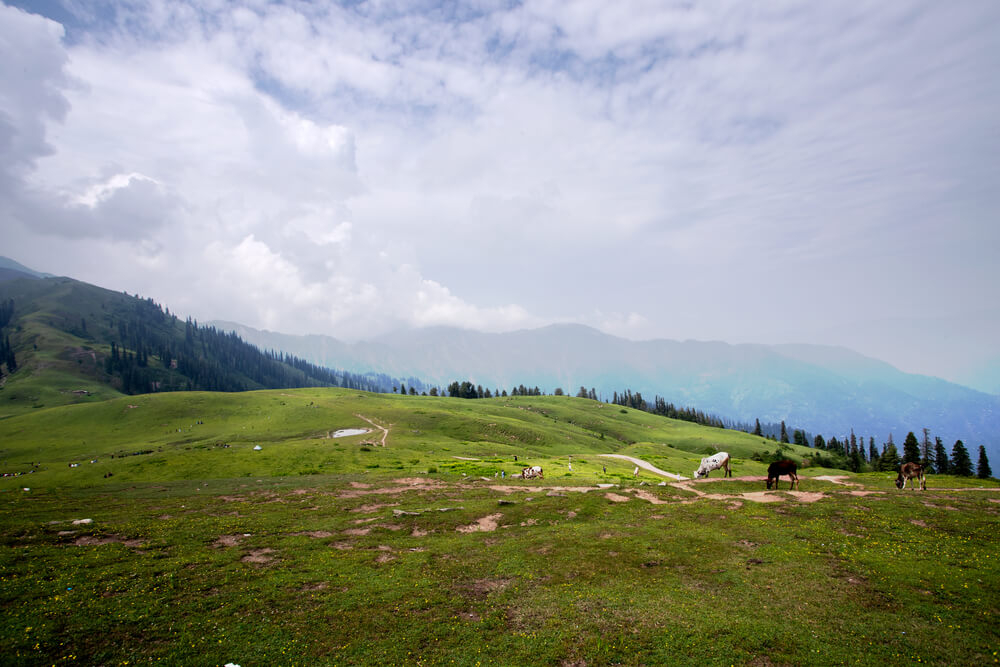 Here are some of the most popular things to see and do while you're in the area:
Snowfall at Fairy Meadows
One of the main reasons people visit during winter is to experience snowfall. The scenes during snowfall are no less than a winter wonderland, and it's something you'll want to experience at least once in your lifetime.
The meadows are blanketed in a layer of white, making for a truly magical experience. Make sure you dress warmly, though!
Breathtaking Scenic Beauty of Fairy Meadows
The natural beauty of this place is simply breathtaking. From the lush green meadows to the snow-capped mountains in the background, it's easy to see why this place is so popular with photographers and nature lovers.
Reflection Lake 
One of the most popular attractions in Fairy Meadows is Reflection Lake. As the name suggests, this lake is famous for its clear waters, which reflect the surrounding mountains perfectly. It's a photographer's dream come true!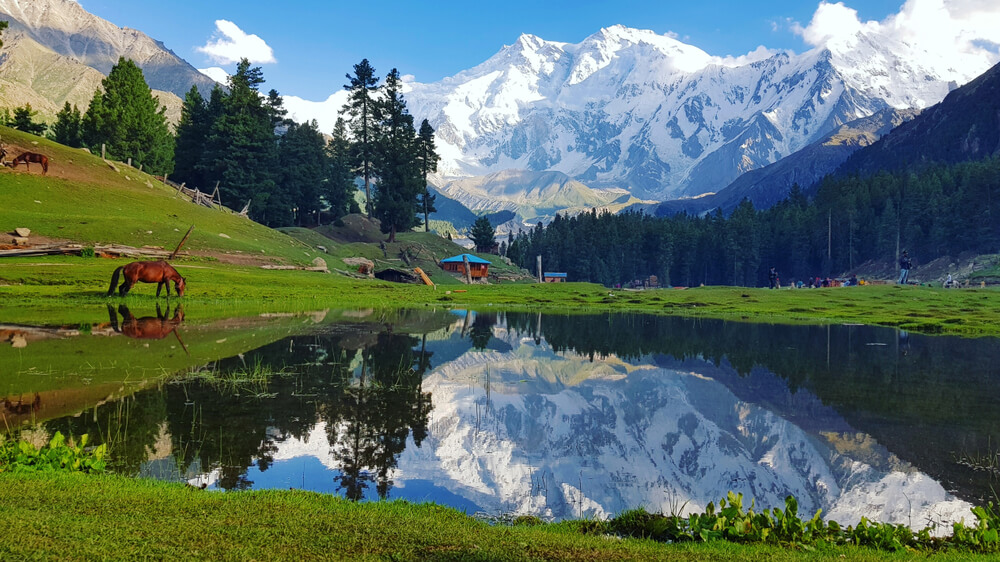 The lake is located behind the cricket field and next to Shambala resort. So you can see the clear reflection of the mighty Nanga Parbat in its crystal clear waters.
The lake is best at sunrise; walk up to the lake and enjoy the unbeatable views of the reflection lake.
View of Nanga Parbat
Another highlight of Fairy Meadows is the stunning view of Nanga Parbat. The mountain is the ninth-highest peak in the world and is truly a sight to behold. You can get some great mountain photographs from various points around Fairy Meadows.
Set up your chair in a lovely spot and snuggle in there with your favorite book; that's the best thing to do with the beautiful views of Nanga Parbat.
Beautiful Surroundings of Fairy Meadows
Fairy Meadows is surrounded by some of the most beautiful scenery in Pakistan. The lush green meadows, snow-capped mountains, and clear blue skies make a perfect backdrop. You can sit back and enjoy the views or go for walks and hikes in the surrounding areas.
Fairy Meadows is truly magical and should be on your list of places to visit in Pakistan!
Flora and Fauna at Fairy Meadows
The meadows are lush and green, with various spring flowers blooming. You can also see many different kinds of birds and animals here.
The national park of Fairy meadows is full of alpine forests, which are an excellent habitat for wildlife. The coniferous forests here have Pinus Wallichiana and Picea Smitheana located at high altitudes and slopes.
An abundance of Abies Pindrow trees is used in the local folk medicine. One can also find subalpine and alpine meadows above the tree line, having a variety of herbs, shrubs, and grasses.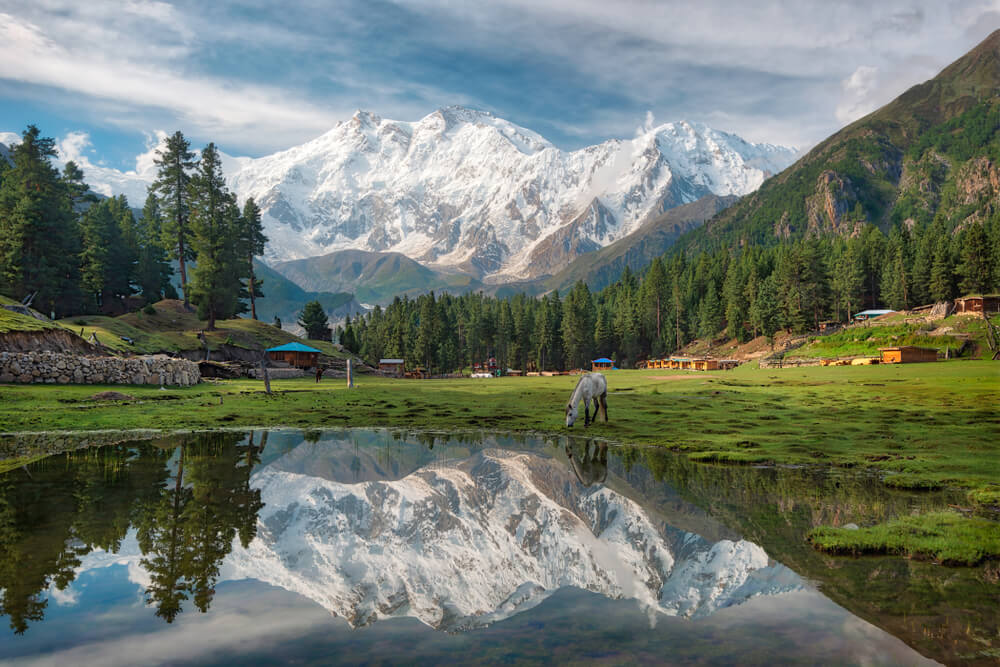 You can see animals like brown bears and endangered species like musk deer. The meadows are also home to a wide variety of butterflies. In short, the flora and fauna here are pretty diverse and beautiful.
Second Deadliest Road
Fairy Meadows Road is the second deadliest road in the world. It is a very narrow, dangerous road with sharp turns and no guardrails. The road is only wide enough for one vehicle, so it is essential to be careful when driving.
The unpaved road is completely unmaintained, and it's so narrow at some points that you'll have to cover some distance on foot. This road is 16 km long and is said to be one of the most dangerous roads in the world.
Getting to this beautiful national park isn't an easy task, and the deadly nature of this road stops many people from enjoying this view.
In 2013, this road was ranked as the second deadliest highway in the world. The reason is the high altitude and unstable condition of the road.
Despite the dangers, the views from Fairy Meadows Road are breathtaking. The road winds through mountains, forests, and meadows, offering stunning landscape views. If you're brave enough to take on this dangerous road, you'll be rewarded with some of the most incredible views in the world.
How To Reach Fairy Meadows Nanga Parbat?
If you're planning to visit this place anytime soon, you must know that getting there isn't easy. Fairy Meadows Nanga Parbat is located at a very high altitude, and the only way to reach it is by either jeep or horse.
First, you'll have to get to Gilgit-Baltistan by road or flight from Islamabad. But remember that Gilgit-Baltistan is the busiest airport, with three daily flights from Islamabad.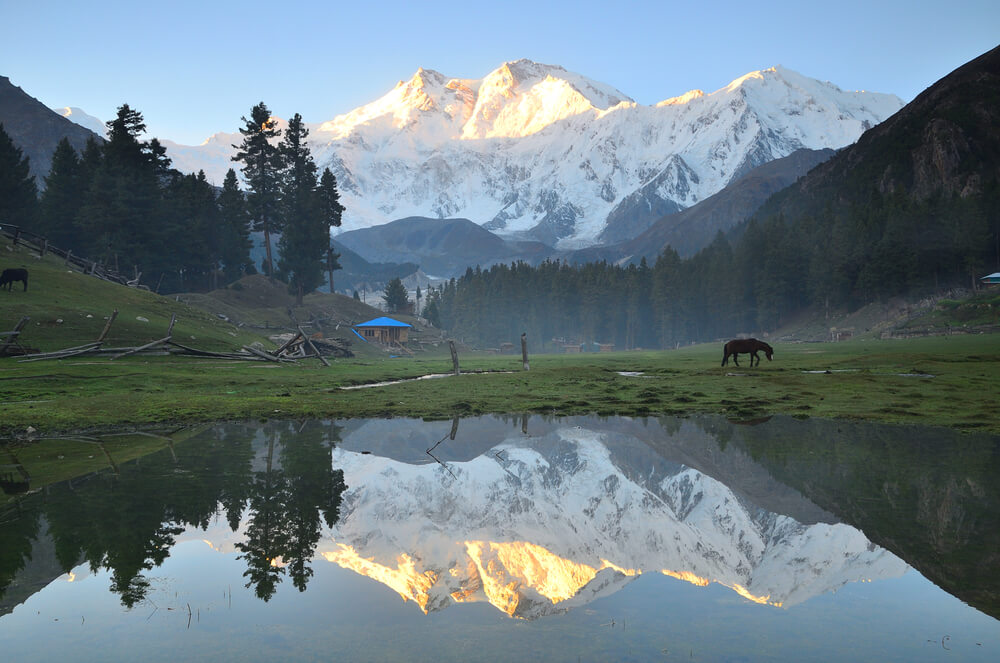 From Gilgit, there are two ways to get to Fairy meadows; you can choose any of them depending on your adventurous soul.
Jeep Ride from Raikot Bridge to Tato
That is people's most popular and chosen method to get to Fairy Meadows. You can take a jeep from Raikot Bridge, about 2 hours away from Gilgit. Raikot bridge is a big bridge with a couple of guesthouses around, and there's nothing much to do other than catching a jeep to Fairy meadows. The cost of the jeep will get shared among all the passengers, and it will drop you off at Tato.
This jeep ride is quite an experience, and it's undoubtedly not for the faint-hearted. It will be the scariest jeep ride of your life as the road to fairy meadows is nuts. The jeep passes through some breathtaking landscapes.
Horse Riding or Trekking from Tato to Fairy Meadows
The second option for getting to Fairy Meadows National Park is horse riding or trekking from Tato. After the jeep ride, you'll be dropped off 10 minutes beyond the village of Tato. It's a parking area from where you'll walk for 5 minutes before reaching a teahouse. That's where the hike to Fairy meadows begins; you can also arrange a house porter from here.
You can also ride up the horse at affordable rates of RS 1500 one way and Rs 2500 for a round trip.
It will feel more dangerous if you're planning on going by horse, but it's not that unsafe. Either hike up to the Fairy meadows or ride up a horse; it will take almost 3-4 hours as the track is 5km long. However, it's not recommended to travel by horse as these animals are poorly treated and have become ill-tempered.
The first half of this trail is along the canyon wall and is entirely exposed. After walking for almost 2-3 hours on this sloppy and steep path, you'll arrive near the Raikot Serai; welcome to Fairy Meadows!
Staying Facility at Fairy Meadows
Depending on your budget and preferences, you can stay at Fairy Meadows in many different places.
Cottages
Fairy Meadows Broad View Hotel & Resort
Di Ambre Fairy Meadows
Greenland Resorts
Rainbow Palace Fairy Meadow
Can We Do Camping at Fairy Meadows?
Yes, camping is one of the best things to do here. Not only you'll be closer to nature, but also you can cut your cost of staying at Fairy meadows as it's a cheaper way to sleep at this place. 
However, you'll have to bring your gear for camping as no tented camps are available here. Don't forget to seek permission before installing your base at Fairy Meadows. 
You can enjoy the best views of Nanga Parbat from here. Camping for at least two nights is advised so you don't have to hurry back and can enjoy the scenery at a leisurely pace.
The best time to go camping is in the summer as the weather is pleasant and you can fully enjoy your stay in the lap of nature.
Nearby Nanga Parbat Base Camp
Once you reach the Fairy Meadows, you must wonder what to do there other than praise the views. Well, the most wondrous thing you can do is hike up to Nanga Parbat base camp.
The nearby Nanga Parbat base camp is a significant reason why people visit Fairy Meadows. It's a perfect day hike and should be on every adventurer's bucket list!
The hike can take almost 5-8 hours, depending on your strength and speed. The trail to Nanga Parbat base camp is 9 km long.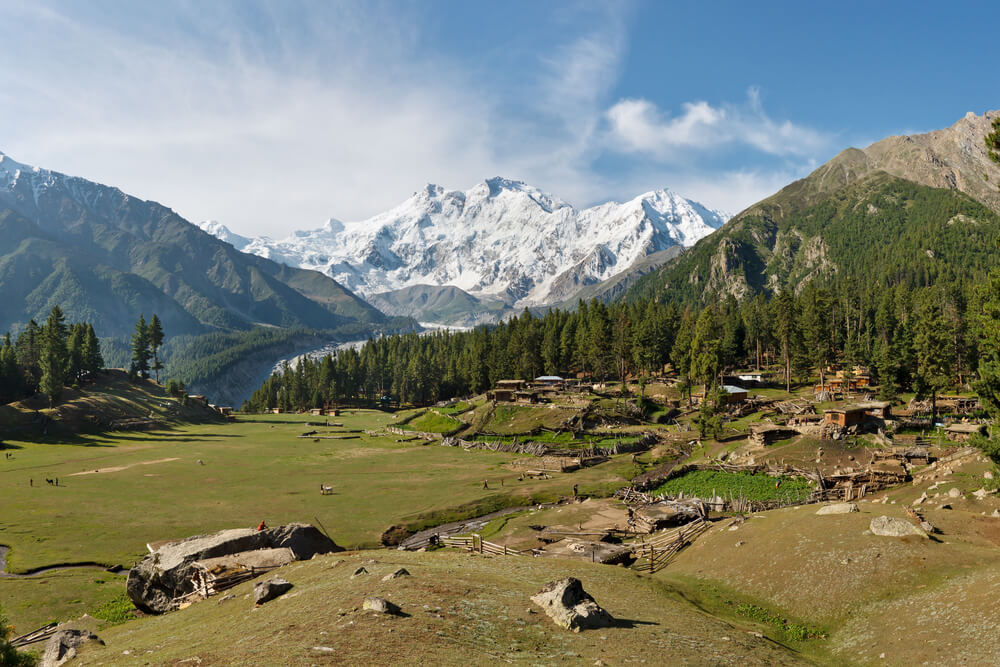 The first half of this hike is relatively easy as you'll be strolling through meadows, and after walking for two hours, you can stop at Beyal camp for an excellent tea.
The other half includes glacial hiking, a challenging task; you must have a local guide. Otherwise, you'll be lost. However, once you reach the base camp, you'll get the most jaw-dropping views of the Nanga Parbat. This 8126-meter mountain is standing tall with its glory, and you'll feel like ants standing in front of it.
Hunza to Fairy Meadows Distance
The distance between here from Hunza is almost 4 hours, and you can easily cover it by jeep. However, the space is around 180 kilometers. 
After you reach the Raikot bridge, you can start your journey by jeep to Fairy Meadows. Unfortunately, the road to fairy meadows is deadly; it's 16 km long with steep cuts and dead turns, so it would be right to call it "The road of death."
Fairy Meadows Location
Fairy meadows, also known as Joot, is a grassland located in the Diamer district of Gilgit Baltistan, Pakistan. It is situated near the base camp of Nanga Parbat, the 9th tallest mountain in the world. It lies at an elevation of around 3,300 meters (10,800 ft) above sea level.
The place is famous for its views of Nanga Parbat, also known as "Killer Mountain," as it has been the site of many fatal accidents.
Frequently Asked Questions
Is the road to Fairy Meadows Safe?
The road to Fairy Meadows is safe if you take the proper precautions. There have been many fatal accidents on the mountain, so it is vital to be aware of the dangers before you travel. Make sure to check the weather conditions and plan your trip accordingly. Also, be sure to pack all of the necessary supplies before you set out on your journey.
Is Fairy Meadows worth visiting?
Fairy Meadows is worth visiting! The views of Nanga Parbat are breathtaking, and the area is full of fascinating history and culture. If you can see, do not miss out on this once-in-a-lifetime experience!
Is There Internet In Fairy Meadows?
The area of Fairy Meadows comes under Gilgit-Baltistan, so only SCOM mobile networks work here correctly. However, you might get 4G internet speed at the camping site. Therefore, you may consider purchasing a local SIM card before traveling.
Fairy Meadows is a beautiful place with deadly roads. It is located in the Diamer district of Gilgit Baltistan, Pakistan, near the base camp of Nanga Parbat.
The place is famous for its views of Nanga Parbat and has many attractions, such as the Nanga Parbat base camp. So do visit this place to have once in a lifetime experience!