Sadiq Garh Palace
Bahawalpur is home to the opulent and pricey Sadiq Garh palace. It is a 140-year-old structure that cost PKR 15 million to build and required 1500 laborers. It is a historical masterpiece. It has, however, become the tragic tale of forgotten beauty and history. Despite the lapse of almost one and a half centuries, this ancient white Palace maintained its beauty and charm. Sadiq Garh Palace is a very well-known Fort in Pakistan.
So, Let's explore more about this fascinating architectural marvel.
History of Sadiq Garh Palace Bahawalpur
The fifth Nawab, Sadiq Muhammad Khan, built the historic Sadiq Garh Palace in Bahawalpur in 1882. He was the former ruler of Bhawalpur state. Its construction required nearly ten years and involved almost fifteen hundred workers, architects, artists, and other professionals. It is also known as the White Palace because of its exterior. History reveals that Muhammad Reza Pahlavi, the Shah of Iran, Quaid-e-Azam Muhammad Ali Jinnah, and Lord Mountbatten, the former Governor of India, all once lodged at the Nawab's Palace as his guests.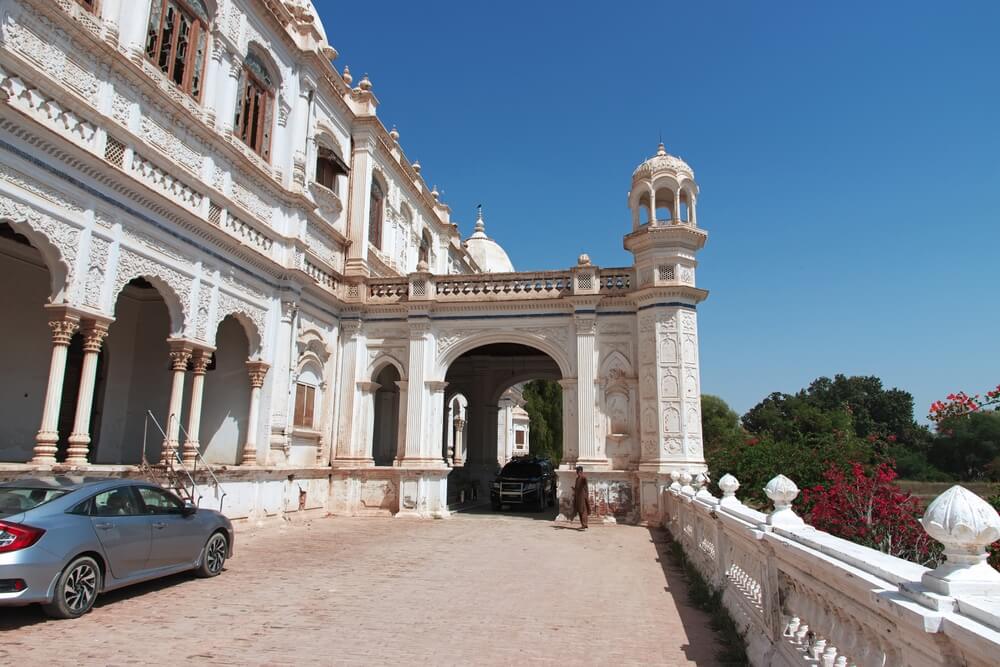 Pakistan's Government took over the Nawab Palaces after Pakistan inherited Bahawalpur. The supreme court ordered the division of the Sadiq Garh Palace property after 40 years among 23 Nawabs family hires, but the structure's condition is deteriorating.
Structure of Sadiq Garh Bahawalpur
It is easy to picture how beautiful and charming the White Palace of Bahawalpur is. According to reports, Italian architects created the Sadiq Garh Palace. White marble makes up the Palace's exterior. The Palace has beautiful domes at opposite ends, adding to its elegance. The arched doorways to the Palace are still a tourist attraction. The state-run secretariat and a magnificent mosque, both wonders of Mughal architecture, are located next to the Palace. It has a vast "darbar" (courtroom) and a big dining hall where foreign guests dine. The actual throne is in the middle of the main entrance, which belongs to Nawab Sadiq.
Three stories made up this lovely Palace, and standard elevators served each level. And it comprises four buildings and 120 rooms on the ground floor; each room has a kitchen and attached bathrooms. It also has 50 rooms in the basement. The Palace also has an underground bank, a power plant, a cinema, and a staff office.
Attractive Features of Sadiq Garh Palace
The Sadiq Garh Palace Bahawalpur is the most elegant building with an attractive interior and exterior. One of the most attractive features of Sadiq Garh Palace, and also something that makes it unique among palaces, is its location. There is also an impressive building which is known as "Dollhouse." Nawab Sadib constructed this playhouse for his adorable daughter. She used to keep her dolls in a miniature palace. Nawab Sadiq's vehicle park was in the building near the Palace. More specifically, Sadiq Garh Palace will give you an incredible view no matter which side you face!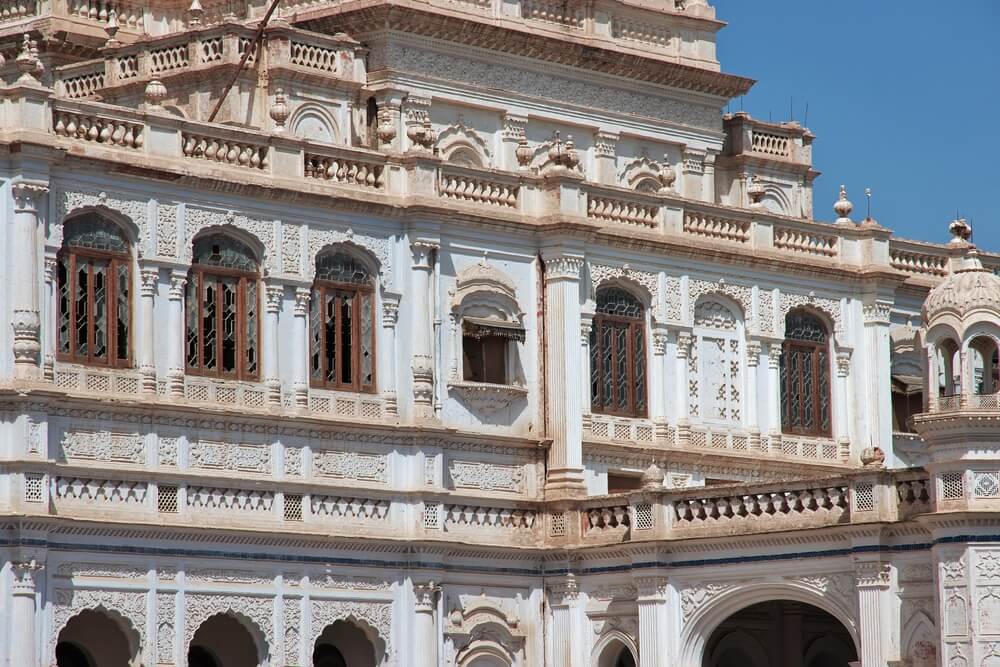 Lush Green Lawns
There are lush green lawns inside it with a vast amount of beautiful flowers of different colors, which increases the charm and beauty of the Palace. A walkway connects to the bottom floor, and behind it are other palaces that were houses to Nawab Sahib's family.
Baradari
A baradari, also known as a Bara Dari, is a structure or pavilion with twelve doors that enable the free movement of air. The building includes three gates on each side of the square design.
Mosque
There is a mosque named Al-Sadiq Mosque after Nawab Sadiq's name. Its foundation stone was set more than 200 years ago by the Great Sufi of the Chishti clan and the Spiritual Master of Nawab of Bahawalpur Noor Muhammad Maharvi. It is a model of full Islamic style and is still considered a masterpiece. At a time, 50,000 to 60,000 people offer Namaz. The mosque covers an area of about 24 canals.
Durbar Hall
The Durbar hall is very well worth seeing. The kingly plank is in this vast hall, and behind it is a large mirror. This mirror arrived in Karachi through the seaway, loaded on special trucks to take it to Bahawalpur. Because of this mirror, Nawab enlarged several platforms at various train stations.
Nawab's Court
This Palace also held the court of Nawab Sadiq, where he made decisions and resolved arguments, conflicts, and disputes between people and parties. Saeed Kalachi claims that his mother used to make decisions in secret when Nawab Sahib was young and crowned in 1903. Her small son Nawab sat on the opposite side of the curtain, listening in. These choices were made public and, after that, implemented on his orders.
Ghilaf e Kaaba
For 150 years, this Palace was used to create the Ghilaf-e-Kaaba, and its previous Khilaf served as a blessing source where the Government met to discuss issues about the country.
Huge Chandeliers
The late Nawab Sadiq received a vintage chandelier from British Queen Victoria as a gift. It was initially kept in Sadiq Garh Palace by the late Nawab of Bahawalpur, Muhammad Sadiq Khan Abbasi, but later, Nawab moved it to Central Chowk Bahawalpur.
Dining Hall & Shahi Kitchen
There was an ample dining room inside the Sadiq Garh palace, where foreign delegates dinned. There is a huge building called "Shahi Kitchen." Different types of utensils, pots and other pieces of equipment are placed in them that are worth seeing.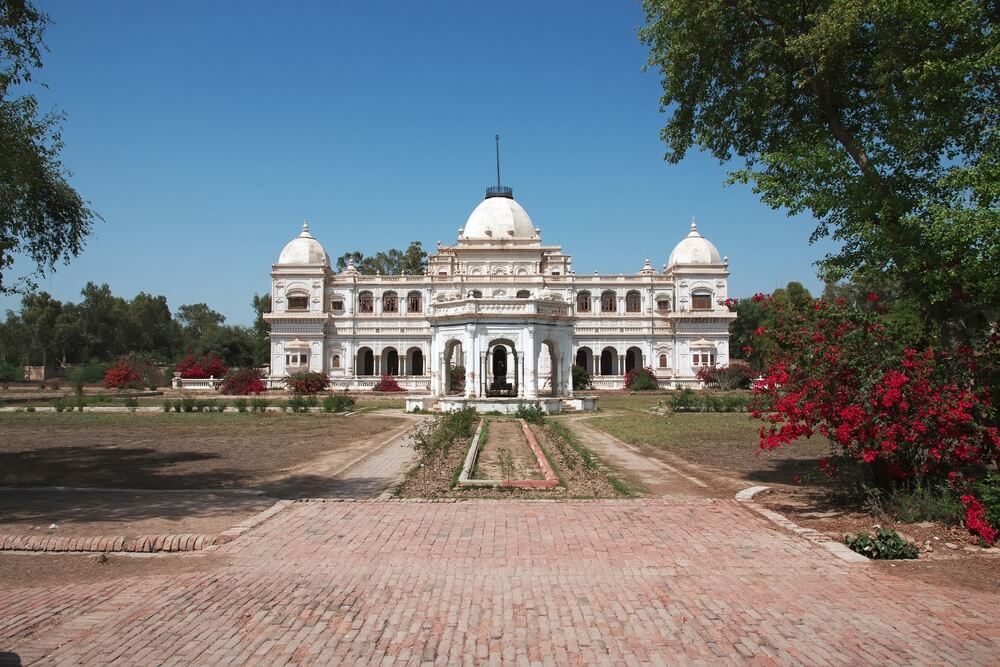 Cars used by Shahi Family
The Royal family and the Nawabs of Bahawalpur possessed an extensive collection of classic and expensive antique automobiles. In addition, it has a sizable parking lot that once housed the vehicles driven by the Nawab of Bahawalpur and two antique elevators. The royal family's heirs either took the cars over time or sold them at auction.
Basement Bank and Lockers
There was a branch of "The Bank of England" in the basement of Sadiq Garh palace, and the emblems from the bank are still visible. All royal money, valuables, rare stones, and diamonds were securely stored here.
Basements Rooms and Tunnels
The Palace also has a basement and tunnel. The basement comprises 50 rooms with furniture, carpets, beds, curtains, and essential accessories. A tunnel joins the building of the Palace with a courtroom.
Royal Family Graveyard
The Royal Graveyard of the Abbasi family, the Nawabs, ruled Bahawalpur State from 1732 to 1955. One substantial rectangular chamber includes the tombs of all 12 Nawabs who governed the state of Bahawalpur. It also provides for the grave of Nawab 1966, who held the honorary title after he merged his State with Pakistan. All of the tombs are built of white marble. Tiny giant pillars top the tombs. The size of the Pillars, according to scholars, shows the Nawab's power.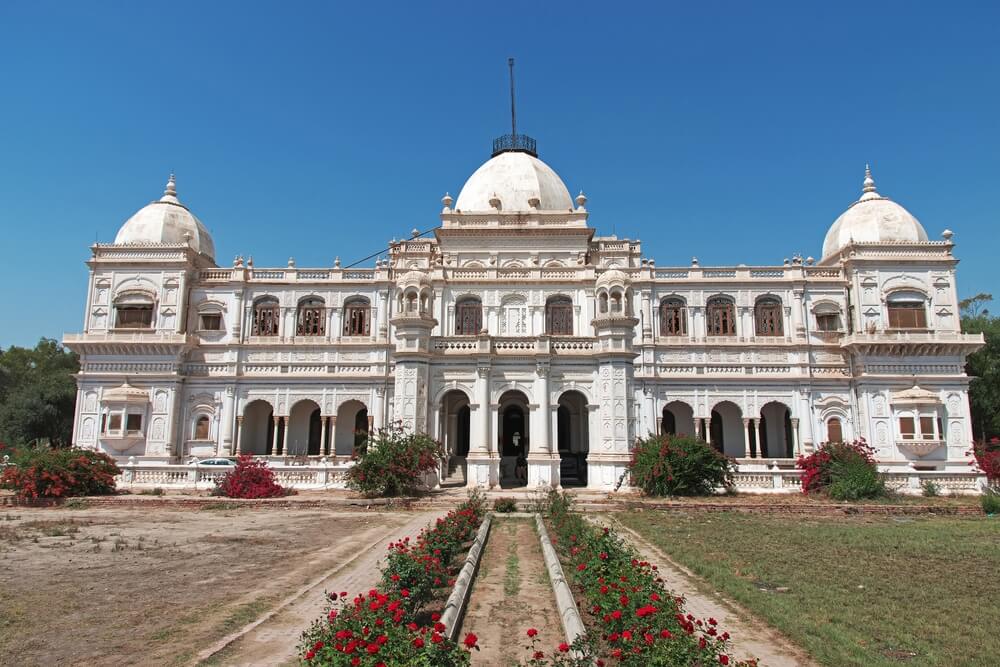 There is still a place for some burials on this property. The graves have covered with white sheets, and this section is likewise closed. Other than the main rectangular tomb, many single tombs belong to wives and brothers/sisters of Nawabs. These tombs are magnificent architecturally. Most have the typical blue paintwork of South Punjabi and Sindhi architecture. Few are also in white marble and few in burnt brick. The calligraphy, engraving, glasswork, patchwork, and patterns on numerous graves, tombs, and walls are truly exceptional a piece of art in and of themselves. The graveyard is the private property of the Abbasi family, and entry requires permission.
Present Condition of Sadiq Garh Palace
Zulfiqar Ali Bhutto, the late prime minister of Pakistan, seized all of the Nawab family's property. After receiving the letter, Bhutto took this action because Syed Ali Abbasi, the federal minister of Pakistan and son of the Nawab of Bahawalpur Sadiq Muhammad Khan Abbasi, had a personal dispute with him. Sadiq Garh Palace is now barren and deserted due to the removal of its furniture, weapons, antiques, chandeliers, paintings, and other valuables. Nothing remains in the kitchens on the Palace's left side.
Meanwhile, the extensive waiting rooms and corridors appear practically ghostly due to their discolored walls and fractured flooring. The gardens outside the Palace were allegedly in excellent shape until a few years ago. Aside from its majesty and design, the Palace is presently in deterioration. No longer a landmark or a masterpiece, the structure is disintegrating. However, they now appear untidy, with broken lampposts and rusting metal gates highlighting neglect and lack of care. This Palace had a vast library that contained up to 20,000 books, but it is no longer in existence. Politicians never fixed the roads to Sadiq Garh because of political issues.
Sadiq Garh Palace Timings & Ticket Price
Sadiq Garh Palace Bahawalpur remains open for visitors from 8:00 AM to 5:00 PM. While on Fridays it opens from 8: AM to 1:00 PM. There is a servant at the gate who demands 150 rupees from you.
Location of Sadiq Garh Palace Bahawalpur
It is located in Dera Nawab Sahab, a peaceful town that once housed the royal family, close to Ahmedpur East in Bahawalpur.
Frequently Asked Question
Who owns Sadiq Garh Palace?
Nawab Salahuddin Ahmed Abbasi, a Pakistani Parliament member, owns Sadiq Ghar Palace. He is also Sadiq Mohammad Khan V's grandson, the last Nawab to rule the Huge State of Bahawalpur, and also represented Ahmadpur East in the National Assembly five times. He is also the head of the Pakistan Tehreek-i-Insaf-affiliated National Bahawalpur Awami Party affiliated with Imran Khan. Nawab Salahuddin Abbasi is also a staunch supporter of the restoration of Bahawalpur province and a prominent figure in South Punjab.
How old is Sadiq Garh Palace?
Sadiq Garh Palace was built in 1882 by the former ruler of Bahawalpur state, Sadiq Muhammad Khan 5th. It is almost 150 years old. Sadiq Garh palace, a massive structure covering 125 acres, is now a reminder of the splendor enjoyed by the Nawabs of Bahawalpur. But the glory and beauty of Sadiq Gahar Palace Bahawalpur are vanishing due to government negligence.
Is Sadiq Garh Palace open to the public?
Sadiq Garh Palace Bahawalpur appears to have been empty for over two decades. This magnificent white Palace is permanently closed to the public because it has long been at the center of a court fight among the descendants of the Bahawalpur royal line.
Conclusion
The massive Sadiq Garh Palace in Bahawalpur originally represented the magnificence of one of the subcontinent's most powerful royal rulers. Every day, many tourists come to see it but leave unsatisfied. If the Government pays attention to its accessibility and condition, it has the potential to become a significant tourist attraction in the future.