Multan Fort
Multan Fort, also known as Fort Kohna Qasim Garden, stands on a mound that separates it from the city and has a long and varied history. In 1848-1849, the British destroyed most of the Fort during their attack to avenge the death of Lieutenant Alexander van Agnew, who was killed on the instruction of the governor of Sindh. The Fort was originally built by Katoch Dynasty about 2600s years ago, and it has been rebuilt and altered many times since then. The Fort has been around for over a thousand years and has seen its share of battles, sieges, and other significant events.
Secrets of thousands of years old civilizations are buried under the Fort, 'Qila Kohna.' Metal coins, clay toys, bone bangles, bricks, and colorful vessels are exported from this Fort during the excavation. If you're nearby in Multan, it's worth a look!
Multan Fort Attractions, Timings & Location
Multan Fort is a popular tourist attraction in Multan, Pakistan. It is located in the city center, between the Multan Cricket Club and Hazrat Shah Rukn-e-Alam's Mazar. The Fort is also known as Kohna Fort or Qila Kohna. Moving onwards in the article, we will know entrance timings and the many attractions this Fort offers.
History of Multan Fort
Multan Fort is an iconic monument in Multan, Pakistan, and one of the oldest forts. It was built to protect the city on the banks of the Chenab and Ravi rivers. The Fort has a long and rich history, dating back to 800 and 1000 B.C. It was destroyed and rebuilt many times, but the last time rebuilt it about 1100 years ago. There were huge caves in fort Kohna in that era. The semi-circular Fort with 7000 feet long walls have been used as a military garrison, prison, and palace over the years, and it's now open to the public as a tourist attraction.
The Fort has lost its many parts and is now a park, with a museum with galleries displaying paintings, sculptures, antiques, and shrines. And eventually, this historical Fort is destroyed by the British to take an act of revenge. Multan is the same city where the quest of Alexander the Great to rule over the world ended. After fighting the " battle of Hydaspes" (today called Jhelum River), fiercely n 326 BC, he decided to return to Greece.
The epithet of Multan is "the city of saints." The reason for terming it the city of Saints is attributed to the fact that many sacred and holy personalities have their shrines in Multan. The oldest name of the town, "Mulasthan," is a word in the Sanskrit language. As this city is way too ancient, no one is sure about its actual age, which remains a matter of debate. Multan is located on a route that is always considered the safest between south and central Asia. Due to this aspect, this city became a home for many holy men, conquerors, and refugees.
You must wonder why "Fort Kohna Qasim Garden" is the name given to this Fort. Muhammad Bin Qasim, an Umayyad General, took over Sindh in 712 AD. After that, he proceeded to conquer Multan. After he conquered Multan, he established Muslim Rule in the city. Multan was once regarded as a sovereign Muslim state.
Multan has been a special place for Mughal emperors. Multan was one of Emperor Akbar's twelve most critical imperial provinces. During the Mughal era, Multan was known as the "Abode of Peace."
The Architecture of Multan Fort
The Fort has a long and winding history, with many dynasties making their mark on it. Katoch Dynasty originally built the Fort to protect the city from attacks, with its 40 to 70 feet high walls providing a defense installation and for its architecture. The battering from Maharaja Ranjit Singh's guns in 1818 severely damaged the Fort. Before its destruction, Fort Kohna has four gates, including two towers on each gate and 46 ramparts. It was surrounded by thirty towers and housed a mosque, a Hindu temple, and the Khan's palace. A massive trench around the Fort was also present for its defense that remained filled with water from the river Ravi via a canal. Multan fort is one of the most well-made Forts in Pakistan.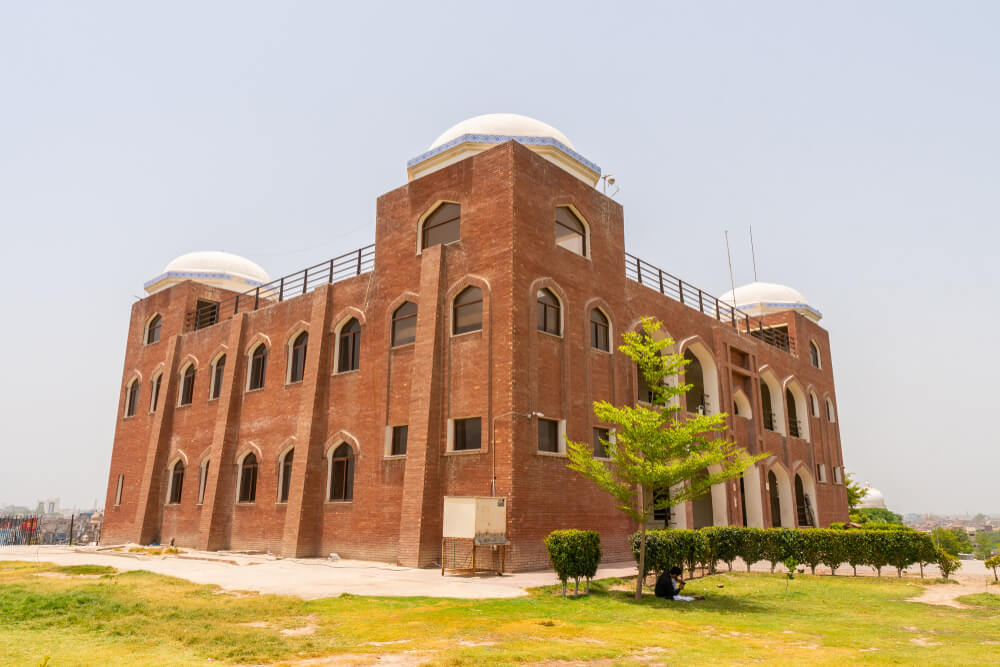 Attractions Offered by Multan Fort
Qila Kohna Qasim Garden offers a delightful scene with historic treasures, natural beauty, and a sense of history. The Fort also has a museum with many relics from the region's past. You can go to Fort Kohna to see the array of scenic views or even to take photographs. Multan Fort plays an important part in the subcontinent's history and has been praised by many kings over the centuries. Today, visitors can explore the Fort's many attractions, including palaces, mosques, and museums. Now one by one, we discuss its attractions. Anyone interested in knowing more about this exciting country should visit it.
Gates of Multan Fort
There were four gates leading into fort Kohna when it was intact. Each gate has been an impressive sight.
The entrance gate known as Bab e Qasim can be seen from Shah Ruken-e-Alam while moving from Ghanta Ghar. Qasim Garden, connected to Bab e Qasim Gate, was made in remembrance of the conquer of Multan by Muhammad bin Qasim.
The British and Sikhs both destroyed this gate. This gate is no longer visible.
The remains of Sikhi Gate also become extinct due to the British attack.
Hareri Gate was also destroyed and does not exist today.
City View at Dam Dama
Art gallery DamDama, near the Ghanta Ghar chock, is the highest point to seek a panoramic view of the city. The building is of limited interest, it sometimes presents exhibitions of interesting paintings, but above all, it offers, from its terrace, a magnificent panorama of the city and the Fort and the mausoleum Rukn-i Alam.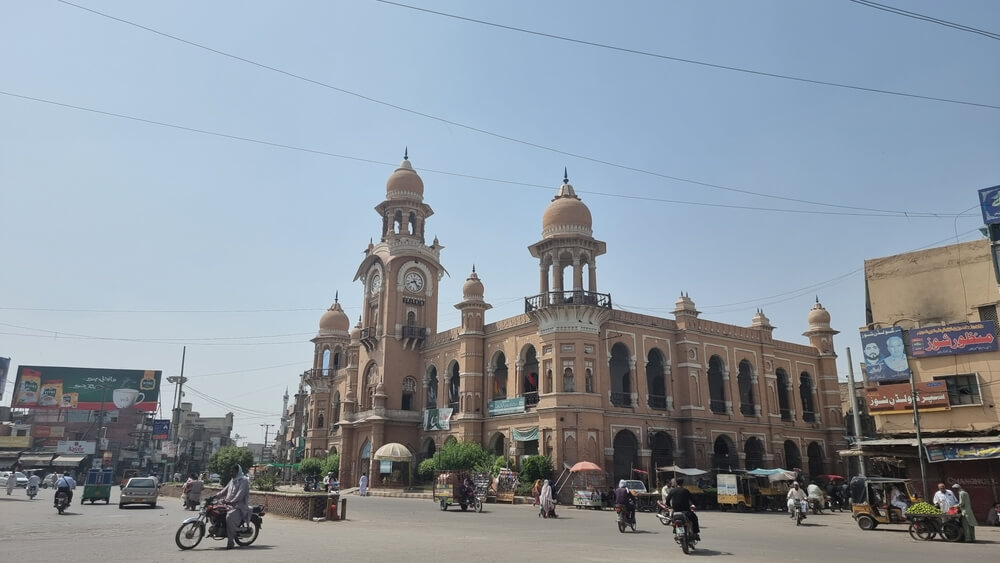 Tomb of Shah Rukn e Alam
On the left of the entrance of Fort Kohna, a three-story octagonal shrine of Hazrat Shah Rukne Azam is present. This mausoleum of the Sufi Saint Sheikh Rukn-Ud-Din Abul Fateh is notable; that fascinates over 100,000 pilgrims to remember the death anniversary of the Sufi Saint. Shah Rukn e Alam's tomb is a living example of Tughlaq architecture. Historians believe it was constructed between 1320 and 1324 CE. Saint came from Khawarzum and started preaching in Multan. He brought people's applications in front of King. When you visit the tomb of Hazrat Shah Rukne Azam, you will be amazed by its beautiful work and energy. The white dome is topped with a segmented series of discs and has intricate interiors decorated later. On the ground floor, 72 graves of martyrs of Karbala are lined in a neat row. This magnificent tomb, with its blue and white architecture, is a breathtaking sight for visitors.
Mausoleum of Hazrat Ghous Paak Norani
The tomb of Ghaus Pak Noorani is a historical place situated at a distance of 5km from Multan Railway Station in the Fort Kohna Qasim Garden. Visitors can view beautiful carved screens and reliefs depicting Quran and Islamic stories scenes.
Shrine of Hazrat zakriya
The tomb of Hazrat Bahauddin Zakariya Multani is located in central Multan in the northeast direction of fort Kohna Qasim Garden in the heart of the city, Multan, Punjab, Pakistan. The shrine was constructed in the early 13th century in 1268. He was born at Kot Kehror village of Layyah on June 4, 1171. As a saint of Suhrawardiya, Hazrat Zakariya was a famous personality. He was the grandfather of Rukn-e-Alam, a notable Sufi of his time buried at a splendid mausoleum 500 meters to the southwest. He is credited with introducing the Suhrawardiya Sufi order to Multan.
When his father died, Zakariya was only 12 years old. After that, he traveled widely around the Islamic world and visited Bukhara, Madina, and Khurasan. He also traveled to Baghdad to acquire knowledge from Sufi master Abu Hafs Umar Sohrawardi, who was the nephew of the establisher of the Suhrawardiya order, Abu Najeeb Suhrawardi. After teaching Zakariya, Abu Hafs ordered him to go back to Multan and construct a compound where he could arrange Sufi gatherings. Zakariya became rich over time, specifically after he gained the support of his followers and rulers like Nasir al-din Qabacha, the governor of Multan at that time. They appreciated Zakariya's opinion on every matter.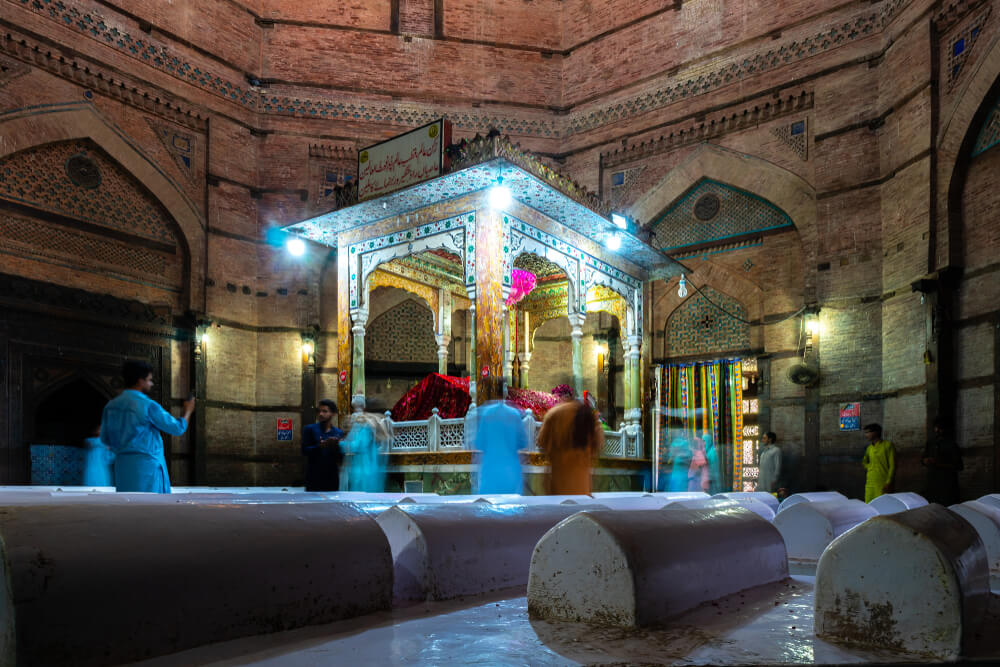 The tomb contains the mortal remnants of Bahauddin Zakariya (1170-1262). The shrine's design is elegant and magnificent, combining three geometric forms — a square with an octagon on its top and a circle connected with the corner minarets and decorated walls. The octagon can be seen in every other tomb. The design of the tomb resembles every other shrine built in Multan. It features the use of blue tilework. The architecture of the famous tomb of Shah Rukn -e-Alam is also manufactured in the same style and looks so elegant and unique.
The base of the tomb measures 15.9 meters on each side, and its dome measures 23.6 meters above ground level. The shrine is surrounded by a spacious quadrangle that measures 62×79 meters. Entrances are present on all sides except the north. Also, there is a small mosque situated in the southeast corner.
Every day thousands of people, tourists, visitors, devotees, and couples from across the globe visit this holy shrine to pray and acquire blessings. Every year death anniversary of BAHAUDDIN Zakariya is observed from 5th Safar to 7th Safar (according to the Islamic calendar) in Multan. This religious event attracts the attention of many people every year.
Prahlad Pur Temple
It is one of Fort's older structures but is in poor condition. It is the place where the famous Hindu festival of Holi started. Recently supreme court of Pakistan ordered to build Prahlad Pur temple again. Its ruins have many secrets in them. The Shrine of Bahaudin Zakariya is situated near it.
Nigaar Khana
The Fort's gun storehouse, now called Nigar Khana, is a cultural and artistic center where you can see some exclusive Multani arts and crafts, many intricate pieces made from this rare material that is only found in old ruins like these; authorized locations! The artistic items for sale include pots made from mud, dolls, mirrors, sculptures, etc., sure to be cute additions to your home! It was once called "Barood Khana" because the British used it to store guns for defense purposes.
Dam Dama Art Gallery
The art gallery has many pics, monuments, sculptures, and concrete works of art representing the history of fort Kohna in different eras. You can enjoy a panoramic view of the city in this Art Gallery, and within the art gallery, there are many fascinations. Dam Dama was a watch tower of Fort, not an art gallery.
A sculpture of traditional tanga was placed inside the art gallery, representing the expensive transport of the old era.
Traditional Portraits of Punjab Games
From traditional tanga, many portraits represent Punjab's different old cultural games when we move upstairs.
A colorful map of Pakistan is also placed on a wall in the dam dama art gallery.
Fantastic Model of Multan Fort
An excellent model of Multan fort's map is also placed within the gallery.
Barood Khana
Barood khana, now known as nigar khana, is a place to protect the cultural heritage that attracts visitors. The Barood Khana was severely damaged during the British siege of Multan in 1848. The Pakistani government has renovated it into a Nigar Khana, or art house, where handicrafts are sold. We can't accurately estimate how old the Barood khana is. By the size of the bricks, this gun storage house may be 500-600 years old.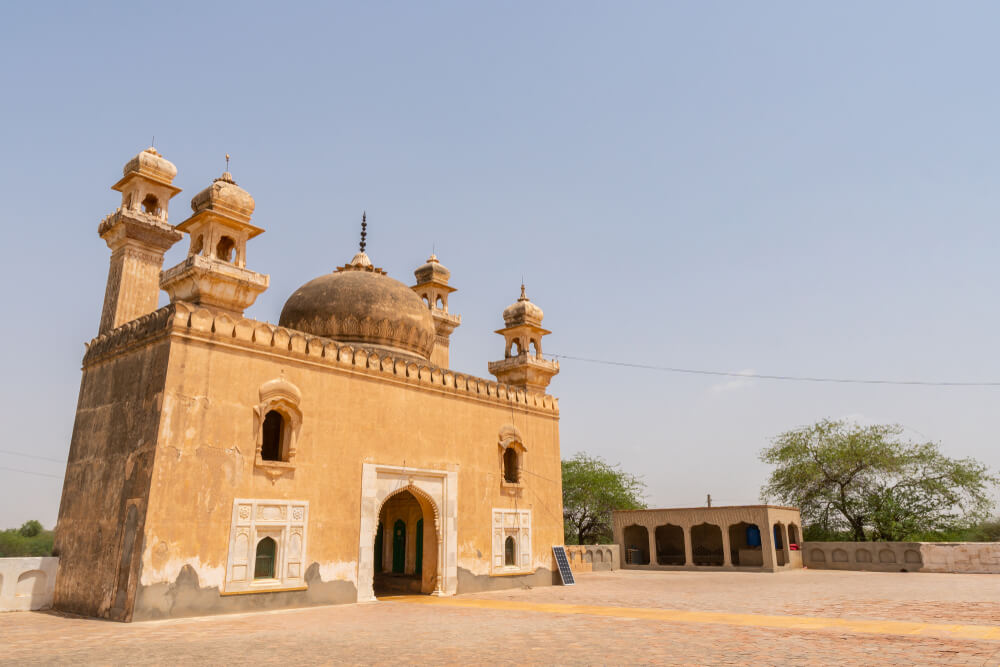 Its Current building was constructed in 1721 and is used as a gun storage house. Now Local handcrafts, including mud utensils, decorative wooden things, etc., representing the culture of Punjab, are placed in nigar khana.
Historical canon
Historical canon, also called Zam Zama canon, is used by the Sikhs and then the Britsh to conquer Multan. There are varying accounts of where the last piece and possibly even authentic Zamzam cannons exist. Some people think the last piece is in Lahore, but one is located at Fort Kohna Multan near Qasim Bagh lane, named "Zam-Zama cannon." The British army devised it to conquer Multan. It was constructed in 1808 A.D. by the British in a royal gun factory. In that era of wars, both Sikhs and the Britsh extensively used it.
Other names of Zam Zama canon you can find are:
Zamzama gun
Kim's gun
Zamzama top
Bhangyanwala top
There is a plate in fort Kohna, written on which is the brief background of this historical canon. The British made this canon so it could fire 18 pounds of gunpowder up to 2000 yards. It played a significant role in the conquest mission of India. The siege of Multan began on April 19, 1848, to avenge the death of lieutenant Alexander Agnew, who was slain in Multan under the leadership of the Sikh governor. Hence, on the orders of Brigadier Dundas, the British army used canon in December 1848 A.D. for the siege and invasion of Multan. With the help of canon, they destroyed the wall of Multan at Khani Burj of Multan and Delhi gate side. As a result, the Sikh government came to an end.
People think there aren't any more pieces left, but three same canons are also placed in the police lane or whatever else people might think when they hear about this place! As technology is continuously progressing, gradually use of canons has become a thing of the past only.
Beautiful lawns
The Qila Kohna Qasim Garden is the perfect place to go if you're looking for a tranquil escape from the busy hustle and bustle of city life. Located in the city's heart, Qila Kohna Qasim Garden offers its visitors the right circumstances to relax, freshen up and amuse themselves as they go through a well-trimmed green space made entirely of grass. You can sit and unwind as the grass is neat. You can enjoy sitting on their lawn while petting your animal friend or taking in some fresh air with friends, family members & loved ones! Next to the lawn is a lookout area where you can treat your eyes by reflecting on nature. Visitors can enjoy lush green space and stunning views of nature while they relax, freshen up or have fun together! This peaceful setting is ideal for friends, families, and couples gatherings.
Various parks
Along with lawns, parks are also there. The park has many tall trees offering shade from the sun. Benches are also placed there for you to lay down and unwind. People can inhale fresh air through the walkways and relax as they experience its colorful flowers, tall evergreen trees, and lush green lawns that are completely artificial, which means you'll never get bored! Plus, there is even a fountain.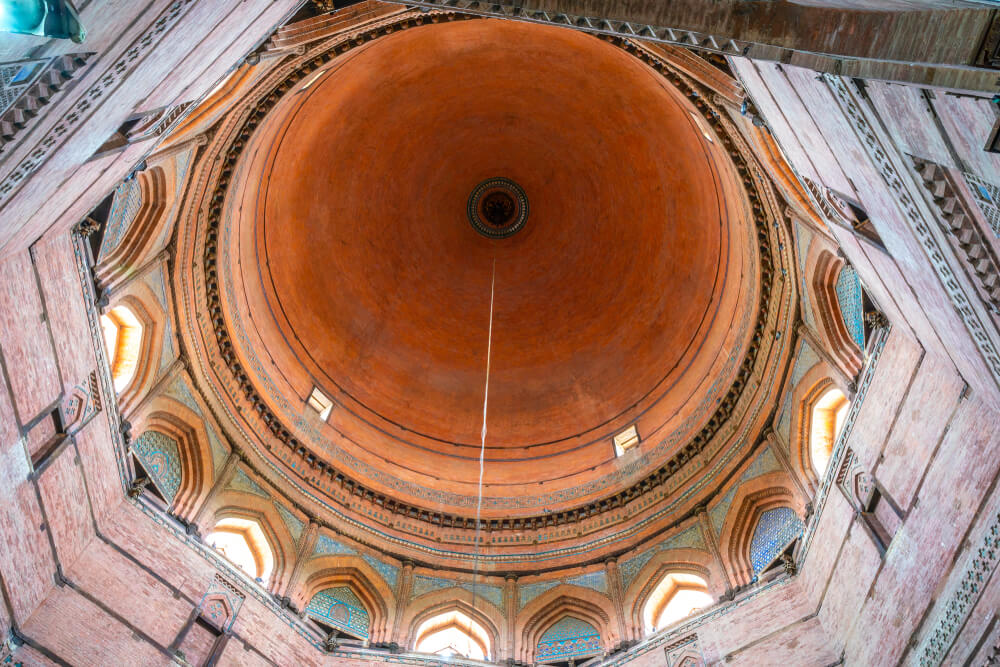 Play area
You can bring your kids with you as there is a play area where some slides, a see-saw, and various toys are available so parents can spend quality time without worrying about their kids.
Different stalls
You can spot different eatable stalls in Fort Kohna Qasim Garden, so whenever you get thirsty and hungry because of all that jogging and walking you have done, you can treat yourself to delicious food. You'll find all sorts of Indian snacks, halwa puri, Gol gappy, samosas, french fries, and ice cream to accommodate you. All the meals at these establishments will satisfy and delight your taste buds.
Parking area
Finally, a good parking area is provided in Qila Kohna so that people can park their vehicles in a proper direction and not in a haphazard manner.
Fort Kohna Multan timings
The most convenient thing about this Fort is that it is open for spectators for 24 hours all seven days of the week.
Location of Fort Kohna
It is located in the heart of Multan near Multan cricket club, at Hussain Agahi road next to Hazrat shah Rukn-e-Alam's Mazar, Multan, Punjab, Pakistan.
Frequently Asked Questions
Who made Multan fort?
According to a historical perspective, the Fort was constructed for the first time by the Katoch dynasty, which is why it was initially known as Katochgarh. However, it was destroyed again and again under British rule. In the early 17th century, the Fort's walls were constructed on the instructions of Murad Bakhsh, son of Shah Jahan. It happened when Murad Bakhsh was the ruler of Multan.
How old is fort Kohna?
According to historical facts, Qila Kohna is very old. It was built around 2600 years ago on a high pyramid across the Ravi and Chenab banks to defend the city from invaders. Fort was built again and again. Approximately 1100 years ago, the construction of the last Fort was done. But it was demolished by the British army.
How many forts are in Multan?
Only one Fort is situated in Multan, i.e., Fort Kohna Qasim Garden.
The excavation of Qila Kohna reminds us that we have much to learn from our past. Even though the secrets of these ancient civilizations are buried under the Fort, they still have something to teach us about who we are and where we come from. If you're interested in history or archaeology, check out the findings from this dig – there are sure to be more discoveries waiting to be made!