Kite Beach
Kite beach, one of the most famous beaches in Dubai, got its name because it's a sporty beach where you can see kite surfers everywhere. If you're into kitesurfing, get your gear ready and head to this beach, as it's the best place in the city to practice this sport and be a pro.
The white sand, crystal clear waters, and the relaxing vibe this beach gives are everything you need to see on your trip to Dubai. Kite beach is not just a great place to kitesurf but also perfect for those who want to enjoy the sun and sand. You can lie down on the beach loungers, take a dip in the sea or enjoy the view.
If you get hungry, there are plenty of food options available at Kite beach. There are cafes and restaurants where you can grab a bite or even picnic on the beach.
Kite beach is equally famous and loved among the locals and the tourists who come to see the famous spots of Dubai. If you're a tourist, read about this beach and its range of activities to feel more excited. You don't have to worry about searching for information as we've already collected and presented it here for you!
Apart from kitesurfing, the beach is also great for swimming, sunbathing, and relaxing. The beach isn't only known for its water sports, but it's the most fun beach to be in Dubai because of its non-aquatic activities and food variety.
There are plenty of things to do at Kite Beach. You can go for a swim, sunbathe on the sand, or try your hand at kitesurfing. If you're feeling active, there's also a volleyball court and a basketball court.
Sports On The Kite Beach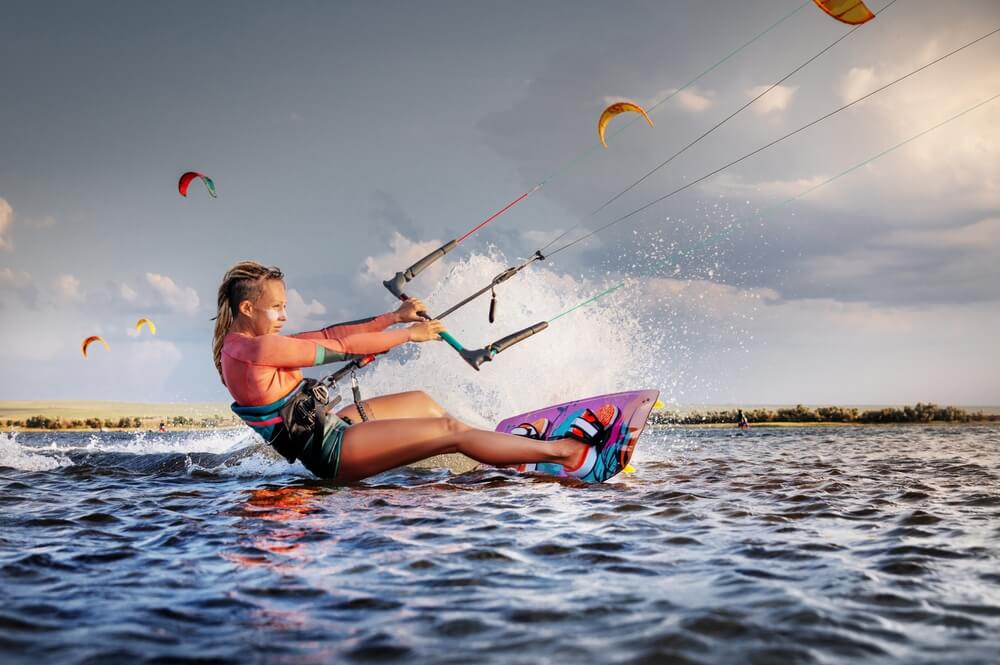 Kite beach, being the best spot for water sports, attracts thousands and hundreds of water sports enthusiasts worldwide every year.
In the right weather and wind, plenty of adventure lovers can be seen on their boards playing perfectly with the mighty waters. Whether you're an expert at water sports or a novice learner, the experts at kite beach center have got you!
The famous sports at Kite beach are mentioned below:
Kitesurfing
As the name suggests, kite beach is the best place to practice and learn kitesurfing in Dubai. The vast open space and sandy shores make it an ideal spot.
If you want to learn this adventurous water sport, there are experts in kitesurfing that offer lessons for beginners as well as intermediate levels.
Wakeboarding
Another popular water sport at kite beach is wakeboarding. This is the perfect sport for you if you're into adventure and want to try something new.
You can rent all the necessary gear from the wakeboarding schools near the beach and enjoy this activity to the fullest.
Windsurfing
Kite beach is also an excellent spot for windsurfing. The strong winds and the open space make it ideal for this sport.
If you want to learn or improve your skills, Kite beach center is the place to be!
Paddle boarding and kayaking are also popular water sports that can be enjoyed at Kite beach. You need the gear and the spirit to nail these games; experts and lifeguards are always around you to encounter any unpleasant event.
If you want to predict the waves for the day, you should come to the beach in the afternoon so you can have an idea of how the weather will be.
Also, you'll get the company of people who're learning to play water sports with you. It's always good to make new friends and have adventures with them, isn't it?
Beach Lounge Chairs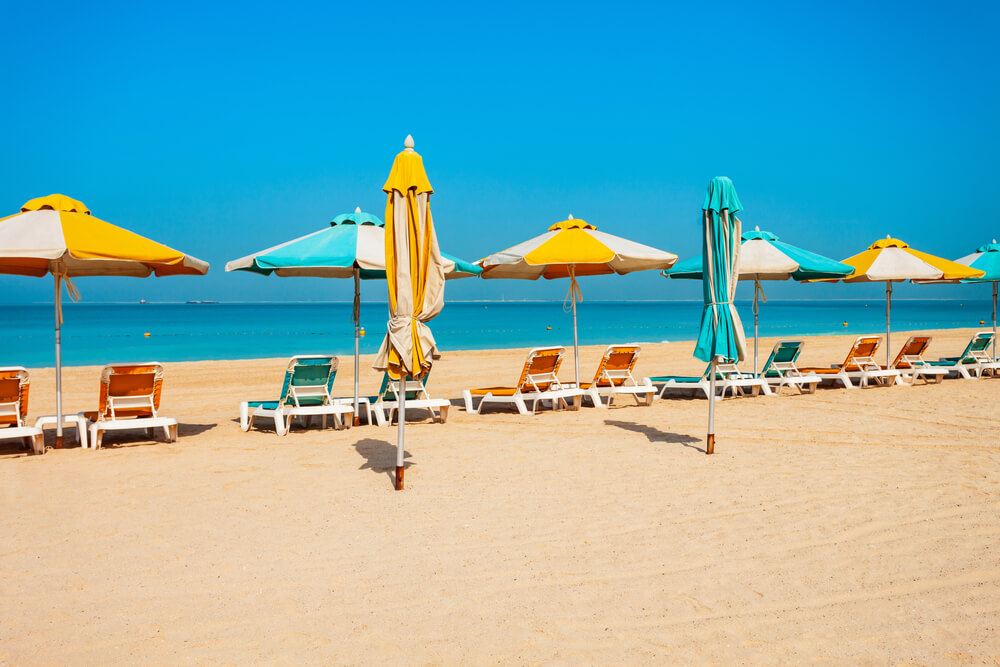 After a long day of fun and adventure, you only need a cozy place to relax and unwind. And what better place to do that than on the beach with a stunning view?
Kite beach has plenty of beach loungers where you can relax and soak up the sun.
If you want to enjoy the view without getting a sun tan, there are umbrellas available for rent.
Relaxing on the beach lounge chairs after a fun-filled volleyball match or a swimming session will always feel like one of the best pleasures in the world.
These beach lounge chairs are available on a first-come, first-served basis, so make sure you get there early to snag a spot!
Shower Facility
After a long day of fun in the sun, you might want to take a shower to wash off all the sand and salt water.
Thankfully, Kite beach has showers that you can use for free. The shower facility is so nice and clean that you'd feel like you're in a hotel.
There are also changing rooms available if you want to change into your beach clothes.
The shower facility is open from 8 am to 10 pm, so you can use it even if you're not spending the whole day at the beach.
So, even if you're not staying at a hotel near the beach, you don't have to worry about getting all sandy and salty!
Perfect Time To Visit Kite Beach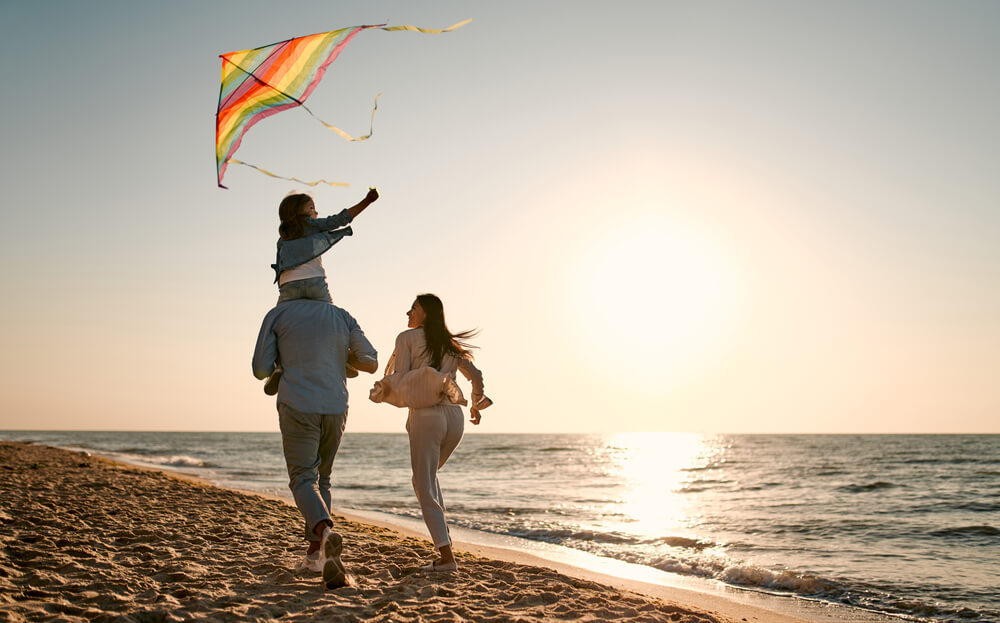 Beaches in Dubai shine throughout the year; there's more crowd in summers as the weather is bright and shining. Thus you can pay a visit to the funky Kite beach in the summers.
You can enjoy all the beach water sports activities to the fullest and make your summer vacation memorable!
However, if you're spending your winter holidays in Dubai, you're not at a loss. Its easily possible to visit Kite beach during the winter months, from October to April.
Even during these months, the weather is perfect for spending a day at the beach.
The temperatures range from 22 degrees Celsius to 28 degrees Celsius, perfect for swimming, sunbathing, and playing sports.
Moreover, the water is also a lot cleaner during this time as there is less seaweed.
So, if you want to visit Kite beach, ensure you do it during the summers!
Dining And Munching At Kite Beach
Kite beach is not only a great place to spend the day but also to grab some food. There are plenty of food trucks and kiosks that offer a variety of cuisines.
If you want a more sit-back experience, you can choose from the restaurants at Kite beach. These cafes and restaurants not only sell spicy and cheesy snacks but also a full breakfast meal. Do you want gourmet burgers or a local dessert? You can find everything at Kite beach.
To treat your younger one's taste buds, you can try carnival treats that have items like ice-creams, flavored popcorns, slushies, and other exciting snacks for kids.
You'll find it all at Kite beach, whether you're in the mood for some burgers or pizza or want to try something new like Arabic food. And if you're feeling thirsty, there are also plenty of options for drinks.
You can get your hands on some fresh coconuts or get a refreshing juice or soda.
If you're a hot dog lover, This is Hot Dog is a must-try for you! Let's get a close glimpse at what else you can eat at Kite beach cafes and restaurants.
Food Trucks At Kite Beach
The ample food trucks offer international and local delicacies, thus addressing the taste of every single visitor.
These colorful food trucks give a funky vibe and sell everything from burgers and sandwiches to sushi. So don't forget to try one of these truck cafes and have a wholesome experience by the beachside!
Salt Kite Beach
Salt is a famous food brand with food trucks in different locations across Dubai. And one of its most visited food trucks is, of course, on the Kite beach.
The stainless steel truck is a symbol, and you'd be delighted to have a meal from this popular eatery. There's an outdoor seating area where people indulge in the goodness of their single or double classic burgers or have their hands on their famous ice-creams.
There are also plenty of cafes and restaurants if you're looking for something more filling.
So, whether you're looking to have a picnic on the beach or want to eat a proper meal, Kite beach has you covered!
Amenities At The Kite Beach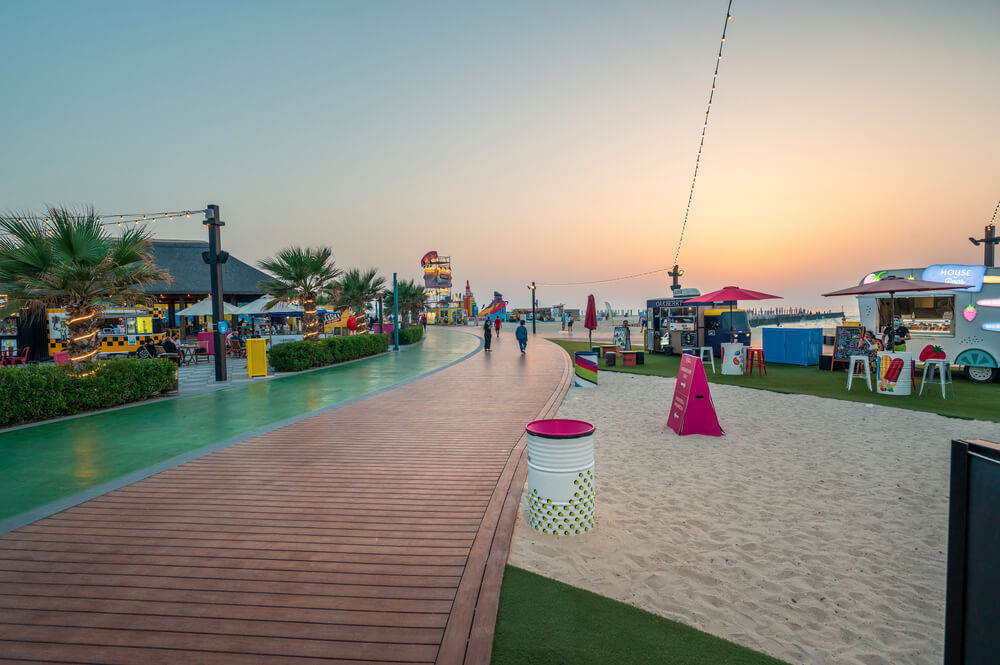 Kite beach caters to the need of its visitors in every possible way. There are lots of amenities and services you can get from the beach.
From perfect shower facilities to restrooms, changing rooms, and car parking, you can get it all here. The car parking is both public and private, and you don't need to worry about your vehicle once you park it there.
There are umbrella rentals, beach lounge chair rentals, and towel rentals as well. If you want to avail any of these amenities, just pay the price and get it! To your surprise, the money you'll be paying is quite affordable. You can get umbrellas or loungers for just 120 AED per person, and the price for couples is 240 AED on the weekends.
Everything available can make your beach visit even more comfortable and relaxing. Get those cabana rentals, beach toys, and sunscreen, and let the beach fun begin.
Explore More What You Can Do At Kite Beach
Apart from the common beach activities, Kite beach offers you a lot more to do. This place is famous for its water sports activities.
You can try stand-up paddle boarding or go kayaking with your friends. And if you want to fly high, you can even go parasailing!
Kite beach is also a great place for people who love adventure sports. You can go rock climbing or try your hand at trampolining.
And if you want just to sit back and relax, you can take a walk on the promenade or go cycling.
There's also a skate park where people of all ages come to try their hand at skateboarding.
So, if you're looking for a place where you can have some fun and adventure, Kite beach is the perfect spot for you!
Read Your Favorite Book
If you love reading, you can also spend peaceful time at Kite beach.
You can find plenty of secluded spots to sit and read your favorite book. And if you don't have a book with you, don't worry!
There's a library on the premises where you can borrow a book and enjoy some quiet time by the beach.
Make the team To Play Volleyball
You can also find a volleyball court on the beach where you can play with your friends.
And if you don't have a team, you can always join one of the many games other people are playing on the beach.
Meet new people, make friends, learn and have fun together. Life is too short to spend in your hotel rooms!
Let Your Kid Swim And Roll At The Water Park
If you're traveling with your kids, they will have a blast at the water park.
There are plenty of slides and rides that they can enjoy. And if they want to learn how to swim, there are also swimming classes being conducted at the water park.
Get Your Adventure Mode On
If you're an adventure junkie, Kite beach is your place. There are plenty of adventurous activities that you can do here.
You can go rock climbing, trampolining, and swimming in crystal clear waters. And if you want to get your adrenaline pumping, you can go parasailing or kayaking.
So, put on your adventure hat and get ready to have some fun at Kite beach!
Give Yourself A Challenge To Run
You can also use Kite beach as your running track if you're a fitness enthusiast.
The 5 km long promenade is perfect for a morning jog or an evening walk. And if you want to challenge yourself, you can run up and down the stairs.
So, please put on your sneakers and get ready to sweat it out at Kite beach!
Try Skating At The Skate Park
Kite beach is also home to a skate Park where you can try skateboarding.
Whether you're a beginner or an expert, you'll have a great time skating at this park. If you don't know much about this sport and are a novice, you can learn it from the other people doing it already, and besides, you can also socialize this way.
So, put on your safety gear and get ready to show off your skating skills!
Bring Your Kids To The Wire World
If you're looking for a place to take your kids, Kite beach is the perfect spot. There's a wired world where your kids can have a great time playing. The wired world has a big trampoline and obstacles that can make your kid learn and have fun simultaneously! It can also enhance your kid's motor skills which are worth the money.
Well, talking about the money, ticket prices aren't too high, and these vary depending on the ride or course you choose.
So, what are you waiting for? Pack your bags and head to Kite beach for a fun-filled day!
Get Enrolled In Kitesurfing School
If you want to learn something new, you can enroll at Kite beach's kitesurfing school.
The school offers both group and private lessons. And if you're a beginner, don't worry! The instructors are very patient and will make sure that you learn everything properly. It's a great chance to learn something new in life!
Go On A Jog With Your Partner
If you're looking for a romantic spot to spend some quality time with your partner, Kite beach is the place for you.
You can go on a long walk or jog with your partner while enjoying the stunning views. And if you want to add some spice to your relationship, you can also try out some of the adventurous activities at Kite beach!
Visit Kite Beach To Unwind And Relax
Kite beach is the perfect place to unwind and relax. Whether you want to enjoy the stunning views, play beach sports, or spend quality time with your loved ones, Kite beach has something for everyone. So, what are you waiting for? Pack your bags and head to Kite beach today!
Things To Know Before Visiting Kite Beach
Like all other beaches, Kite beach has a protocol that tourists and visitors must follow to avoid any inconvenience later on! If you don't abide by some of these rules, you might get into trouble as the authorities are a bit strict about it.
Let's see what you must know before visiting Kite beach.
You can bring your vehicles to Kite beach without any fear because the security system is so strong, and they do care for visitors' belongings.
The parking slots are readily available, and you don't have to spend dirhams on it as it's quite cheap in price.
The beach has a reserved area called the Kite zone for swimming activities only; if you want to swim, go to that zone. Remember to restrict your swimming to only this zone and not any other random area at the beach.
The 14-km long track just near the Kite park has lots of exercise equipment for beach lovers.
If you forgot to bring your personal bike, no worries, Kite beach has got you! The bike hire station is the right spot for you; hire a bike from there and roll through the bike track.
You can bring in personal stuff for picnic purposes, but if you don't, plenty of bars and restaurants can treat your taste buds perfectly!
Kite beach is a perfect mixture of waves and wind; that's why thousands of people come here every day.
If you want to jog along the coastline, use the 14-km long track and show your skills. Enjoy your beachy day at this soft sanded beach with the perfect views of Burj Al Arab.
Location And Timings
Kite beach is located in Jumeirah and is easily accessible by car or public transport. If you're taking the bus, make sure to take the RTA bus number 8 from Burjuman station.
The beach is open from 8 am to 10 pm, and remember that you can't swim or do a water sport in the dark. So better to go in the afternoon to make the most of your day.
So, what are you waiting for? Head on down to Kite beach for a fun-filled day of sun and sand!
Frequently Asked Questions
Where is Kite beach in Dubai?
The heaven-like Kite beach, which is famous for many reasons, is located in the Umm Suqeim area of Dubai, just in the south of Jumeirah. You can easily reach there by your personal transport or the public one.
What to do at Kite beach?
There's plenty to do at Kite beach Jumeirah! You can go for a swim, sunbathe on the sand, play beach sports, or even try out some adventurous activities. Try munching on the yummiest foods from one of the Kite beach restaurants. There's something for everyone at Kite beach!
How to reach Kite beach by metro?
Getting to Kite Beach by metro is relatively easy; you must take the red line and get off at the Noor Bank metro station. It's the nearest to Kite beach, still 5 km away from the destination. From there, you can take a bus or hire a taxi to reach Kite beach. The journey will only take around 15-20 minutes.
Are dogs allowed at Kite Beach?
Kite beach is the perfect place for your pet as well. The Kite beach center is dog friendly which means you can bring your dog along but make sure it behaves well so as not to cause any inconvenience.
Kite beach is the perfect chance for tourists who're looking for an ideal beachside experience. From kid games to water sports, yummy snacks, and skating, you can do almost all the fun things here and make your visit a memorable one!
So, what are you waiting for? If you're in Dubai, make sure to add Kite beach to your travel list and have a blast!