Jumeirah Beach Dubai
The famous Jumeirah beach on the coast of Dubai is a mesmerizing beach with breathtaking views of the Arabian sea. Being one of the many beaches in Dubai, Jumeirah beach still holds its place as a perfect spot to soak in the sun and have a leisurely time with friends and family. 
The beauty of this beach successfully attracts locals and tourists from all over the world to enjoy the scenic views.
Let's look at the history of Jumeirah beach Dubai and how it came into existence. Jumeirah was a fishing and farming center years ago before it changed into a classy residential area where elite families and western expatriates poured in to stay.
Before 1990, the beachfront of Jumeirah beach (current name) was known as Chicago beach, which later got crushed to construct the ever-so-gorgeous Burj Al Arab.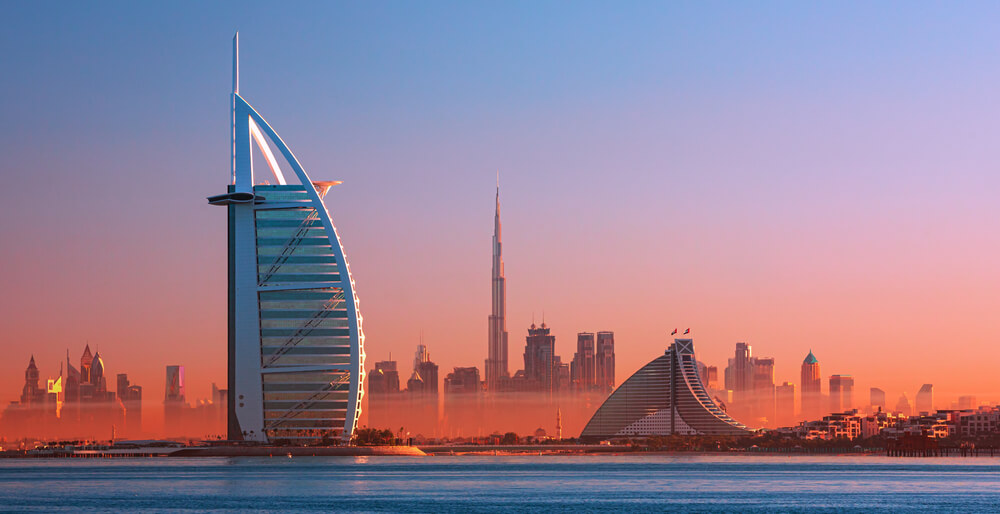 The authorities categorize the new area into Jumeirah 1, Jumeirah 2, and Jumeirah 3. This place is one of the busiest areas of Dubai, where locals and tourists come to spend their leisure time. The white sand and azure water look like a paradise on Earth.
The beach has many visitor facilities like showers, toilets, an H2 station, etc. There are also many restaurants and cafes here so visitors can have something to eat and drink.
Now it's time to take a dip in this article and explore more exciting things about the gorgeous Jumeirah beach.
Resorts At Jumeirah Beach
The resorts at Jumeirah beach Dubai will surely redefine the luxury experience for you!
These resorts offer world-class facilities and services to their guests. And staying here will be a lifetime experience for you.
Here are some of the resorts present at Jumeirah beach that can help you decide which one to choose for your stay.
The Iconic Burj Al Arab 
The Burj Al Arab is one of the most luxurious resorts present here. It is a seven-star hotel that has 202 suites. This resort is an iconic structure that stands on an artificial island.
It is connected to the mainland by a private curving bridge. The height of this hotel is 321 meters which makes it the fourth tallest hotel in the world.
The building has a yacht club, helipad, and five swimming pools. The unique thing about this resort is its shape, which resembles a ship's sails.
Jumeirah Beach Hotel
Another luxurious resort present here is Jumeirah Beach Hotel. It is one of the oldest and most famous hotels in Dubai.
This five-star hotel has 598 rooms and suites. It also has 18 restaurants and bars, a conference center, a spa, and a fitness center.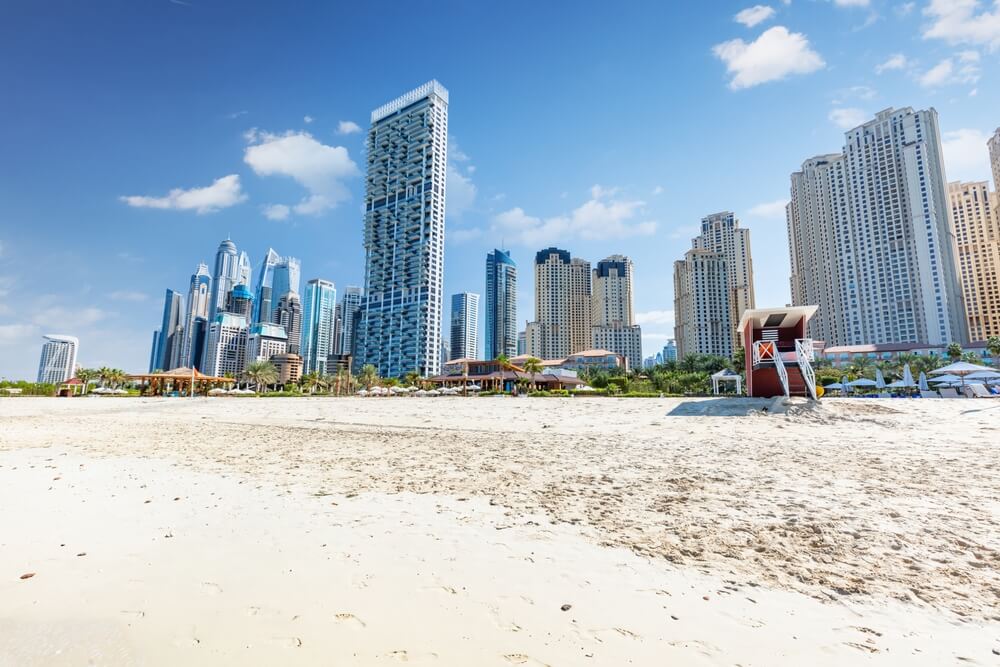 The hotel has two outdoor swimming pools and a children's pool with slides. The Jumeirah beach hotel will take the hoteling experience to a new level for you and your family.
The hotel has an elegant interior and exterior and offers breathtaking views of the sea from all of its suites and rooms.
The Ritz-Carlton, Jumeirah Beach
If you're looking for a place that can offer you ultimate luxury and comfort, look no further than The Ritz-Carlton, Jumeirah Beach.
This hotel comprises hundreds of rooms and suites, offering an unmatched luxury and hospitality level.
The hotel has an exquisite outdoor swimming pool, a spa, and a fitness center that can cater to your well-being needs.
Not to forget the restaurants and bars present here which offer a wide variety of cuisines and drinks for you to choose from.
So, these were some of the luxurious resorts at Jumeirah beach. Now let's take a look at some fun things you can do here.
Shower Facility
The Jumeirah public beach has a shower facility for visitors. This facility is present near the lifeguard tower. The shower facility is open from 8:00 am to 10:00 pm.
It is a great place to shower after swimming in the sea or playing in the sand. So you don't have to worry about removing the sand after coming out from the waters.
Take a relaxing shower and change into another outfit before you go further to explore the beach!
Eat And Drink At Jumeirah Beach
Jumeirah beach's area has always been famous for dining and the starry nightlife. The restaurants and bars present on the coast offer a wide variety of cuisines and drinks for you to choose from.
There are many outdoor as well as indoor dining options present here. So, you can enjoy the sea views while dining or have a romantic dinner indoors.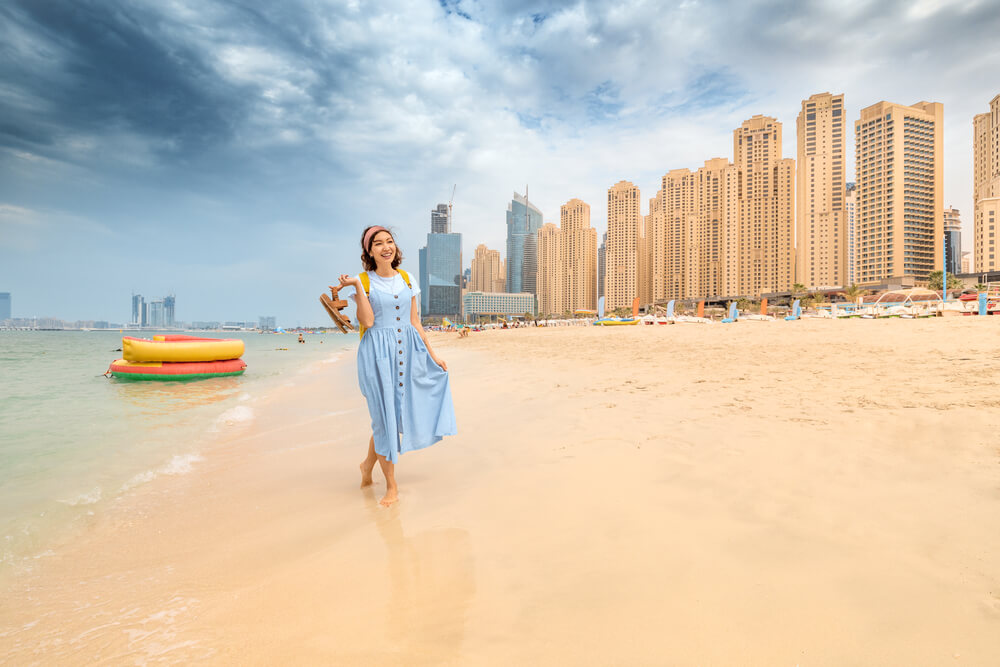 You can also plan a personal picnic with your family or friends at the Jumeirah beach park, which is a short walk away from the beach.
Some famous restaurants are QD's, The Observatory, Friday brunch at JW Marriott Marquis, The Pierchic, and many more.
You can also enjoy live music and Sheesha at some of the bars present here. So, there's something for everyone at the Jumeirah public beach regarding food and drinks.
Dine At Burj Al Arab
You can't miss out on the chance to explore the unique cuisine at the iconic Burj Al Arab when at Jumeirah beach. Dining at Burj Al Arab is an experience in itself.
The chefs here are highly skilled and use the freshest ingredients to prepare mouthwatering dishes for you. There are more than seven restaurants present at Burj Al Arab, which offer cuisines from around the world.
You can enjoy Mediterranean dishes at Sal or munch at the French Plates at Al Muntaha; the choice is yours!
So, if you're looking for a luxurious dining experience, then make sure to add Burj Al Arab to your list.
Eating At Jumeirah Beach Hotel
If you stay at Jumeirah Beach Hotel, you're in for a treat! The hotel has 18 restaurants and bars that offer various cuisines and drinks.
You can enjoy international buffet spreads at Latitude, sumptuous seafood dishes at Rockfish, or delicious Arabic cuisine at Majlis Al Bahar.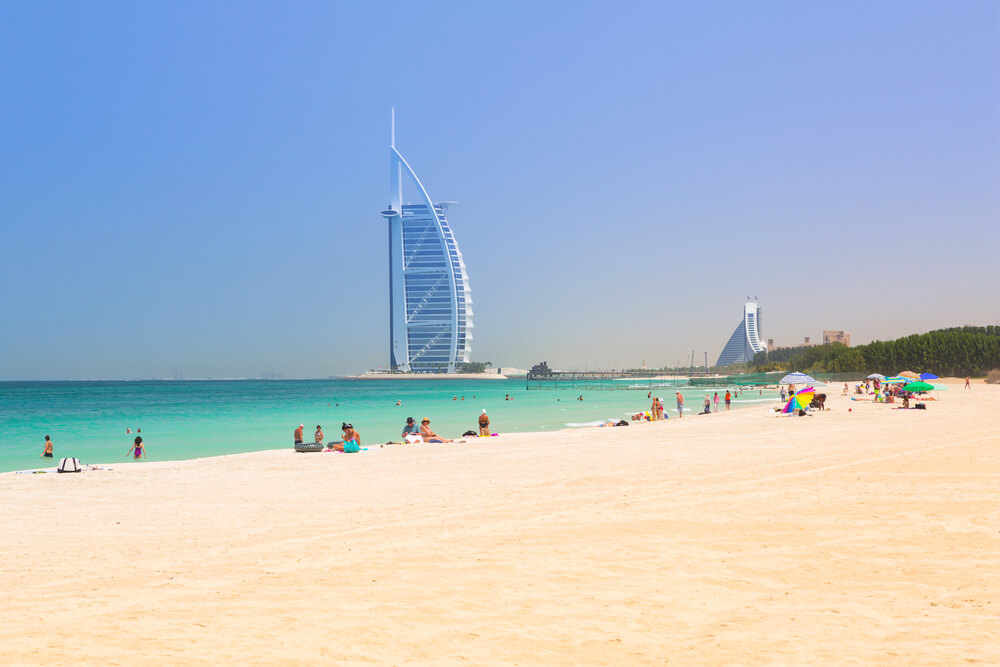 The hotel also has a private beach where you can enjoy a quiet meal with your loved ones. So, make sure to add Jumeirah Beach Hotel to your list when exploring the dining options at Jumeirah beach.
Fun Things To Do At Jumeirah Beach
Jumeirah beach Dubai is not only famous for its luxury resorts but also for the various activities that visitors can enjoy here. Let's take a quick view of what you can do on Jumeirah beach.
Stroll Along The Boardwalk
One of the best things to do on Jumeirah beach is to take a stroll along the boardwalk. The boardwalk is a 2-kilometer-long walkway that runs parallel to the coast.
On this walkway, you can enjoy the stunning views of the sea and glimpse the fantastic architecture of the nearby buildings.
Walking here will give you an out-of-the-world feel of this enclave's grandness!
Take A Picture With The Iconic Burj Al Arab
The seventh-tallest hotel in the world, Burj Al Arab, is one of the most iconic buildings in Dubai.
The hotel is situated on an artificial island and is connected to the mainland by a private bridge. The whole structure of the hotel is designed in the shape of a sail. This grandeur will surely make your jaws drop! So take a picture with Burj Al Arab and brag about it on your social media!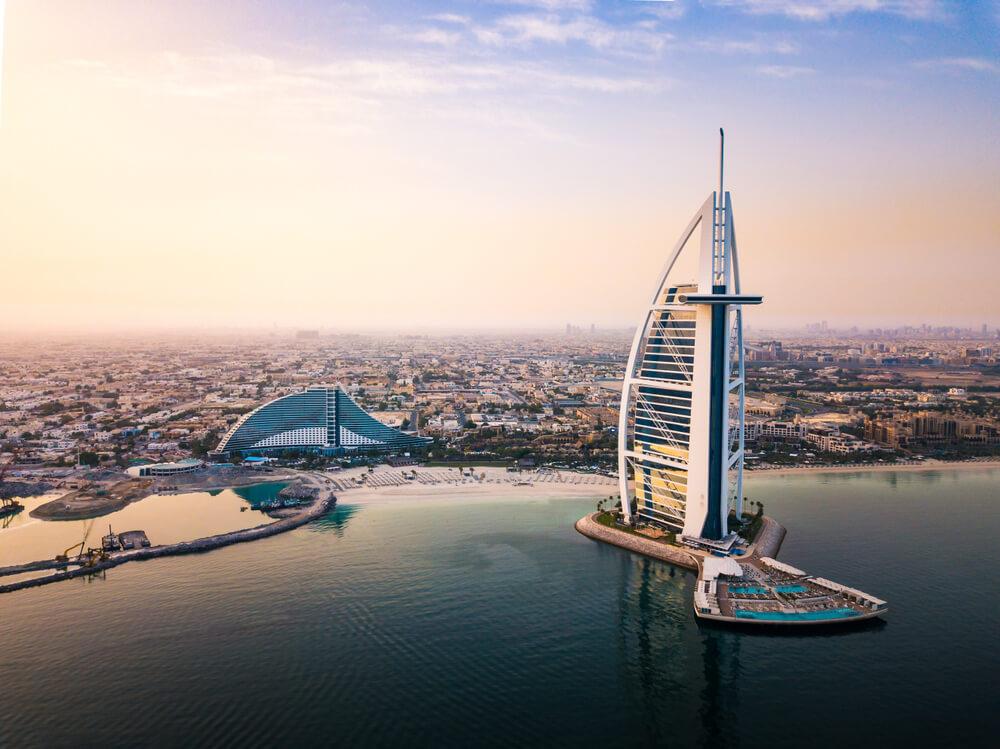 You can also enjoy a meal at one of its luxurious restaurants that offer a fantastic view of the Dubai skyline.
Take A Swim In The Sea
Another fun thing on Jumeirah public beach is refreshing swimming in the sea. The temperature of the water is just perfect for a swim.
The best part about swimming here is that you can get an up-close view of the Burj Al Arab.
This is undoubtedly going to be an amazing experience for you. Swim and take pictures to post stories on Instagram! Make the most out of your vacay!
Let's Do Scuba Diving!
If you're an adventure enthusiast, then this is something that you must do on Jumeirah beach. Scuba diving will give you a once-in-a-lifetime experience.
You can get a chance to see the beautiful underwater world and also get up close with the marine life. The silence of this whole new world will make you feel you're the only person on Earth who's exploring this beauty.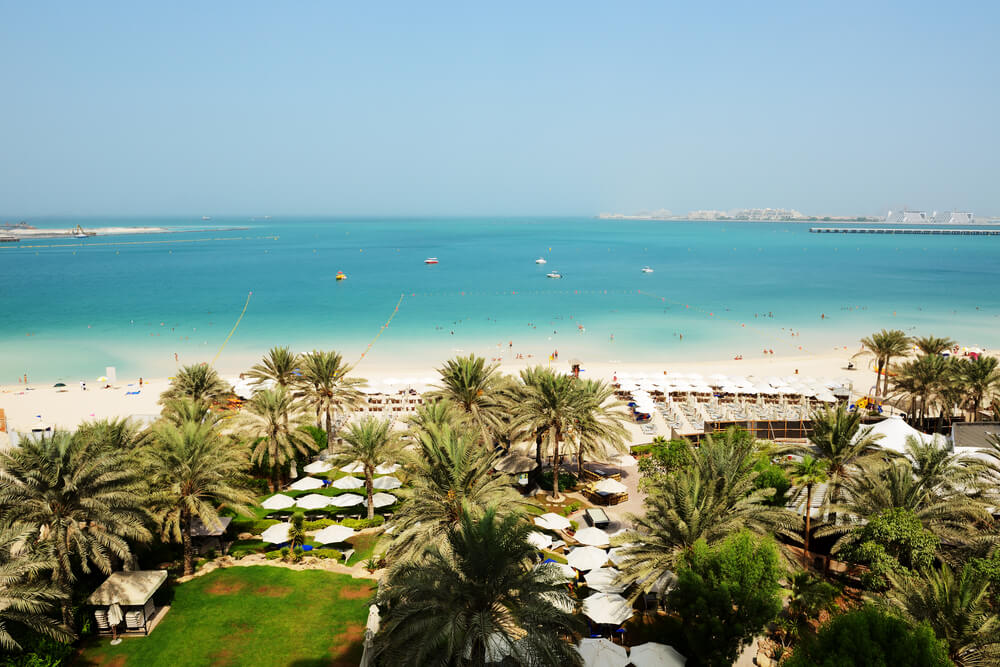 Whether you're an experienced diver or a novice, there'll be agencies and hotels that provide packages for scuba diving, so you can learn and have fun.
That is surely going to be an experience that you will cherish for a lifetime.
Take A Camel Ride! 
You can do this to add a little bit of fun and excitement to your beach day. Taking a camel ride on Jumeirah beach will make you feel like a king or queen!
The best part about taking a camel ride is that you can get a chance to see the whole beach from a different perspective.
Indulge In A Water Sport Activity 
Jumeirah beach's scenic and serene environment will give you a perfect chance to escape the hassles of your work life and dip in the water.
Besides scuba diving, the beach has numerous water sports activities you can try your hand at to make memories of. You can go for a swim, go sailing or the famous banana boat riding.
You can also test your water skiing, jet skiing, windsurfing, or snorkeling skills. So gear up for some beach fun!
Explore The Unique Jumeirah Mosque
With its intricate interior and fascinating architecture, Jumeirah mosques welcome people of all religions.
This mosque is one of the most beautiful mosques in Dubai and is a must-visit place. The round to this mosque will give you insight into Islamic culture and traditions.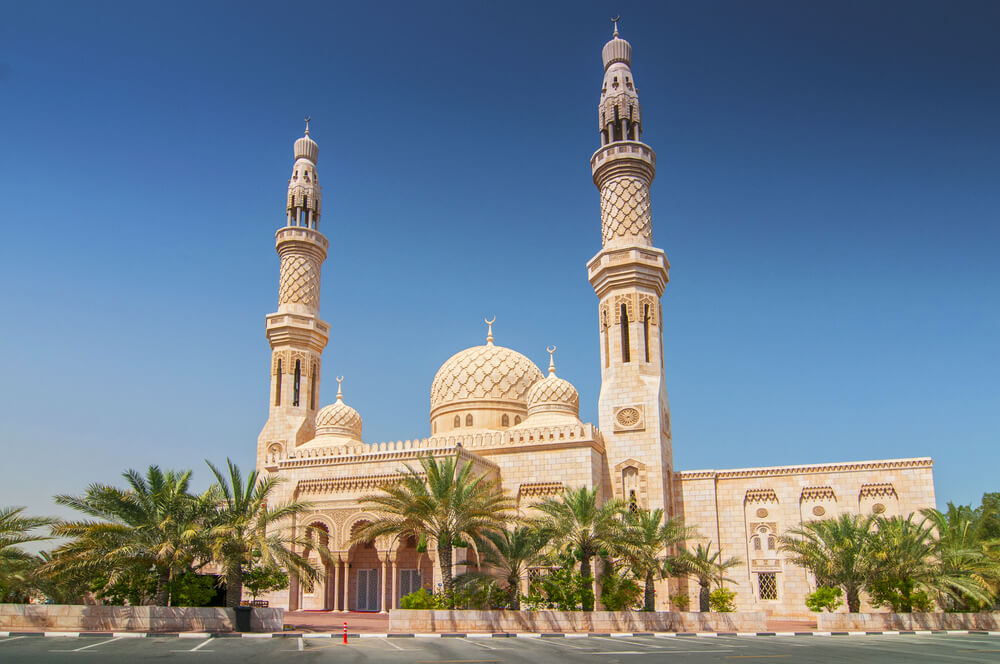 You can also munch on Emirati snacks and sip traditional drinks while in the Center for Cultural Understanding.
Best Time To Visit Jumeirah Beach
Dubai is famous for its scenic beaches and the fun-filled summer season. Most of the tourists come to enjoy summer at these beaches, so the best time to visit Jumeirah public beach is the summer season. 
As the summer season is relatively longer in Dubai than in other countries, you won't have a problem planning your trip.
Although the best time to visit is summer, you can enjoy your vacation to the fullest if you come from October to March. The weather is quite pleasant during these months as well. The average temperature during these months ranges from 22-degree Celcius to 28-degree Celcius.
This is the ideal time to dip in the sea or play beach volleyball. Also, during these months some events and festivals take place near the beach which you can be a part of.
So plan your trip accordingly and enjoy your vacation to the fullest!
A Day At Jumeirah Beach Is A Must When You're In Dubai
The name Jumeirah beach is why you should visit this place. The mesmerizing views of the Arabian gulf and the enormous activities at the beach drag in so many tourists to have fun here.
Burj Al Arab, the 8th wonder of the world, is visible from the beach, which is another reason to flock here. Grand Jumeirah mosque, famous for its unique architecture, has a cultural understanding center; you can look at the Emirati culture.
Palm Jumeirah, great hotels, resorts, spas, boutiques, and luxury villas are other strong reasons to visit Jumeirah beach.
The natural environment and the serenity of the place provide you with a perfect opportunity to relax and rejuvenate yourself.
Location And Timings
Jumeirah public beach is located in Dubai, United Arab Emirates. The exact location of the beach is Jumeirah 2 – Dubai – United Arab Emirates.
The timings of Jumeirah beach are 24 hours. You can come here at any time of the day and enjoy the serene environment and the stunning views.
Frequently Asked Questions
How To Get To Jumeirah Beach?
The best way to reach Jumeirah public beach in Dubai is by taking a taxi or your own car. You can also take the metro to get here. The nearest metro station to Jumeirah beach is the Dubai Internet City metro station.
Is Swimming Allowed On Jumeirah Beach?
Yes, swimming is allowed on Jumeirah public beach. This is one of the main reasons why people come here. The water is immaculate, and the temperature is perfect for swimming. So go ahead and dip in the sea to beat the heat!
Jumeirah beach is an exotic location to spend your summers this year. The beach's beautiful views and calm environment will make you feel relaxed and refreshed.
You must be excited to visit as you know everything about the beach now. So, what are you waiting for? Plan your trip now and enjoy a fun-filled vacation at this beautiful beach!