JBR Beach Dubai – The Most Exotic Beach You'll Ever See!
If you're in Dubai and looking for fun attractions to spend your weekend in, you must've heard of JBR beach, one of the funkiest spots in Dubai. The beach JBR also known as Jumeirah Beach Residence, offers a blissful experience with its warm turquoise waters and soft white sand. A perfect way to say hello to summer!
As soon as you step onto the beach, you'll be in awe of how beautiful it looks, and the activities or fun are left far behind because you'll wander in its beauty.
But that's not enough to make your day, so the beach has many activities you can try to steam off your work stress.
The beach is buzzing with travelers and locals from around the globe and is a perfect blend of contemporary Arabian looks. So if you've got some friends, a famous walk on the JBR beach is a must; shop, dine, play, and have fun!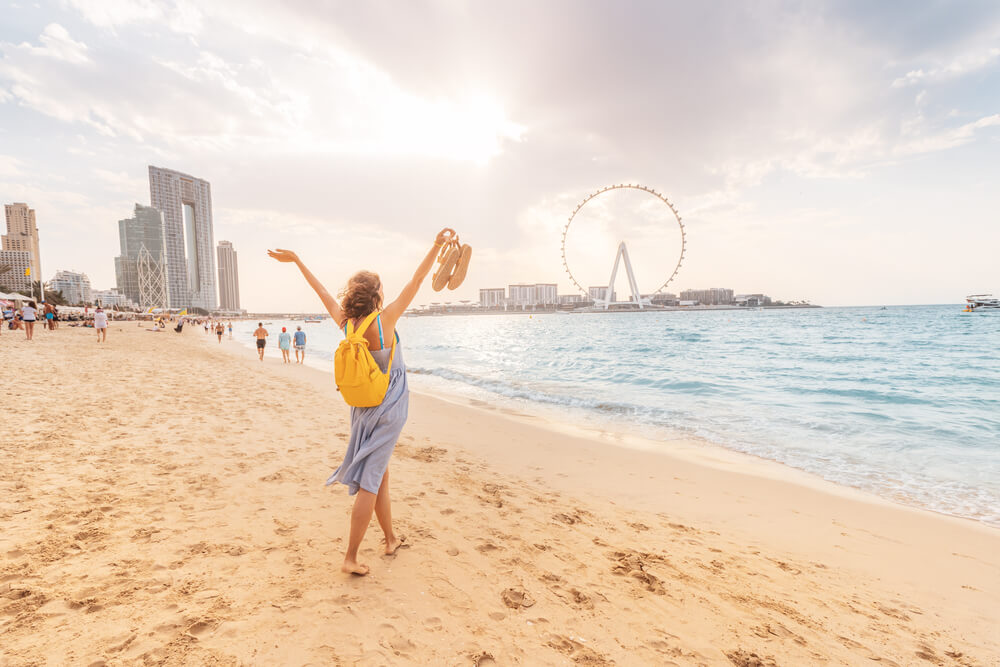 Before diving deep into this article, let's take a quick look at what you can do at this trendy beach.
The place is so home-like that you can relax on the beach, take a long stroll, or enjoy the scenic views of Dubai's skyline.
The best part is that the beach offers something to everyone, be it kids, adults, or even elders.
After all the fun, your tummy must be calling for food; try one of the many foods and drink stalls or cafes at the beach, and you won't be disappointed!
Camel Riding
The first thing most tourists like to do at JBR Beach is the fun camel ride. If you haven't tried it yet, you're missing out on something!
Hop on a camel at the beach and see what the world looks like from up there. The cost of the ride is quite reasonable, so that you can add it easily to your budgeted trip.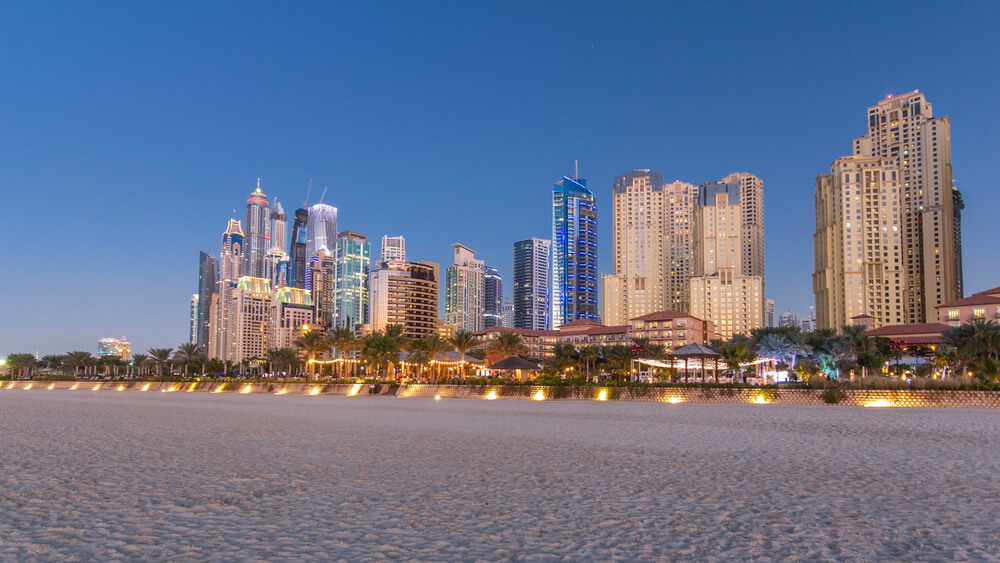 Camel Riding is one of the most recommended things in JBR Beach Dubai. So fight your fears and have the best time of your life!
Jogging Track at JBR
One of the best ways to stay fit and fine is by going for a morning jog, and what's better than doing it at one of the most beautiful beaches? The place has a separate jogging track for those who want to jog or run, and the path is 2 kilometers long, which is enough to sweat off. 
While you're sweating it out, the scenery is breathtaking, and the best part is that it's open to the public all day and night.
So you can jog or walk whenever you want according to whatever fitness schedule you have!
Shower Facility at Beach
Beach comes with a lot of sand, which can be irritating, but not to worry because the JBR beach has covered you with its shower facility. So, depending on your mood, you can take a cold or hot shower at these showers after all the beachy fun and call it a day!
The beach has several showers installed at different locations so that you can wash off all the dirt and sand before heading back home.
This facility is free of cost and allows public use throughout the day. So wash off your worries when dipping in the beach waters and make your day memorable!
Things to Do at JBR Dubai
JBR Dubai is an irresistibly beautiful place that has so much to do. The range of fun activities is so broad that you'd feel spoilt for choice; you might want to do it all. But for that a day isn't enough, you'll have to spend another day at the beach; stay in a hotel nearby and benefit the most from this trip.
If you're an introvert, the beach is perfect for loosening up and relaxing after a busy week spent under your rude boss.
But if you're up for the fun and enjoyment, explore the beach and have a splashy day!
Breathe in The Sun
Although there's a lot of glamor and noise around, there are still spots at the beach that are quiet and allow you to ponder your life. Yes, we're talking about taking a sun bath or simply laying at the beach, looking at the iconic Ain Dubai. Sounds soothing, right?
What's more? You can go for a swim, do some yoga or read your favorite book while enjoying the serenity and calmness of the place. Also, don't forget to get that perfect bronze tan which will make you look no less than a celebrity!
Try Out Your Favorite Water Sport at JBR
Are you an adrenaline junkie and love to get your heart racing? Then JBR Dubai is an ideal spot for you!
The beach offers a plethora of water sports that will make your day. From the banana boat ride to jet skiing, there's something for everyone here.
The adventurous breeze at the beach will be so tempting to have a donut ride, paddle boarding, or world-famous kayaking. But, if you've got a partner or a friend with you, buckle up for the parasailing; view the glamorous city of Dubai from the air.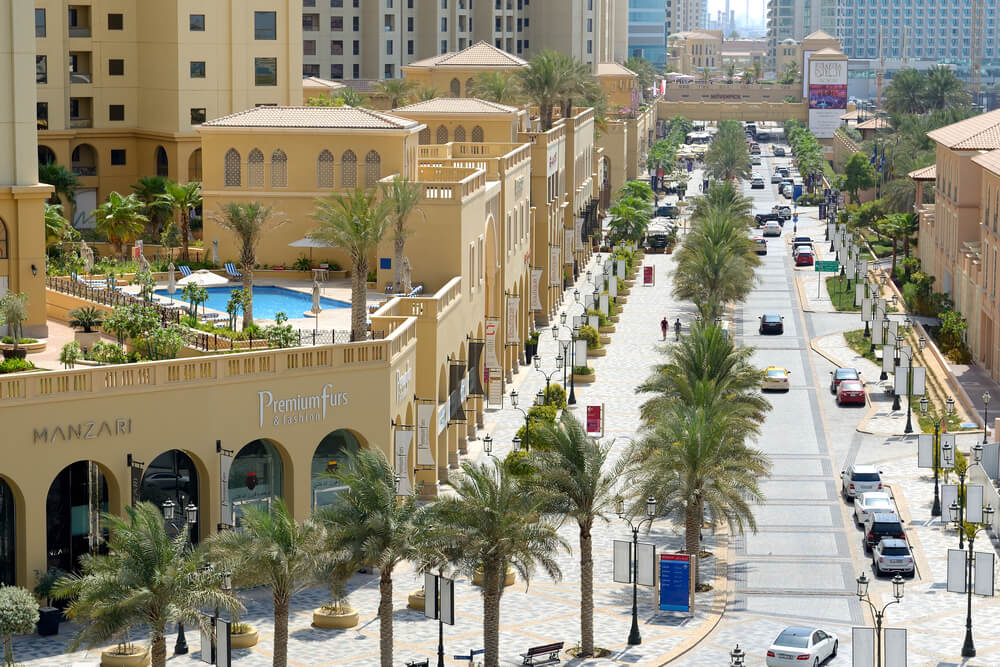 Most of these water sports start at around AED 200-300 per person, which is quite reasonable to have fun.
Take Your Kids To The Splash Pad 
If you're visiting the beach with your kids, there's a special treat for them. The place has a splash pad and a water playground where your kids can have all the fun. The outdoor area is still shaded enough to protect toddlers and kids from the scorching sun.
They can play with water and other kids, making new friends. So let them be social! The best thing about the splash pad is that it's all decked up with climbing frames, water squirters, and big tipper buckets.
The ticket price is only 99 AED for a full day, so you don't have to pay enough for your kid's fun day.
Rock N Roll In The Aqua Park 
Apart from making your kid's day fun-filled, you can have some fun at the JBR beach Dubai. The place is so funky that you can have a good time splashing!
It's the world's largest inflatable aqua park, making it a must-try thing on your Dubai tour.
The aqua park at JBR Beach has all sorts of slides and rides that will make your heart pound with excitement. So climb the stairs, walk through the obstacles, pass the bridges and make your way to a fun day. Of course, you might lose balance and fall into the water, but that's alright; the life jacket's got you.
Shop Your Heart Out at JBR
You must be a shopaholic and have explored the shopping spots worldwide, but have you ever shopped with a view? JBR beach has some retail therapy for you while you walk and breathe in the fresh air from the sea.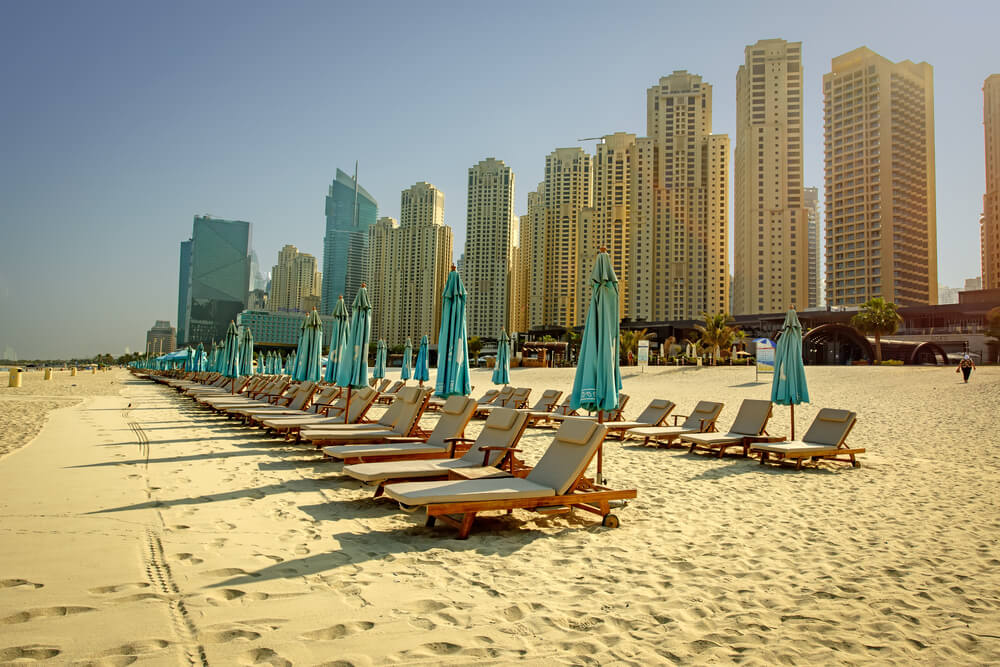 The JBR open beach mall has plenty of shops dotted around the beach for you to explore and shop.
Get a restock of your favorite beauty products from Sephora, and get a cute outfit from Pink Salt, River Island, or Lacoste. Forgot to bring your sunnies along on the beach? No worries, get a new one from Sun Eye at the beach.
So shop at the beach until your pockets are empty and have the best products to take home from the classical Dubai trip.
Work Out a Perfect Scene
Unlike the average gyms back in your country or home, JBR Dubai has something you'll remember forever.
It has impeccable outdoor workout stations and gyms where you can work out and enjoy the scenic sea view. You can also run on the beach track while the sea breeze runs through your hair and keeps you cool.
The best thing is that these workout stations and tracks are free, so you don't have to spend on your fitness routine.
If you want a daily, intense fitness and workout routine, try the Warehouse Gym at the beach JBR. It has state-of-the-art equipment and a team of expert trainers to guide and support your fitness journey.
You can also get a membership to this gym for AED 333 per month for a year. So work out and lose all those calories you got from overeating on your trip!
Watching A Movie at JBR
Well, if you're at the iconic JBR beach Dubai, don't miss out on the chance to watch a movie at the stadium-styled Roxy Cinema. It's an open-air cinema, so you can relax in your comfy bean bag and enjoy the latest Hollywood blockbuster under the stars.
It's a different and fun experience while you're in Dubai, away from all those crowded indoor theaters. Also, the place is enormous, so it doesn't feel too claustrophobic, and the acoustics are excellent.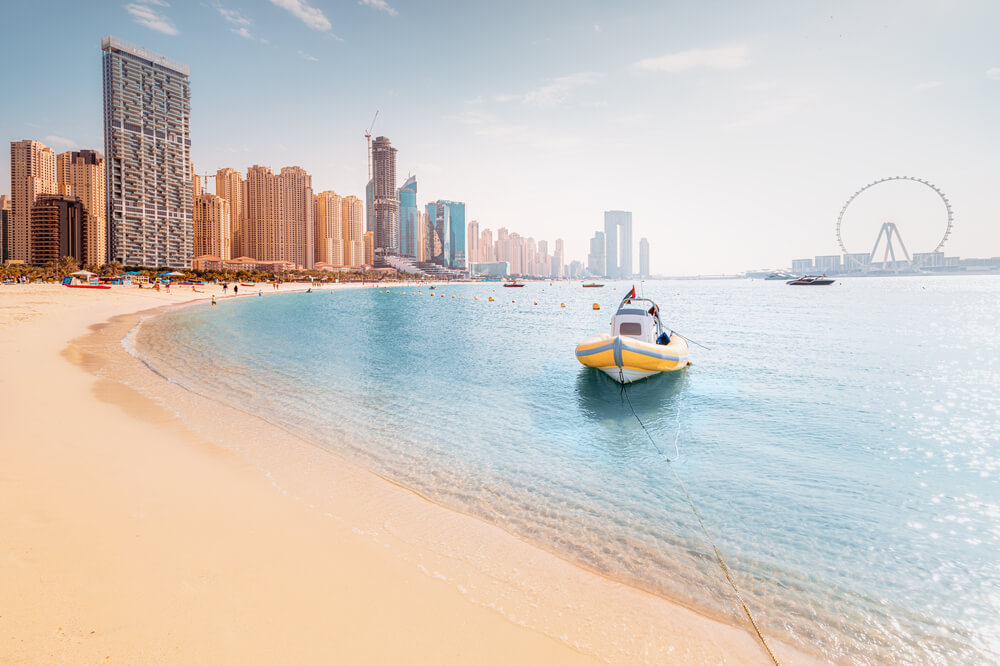 The best part is that you can have your favorite food and drinks while you watch the movie. So order some yummy snacks and enjoy the show!
The tickets are a bit pricey as it's a tourist attraction, but it's worth it, given the experience. The cinema timings are from 2:00 PM to 10:00 PM.
A Walk at The JBR Beach
Now that's what JBR beach is famous for! The scenic walking path is about shopping, munching, and strolling by the sea.
Whether you're a group of friends or a couple on your vacation escape, you'll find yourself in ecstasy when walking at the exotic beach JBR. You can laugh your heart out while having your favorite products and shopping bags in your hands and eat whatever you want. That is all you work hard for all year, so enjoy this treat you threw yourself as a reward.
This bustling walk has all the retail outlets, fashion, handicrafts, home and souvenir shops, boutiques, and so much more; you can buy gifts for your loved ones before your trip.
Keep your energy up for all this shopping, take a break, and have some food at the restaurant. You can also stop by the cafes for quick bites and munchies with a cup of hot or cold beverages.
Food and Drink
Although all of Dubai is famous for Yummilicious foods and fun, JBR is a foodie's heaven. So you can munch on your favorite foods and have refreshing drinks, the beach has cuisines from every corner of the globe.
You can have Indian, Pakistani, Chinese, Thai, Italian, American, and whatnot! You name it, and the beach has it.
The restaurants here are very hygienic and provide excellent service with a smile. The beautiful sea view from these restaurants is a bonus that will make your Dubai trip even more dreamy and romantic.
Some of our favorite restaurants are Bombay Bungalow for an Indian taste, Bosporus to satisfy your Turkish cravings, The Cheesecake Factory, and Shake Shacks for your fast food mood.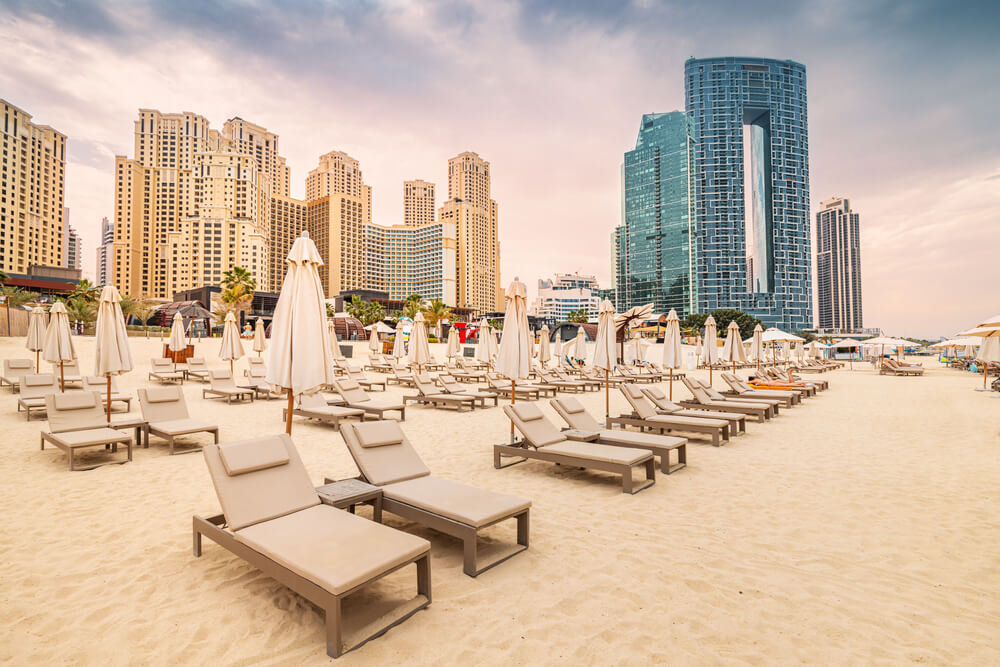 Smoky beach JBR is a shisha lounge where you can try some shisha with your friends while enjoying the stunning sunset.
Apart from these restaurants, you'll also find many cafes on the beach serving delectable food. These cafes offer various drinks, such as juices, smoothies, shakes, and much more.
Location and Timings
JBR Beach is located in Dubai Marina right in front of the Jumeirah beach residences and is easily accessible by public transport and private vehicles.
The timings of the beach are from 6:00 AM to 10:00 PM, but we suggest you come here early in the morning to avoid the crowd and enjoy some peace and tranquility.
The restaurants, cafes, and cinema may have their timings, don't forget to check them before you come here.
Frequently Asked Questions
How to get to JBR beach by metro?
Be adventurous and plan your trip to JBR beach by metro; you can easily reach the beach by taking the route towards Dubai Marina and DMCC metro stations. These are the nearest metro stations to the beach, and you can walk up the distance between the station and the beach.
Where is JBR Beach?
JBR beach is located in Dubai Marina, near Jumeirah Beach residences in Dubai. Residents of the JBR apartments have the most convenient access to beach activities and all the shopping or dining facilities.
You can quickly drive to the location in your vehicle. Many private taxis and cabs are also available to drop you off at the beach.
It's not too late to add JBR beach to your bucket list if you're hitting on the tourist spots in Dubai. So buckle up your stuff, get your friends and family ready and keep your spirits high to have a blasting stop over the oh-so-gorgeous JBR open beach.