Islamabad Airport – Pakistan's Second Largest Airport
The capital of Pakistan is Islamabad. With a population of more than 1.2 million, it is the ninth-most populous city in Pakistan. The Pakistani government federally governs it as a component of the Islamabad Capital Territory. In the 1960s, it was constructed as a planned community to take the place of Rawalpindi as Pakistan's capital. The city is renowned for its good living standards, safety, tidiness, and abundance of greenery. Due to the significant interest from the general public, international trade, the local populace, and foreign tourists, the airport's construction to enable travel to and from the city was necessary. To make it feasible for you, we have included the critical services, and amenities Islamabad Airport (Benazir international airport) has to offer, along with some background information on the airport's history and other helpful information. It is one of the key airports in Pakistan.
Immediately, let's take off!
About International Airport Islamabad
The new Islamabad International Airport received a 3-Star rating for its conveniences, usability, cleanliness, selection of shops, food, and drinks, staff friendliness, and security/immigration. To start it, the business community invested time and effort. Over 1,000,000 people from Islamabad and the surrounding area travel through this airport yearly.
History of New Islamabad International Airport
Following Pakistan's independence, a portion of Chaklala Airbase is used to provide travel services to the people of Islamabad, Rawalpindi, and the nearby Pottohar district. The airport's small terminal (later renamed Benazir Bhutto International Airport) underwent several structural and design changes over time to accommodate the growing number of passengers. However, as the number of domestic and international travelers increased, the terminal needed help to handle the burden of air travelers.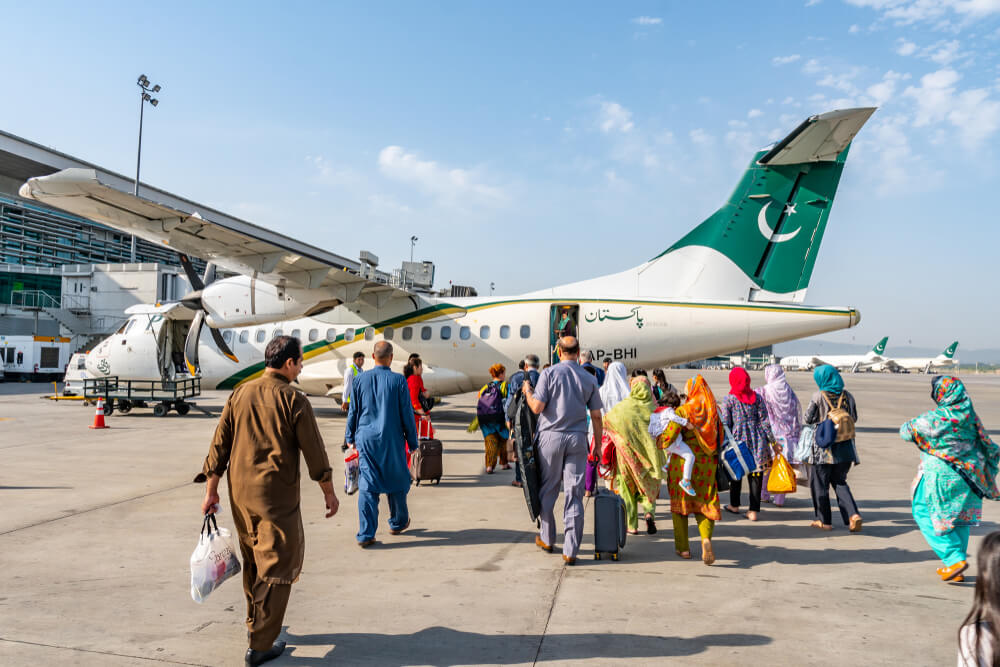 Mr. Shaukat Aziz, the Former Pakistan Prime Minister, laid the foundation stone for the Islamabad International Airport (ICAO: OPIS) on April 7, 2007. The airport officially opened for regular international and domestic flights on April 20, 2018.
Furnished with cutting-edge amenities, the new Islamabad airport uses the available infrastructure and resources to the greatest extent possible to assist and accommodate air travelers as best they can.
The construction of the brand-new, state-of-the-art Islamabad International Airport is progressing quickly. The infrastructure and resources are utilized to the best of their abilities to accommodate air travelers as painlessly as possible.
Location of Islamabad Airport
Airport Ave. in Islamabad, Attock, Punjab, Pakistan, is where you can find the Islamabad International Airport.
Islamabad international airport covers an area of 19 square kilometers. It has 15 passenger boarding bridges, as well as space for two double-deckers Airbus A380s, the largest aircraft in the world, 15 remote bays, and three remote bays for air freight. To prevent passenger mingling, the same number of lounges as there are bays constructed. Each of the airport's two runways is 3600 meters long.
Airport Security:
When arriving at the IIAP by taxi from the twin cities, proceed to Gate I for quick and easy entry into the airport grounds, subject to a body and bag search. ASF security personnel stationed at each entry point will conduct body and vehicle searches as people enter the airport grounds.
New Islamabad Airport Code:
The Location Identifier (also known as the IATA code) is a unique three-letter code developed by the International Air Transport Association (IATA) to identify airports in logistics and aviation.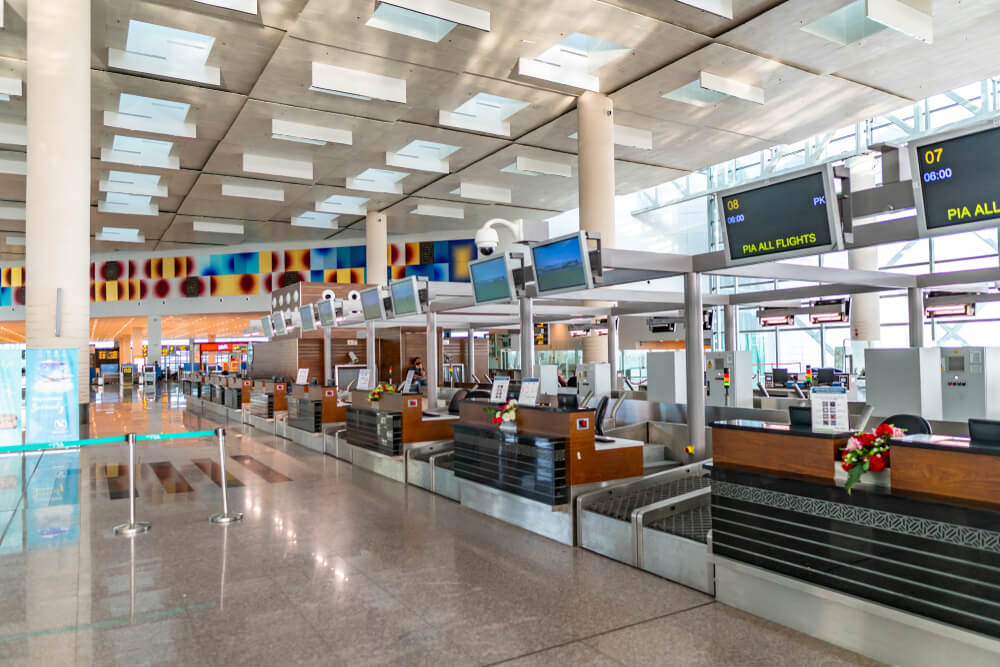 The code for Islamabad Airport is ISB.
Operating Airlines:
The table below lists operating airlines that fly directly to and from Islamabad international airport and their destinations.
| | |
| --- | --- |
| Airlines | Destinations |
| Air Arabia | Ras Al Khaimah |
| Air china | Beijing-capital |
| Airblue | Abu Dhabi |
| AIRSIAL | Karachi |
| Afghan Airlines | Kabul |
| British Airways | London |
| China Southern Airlines | Wuhan |
| Emirates | Dubai -International |
| Etihad Airways | Abu Dhabi |
| Fly Jinnah | Karachi |
| Flynas | Riyadh |
| Gulf air | Bahrain |
| Iraqi Airways | Baghdad |
| Jazeera Airways | Kuwait City |
| Kam air | Kabul |
| Kuwait Airways | Kuwait City |
| Oman air | Muscat |
| Pakistan International Airlines | Abu Dhabi, Bahawalpur, Baku, Medina, Multan, Quetta, Rahim Yar Khan , Sialkot, Skardu, Sukkur, Manchester, Gilgit, Gassim. |
| Qatar Airways | Doha |
| Saudia | Jeddah, Riyadh |
| Serene air | Dubai- International, Karachi, Medina, Quetta, Sharjah |
| Thia Airways | Bangkok |
| Turkish Airlines | Istanbul |
| Virgin Atlantic | London- Heathrow |
Arrival Procedure:
1:Domestic
All arriving domestic passengers must enter the domestic arrival lounge. Retrieve their luggage from the baggage belt and exit the concourse hall before proceeding to the car park to board their vehicle and then to the exit gate for their next destination.
2: International
All arriving international passengers must have appropriate travel documentation, including a passport, a visa (if necessary), and a disembarkation form filled out completely for immigration. (Holder of Pakistani/International Overseas Card) The passenger will not submit the disembarkation form at the IIAP in Islamabad or on board. These forms are provided to the travelers on board and offered at the airport. Completing the papers while on board will speed up the clearing procedure. Thus passengers are recommended to do so.
A person entering Pakistan for entrance purposes must have a valid passport and a visa from Pakistan from his country of origin granted by Pakistani consulates overseas. For some people, a disembarkation card is also necessary. Visit the Government of Pakistan website,www.pakistan.gov.pk, for further information on passport and visa policies.
Documents Required for Entrance
Any one of the legitimate documents listed below will be needed when entering the airport, whether it be through the Pedestrian Gate or the Main Gate with your car: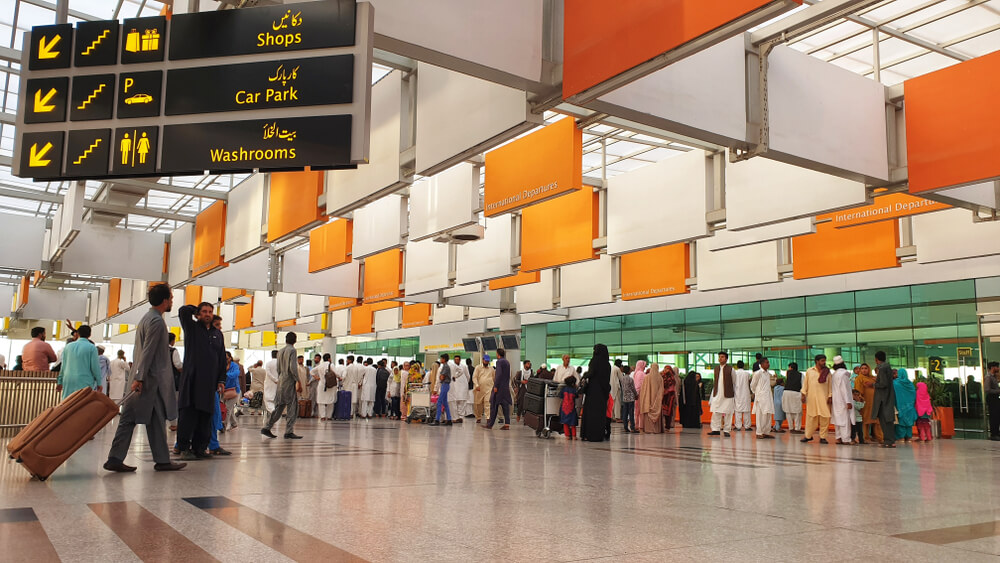 1: CNIC
2: Valid airline ticket
3: or passport
Reminder: International Overseas / Pakistani Passengers will not submit embarkation/disembarkation forms on board or at international airports in Pakistan. As a result, they should wait to fill out this form.
According to the terms of the agreements reached with their governments, holders of diplomatic or official passports from those nations would continue to be exempt from the need for entry visas.
Process for Entry (Pedestrian Gate)
1 First come, first served will be used. Therefore, form a queue before entering via the pedestrian gate. Give way to female passengers, particular/needy/elderly, and elderly/disadvantaged people.
2 Put away your hat and sunglasses. While you're waiting, put away your phone. Only one member will be allowed to receive/see off a passenger through the pedestrian gate due to space restrictions in the Terminal building.
3 If asked to provide identity, show your passport, CNIC, or a valid plane ticket.
4 You can proceed to the appropriate area of departure or arrival after completing the entry formalities at the pedestrian gate, depending on your needs.
Immigration Clearance
There are various sections on the immigration desks.
1: All Passports
2: Overseas Pakistani Passenger/Card Holder
3: Foreigners and Taxpayers
4: Older Citizens, Special Persons, Women, and Children
5: Diplomats, Foreigners, and Taxpayers
Passengers must complete the disembarkation form to enter the Islamic Republic of Pakistan. Passengers with Pakistani passports or those traveling internationally from Pakistan will not be required to submit a disembarkation form on the plane or in the country's international airports. Additionally, a Special Desk for Passengers from Outside Pakistan is available around-the-clock to help and facilitate.
Passengers must prepare their travel documents and line up at the immigration desk. The immigration officer will examine your photo identification and may also question you.
Note: Before proceeding to the immigration desk, all passengers arriving from Liberia, Sierra Leone, Mali, and Guana must report to the Ebola Desk and receive clearance from the airport health officer.
The Custom Clearance
Your luggage must first pass through customs in the international arrival area once you retrieve it from the baggage area.
You must go through the Red Channel at the international arrival for custom clearance if you have items requiring custom clearance (on which customs duty or tax is applicable). The Custom Authorities have installed an X-ray scanning machine for this purpose. There is also a GREEN CHANNEL option for passengers with no taxable items.
To file a claim for damaged checked-in or delayed baggage, you must notify the airline representative within seven days of the returned item's arrival. The airline and the passenger used for their trip or the company handling claims can submit the claim.
Banned Products
Items and Goods Banned after the Corona, prohibited goods and things are not permitted without prior authorization from the relevant authorities in Benazir international airport.
1: Guns and ammunition
2: Literature that is offensive and provocative or is anti-Islamic or anti-Pakistan
3: Items of Infringements on Intellectual Property
4: Alcoholic beverages, opioids, marijuana, and psychoactive drugs
Please stop by the Customs Helpdesk at the IIAP's International Arrival Lounge if you need assistance. Please read the Customs Baggage Rules on the IIAP website.
Departure Procedure:
Before departure, all international travelers should confirm the validity of their travel documents, including their passports and tickets. Additionally, before departing, passengers must review the security, immigration, and customs information on the airport website.
Documents Required for Departure for Domestic Flights
1: CNIC
2: A valid airline ticket
For International Flights
1: NOC or Ex-Pakistan Leave (Mandatory for Govt: Employees)
2: Health Certificate (if applicable)
3: Valid Visa (if applicable)
4: CNIC
5: Valid Passport
6: Valid Airline Ticket
7: Photo ID
Verification of Health
Once inside, head to the airport health desk and present your polio health certificate to get the rest of the way cleared. If you don't have a polio certificate, follow the instructions of the airport health department representative. Additionally, you can get a polio health certificate from one of the Ministry of Health's approved centers before flying:
1: PIMS.
2: Poly Clinic Islamabad, Federal Government
3: DHQ. Hospital, Rawalpindi
4: Benazir Bhutto Medical Center in Rawalpindi
5:Holy Family Medical Center, Rawalpindi
6: Rawalpindi's Office of the DHO.
7: Office of the EDO, Rawalpindi Health
Note: The polio vaccine is accessible at all Pakistani international airports.
Baggage Inspection
1: Form a line at the ASF security checkpoint.
2: Remove your luggage from the scanner, present yourself for a body search, and if necessary, have your luggage inspected before going to the appropriate airline counters to check in.
Baggage Cautions:
Refuse any items that strangers ask you to take care of since they might carry the following illegal items.
1: Alcohol, marijuana, and other intoxicants
2: Money worth more than Rs. 3000, US $10,000, or equivalent international money.
3: Antiquities
4: Weapons, ammo, and explosives
5: Products made of counterfeit money and currencies
Lounge for Departures
1: You will head to the international departure lounge after customs and immigration clearance. Once the formalities are over, the passenger will not be allowed to leave the lounges (to the public areas).
2. Verify your boarding card or the flight information screen, then proceed to the proper boarding area or boarding gate.
Go to the appropriate boarding gate after hearing the airline's boarding announcement, then take a bus or shuttle to the aircraft.
Note: We recommend that departing passengers arrive at the airport one to two hours (for domestic flights) and four hours (for international flights) before the flight takes off.
How to Go to Islamabad International Airport:
Train, bus, car, and airplane comparison of all potential routes are present towards Islamabad airport. Compare travel options, find a cheap one, book, and move towards the destination.
Airport Facilities :
For the convenience and comfort of travelers, Islamabad International Airport's IIAP offers Passenger Facilitation Services (PFS), also known as "Passenger Porter Services," 24 hours a day. The porter will also help you and your stuff go quickly, conveniently, and fast. Benazir international airport Islamabad also offers many other facilities, like; wifi service, praying rooms, hotels, shopping places, smoking areas, food courts, and cinematic facilities.
This service is ideal for travelers with heavy or additional luggage, including but not limited to:
PFS / Porter Counter:
Porters are only offered for a Fee/Charge in a variety of PFS Counters located at defined areas, as mentioned below, regardless of the airline you fly with;
Passengers Arriving:
Domestic Arrival Lounge (next to Arrival Belt No. 7)
International Arrival Lounge (after Custom Counter)
Passengers who are Departing: Level III Domestic Concourse Area
Level IV International Concourse
Domestic Passengers: Rs. 200
International Passengers: Rs. 400
Free Trolley Service:
Seated locations offer complimentary passenger baggage trolleys alongside the drop-off lane and in front of the briefing rooms. At approximately 2200 at the airport in Islamabad, there are trolleys available for travelers.
Special Attention for Elderly and Disabled Citizens:
Older people and all privileged Special passengers have access to this facility in a wheelchair. The airlines should inform in advance if a passenger has such demands.
There is also a fast track for completing arrival and departure formalities, a ramp for passengers using wheelchairs, and designated parking for special people.
Banks, A.T.M., and Currency Exchange:
Banks
Near the main parking lot in Banking Square are the following full-service branches of commercial banks.
Contact: 111-000-622(MCB)
Email: info@mcb.com.pk
Contact: +92-(City Code)-111-111-425
Email: customer.complaints@hbl.com
Contact: 111-225-225
National Bank of Pakistan
Contact: 111-NBP-NBP (+92-21 111-627-627)
The ATM Service:
The Passenger Terminal Building contains three (03) ATMs (PTB).
On Level 2 Visitor Gallery and Level 3 International Departure, respectively, there are ATMs operated by Allied Bank Limited
and Habib Bank Limited.
Currency Exchange:
Benazir International Airport includes several exchange bureaus in each terminal, as you would anticipate from a significant airport that connects every part of the world, allowing you to obtain the appropriate money for your travels. Additionally, you can book the current rate and pick it up as you exit the airport!
• Muhammadi Exchange
Restaurants:
There are several restaurants available for both domestic and foreign visitors' convenience. These eateries offer flavorful, hygienic meals and beverages to tourists waiting for flights on both an international and domestic scale. The main restaurants spotted are Coffee Planet and Bread and Co.
Shopping
Many shopping spots are present at Islamabad International Airport, including Discover Pakistan, Relay, Safa Golden Residence and Mall, Prime Mall, etc.
Free Mobile and Charging Booth:
Thanks to the free mobile charging stations spread throughout the airport, and your mobile gadgets will always have juice. To boost your device, keep an eye out for the charging stations in the departure halls. They are also close to the business lounge, which has chairs.
Prayer Rooms:
Men's and women's separate ablution areas/rooms are available in each lounge at Benazir International Airport for those who practice Islam.
Two sizable, state-of-the-art Islamic mosques close to the CAA parking lot host a gathering of Namaz e Juma, Traweeh during the holy month of Ramadan, and Eid prayers for travelers, meters & greeters/visitors, and airport staff.
According to the official Website," the prayer rooms are furnished to create the right environment for Muslims to pray."
Car Rental:
If you need a set of wheels when you get there, you'll be happy to know that we've hand-selected the top rental vehicle businesses based on their level of service, dependability, and cost. Get exclusive offers at even cheaper pricing by making an early reservation!
METRO RADIO CAB Metro Cab Concourse Hall, Islamabad Airport 24-hour contact center No. UAN: (+92-21) 111-222-787, Tel: +92-51-5872236.
Car Parking:
At the same time, 2200 vehicles can park in the general parking lot at the Islamabad International Airport.
Parking costs are as follows:
Vehicles with motors should pay PKR 15 for each entry
Wagons, Jeeps, and other private or commercial cars should pay PKR 90 Per entry
For numerous entries, pay PKR 400 each day.
Multiple entries: PKR 4500 per month
Monthly Multiple Entry Pass for Airport Staff, priced at PKR 600
400 PKR for long-term parking per day.
Smoking Area
Although there are designated smoking places in each terminal at Islamabad International Airport, the entire airport is non-smoking.
Smokers can puff on cigarettes in a smoking lounge and experience excellent air quality.
These places are there:
1: Domestic Departure Level 3, Northeast, Near B5/B6 Lounge.
2: International departure level 3 (North West) No. 1 and international departure level 3 (East Pier) No. 1.
Facilitation Desk by FTO:
In response to instructions from Prime Minister Imran Khan, the Federal Tax Ombudsman's office has taken the initiative to assist taxpayers and expatriate Pakistanis by setting up a facilitation counter at the International Airport in Islamabad.
By creating a facilitation desk, travelers would no longer need to travel to multiple Pakistan Customs offices to access all tax-related services and settle their problems. Instead, they may do so just inside Islamabad International Airport.
Islamabad Airport Contact Details:
You can contact Benazir International Airport in multiple ways
Airport Manager
Landline: +92 51 95550703
Fax: +92 51 95550702
Email: apm.iiap@caapakistan.com.pk
Senior Terminal Manager
Landline: +92 51 95550210
Duty Terminal Manager
Landline: +92-5195550211
Flight Inquiry
Helpline: 114
Landline: +92-5195550305
Passenger Complaint
U.A.N.: +92-51111222114
Landline: +92-5195550603
Hotels near Islamabad International Airport:
Several hotels are present near Islamabad Airport to facilitate the people.
A list of these hotels is below:
The Crown
Travelodge Guesthouse
New Sunrise
Capital INN Guesthouse
New Airport Lodge
All these hotels are located in Islamabad and provide suitable accommodation, parking, lounge garden, and many other facilities.
Interesting facts about Islamabad International Airport:
Some of the interesting facts about this airport are below:
Well-known French firm Aeroports De Paris Ingenierie and Singapore-based C.P.G. Corporation of Singapore are responsible for designing the New Islamabad International Airport.
The architecture of this airport will resemble the English Alphabet Y when viewed from above.
A water cannon salute welcomed the first PIA PK 300 airplane that landed at the new Islamabad International Airport.
FAQs
Who owns Islamabad Airport?
The owner or operator of this Islamabad airport (Benazir International Airport) is Pakistan Civil Aviation Authority.
How far is Islamabad Airport from the city?
Between the airport and the city of Islamabad, there are about 30 kilometers. A cab ride from the Islamabad airport should take 30 minutes in regular traffic.
Is Islamabad airport big?
It is the biggest cargo airport in Pakistan because of its size and ability to handle 9 million passengers annually.
Conclusion
The Islamabad International Airport covers an area of 19 square kilometers. With all of its amenities and services, it is the second-largest airport in Pakistan.