Gilgit Airport
Gilgit-Baltistan is one of the most attractive regions in the extreme north of Pakistan. It is an area predominantly known for its panoramic views, breathtaking landscapes, clear water lakes, fresh air, pristine mountains, and much more beautiful natural scenery. There is nowhere else where you can find such landscape and natural splendor. The number of infrastructure projects launched nationwide as part of CPEC (China-Pakistan Economic Corridor) has significantly boosted the number of tourists who visit these expansive vistas. This step has prompted the authorities to facilitate tourists and provide them with more access to airspace. Now there is no need to travel for long hours along the tumultuous rocky paths because the airports in Gilgit offer tourists accessible air routes and easy access to their destination. In recent weeks, Gilgit Airport has remained one of the busiest airports in the country. The reason is that Pakistan International Airlines (PIA) has arranged a direct flight from Islamabad to Gilgit. This incredible feat provides not only convenient travel for people of the region but also promotes domestic tourism in Pakistan.
We provide all the information regarding Gilgit International Airport, from history, location, flights, and departure. To provide the best picture of the Airport, we cover everything. So, without further delay, let's get on board!
Location of Gilgit Airport
Mountaineering and trekking enthusiasts gather in Gilgit. The Gilgit international airport is 1.25 nautical miles (2.3 kilometers) east of Gilgit-Baltistan, Pakistan. It is 277 kilometers by air from Islamabad and is located 1.8 kilometers from Gilgit city. The magnificent Karakoram Mountain Range encompasses it.
Construction and Extension of Gilgit Airport
After Pakistan gained independence, the Gilgit airport consisted of only 657 Kanals of the Airport's overall land area existed. The people of the Gilgit area voluntarily constructed the landing ground. The construction work of the Airport completes in 1949. In 1958, the runway was fully furnished. Initially, the main construction of Gilgit airport met in 1958. On July 30, 2012, the authority did some extensions in building the new terminal and car parking relocation for the Gilgit Airport. Former prime minister Nawaz Shareef inaugurated it on December 6, 2013. The Gilgit Airport is much smaller than the airports of Lahore and Karachi. Because the Airport is small and air pressure is more, smaller airplanes are in use here, which must follow their specific schedule. This Airport is to extend twice as extensively, but the ground is highly saturated. Moreover, this land is for the CAA Park, a public park, or City Park Gilgit.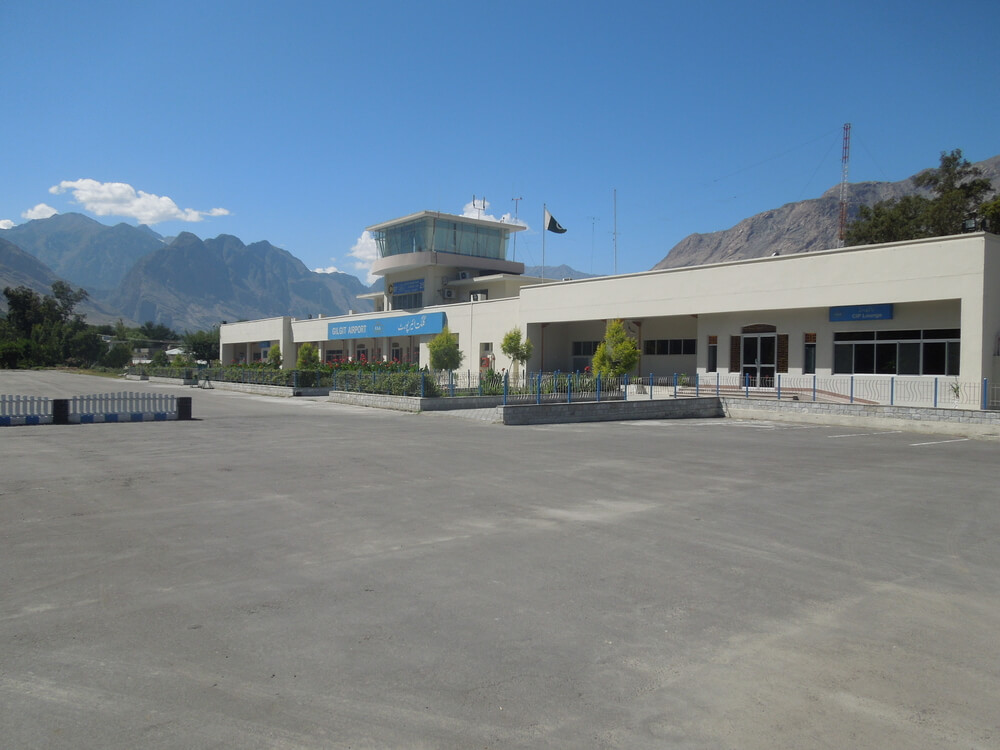 Runway of Gilgit Airport
The length of the runway is 1646m (5400 ft). The direction is 07/25, and the surface of the runway is asphalt. It is at the edge of a slope. Because of this, Gilgit Airport cannot accommodate even Boeing 737s and similar-sized jet aircraft. ATR 42 aircraft operates on the Gilgit-Islamabad route by (PIA)Pakistan International Airlines. In the past, Gilgit Airport used the Fokker F-27 Friendships. The military Lockheed C-130 Hercules is another aircraft that operates at the Gilgit airport.
Top Domestic Routes
Different domestic as well as international airlines operate from Gilgit airport, Pakistan. Pakistan International Airlines (PIA) is one of the most frequent operating airlines among all available airline brands. The most popular domestic flight routes from Gilgit Airport, Pakistan, are Gilgit to Islamabad, Gilgit to Lahore, Gilgit to Karachi, and Gilgit to Skardu. The most popular way from Gilgit airport is Gilgit to Islamabad and Gilgit to Skardu, with 11 and 2 flights weekly, respectively.
Flight Schedule
The first flight of Pakistan International Airlines 606 from Gilgit airport to Islamabad departs at 8:10 AM. After this, another flight from Pakistan International Airline 606 leaves at 8:45 AM. The last flight of Pakistan International Airlines 608 from Gilgit airport to Islamabad departs at 10:10 AM.
Terminal Facilities
The Ladies Lounge and CIP Lounge each hold more than 30 and 40 seats, respectively, while the Departure Lounge has a capacity of over 118 passengers. The arrival lounge has 28 people, while the Concourse Hall and briefing counter hall have 24 and 08 sets, respectively. There is only one seat in the briefing hall's never-ending conveyor belt, and there are four seats at the counter with the conveyor belt. In Arrival Lounge, the endless Conveyor Belt has only one-person availability. L lounges have 14 reversible air conditions, and almost 50 Trolleys are available. There are only three concessions at the Airport, and an automatic fire detection system is also available. The car parking capacity of the Gilgit Airport is around 120.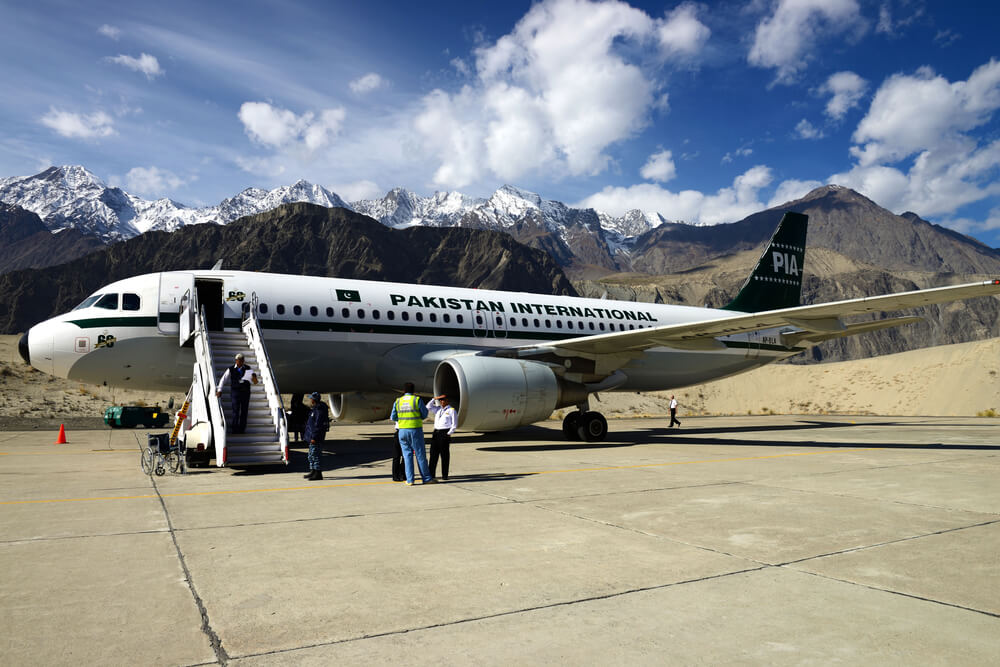 Airport Code
The IATA code for the Gilgit airport is GIL.
Operating Airlines at Gilgit Airport
Pakistan International Airlines (PIA) frequently operates from Gilgit airport, Pakistan. Due to the Airport being small, planes like ATR-42 and C-130 are safely handled and worked at this Airport.
Hotels Near Gilgit Airport
There are many hotels near Gilgit Airport. These hotels provide tourist facilities to stay in and enjoy the tour of Gilgit Baltistan, Pakistan. The top 7 hotels are
1. Gilgit Serena Hotel:
The Gilgit Serena hotel is at a distance of 1.7 miles, almost 30 minutes drive from Gilgit Airport. It is a top hotel in Gilgit with all the facilities. It is the best place to stay and enjoy the tour.
2. Duroyou Inn:
Duroyou Inn is at a distance of 1.6 miles from Gilgit Airport. The environment of the hotel is peaceful and calm. The view of nature from this hotel is adorable. The most important thing about it is that it is economical and pocket-friendly.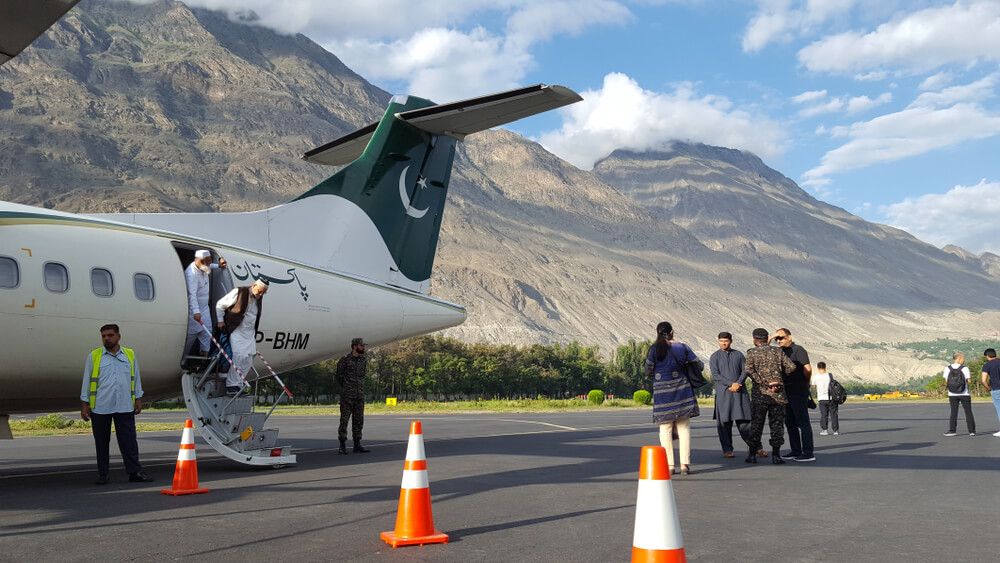 3. Dumani Inn:
This Dumani Inn Hotel is 1.7 kilometers away from Gilgit Airport. It is one of Gilgit's top accommodations. Its stunning setting and a rooftop view of the beautiful mountains give it extra personality. It is affordable and convenient to use.
4. Park Hotel:
The Park Hotel is at a distance of 0.7 miles from Gilgit Airport. The hotel itself is a good spot. The staff of the hotel is cooperative. The environment is Neat and clean. From the rooftop, the panoramic view of the mountains is simply fantastic. Economical and easy to access.
5. Blossom Inn:
The blossom Inn restaurant is at a distance of 1.4 miles from Gilgit Airport. It is a lovely place. The peaceful atmosphere and hotel management are excellent. Having all the facilities and, most importantly, traditional food is super in taste and very economical. It is the Best place to stay for tourists.
6. Riviera Hotel:
The Riviera Hotel is at a distance of 1.3 miles from Gilgit Airport. The management of the hotel is cooperative. The environment is clean and comfortable. The luxury lifestyle and leisure facilities are also available for visitors. The garden and natural scenery make this place worth visiting. The standard of food is impressive, economical, and recommended site.
7. Hotel Oasis International:
The Oasis International hotel is one of the best hotels in Gilgit. It is easy to access from Gilgit Airport. It is at a distance of 1.9 miles from Gilgit Airport. The tourist attractions and sights are around. All the facilities and amenities are welcome to visit and enjoy indeed. It is an International standard hotel and the Best for tourists.
Top Tourist Places in Gilgit
Many tourist sites in Gilgit Baltistan, Pakistan, are must-see places. Some of these are:
1. Shangrilla Lake & Resort, Kachura Baltistan:
The most popular tourist destination in Baltistan is Shangrilla Lake Skardu, also known as Lower Kachura Lake Baltistan. Tourists enjoy the beautiful natural sights at this location. Many resorts with exquisite architectural designs and distinctive attractiveness surround Shangrila lake.
2. Baltoro Glacier:
Baltoro Glacier is like the Antarctic, Iceland, or Alaska. It is the natural beauty of our Northern Areas of Gilgit-Baltistan of Pakistan. One of the most attractive tourist spots.
3. Altit Fort, Hunza Valley, Gilgit-Baltistan:
Altit Fort is an ancient fort situated in Gilgit. One of the fortifications that have seen many conflicts and wars. Top Tourist attractions. Hunza valley is a must-visit place in Gilgit.
4. Baltit Fort Hunza Valley, Gilgit-Baltistan:
Baltit Fort is also the most visited tourist spot in Gilgit Baltistan, Pakistan. Like Altit Fort, the Baltit Fort is a historical monument with its glory. The scenery of huge mountains makes them worthy and attractive places to visit.
5. Nagar Valley, Gilgit Baltistan.
It is a magnificent glory of Gilgit Baltistan, Pakistan. Ishkoman Valley, Ghizar River, Passu Gilgit Baltistan, Deosai, Skardu, Trango Towers (The towers of Inspiration), Ataabad Lake, Chunda Valley (Spring), Rakaposhi, Chaqchan Mosque, Khaplu and Cold Desert of Skardu are the top tourist attractions in Gilgit Baltistan Pakistan. These places could be more beatable with their natural scenery and panoramic views.
How to Reach Gilgit Airport?
Taxi is a standard means of transportation from the Gilgit international airport (GIL). Gilgit is about 1.8km away from Gilgit Airport. It takes about 3 min to get from Gilgit to Gilgit Airport. The Airport also provides reliable shuttle services. These shuttle services are the best transportation between the city and the Airport. Many transport companies offer reliable and cost-effective airport shuttle services for their valuable customers.
Gilgit Airport Contact Numbers:
If you need any information, call the helpline number of Gilgit International Airport. Gilgit International Airport's Contact Number is: (+92 5811) 3397
Interesting Facts about Gilgit Airport
The Gilgit international airport is the smallest in Pakistan, with an area of only 657 Kanals. The runway is more petite and steeper. Every year, Gilgit airport welcomes many foreigners and Pakistani tourists who come here to experience the beauty of Gilgit, its lakes, forts, waterfalls, plains and K2, and mountains around. The Gilgit airport has arrivals, departures, and a VIP lounge to cater to the passengers. It takes roughly 1 hour and 15 minutes from Islamabad to Gilgit, and the air is the best option to reach the destination. Many development schemes are in process here to give better facilities to the airlines and passengers. The natural beauty of Gilgit is nested by crystal-clear rivers and snow-crusted mountains. It offers a perfect sight for a picnic and tourism.
Accidents at Gilgit Airport
A Fokker F27 of Pakistan International Airlines Flight 404, carrying 54 people, disappeared after leaving Gilgit on August 25, 1989. The wreckage of this incident has no history.
An ATR of Pakistan International Airlines Flight 605 carried 53 people and skidded off the runway. This incident happened on July 20, 2019. The plane sustained significant damage, but all passengers made it out safely.
FAQs
When was Gilgit Airport built?
After Pakistan's independence, the airfield of Gilgit Baltistan is in Sonikote, Gilgit. At that time, the total area was only 657 Kanals. The native people took a voluntary part in the construction of the landing ground and, with much hard work, completed this project in 1949. In 1958 the final structure was completed.
How far is Gilgit from Islamabad by air?
By air, Gilgit Baltistan is only 277 KM away from Islamabad. One airline, Pakistan International Airline (PIA), is operational between Islamabad and Gilgit. The Airport code flights from Islamabad to Gilgit are Islamabad-ISB and Gilgit-GIL.
What documents are necessary for a domestic flight in Pakistan?
One must have a valid CNIC and a valid Airline Ticket for domestic flights.
Conclusion:
The Gilgit International Airport is one of the new airports in Pakistan. Once you get to Gilgit airport, you will have to travel 1.8km to reach Gilgit. The runway is sloppy at the edge, so only small airline flights can operate here. The weather is unpredictable. Only Pakistan International Airlines (PIA) works at this Airport. One of the most popular tourists and international travel hubs is this Airport. The Airport is close to numerous restaurants and hotels of a global high grade. Visitors are free to remain and take their tour. There are multiple must-visit tourist destinations with breathtaking natural scenery unique to that location.